Nick Diaz and the 10 Craziest Outside the Cage Incidents in MMA History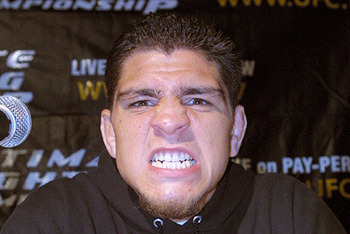 Nick Diaz/ Sherdog.com
You might be asking yourself, why does it always seem like Nick Diaz is involved in some sort of controversy?
Well, it's because the Stockton native, for one reason or another, consistently manages to throw himself into the fray. Whether it's recording street fights outside a local bar or throwing his friend's TV off a balcony, Diaz is always up to something, both good and bad.
Looking to alleviate some of the attention of Diaz will be these men, who were also engaged in some memorable antics of their own.
Nick Diaz/ Sherdog.com
Kevin Randleman Self KO
Jump to the 4:00 mark of the video to hear it from the man himself, "Big" John McCarthy.
Before his initial title defense against Brazilian slugger Pedro Rizzo some years ago, Kevin Randleman slipped on the pavement and knocked himself out. OUT COLD.
Needless to say, the folly kept the heavyweight collision from happening and instead a bout between Steve Judson and Tedd Williams took the main event slot.
Ken Shamrock Cuts Himself Before Fight
In one of the most high-profile battles of his career, Ken Shamrock was slated to take on backyard brawler Kimbo Slice live on CBS under the EliteXC banner.
However, while warming up before his fight, Shamrock opened up an old wound that would not allow him to continue. Eventually, Seth Petruzelli stepped up to the plate and took on Slice, knocking him out in seconds.
Josh Barnett Enjoys Fleshy Corpses
This happened just moments before Josh Barnett stepped into the cage to take on fellow Pride veteran Sergei Kharitonov. The normal pre-fight banter would be something like, "I'm just going to go out there, implement my game plan and look for the finish."
Well, if you're Barnett, such a lackadaisical response would be downright pitiful.
We'll find out when I get out there tonight. I plan to rank him amongst the dead, not amongst the living... By tearing him limb from limb. Biting, clawing. Ripping flesh from his body and drinking his blood.
Wanderlei Silva Gives Chael Sonnen a Reality Check
"You have respect, you don't lose your teeth."
Well done, sir.
Nate Diaz: Whole Foods Fight
So what do you usually do on your day off?
Maybe hit up a movie with the lady, go with your boys to the bar, maybe shoot some pool. You know, normal stuff.
Well, if you're UFC lightweight contender Nate Diaz, the best way to pass the time is to wait around Whole Foods and remain patient, because there are fights just bound to happen.
Best part is Diaz's commentary, which includes "You got socked!" and "Oh, he's a (expletive)."
Should this be here? Probably not. But I just really like fights at Whole Foods.
Nick Diaz vs. Joe Riggs II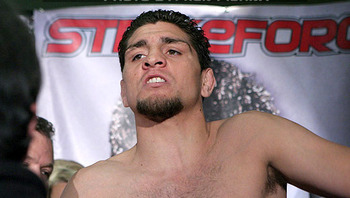 Nick Diaz/ Ken Pishna for MMAWeekly.com
Just moments after Joe Riggs had bested Nick Diaz inside the Octagon some years ago, the two welterweights were ushered to a nearby hospital.
There, Diaz and Riggs were engaged in another scuffle, rollicking the medical center with slams and fists galore.
Remember how Dana White always asks Diaz to "play the game"? Well, now you can see why.
Rampage Going on a Rampage
After his loss to Forrest Griffin at UFC 86, former UFC champion Quinton Jackson fell into a bit of depression.
Coupled with a still-pending lawsuit against former trainer Juanito Ibarra, Jackson's mind was in disarray and his only sustenance was energy drinks on a three-day bender.
The result? Jackson was arrested after several hit and runs ensued once "Rampage" had driven on a flat tire for miles, barreling down the highway at accelerated speeds.
Lee Murray vs. Tito Ortiz
If you ask Tito Ortiz, he'll tell you that he's very familiar with Lee Murray. But did the heavy-hitting middleweight ever knock him out?
Not in your life!
Well, something tells me that the opinion of the well-respected Pat Miletich holds some credence, as he explains that Murray throttled Ortiz in a back alley.
Lee Murray Likes Banks, and Robbing Them
Jump to the 2:00 mark.
A talented fighter in his heyday, Murray's career was sidetracked when the Brit was charged with a felony for "causing grievous bodily harm" to a motorist who sideswiped his car. That made it impossible for him to obtain a working visa to compete in the United States, thus halting his dreams of becoming a contender in the UFC.
Soon after, Murray was linked to the infamous Securitas depot robbery, which was dubbed the largest cash robbery in British history.
More than 53 million pounds ($83 million) was stolen.
"Krazy Horse" vs. Cristiano Marcello in Pride, Backstage
We've all heard the story how allegedly Charles Bennett, better known simply as "Krazy Horse," knocked out Wanderlei Silva.
However, the only documented footage between Bennett and any member of the Chute Boxe crew is between that of himself and Cristiano Marcello, who was recently cast on Season 15 of The Ultimate Fighter.
The Brazilian ate some big shots from Bennett, though the wily fighter eventually succumbed to a triangle choke and was put to sleep.
Keep Reading