NHL Rumors: Trading Cody Hodgson Proves Canucks Still Haunted by Bruins Defeat
February 28, 2012

Rich Lam/Getty Images
The Vancouver Canucks made a shocking trade on NHL trade deadline day that sent Cody Hodgson to the Buffalo Sabres in exchange for Zack Kassian in a four-player deal. The deal proves that the defending Western Conference champions are still haunted by their defeat to the Boston Bruins in the Stanley Cup Final last season.
The Bruins' toughness and aggressive forecheck wore down the Canucks after the course of seven games, and Vancouver was unable to withstand the physical nature of the series.
Canucks general manager Mike Gillis told reporters on Monday that this trade wasn't about Boston, but it's really difficult to believe that.
This isn't about Boston. This is about getting out of our conference if we can because they're all big teams. Last year, I felt we didn't get pushed around, but they were grinding series and we need bigger bodies to get through them.
This trade on Monday was certainly about the Boston series, because many of the trade rumors surrounding the Canucks this season have centered around them bringing in physical players who can make them tougher. This is why power forwards such as Steve Ott and Rick Nash were rumored or speculated to be targets of Gillis.
The Canucks didn't need to add more toughness to get through the Western Conference, especially with teams like the San Jose Sharks and Chicago Blackhawks battling injuries to key players and other issues such as poor goaltending.
This trade is all about the Stanley Cup Final, because when the Canucks meet the Bruins or the New York Rangers, they will be thrown around if they don't play more physically.
However, one of primary reasons the Canucks lost the Cup Final to the Bruins last year was because their bottom two lines could not generate enough offense. This was quite noticeable once Henrik and Daniel Sedin struggled to score against Boston.
Not only would Hodgson provide the scoring needed to bolster the team's offense in the bottom six, but he is able to withstand the toughness of more physical players and not be thrown off his game because of it.
Now the Canucks have little scoring on their bottom two lines. Unless the Sedin twins can withstand physical play and be scoring machines in the Cup Final, Vancouver isn't going to reach their goal this season.
Hodgson wasn't going to replace Henrik Sedin or Ryan Kesler at center on the top two lines anytime soon, but that doesn't mean he wasn't going to be able to help their offense a lot going forward.
The Canucks now have a player in Kassian who is often compared to Bruins forward and Vancouver native Milan Lucic.
Kassian is not close to a Milan Lucic talent—at least not right now—and the Canucks' championship window is open right now and won't get any wider. I understand Kassian is just 21 years old, but he doesn't have the offensive ability that Lucic has.
Province writer Tony Gallagher talked about the Lucic/Kassian comparisons in one of his articles Monday:
Is he going to be a Lucic type right away? Highly unlikely. There's a risk here. Maybe they got Kyle Beach in that 2008 draft after all. Let's face it, the history of big forwards coming over from Buffalo with this administration hasn't been great. But will he make a contribution in several ways immediately? The Canucks certainly hope so.
The Canucks made a risky move for a short-term fix, and it's a move that doesn't make them any better suited to defeat the Bruins or Rangers in a seven-game series this season.
Head coach Alain Vigneault didn't give Hodgson the ice time he needed to develop well and help the Canucks offense. Well, Vigneault has what he wanted, and if he isn't raising the Stanley Cup in June, he might lose his job.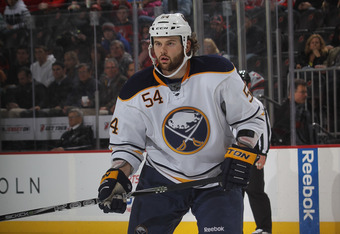 Bruce Bennett/Getty Images
This fiasco of a trade could also cost Gillis his job. Could he have gotten more for Hogson, who has the potential to be a legitimate first-line center? If he made Hodgson available to most of the league, then I think his return would have been much greater than Buffalo's package.
Vancouver made a move at the trade deadline based on what happened last year in the Cup Final, and that's no way to run your team.
Canucks fans now must pray that Kassian becomes a very good NHL player, because this trade smells like the Cam Neely deal that hurt the team back in 1986.
Nicholas Goss is a Featured Columnist for Bleacher Report and was the organization's on-site reporter for the 2011 Stanley Cup Finals in Boston. Follow him on Twitter.