WWE Bleacher Report Mailbag: The First Ever Edition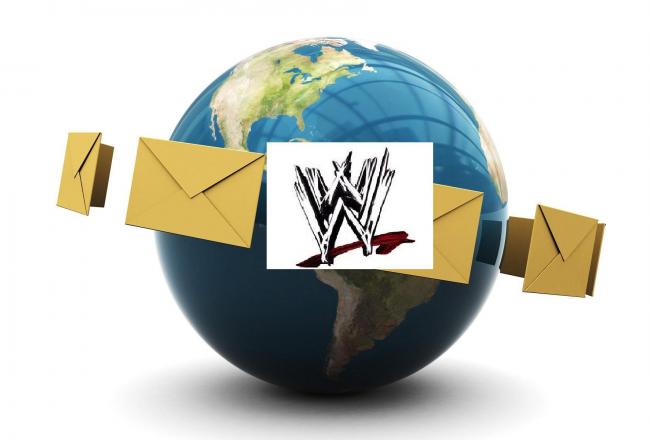 Welcome to the first edition of the WWE Bleacher Report Mailbag! (cue intro music)
Alongside myself sits a renowned group of writers: Kevin Berge, Jon Fisher and Chinmay as we attempt to answer your questions, comments and random rants and then move on to the next one.
But how do I submit questions to the Mailbag?
Simple. You either ask a question in the comment section below, or follow the Mailbag @WWE_Mailbag
where you can ask us questions 24/7/365. If you have a question that you would like answered by a specific writer, then all you need to do is direct it to them.
So relax, sit back with some Kung Pao chicken and enjoy the first edition of the Mailbag...
Am I the only one falling asleep when the Undertaker talks? And seriously, what is with the entrance? I get it! You're the dead man, but c'mon man I got stuff to do.
I'm like everyone else. I get some goose bumps when I hear the gong hit, but after 15 minutes of GONG. . . . GONG. . . . GONG. . . I'm ready for a friggin' nap. I mean you could have the Funkasaurus come to the ring, wrestle, talk about his mama and come back from commercial break before Taker even utters a syllable. . .
And, seriously, does he forget what he came out to "talk" (using term incredibly loosely) about? Because (pause) it (pause) seems (pause) to (pause) take forever!! Am I watching the special Ed. class trying to figure out fifth grade reading, or am I supposed to be awed by this man being 19-0 in WrestleMania visits? Hell, every time I see him I feel like Adam Sandler from Billy Madison whenever Taker gets on the mic, TA-TA-TA-TODAY JUNIOR!
Do You Like the Intro Song?
~DontTase MeBro
William Gullo: I personally don't have this issue. I'm afforded the luxuries of this fantastic thing known as DVR. So whenever I hear the first "Gong" hit I wait until he appears and then immediately hit the fast forward button. If I wanted to watch someone walk that slowly I would go and volunteer at my local hospital's geriatric ward.
I'm not saying I don't like the Undertaker (I have great respect for the man), but I feel you on this issue. It's probably the most boring entrance, albeit classic, in the company right now. Gone with the Wind is a classic movie, but just like Taker's entrance, I haven't managed to stay awake through all four hours of it.
I'm setting the over/under prop bet for Taker's WrestleMania entrance at 15 minutes. I'd put good money on the over since it could be the last one.
Is this going to be the best WrestleMania of all time? There are four legit main events, HIAC outdoors, money in the bank and everything is building great.
~Richard Latta
Chinmay: I would say it is going to be the biggest WrestleMania of all time. There is a mathematical probability that each and every match might stink, thus resulting into one of the biggest let downs in the history of WWE, and being far from the best Mania of all time.
With matches such as Rock/Cena, HHH/Undertaker, Sheamus/Bryan & Jericho/Punk, what is one match YOU want to see added to WrestleMania 28?
~Charlie Groenewegen
Kevin Berge: Right away, I have to say that that is a great selection of matches already confirmed. In order to keep that trend going, they need something great, something every fan would love, especially me. Something we should all be clamoring for.
Cody Rhodes (c) vs. Santino Marella for the Intercontinental Championship.
One month ago, most would have thought this was a stupid idea. Now after Santino basically was the Elimination Chamber pay-per-view, this would be great and appropriate. Both men are immensely charismatic—especially Santino—and can go in the ring—especially Rhodes. The way to make this even bigger and elevate both stars would be to have Santino go over.
Rhodes moves on to the World Title picture maybe taking the title from Sheamus. Santino gets to work his way to the top as a rising babyface. We could have a new and improved Honk-A-Meter, pull out random raps, impersonations and Diva hilarity as Santino continues to evolve into a real competitor inside the ring as a legitimate threat rather than just a joke. Everyone wins as everyone becomes a bigger star quickly. And isn't that what WWE needs?
Oh, and, by the way, this does in fact mean I do not want to see Big Show face Rhodes which has been hinted at. Maybe that's just because I don't like Show or it might just be because Show never helps elevate any star. Well, it doesn't matter. That match just shouldn't happen
Should Randy Orton and Christian/Mark Henry be added to the World Title match at WrestleMania?! It may lessen the importance of Sheamus's RR win, but they add serious star power and all three guys deserve it after the best year of most their careers. Plus having a Fatal Four Way will make it stand out.
~Barry Costello
Jon Fisher: Absolutely not! Reason being, Sheamus and Daniel Bryan need to prove they have what it takes to put on a great match on the biggest stage in the company. Adding Orton or Henry/Christian will diminish what could potentially be the best match on the card. Granted that is a huge statement, but both are main event players for a reason. Throw Orton/Christian/Henry in another feud and add that match to the card.
Do you think it's a good thing that there are so many legitimate main events on the WrestleMania card? Or will they all detract from each other and make the card a bit of a mess?
~ James Hammond
Chinmay: It depends upon how you see it.
A normal fan that enjoys the show would die to watch such a show live, and would dream of it being an overkill. As a "wrestling writer" it kills me that a WWE show could be amazing. As I said in an answer to another question, there is a mathematical probability that it may stink. And I bet, regardless of the quality of the event, on the 2nd of April you will see several hundred comments on Bleacher Report which would vindicate me.
So, most likely the Rock vs. Cena will be going on last at WrestleMania 28, right? Shouldn't that be a spot reserved for the WWE championship match, the richest prize in the game? Jericho/ Triple H had to follow Hogan/Rock.
~Erik West
William Gullo: Short Answer…no.
Detailed answer… I think that if the WWE learned anything from WrestleMania 18 it was that Rock/Hogan should've closed the show. The crowd basically killed itself during that match, and couldn't even come close to matching the excitement for the match after. This makes the WWE Championship match seem not as electric and exciting if the crowd is semi-out of it, or not as amped as the previous match.
Rock and Cena are colliding at WrestleMania for a reason, to headline it. It would be dumb to book this as anything but the main event of the night. That's like having Eminem open for Mac Miller. Who's to say the audience just doesn't leave the show after seeing Rock and Cena.
Does anyone actually like Wade Barrett's new theme? I've yet to find one person who does.
- Emil Shauffhausen
Kevin Berge: Wade Barrett is awesome. His style, flash, mic skills and charisma are all off the charts, but that song… I tried. I decided one day to listen to the song on loop to try and find out what Barrett likes about it. After about 10 listens, my mind melted. The wretched sounds and overly pronounced auto-tune may have left me with permanent mental scarring. I have a feeling that Barrett did the same thing. He was locked in a room for hours on end forced to listen to it so many times that he was convinced it was a good song.
Seriously, guy goes from the awesome "We Are One" by 12 Stones to "End of Days" by Matty McCloskey and edited by Jim Johnston which was good but killed by WWE using it for the wretched Corre stable first to this…. Does anyone like this song? Honestly, I'm not at all even a fan of the original band that recorded the track American Wolves. If that wasn't enough, those dips in tuning are more grating on a psyche than, well, a cheese grater against Brie. Maybe some out there likes it, but even fate seem to hates it. Can you explain Barrett possibly missing Mania this year in any other way?
Why do a lot of members of the IWC constantly say that WWE has a small roster and few talented individuals? How do they not see Hawkins, Reks, Kidd, Hunico, heck, even Tatsu? How do they always manage to forget Drew and Ted?
The IWC often say things that completely annoy and puzzle me at the same time. I just named seven men who are essentially nobodies in the company right now. I just named seven men who could be VERY important in the company right now. WWE has a decent roster. WWE has a decent amount of (very) talented performers. However, WWE also has a huge amount of idiotic writers and so-called bookers.
~ Drago Kutle
John Fisher : Normally, the IWC looks for certain individuals to fit their certain mold. Like Daniel Bryan and CM Punk is the glorified forefront of the WWE. Not true. McMahon has accrued some nice young talent that is finally starting to develop. Dolph Ziggler, Kofi Kingston, Cody Rhodes and even Bryan are now starting to come into their own. When Christian and Del Rio come back that will add to the talent Smackdown needs and don't forget Rey Mysterio and Barrett being injured at the moment. Simply, the WWE has the talent, the IWC needs to realize it and get behind their movement.
I'm curious why the IWC always asks for pushes with people such as Bryan and Punk but when they both got pushed only hear complaining about how they changed and aren't as awesome as they used to be.
~Joey Puzin
Chinmay: Success, good life and other merry things don't really bode well with a portion of IWC. Once the IWC heartthrobs become successful, they alienate themselves from their "fanbase" by simply not being an underachiever (read Failure). They cease to be the victims of unjust and discriminative society, which many IWC members imagine themselves to be.
A trend I find disturbing is that WWE keeps bringing Khali back. Come on! The guy can barely walk; he can't speak, and is a waste of a roster spot. In general he is pretty much a waste of oxygen.
~ Ryan Lauro
William Gullo: If we look beyond the fact that he is the only "star" that is massively popular in his home country of India, and the fact that McMahon is probably hell bent on having a "superstar" from every country then you're absolutely right.
My cat has a bigger move set than Khali. He's got the "lick himself", the rabbit feet kick, the yawn and stretch and (my personal favorite) the "chasing tail". I don't understand how you can be a wrestler in the WWE with two moves! Then again, I completely understand how you can be in the WWE with two moves. You know McMahon was praying that Jeremy Lin was a professional wrestler and not a basketball player.
Who had more moves Hulk Hogan (who I see weekly because he shops in my store) or stone cold?
~Richard Latta
Chinmay: If we take into account backstabbing, complaining and other forms of political maneuvers; then Hogan has way more moves than most of the wrestlers in this business. In terms of Wrestling, Stone Cold wins.
What is each of your favorite eras in WWE History?
~ Dillon Borchard
Chinmay: So far, my favorite era is the "Ruthless Aggression" era. The wrestling quality of those years was simply amazing. The stars such as Kurt Angle, Eddie Guererro, Benoit, The Undertaker, Triple H, HBK, Chris Jericho etc. were in their prime in those days. Many people may find it to be a rushed opinion, but the reality era with its programming and the wrestling quality may soon become my most favorite era. It is something that suites my sensibilities as a pro wrestling fan.
William Gullo: If you pointed a gun to my head and told me to give you the first answer that came to my mind I would chose the "Attitude Era". It's a good possibility that a lot of our love of that era is solely based around nostalgia, and the fact we were all much younger, which made it feel more real.
Taker, Austin, The Rock, Triple H, Foley, Jericho, Kane, legit tag teams, Kurt Angle and the 24/7 Hardcore title were nightly staples in one of wrestling's most unpredictable time periods. However, just like Chinmay said, this new era in the WWE is quickly growing on me. I think the WWE has finally figured out the right concoction of pure wrestling, entertainment and edge without being unmarketable to families (the real money makers).
I realize it makes sense for Kane to feud with Zak Ryder now but is it too much to ask for a Kane (kidnapping AJ) - Bryan feud? I know it makes no sense but I would pay a lot of money to see Bryan's face when he realizes that Kane has hidden AJ away in a smokehouse meat locker.
~CJ Williamson
Kevin Berge: Daniel Bryan's facial expressions in that feud would be more than worth it. Have to agree on that, but we need to wait. Bryan will have plenty of great reactions to his feud with Sheamus and maybe Orton following to tide you over for now. In about five months or so, when Bryan is out of the title picture, it will make the moment all the sweeter.
Plus, I'm sure Ryder and Kane will have some great reactions to one another. With Kane hell-bent on hurting Ryder every single week just for his own amusement and Ryder's catchphrases, they are a match made in a very strange piece of heaven. Plus you know you want to see Kane and Eve team up. What an emotional roller coaster of acting and mic work that would be.
Which WWE Superstar do you think lost their virginity at the oldest age? My guess is Jack Swagger.
~Kevin Panetta
William Gullo: You know, it's no fun if you steal the punch line away from me. If I can't go with Swagger, then my next choice would be Hornswoggle, but that answer feels a little politically incorrect…So you win.
How many days after WrestleMania do you think it will take John Cena to win the WWE Championship?
~Michael Muys
Kevin Berge: Well, let's look at the Cena facts, shall we? Cena has won 12 World Championships in the span of seven years. The average time he has been away from the title since losing his first championship (estimated all numbers personally) is 108 days. That is including time away due to injury. After WrestleMania XXVIII, John Cena will have been away from the title for 182 days. That would be the third-longest time he has ever been away from the title since first winning it at WrestleMania 21.
Gullo's side note: I think we all need to take a moment, stand up and applaud that research. Even if it's a blatant lie, I'll believe it!
Therefore, it is safe to say that Cena won't be waiting long. Coming out of a super-hot match with the Rock, Cena will probably immediately be jumping into the title picture. When Cena gets involved in the title picture, he usually wins on his second attempt at the title, therefore Cena will win back the WWE Championship at Over the Limit in a triple threat match between Cena, Punk and (insert heel here). Cena will make the heel submit and take Punk's title.
Everyone will be outraged and flaming left and right about it, but Cena will probably only hold the title for a few PPVs before losing it to the Money in the Bank winner. That's about how it usually goes, right? Seems like sound logic.
Why is the IWC so obsessed with Daniel Bryan? Yeah, he is a submission specialist, but most of the bigger stars in WWE history didn't rely on mat wrestling at all (Stone Cold, The Rock, Undertaker, Shawn Michaels).
Did You Make It This Far into the Mailbag?
I think his vegan gimmick is highly annoying (he can shove 10 pounds of carrots up his candy ass), and him running around screaming "YES! YES! YES!" makes me want to call Edge so he can deliver him Con-Chairtos consecutively for at least two weeks. When I see Bryan on TV runs his mouth with the WHC, all I see is Orton screaming "Stupid, Stupid!" and punts him over and over again. I hope Bryan will get violently (expletive deleted) by Sheamus at WrestleMania...
'I'm Daniel Bryan, I'm a vegan!!!' - FU!!!!!!!!!!!!!!!!!!!!!"
~Ryan Bale
Kevin Berge: Congratulations, you have effectively fallen into the storyline heel hate. You find Daniel Bryan annoying and want to see him beat up? Well, guess what? That is exactly how WWE wants you to feel. Bryan is self-righteous, egocentric and way over the top in a way that is supposed to make you hate him. In this day and age, the task of getting heels to be hated universally is tough because many fans love rooting for the heel. The heel has more freedom on the mic and in the ring to control everything.
Can you see it now or not yet? There is a guy who goes out there each week delivering convincing promos and great matches, and you hate him because… his character is annoying. Yep, you are falling into the trap. Not a bad place to be per say, but it makes for interesting conversations between those who hate characters and those who love the wrestler behind the character. The arguments about being annoyed and wanting to see him get beat up really don't work very well in such a talk. But keep hating him. WWE will reward your hate.
Thanks for reading, and remember to submit your questions so you can end up on the next Mailbag!
This article is
What is the duplicate article?
Why is this article offensive?
Where is this article plagiarized from?
Why is this article poorly edited?