UFC on FX 2: Joseph Benavidez vs. Yasuhiro Urushitani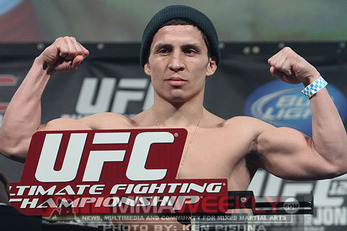 Joseph Benavidez/ Ken Pishna for MMAWeekly.com
Fans will get their first taste of the UFC's newly-minted flyweight class this Saturday as perennial contender Joseph Benavidez welcomes Yasuhiro Urushitani to the Octagon.
Both men will meet in the semifinal round of the organization's 125-pound tournament, where the winner will be ushered into the finals against the winner between Demetrious Johnson and Ian McCall.
The final man standing will be UFC's first flyweight champion.
Benavidez and Urushitani are both world-renowned fighters, though they have opposing styles, which makes for an interesting matchup.
Joseph Benavidez/ Ken Pishna for MMAWeekly.com
Begin Slideshow

»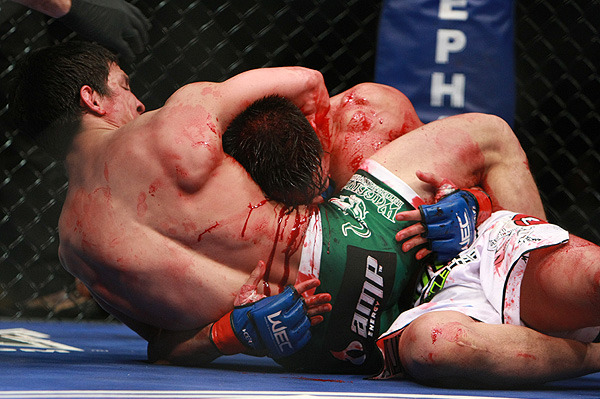 Benavidez (left)/ Dave Mandel for Sherdog.com
In the past, we've seen Benavidez's collegiate-level wrestling skills nullified by only one man, UFC bantamweight champion Dominick Cruz.
"The Dominator" was able to stave off most takedown attempts from Benavidez thanks to his own amateur background.
However, against Urushitani, Benavidez will be paired against a man whose primary strength is his technical striking prowess. No slouch on the ground, Urushitani still will remain at a decided disadvantage against Benavidez, who is used to throwing around men much larger in stature.
Now that Benavidez will be in his more comfortable surroundings at 125 pounds, the playing field has been leveled for the Team Alpha Male product, who will be able to muscle down Urushitani when needed.
Not to mention that the patented guillotine choke is always cause for concern. Benavidez has submitted two touted Brazilian jiu-jitsu black belts with it in the past.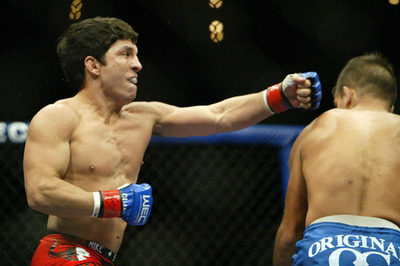 Benavidez (left)/ Jeff Sherwood for Sherdog.com
The technical striking acumen of Urushitani is largely unrivaled in the flyweight class.
Even against another touted striking enthusiast in Mamoru Yamaguchi, Urushitani managed to edge his fellow countryman by decision, avenging an earlier defeat to the afro-donning stud.
However, against Benavidez—who doesn't hold the same exact precision strikes of his opponent—Urushitani still needs to be wary of two innate traits of the Californian.
Benavidez has ascended the ranks of the bantamweight class thanks to his affinity for throwing wading hooks at his opponents, wilting most men with powerful hooks that come at high speeds.
Even against a known knockout puncher in Eddie Wineland, Benavidez threw himself into the fray, utilizing his superior speed to work inside the range of Wineland. Benavidez rocked the former champion on several occasions before settling for the decision win.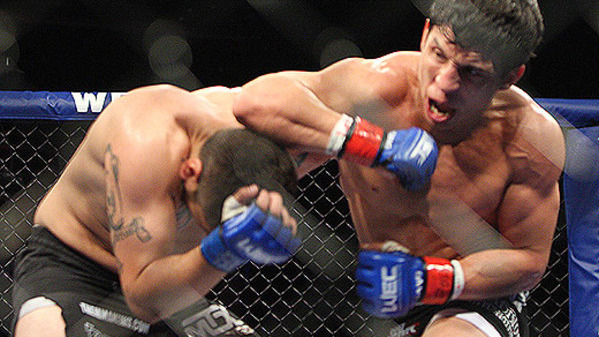 Benavidez (right)/ Scott Petersen for MMAWeekly.com
It's hard to ignore the many advantages that Benavidez brings into his bout with Urushitani.
Speed, power, aggression and the wrestling all sway in favor of "The Beefcake," who will use a well-balanced attack to earn the decision win.
Mixing in strikes with his takedowns, Benavidez's cardio and relentless pace will slowly begin to wilt Urushitani, who will tire as the fight wears on.
The most likely scenario has Benavidez earning the late stoppage by a hellish barrage of ground-and-pound, though Urushitani is a tested veteran and will likely make it to the final bell. But Benavidez will be the one walking away with the victory.