Detroit Red Wings 2012: 10 Keys to Wings Making a Deep Stanley Cup Run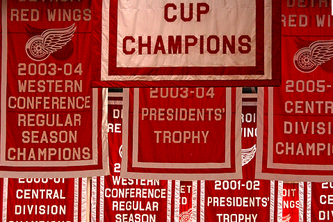 There is always room for more banners at the Joe.
No team in major professional sports has had more consecutive playoff appearances than the Detroit Red Wings. In fact nobody is even close. Detroit is at 20, San Jose is a distant second at seven years. Over those 20 years the Red Wings have managed to lift the Stanley Cup four times.
Widely regarded as the most difficult trophy to win in all of team sports, Lord Stanley's cup is the only acceptable result for the Hockeytown faithful.
To make a successful run towards hockey's ultimate prize, teams must put together a combination of grit, skill, luck and facial hair in order to get close to the promised land. While a hot goalie can steal a round or two, a third-liner can discover a hidden scoring touch or a timely goal can change a series.
Any combination of these can get your team engraved with hockey's immortals like Gretzky, Lemieux, Yzerman or Basil Pocklington.
The 2012 edition of the Wings has already put its stamp on the season with an NHL-record home-winning streak. However, the gang from Motown has their sights set on bigger and better things.
Adding more linen to the rafters at the cozy Joe Louis Arena is the only mission for Mike Babcock and Co. Hopefully, sometime in early June, Nick Lidstrom will begin his sojourn into retirement (and hockey immortality) by hoisting the fabled silver chalice over his head for the last time.
Here's how they'll get there:
Begin Slideshow

»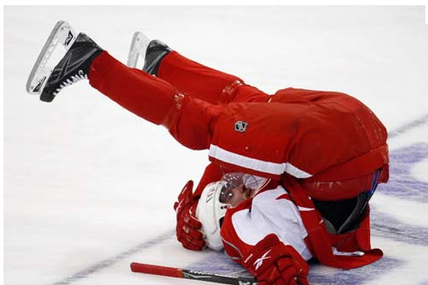 Detroit prefers their Datsyuk on his feet
After an 82-game season, every team has its share of bumps and bruises. What you hope to avoid going into the playoffs, are any nagging injuries that could catch up and cost your team games. The last week (or two) of the season is often used to keep the stars fresh, and get some ice time for the younger players.
Detroit seems to have pre-emptively put their star under the knife mid-February to ensure his Datsyuk-ian freshness come April. While the Wings still have some nagging issues with role players like Patrick Eaves (concussion/broken jaw), Danny Cleary (knee) and Johnathon Ericsson (wrist), most of the stars are relatively injury-free.
Jimmy Howard's broken finger showed us that Joey MacDonald can be counted on in case of emergency.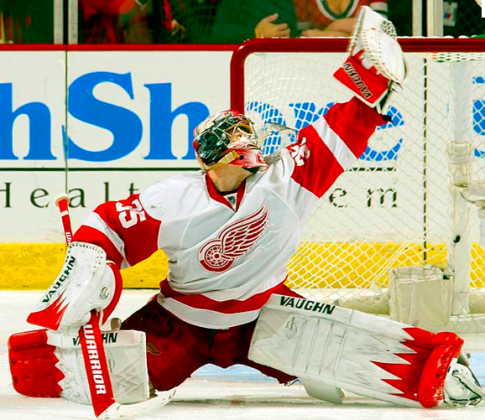 Glove save........and a beauty!!!!
Jimmy Howard has put together a Vezina-quality type season. It's hard to believe that just a few years ago, we were afraid of putting Chris Osgood's backup in. He has improved his game greatly the past couple years, and appears ready to take the Wings beyond the second round this year. Howard's confidence has grown immensely over the past 18 months, and so has the teams' in front of him.
Joey MacDonald was fantastic when Howie went out with a broken finger, supplanting Ty Conklin as the Red Wing backup.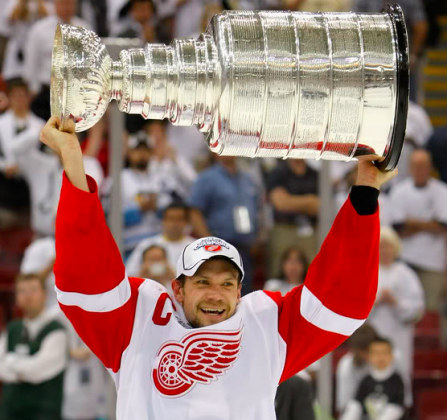 Hey! There's my name on the cup! There it is again!
Been there, done that. At least 14 Wings can find their names on the cup already. That kind of experience is immeasurable in the playoffs, when players might buckle under the pressure of expectations. The playoff experience is always underestimated by many.
While some teams appear "happy to be there," Detroit expects to be there. Integrating some of the Grand Rapids shuttle busers, Tomas Tatar, Brendan Smith and Gustav Nyquist, into some games at the end of the year will also give the Wings depth on offense and defense.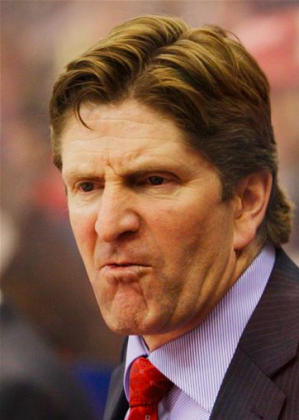 When I look at this picture, I feel like Mike Babcock is disapointed in me!
There is no other coach in the league with the pedigree of Mike Babcock. There are games during the regular season that it seems Babcock actually wills his team to win with his hateful glare and lantern jaw. It's probably not fun to feel the weight of that stare skating back to your bench after a defensive zone error or coming back from the penalty box.
The glowering bench boss is the charter member of the International Ice Hockey Federation's Triple Gold Club, after winning Olympic Gold in 2010, the Stanley Cup in 2008 and the World Championship in 2004. Babcock's intensity and preparation ensure that, come playoff time, his men will be ready both physically and mentally.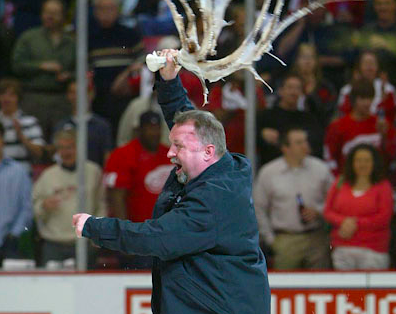 Best tradition in hockey. Period.
The Joe Louis Arena is one of the older "barns" in the NHL. Built in 1979, the "Joe" is the fourth oldest building in hockey. It is also one of the loudest in the league. With "Hockeytown" inscribed into the Red Wings logo at center ice, Detroit Rock City truly wears its heart on its sleeve on game night.
The Red Wings sold out every game for 10 years from 1997 to 2006, before the streak was broken at 452 straight. These days the Wings are working on a new sellout streak (50), and in case you hadn't heard, they set the NHL's consecutive home win streak earlier this year at 23. The Joe has always been a tough place to play during the regular season, but in the playoffs the decibels and octopi are flying.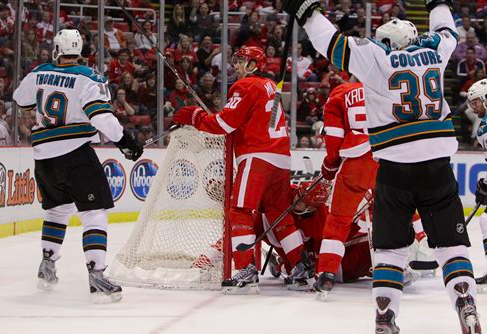 The Sharks have bounced Detroit in Round 2 the last two years.
Though it's almost a psychological wall that teams sometimes run into, there are certain matchups, for whatever reason that play in a team's favor. Looking at the Red Wings roster, there aren't a lot of teams that Detroit doesn't match up against.
The last two years, the Wings have been eliminated by the San Jose Sharks. Does this give the Sharks an edge when they come to Motown? Do they feel more confident when they draw Detroit for a series? It's hard to imagine any team feeling happy to draw a team like the Wings come playoff time, but the psychological edge of these matchups is very real.
Until, Darren McCarty took it upon himself to create a new red line near center ice with Claude Lemieux's face in 1997, the Avalanche owned the psychological matchup with Detroit. Once they got past the Colorado hurdle, they were able to sip from the Cup.
Hockey players are ridiculously superstitious, so an early-round matchup against a team that has had recent success against them could be a potential pitfall for the Wings.
In 2002, the Red Wings blitzed the rest of the NHL, cruising to the Presidents trophy, and home ice throughout the playoffs. Anointed in the preseason as the Stanley Cup favorites, Detroit had signed veterans Dominik Hasek, Brett Hull and Luc Robitaille to an already strong roster. However, the Wings found themselves in an 0-2 hole in the first round against the eighth-seeded Vancouver Canucks.
Heading to Vancouver after conceding home ice, Detroit saw its fortunes turn on a shot from center ice by Nicklas Lidstrom. Vancouver goalie Dan Cloutier, who had been stellar to this point, never recovered, and Detroit went on to win the next four games of the series, and eventually the Cup.
Sometimes it's better to be lucky than good, but being great helps some teams make their own luck.
Wings fans would like to see plenty of this.
Pavel Datsyuk has been out since Feb. 21, after having a minor arthroscopic procedure on his knee. It's absolutely no coincidence that the surgery was scheduled: a) after the home win streak record was set, and b) with plenty of recovery time for the playoffs.
Don't be surprised if Datsyuk sits out until early April with his knee recovery. The Wings are good enough to place high in the Western Conference without him, so until he is literally begging to get out on the ice, we won't see him. April 1 will give Pavel enough time to get back into game shape, and more than enough time to get his knee to 100 percent.
When he is healthy Datsyuk is a game-changer, and everyone knows it. He makes a difference in the offensive and defensive zones. Voted the league's best player by his peers, Datsyuk has not had a completely healthy playoffs since 2008, the last time that Detroit won Lord Stanley.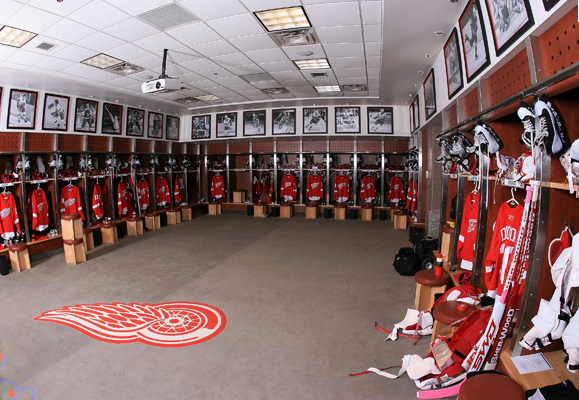 Plenty of capable sticks in here
It could be argued that the talent pool in Detroit is as deep as any in the NHL. In fact the Wings are notorious for leaving even the best prospects in their minor league system until they are "overripe." Brendan Smith is a defenseman, recently called up with the injury to Johnathon Ericsson and trade of Mike Commodore, who would have been called up on any other NHL roster two years ago.
Smith is a skilled puck handler, who isn't afraid to use the body (just ask Chicago's Ben Smith). He could use a lot of time with the veteran blue liners on the Wings, but would get more consistent ice time in Grand Rapids. Smith is 23, and still a few years before he really hits his prime.
Also waiting in the wings (har har) are forwards Tomas Tatar and Gustav Nyquist. Both players suffer from the wealth of talent on the top four lines in Hockeytown, but would certainly be every night players for another team.
While this depth gives Wings fans a lot to look forward to in the future, it gives Coach Mike Babcock options if the injury bug bites.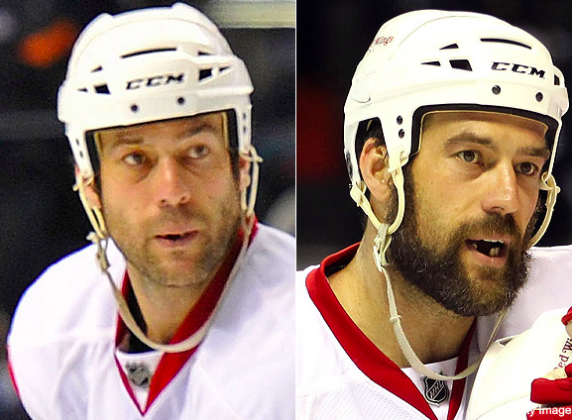 Todd Bertuzzi literally grew this beard in an hour and 38 minutes.
Never, ever underestimate the power of testosterone. Though this would be an ideal time to note Sidney Crosby's crustache/neck growth, it doesn't feel right since he's not back on the ice yet (get well soon, Sid). One of the greatest traditions in hockey is the playoff beard. Jiri Hudler and Nick Lidstrom, excluded, no roster in the NHL boasts a larger, more robust collection of facial cabbage than the Red Wings.
See the above picture as an example. Todd Bertuzzi literally shaves before games so that his playoff beard will be perfect by period number three. Swedes Henrik Zetterberg and Johan Franzen house small Scandinavian villages in their beards during the playoffs.
While the playoff beard doesn't literally help team's win games, what the beard represents is team unity. By design, the beard is a tradition to designed to show solidarity in the locker room and focus on a common goal.
While the 2012 Detroit Red Wings have an extremely capable bevy of beards, the previous nine categories are the real keys to success. A combination of these will certainly make Detroit hard to beat as they seek hockey's Holy Grail, Lord Stanley's Cup.