New England Patriots Position-by-Position Offseason Preview: Specialists
February 28, 2012

Jim Rogash/Getty Images
Back in October, I reached the conclusion that the New England Patriots were better off without several players either traded, released or allowed to leave. Some of the names on this short list were DE Ty Warren, S Brandon Merriweather, RS/WR Brandon Tate and S James Sanders.
Looking back, I wonder if New England should had kept Tate. He just has those instincts when it comes to returning kickoffs. You can see it in his style. Tate did it with panache. And in his only full season with the Patriots, Tate gave the return game explosive potential.
On the surface, Tate hasn't outperformed Julian Edleman in 2011. Their punt returns were equal at 10.6 per return. And Tate had the slimmest advantage on kickoff returns, 23.8 to 23.7.
Both had a punt return for a touchdown: Tate was a 56-yard score to Edelman from 72 yards out. Where Tate separates from Edelman is number of big returns. Tate had five returns go for at least 20 yards, two for at least 40 yards. Edelman only had one of each.
Edelman's punt return numbers are down from 15.3 last year. It's not all his fault, as the blocking has to create lanes. But when it comes to adding more punch to the return game, everything is examined.
Kick returns were bad as well. The Patriots averaged 21.4 per and finished 29th in the NFL. They did not have a single return go for more than 40 yards.
How feckless was kick returns this year? The longest was 37 yards. Offensive guard Dan Connolly had a 71-yarder in 2010.
An accomplished returner, whether at the collegiate or pro level, will be brought to Gillette Stadium to challenge Edelman. The Patriots want a return game that can tilt the field.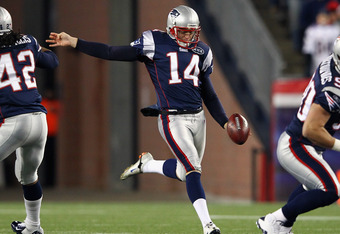 Al Bello/Getty Images
Returns are the only blemish for New England's special teams. Kicker Stephen Gostkowski missed just five field goals out of 33 attempts and was perfect on extra points. Zoltan Mesko was snubbed for a Pro Bowl selection as he led the AFC in net average with 41.5 yards.
That doesn't happen without solid coverage. Matthew Slater was a Pro Bowl selection for his special teams coverage. With him leading the way, opponents averaged just 8.5 yards on punt returns and 21.6 on kickoff returns.
Slater is a free agent. Don't be surprised if he's one of the earliest to re-sign. He won't be expensive by NFL standards, making negotiations easy.
New England is on their third long snapper in three years. That can't make Danny Aiken feel comfortable.
Questions? Comments? Send to talktome@randolphc.com.