2012 NFL Draft: 6 Juniors Who Made a Mistake Opting for the Draft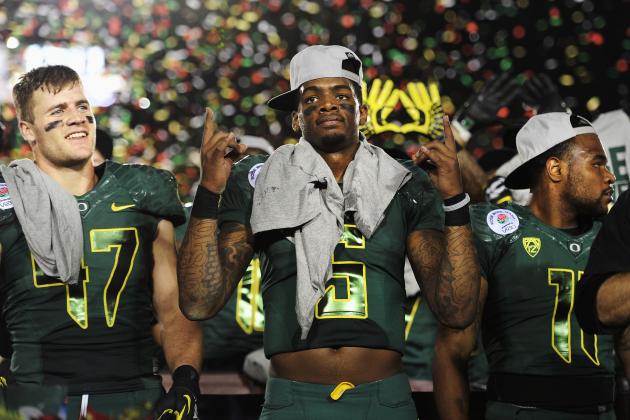 Harry How/Getty Images

Only a select few college football players have the ability to turn NFL aspirations into actuality. To turn pro, you must have enough mental and physical toughness to peel yourself off the grass every time you get walloped by the Patrick Willises of the league.
College football players who think they have what it takes to make it in the NFL are investing their future in their bodies. Any damage done to the body and its image, such as suffering an injury or getting in trouble with the law, can limit the maximum potential of the investment.
Financially, it makes sense to turn pro as soon as a player is eligible. However, cashing in early does not always lead to the greatest return. Some players commit before they have reached their full potential, and their investment suffers accordingly.
This slide show will call out six juniors who made a mistake entering the NFL draft early.
Begin Slideshow

»
Stephen Dunn/Getty Images

In the last two seasons, Darron Thomas has thrown for 63 touchdowns and 16 interceptions while leading the Ducks to a National Championship and Rose Bowl. This is elite status.
But the fact that he ran an unorthodox spread option in college makes him raw at best.
The Ducks were not the only ones surprised by Thomas' sudden departure. NFL scouts are behind on their evaluations of him because they assumed he would be back another year.
With one more statistically dominant season under his belt, Thomas would have been able to slip into the fifth or sixth round of the 2013 draft. Forgoing the opportunity to boost his stock may result in him not getting drafted at all.
Personally, I think he's destined to be throwing touchdowns to Terrell Owens in the Indoor Football League.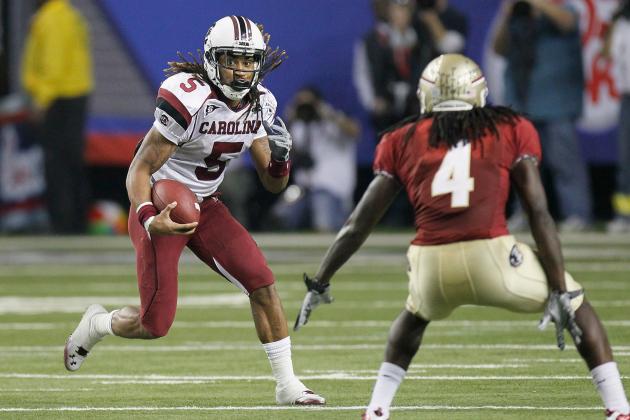 Kevin C. Cox/Getty Images

It is not a mistake on Stephon Gilmore's part that earns him a spot on this list so much as bad timing.
He will be a great corner back in the NFL, it's just that there are four others who will be better in this year's draft class. For this reason, he will be a first-round talent that falls into the second round.
If you include Janoris Jenkins (who balled at Florida before being dismissed in the spring of 2011), Gilmore is the fourth-best SEC corner in this year's draft class (Morris Claiborne, Dre Kirkpatrick and Jenkins are all better).
That is saying something for a guy who held his own in college football's best conference since his freshman year.
Gilmore has been overshadowed by the same corners who will be drafted ahead of him. Had Gilmore decided to stay in South Carolina for one more season, he would have been able to gain notoriety for his first-round abilities and max out on his investment.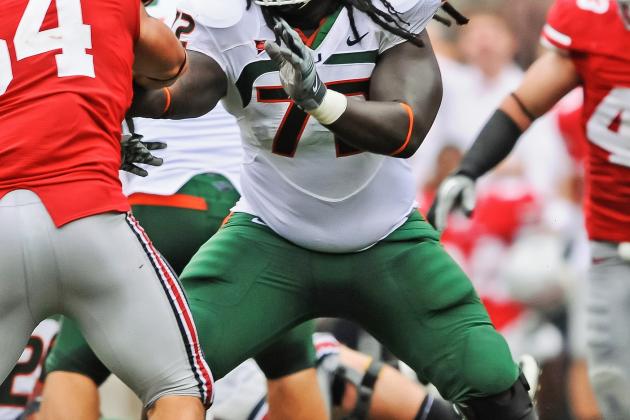 Jamie Sabau/Getty Images

Brandon Washington reminds me of Chilo Rachal, a guard from USC who left college early to enter the 2008 draft.
Coming out of college, Rachal was known as a mauling run-blocker who needed to improve his pass protection technique. He was picked early in the second round by the San Francisco 49ers based on his upside. As a rookie, he was projected to be the starter, but after a few seasons of inconsistent play, he ended up on the bench.
Rachal is currently a free agent who likely will not draw much attention because he was never able to secure a starting job.
After watching Washington tumble through drills at the NFL combine, it is clear that he is not fully developed.
Washington has a second-round grade, according to CBSSports.com. Based on his high ceiling, he deserves it. However, Washington has not mastered all phases of the game. He will not be able to secure a starting role early on and may find himself in the same scenario Rachal is in now.
Washington would have benefited from staying another year in Miami. This would have allowed him the extra time he needs to become a complete player before going up against the professionals.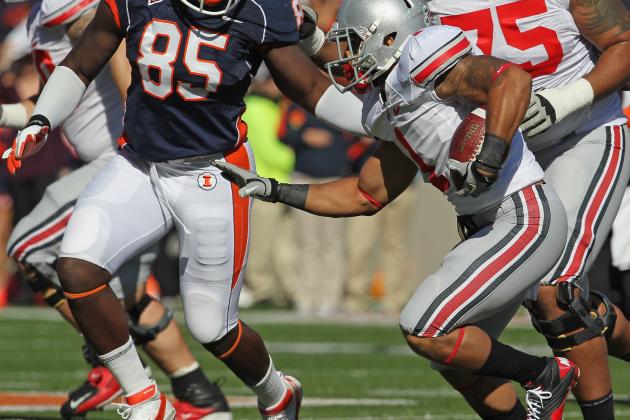 Jonathan Daniel/Getty Images

Whitney Mercilus had two sacks prior to 2011. Last season, there were only two games in which he did not record a sack.
Mercilus burst onto NFL scouts' radars last season with a league-leading 16 sacks. His outstanding junior season had pre-combine mock drafts pegging him as a middle to late first-round pick.
Unfortunately, he was unable to do himself any favors this weekend. Other than the 40-yard dash, Mercilus was unable to finish in the top five of any event.
While his 2011 campaign was undeniably dominant, there will be some NFL teams who fear that he will never be able to repeat such an effort. This, combined with the fact that there are other pass-rushers in the draft who have put up more consistent sack totals, will cause him to fall into the second round.
Mercilus would have increased his draft value immensely with another strong season under his belt. Instead, he will have to go up against the world's best pass-protectors to prove his legitimacy.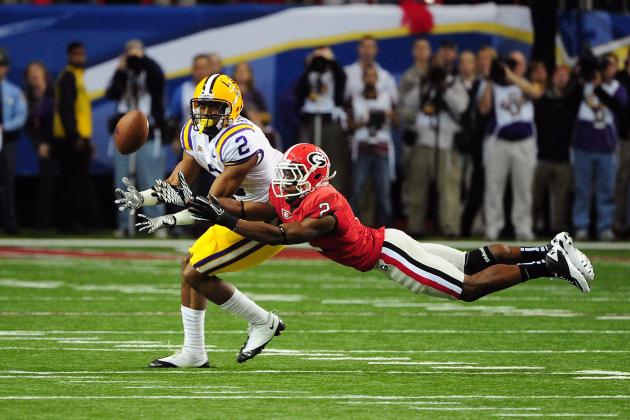 Scott Cunningham/Getty Images

At 6'3" and 210 pounds, Rueben Randle has the ideal size NFL scouts look for in a receiver. He was good but never outstanding in college, but that has been blamed on LSU's inconsistent quarterback tandem.
Randle is a borderline first-rounder with more potential than proven production (Mohamed Sanu had more catches in 2011 than Randle has in his career). NFL.com had this to say about Randle: "(He) will be a 'betting on the come' prospect."
He is not the only wide receiver who fits this description. Alshon Jeffery, Brian Quick, Dwight Jones, Tommy Streeter and Stephen Hill are all big-bodied receivers whose potential overshadows their production.
Randle had the worst performance at the combine of all of the above-mentioned players and may risk falling deep into the second round.
Another year could have given him the opportunity to prove that his production will eventually match his potential. Instead, whoever drafts him will have to hope for the hype.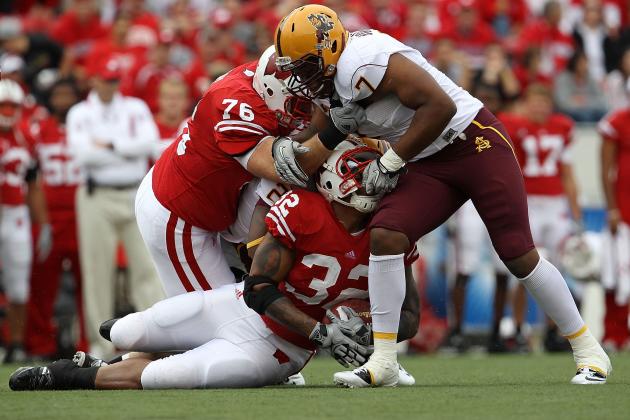 Jonathan Daniel/Getty Images

Talent-wise, Vontaze Burfict is one of the best players in the draft, but his well-documented anger issues have his draft stock in a downward spiral.
At the NFL combine, Burfict had the opportunity to put the past to rest. He could have told everybody that he learned from his mistakes and matured in the last few months. Instead, he blamed his drop-off in production on his coaches, according to CBSSports.com.
This, combined with a lackluster 5.09-second 40-yard dash time, proves that nothing has changed.
At this point, it is easy to say that Burfict is a lost cause, an abundance of Ryan Leaf-style wasted talent. However, there is a slight chance that another year in the desert would do this looney some good.
Todd Graham replaced Dennis Erickson as the Arizona State Sun Devils' head coach this offseason. Maybe, just maybe, there is a chance that Graham would have been able to reason with Burfict in a way Erickson could not.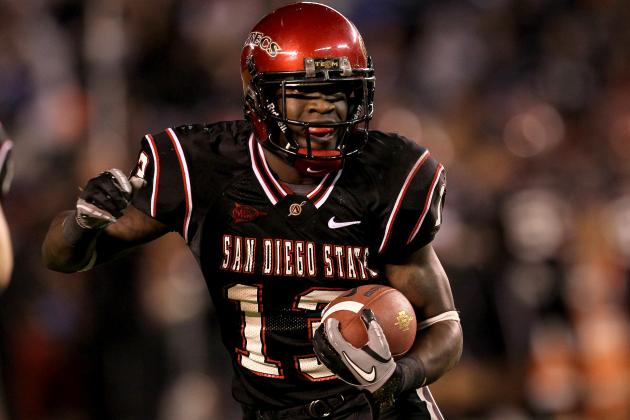 Stephen Dunn/Getty Images

Ronnie Hillman is an honorable mention because he is a redshirt sophomore. Leaving college was the wrong decision because he came from a small school and has yet to earn the respect he deserves.
In 2010, Hillman broke Marshall Faulk's freshman record for most rushing yards in a season (1,532). He followed that up with 1,711 yards and 19 touchdowns in 2011. Despite his astronomical numbers, Hillman will not be picked until the middle portion of the draft.
Faulk, a No. 2 overall selection in the 1994 draft, had 4,589 rushing yards in his three years with the Aztecs. Hillman was on pace to pass that mark if he decided to come back for another season. Breaking a Hall of Famer's record would have earned Hillman the national attention and first-round consideration he deserves.
Instead, the 5'9", 200-pounder will have to compete with the likes of LaMichael James and Chris Rainey as the top "scat back" in the 2012 draft class. While he may not get picked until after them, he will prove that he is a first-round talent by the time his pro career is finished.