Each NBA Team's Biggest Problem Heading into the 2nd Half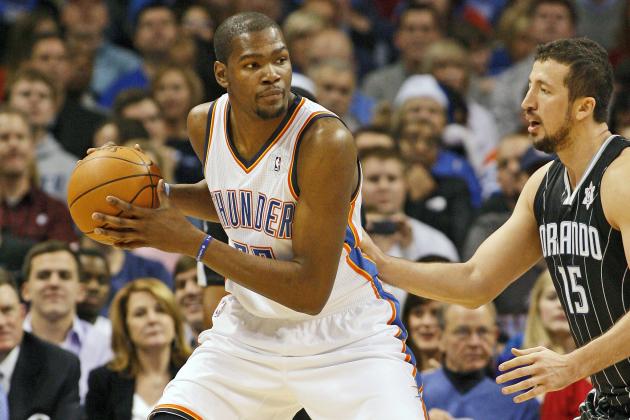 Brett Deering/Getty Images
Can Kevin Durant and the Oklahoma City Thunder get more frontcourt help in the second half of the NBA season?
At the halfway point of the 2011-2012 NBA season, the Chicago Bulls, Miami Heat and Oklahoma City Thunder are showing the most promise as potential world champions come June.
Along with these teams, New York Knicks' overnight star Jeremy Lin has stolen headlines over the past three weeks leading up to the All-Star break.
Now that the weekend's festivities are over and NBA games slated to begin again, it's time to take a look at each team's biggest problem as they start their journey toward either the 2012 NBA playoffs or an early vacation.
Begin Slideshow

»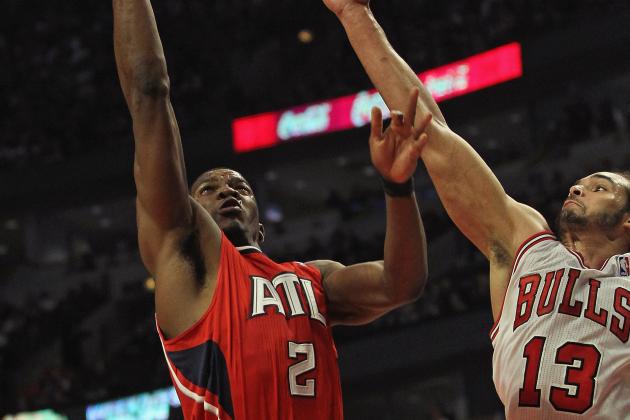 Jonathan Daniel/Getty Images

The Atlanta Hawks' lineup has been a revolving door for injuries so far this season.
Playing through injuries to Joe Johnson, Al Horford, Marvin Williams and Tracy McGrady, the team has managed a respectable 20-14 record so far.
The latest injury has been to their star, 2012 NBA All-Star Joe Johnson, who was forced to miss this past weekend's All-Star festivities.
If the injury bug continues to bite the Hawks team, expect them to start losing more and more games as the season winds down.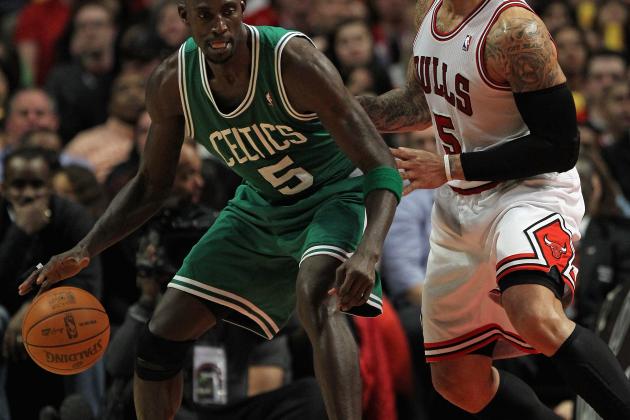 Jonathan Daniel/Getty Images

The Boston Celtics aren't getting any younger these days.
Ray Allen, Kevin Garnett and Paul Pierce are 36, 35 and 34, respectively, and their numbers have all been on the decline for several years now.
While the trio is still very capable of putting up big numbers over the span of a season, their mileage is significantly impacting the Celtics' chances of winning another title.
Rajon Rondo is the star of Beantown these days, and he will need younger, fresher faces to team with if the Celtics want to become serious title contenders again.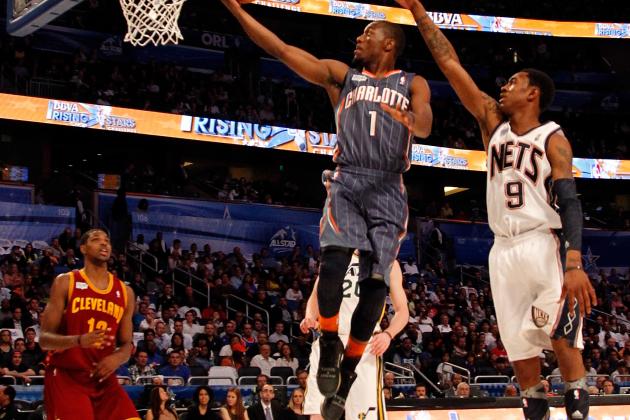 Mike Ehrmann/Getty Images

Rookie Kemba Walker has become the face of the North Carolina-based franchise, and that's completely fine, except in order for that plan to work out, they need more veterans to help himself and his team be as successful as they possibly can be.
Outside of Corey Maggette and Boris Diaw, no one else on the roster with any veteran experience gives them much of a lift.
However, the future looks bright for the Bobcats with D.J. Augustin and Gerald Henderson joining Walker as the faces of the franchise over the next several years.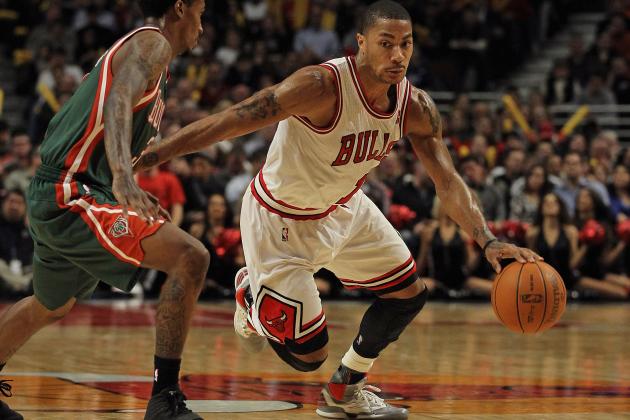 Jonathan Daniel/Getty Images

The Chicago Bulls are dazzling this season behind the expected star play of point guard Derrick Rose, but it's hard to believe that they will contend for a world championship without a second credible backcourt scorer.
Veteran scorer Richard Hamilton was signed in the offseason to help alleviate this issue, but injuries to the 6'7" shooting guard have scarred the franchise.
Luol Deng is a good scorer at 15.9 points from his natural small forward position, but this team needs a healthy sniper like Rip to be healthy by playoff time if they want to make a serious title run.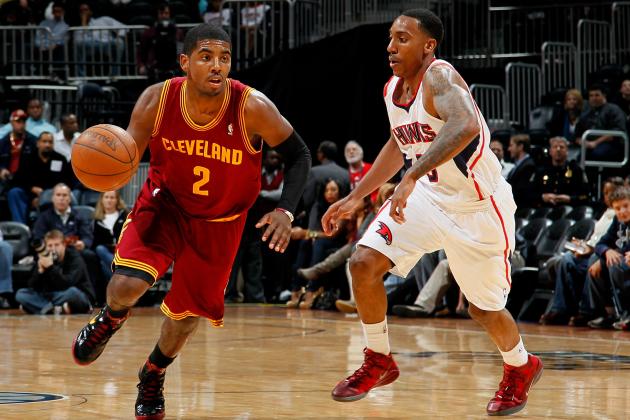 Kevin C. Cox/Getty Images

There is little doubt that Kyrie Irving will be an NBA star for many years to come, but his supreme skills won't do much for his team this season.
He is averaging 18.1 points, 5.1 assists and 3.5 rebounds per game, but he can't carry the entire Cavalier team by himself.
While Antawn Jamison and Anderson Varejao do their fair share of work to help the young star in the making, the next-biggest scorer on the team is Ramon Sessions at 10.4 points per game.
They will need a significant upgrade in talent in order to surround Irving with the type of players who can help him erase Cleveland fans' memories of the LeBron era.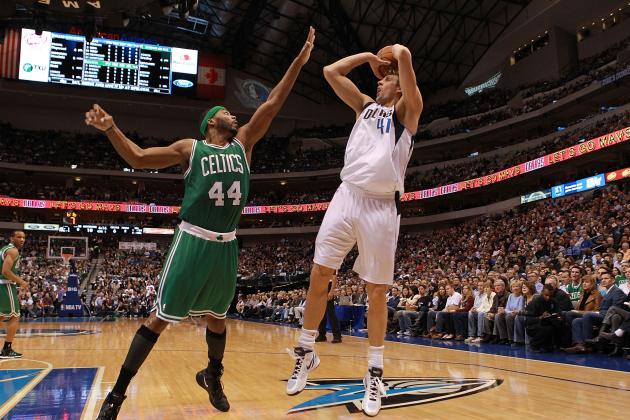 Ronald Martinez/Getty Images

During their run to a 2011 NBA Finals and eventual world championship, the Dallas Mavericks were anchored by center Tyson Chandler and his ability to finish near the rim and block several shots each game.
With him now suiting up for the New York Knicks, the team is still searching for a similar inside presence.
Although they aren't struggling this year, the lack of a dominating big man has hurt the team in many of their 13 losses.
Brendan Haywood leads the team in rebounding at 6.8 boards per contest, but he is not even close to being dominant.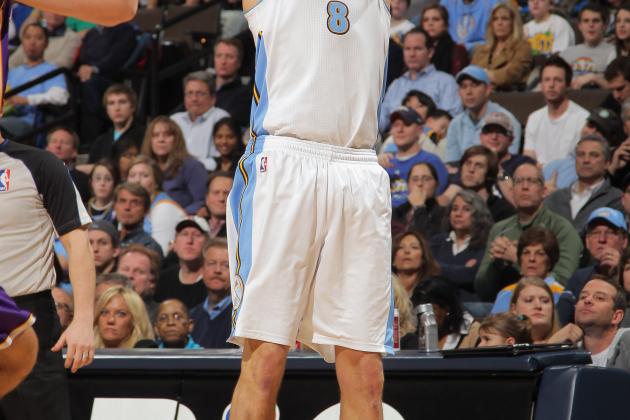 Doug Pensinger/Getty Images

The Denver Nuggets surprised many people in the basketball world with their strong start to the 2011-2012 NBA season.
Since then, they have significantly cooled off, and now hold an 18-17 record.
What has hurt the team most has been their reliance on a fast-break offense.
With Ty Lawson running the offense, it's easy to see why they want to run the floor with every opportunity possible, but opposing teams' ability to slow down the pace of the game has hurt the Nuggets' chances of winning more consistently.
They must learn how to win games in a half-court offense, or the rest of the season could spell trouble for Denver.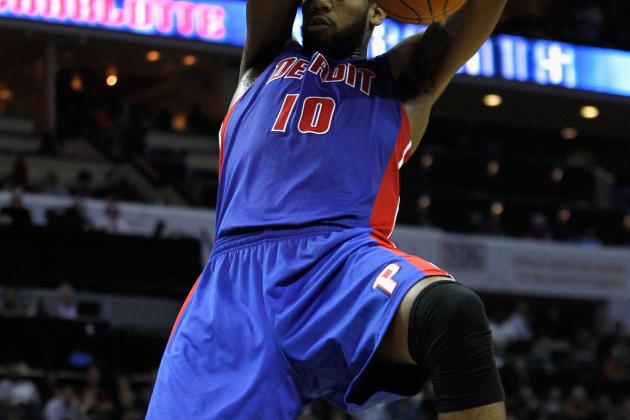 Streeter Lecka/Getty Images

The Detroit Pistons are a team stuck in the middle of a rebuilding year.
While they contain a young, strong nucleus to build their future franchise around, they are still relying on several veterans who are on their last basketball legs.
Greg Monroe is one of the most talented young big men in the NBA, and point guard Brandon Knight is going to be a star in a few years, but Ben Wallace and Tayshaun Prince are playing significant minutes each game, serving merely as a reminder of the franchise's successful past.
The Pistons rejoin the league's elite in the next five years or so, but until then, they will be building toward the future.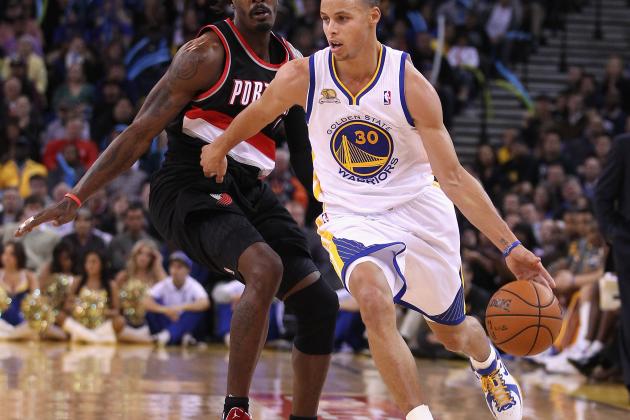 Ezra Shaw/Getty Images

The Golden State Warriors are off to a slow 13-17 start this NBA season, and the reason for that is abundantly clear.
They need to find a true point guard and let Stephen Curry slide over to his natural shooting guard position.
While he is clearly undersized for the 2-guard position at only 6'3", there's no denying his uncanny ability to put the ball in the hoop.
Along with Monta Ellis, they form one of the most dangerous backcourts in the league, and it will become even more scary once they attain a natural lead guard.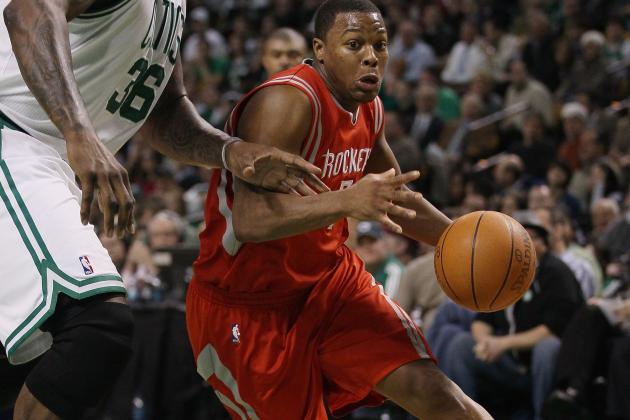 Elsa/Getty Images

A breakout season by point guard Kyle Lowry has helped will the Houston Rockets to an impressive 20-14 record at this point in the season, but until they find a quality big man to anchor their inside game, they won't be serious title contenders.
The team's leading rebounder right now is Samuel Dalembert at 7.6 rebounds per game.
The aging, 6'11" center is in the midst of one of his worst statistical seasons since he entered the league, and he is far from an offensive threat for the team.
They need a post player who is a threat to score at least 15 points each game while grabbing 10-plus rebounds, and that isn't something Dalembert is capable of doing.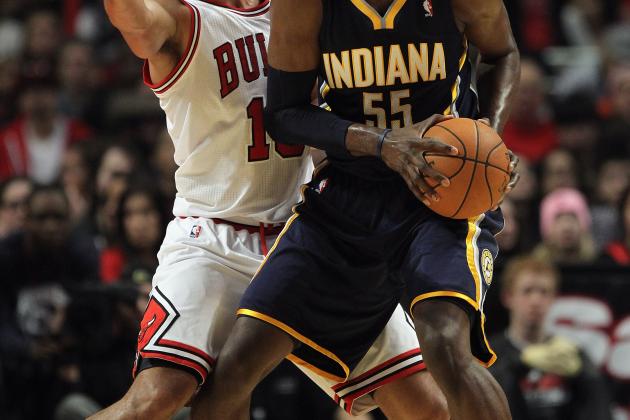 Jonathan Daniel/Getty Images

The Indiana Pacers are currently second in the competitive Central Division behind the powerful Chicago Bulls.
The team contains one of the strongest young core of stars in the league with Roy Hibbert, Danny Granger, Paul George, Darren Collison and Tyler Hansbrough.
What holds the 21-12 Pacers back is their inability to pass the ball.
Collison, their floor general, is handing out 5.2 assists each game, which is good but should be much better considering that he isn't much of a scorer.
The other young stars on the team don't like to pass the ball, either, which could hurt the team as the season wears on.
They are 28th in the league in assists per game, which is baffling for such a successful team.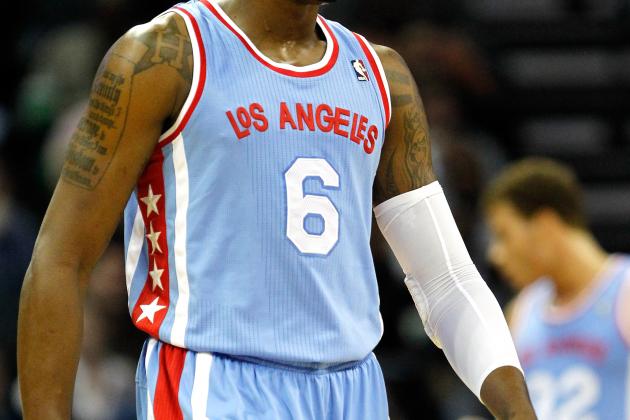 Streeter Lecka/Getty Images

The Los Angeles Clippers have been media darlings all season long—at least until Jeremy Lin's emergence took center stage over the past month.
There's no question that with Chris Paul and Blake Griffin running the show for the Clippers, the 20-11 team can do serious damage in the playoffs.
However, if they want to be the most dangerous team they can possibly be, center DeAndre Jordan needs to improve.
The 6'11", 265-pound athlete is averaging just 8.0 points per game.
While he is the team's best shot blocker and a solid rebounder, he must give Blake more help on the offensive end.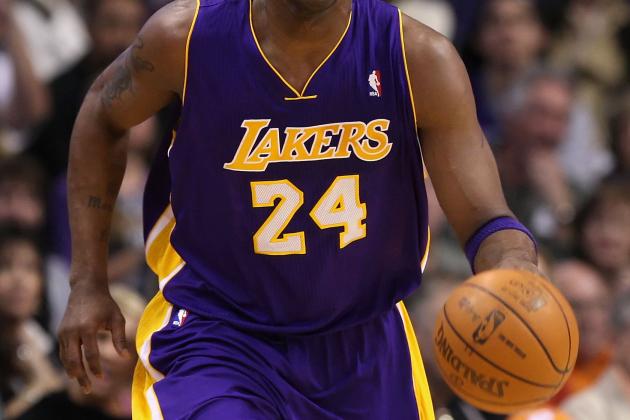 Christian Petersen/Getty Images

It has been no secret this season that the Los Angeles Lakers have not only been shopping for a point guard, but that they have also been struggling without one.
Aging Derek Fisher and Steve Blake aren't the type of impact guards that can help elevate Kobe Bryant and "The Lake Show" back to title-contender status, and until they find a credible lead guard to run their offense, they will struggle in the playoffs against teams like the Clippers and the Thunder.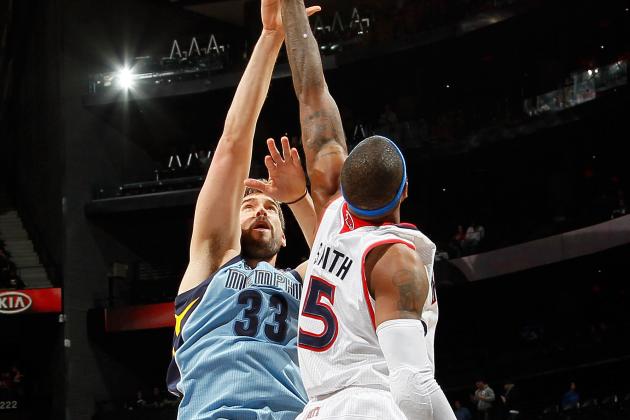 Kevin C. Cox/Getty Images

Marc Gasol has been an anchor for in the post for the past several years.
While Zach Randolph stole some of the shine in last season's magical postseason run, Gasol's consistency has been unmatched by any big man in Memphis.
What the Grizzlies need to be more successful than their 19-15 record is a capable second post presence.
Randolph has faded this season as the injury bug hit the 30-year-old hard.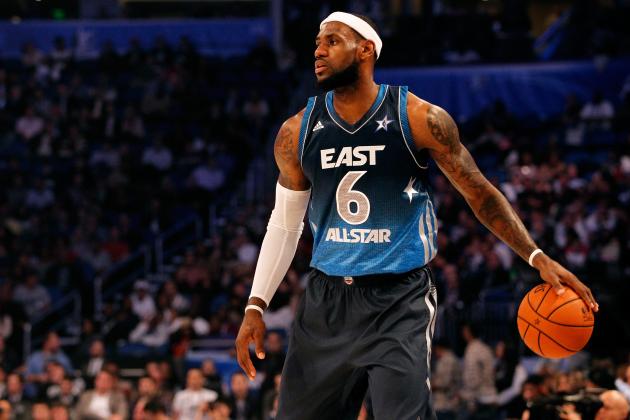 Ronald Martinez/Getty Images

The Miami Heat came into this season with revenge on their mind, and they are playing quite well up to this point.
Once again, their roster is stacked with talent, led by the trio of LeBron James, Dwyane Wade and Chris Bosh.
However, the same question remains.
When will LeBron finally step up in late-game situations? The answer may be never.
Even in last weekend's All-Star game, when the game was on the line, he looked to get rid of the ball.
Only time will tell if he can finally become a clutch player in this league.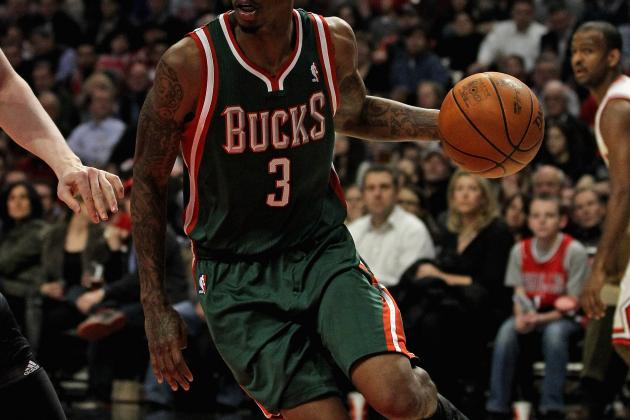 Jonathan Daniel/Getty Images

The Milwaukee Bucks are 21st in the league in points allowed, giving up 96.8 each time they take the floor.
While it doesn't help that their second-best scorer is Drew Gooden, playing bad defense will make a struggling offensive team even worse.
On the bright side, they have Brandon Jennings to lead the franchise over the next several years.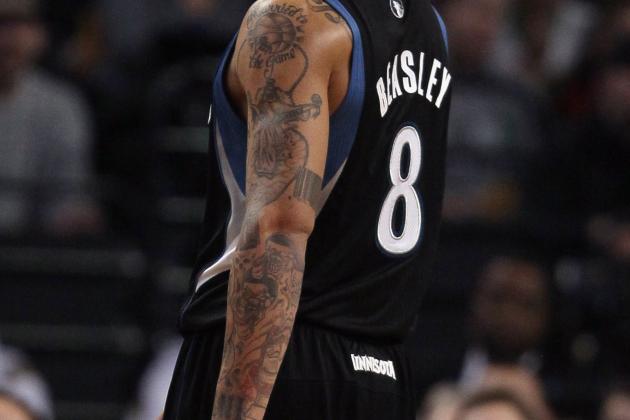 Elsa/Getty Images

Michael Beasley is as puzzling of a basketball player as you will ever find.
He has more natural ability than almost any other player in the NBA, but his inconsistency and immaturity are maddening.
He has a refined post game, is capable of taking players off the dribble and can rain long jumpers all day long.
He could be a 20-point scorer in the league, but all too often he simply settles.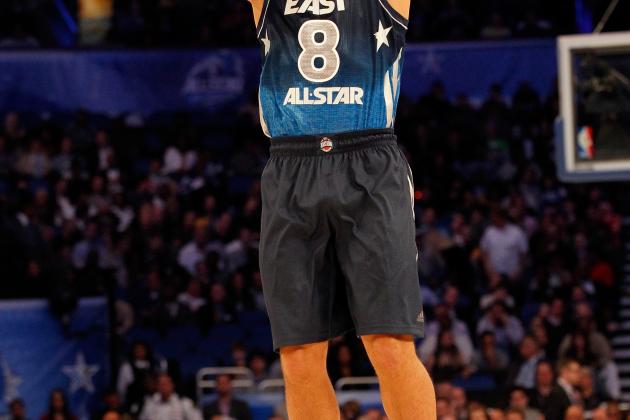 Ronald Martinez/Getty Images

Deron Williams is carrying the New Jersey this year as expected, with averages of 22.2 points and 8.2 assists each game.
The problem is he doesn't have any other players around him.
Kris Humphries and MarShon Brooks are solid players, but they can't be counted on to provide significant scoring every night.
The Nets will continue to be the joke of the Eastern Conference until they get Williams some help.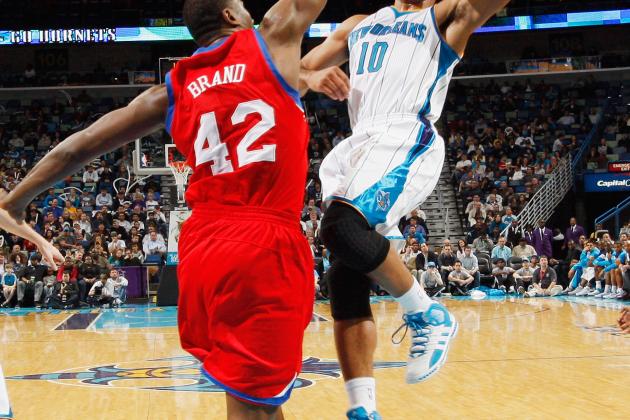 Chris Graythen/Getty Images

The struggling New Orleans Hornets need scorers in a big way.
The main reason they brought Eric Gordon to the bayou was to help provide a big scoring punch, but an unfortunate injury to his knee has all but derailed the team's chances this year.
A group of misfit NBA characters including Jarrett Jack, Chris Kaman, Trevor Ariza and Carl Landry have now had to pick up the slack, and it isn't going well for the 8-25 Hornets.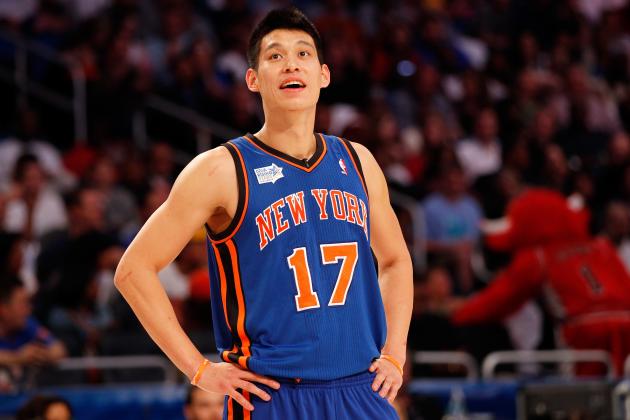 Mike Ehrmann/Getty Images

As everybody in the world already knows, Jeremy Lin has shown that he can be a star point guard in the NBA.
The New York Knicks have been on a tear over the past three weeks with their young star leading the charge.
He is averaging 14.4 points and 5.8 assists each game, but it's crucial that with each game he plays, he continues to improve.
Right now, turnovers are his biggest problem, and one of the team's biggest problems in the games they have lost.
If he cleans up his absurdly high amount of turnovers, the Knicks will be dangerous.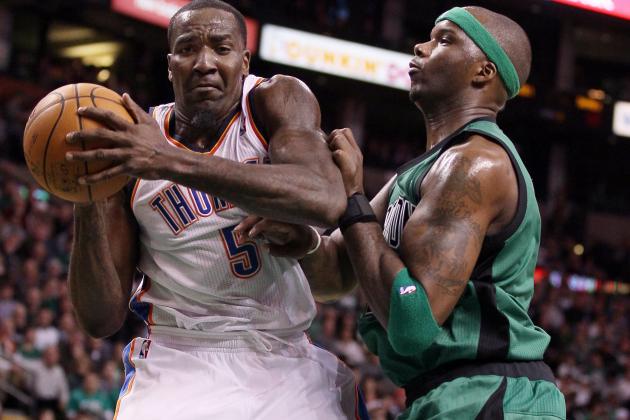 Elsa/Getty Images

We all know that the Oklahoma City Thunder are capable of beating anyone in the league, mostly because of their dynamic stars in Kevin Durant, Russell Westbrook and James Harden.
What they need to help them make it to the 2012 NBA Finals is for either Serge Ibaka or Kendrick Perkins to emerge on the offensive end of the floor.
The two frontcourt starters are only producing a combined 12 points of offense each game, which is terrible.
Someone needs to take pressure off of the backcourt. Who's it going to be?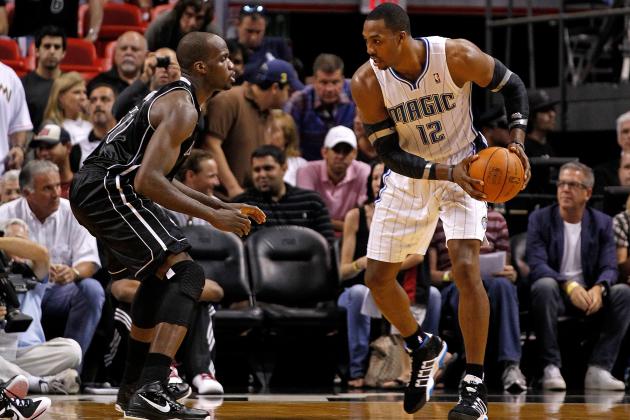 Mike Ehrmann/Getty Images

As usual, Dwight Howard is leading the charge for the Orlando Magic.
The supremely talented big man is averaging 20.1 points and 15.3 rebounds per game, anchoring the inside for his team.
However, the point guard position has become an issue for this team over the past few seasons.
Jameer Nelson isn't having much of a season to this point, averaging only 9.3 points and 5.3 assists each game.
No matter how badly Dwight can dominate other teams in the low block, until the Magic find a more effective lead guard, they will be second-fiddle to the Chicago Bulls and Miami Heat in the Eastern Conference.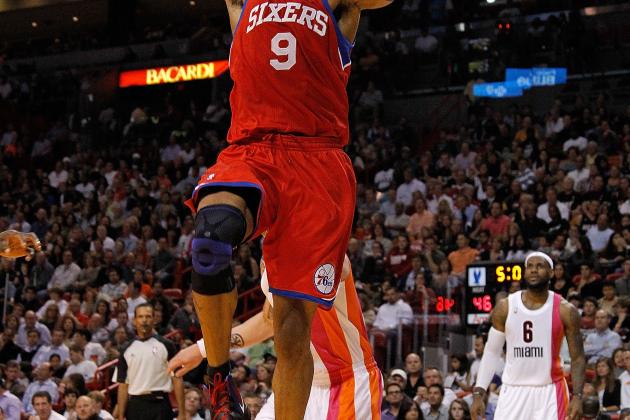 Mike Ehrmann/Getty Images

The Philadelphia 76ers are enjoying a fantastic 2011-2012 season thus far and look to carry their momentum into second half of the season.
The 20-14 Sixers are led by young stars Andre Iguodala, Lou Williams, Thaddeus Young and Jrue Holiday.
They have one of the most talented backcourts in the league, but they lack an inside presence.
Elton Brand is on his last legs, and Spencer Hawes isn't a scoring threat in the paint. Without real threats inside, teams can focus their defensive efforts at shutting down Philly's fantastic guards.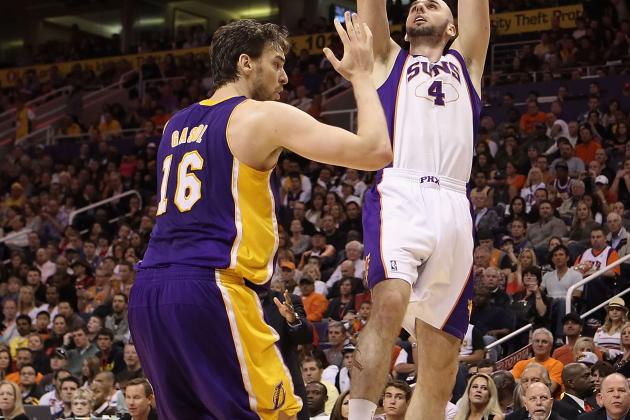 Christian Petersen/Getty Images

Even at the ripe old age of 38, Steve Nash continues to be the face of the Phoenix Suns and continues to be one of the best point guards in the game of basketball.
His 13.9 points and 10.9 assists are great numbers for a point guard, but he doesn't have an explosive young big man to pair with to help notch more wins for the Suns.
Marcin Gortat is a solid pro, averaging 15.9 points and 10.4 rebounds, but he's not Amar'e Stoudemire, who was capable of exploding for 30-point games and completely dominating the opposition.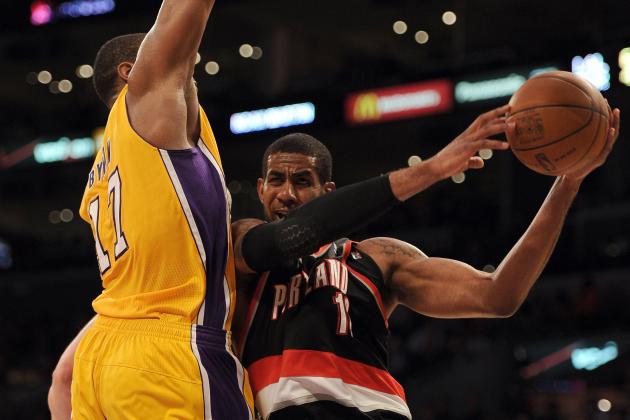 Harry How/Getty Images

The Portland Trail Blazers are proving to have the worst luck of any team in the NBA over the past several years.
Greg Oden's unfortunate string of freakish injuries not only put a gloom over the franchise, but the city of Portland as well.
Then came the news of Brandon Roy's retirement due to the degeneration of his knees.
A crushing blow to Trail Blazers fans, specifically because of their love for the star of their franchise.
His career which we all thought would be filled with several more All-Star appearances was cut tragically short.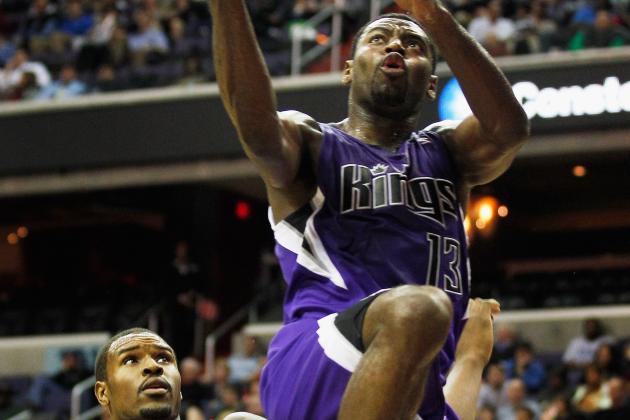 Rob Carr/Getty Images

If you are looking for one of the brightest young teams in the National Basketball Association, the Sacramento Kings have a roster filled with budding stars.
Marcus Thornton, Tyreke Evans, DeMarcus Cousins, Isaiah Thomas and Jimmer Fredette could potentially form a dangerous team in the future, provided that they all stick together in Sacramento.
The keys are Evans and Cousins, who both have the ability to be All-Star performers throughout their careers.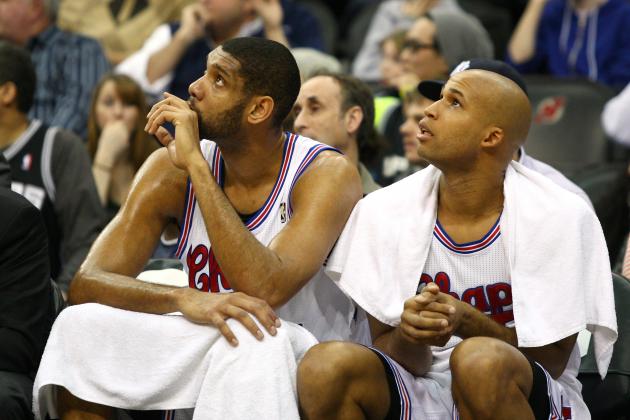 Chris Chambers/Getty Images

The San Antonio Spurs have had an absolutely fantastic start to this NBA season, with a 24-10 record good for first place in the Southwest Division.
Tony Parker is leading the charge for the veteran-oriented team with 19.4 points and 8.1 assists per game.
Tim Duncan, Manu Ginobili and Richard Jefferson are also having solid seasons for the Spurs, but you can't help but wonder when fatigue and injuries will start taking a toll on the aging team.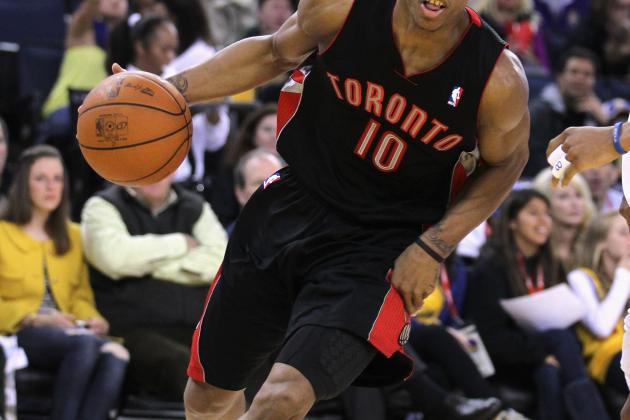 Ezra Shaw/Getty Images

The 10-23 Toronto Raptors will continue to be a struggling franchise until they find themselves at least two consistent stars to build their team around.
Right now, seven-footer Andrea Bargnani is showing his ability to star in the NBA, with averages of 23.5 points and 6.4 rebounds each game—but outside of him, they don't have a bona fide star in the backcourt.
Sure, DeMar DeRozan is gradually becoming a talented shooting guard, but he's never going to be a star.
Up-and-down veterans Leandro Barbosa and Jose Calderon aren't the answer to Toronto's backcourt woes, either.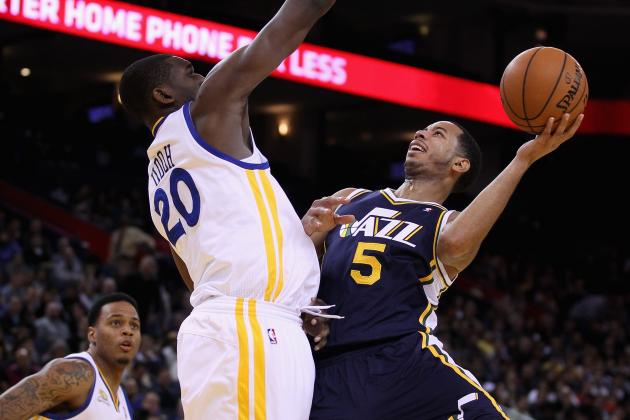 Ezra Shaw/Getty Images

If there is one thing that I can tell you about Utah Jazz point guard Devin Harris, it's that he is not Deron Williams.
The 15-17 team is struggling in the Northwest Division, and it's because they don't have a star point guard.
While their frontcourt is very solid, with center Al Jefferson averaging 19.1 points and 9.4 rebounds each game and power forward Paul Millsap averaging 16.1 points and 9.3 rebounds, their lackluster production at the lead guard position is holding them back.
If your starting point guard is averaging just 9.1 points and 4.5 assists each game, that is a problem that needs to be addressed immediately.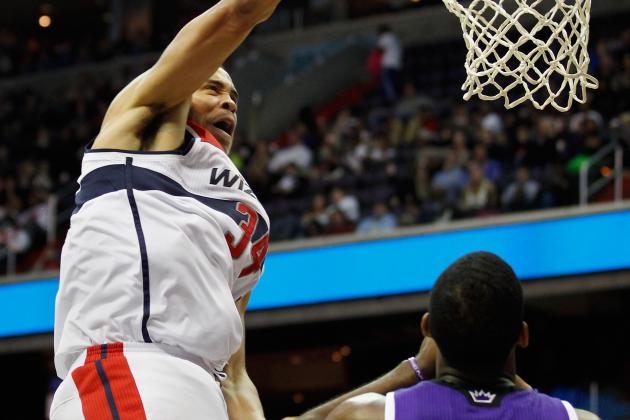 Rob Carr/Getty Images

The Washington Wizards' 2011-2012 campaign has been a train wreck since regular season play began in late December.
The team's frontcourt is one of the main reasons are the league's laughingstock, with headcases JaVale McGee and Andray Blatche manning the paint.
The two have shown the skill and abilities to be star players, but immaturity has gotten in the way of their success.
To make matters worse, point guard cornerstone John Wall's public image is waning, although he has been playing better of late.
It's a bad time to be a Wizards fan.