MLB Predictions: Full-Season Stat Projections for Yu Darvish, Yoennis Cespedes
February 28, 2012

The Texas Rangers' Yu Darvish and the Oakland Athletics' Yoennis Cespedes are easily the two biggest foreign-born free agents to sign major league contracts this offseason, if not of all-time.
It's interesting to note that both of these highly regarded super-prospects not only landed in the same league, but in the same division, that of the American League West.
Cespedes inked a four-year, $36 million deal last month, and Darvish signed a six-year, $56 million contract, also in January.  Darvish's deal is minus the $51.7 million bid amount that lines the pockets of his former employer, the Nippon Ham Fighters.  
Although we will all have to wait and see if they can live up to their considerable hype, it's fun to take a look at how these two will produce in their initial major league seasons.  
Japanese-born Darvish, 25, is almost universally viewed as a front-of-the-rotation talent, and his numbers in the JPPL for the Nippon Ham Fighters certainly back up these assertions (76-28, .890 WHIP, and a 4.90 SO/BB ratio, sub-two ERA, over his five seasons there).
Cespedes, a 26-year-old Cuban, is somewhat more of a mystery in terms of statistical information. Sure, it's out there, but you have to dig deeper. As Cuba's starting center fielder during the 2009 World Baseball Classic, he clearly dominated, putting up the other-worldly slash line of .458/.481/.1.000 while homering twice and adding three triples as well as five RBI over six games.
Much like Darvish, Cespedes is picked by most to be a superstar in the making. And in terms of a promotional video, Cespedes is the clear victor.  
One advantage that Darvish has over Cespedes at this point is that he is a shoo-in to make the major league roster out of spring training this year. There are those that feel that Cespedes would benefit from some minor league seasoning, perhaps in Triple-A, before he makes the jump.  
The only opinion on that topic that matters, though, is Oakland's. Chances are with the investment they put into Cespedes, if he has a decent spring he'll be starting on the big league club in 2012.
It's always dicey, but equally fun, to project how a first-year player will produce statistically. It's especially intriguing that each of these players can directly (to a certain extent) affect how their rookie seasons pan out. The A's and Rangers meet 16 times in 2012. Obviously, Darvish won't pitch every time, but it's fair to assume he'll see action five to seven times over that span.
 

Yu Darvish, RHP, Texas Rangers
With a solid season, Darvish has a chance to not only help the Rangers in their quest for a third straight World Series appearance, but he could shed the negative "overhyped" stigma—worn like an albatross—of a Japanese pitcher.
There is already a bit of mysticism surrounding the 6'5" man of Iranian and Japanese descent. Depending on you who listen to (or believe), he has anywhere from seven to 10 different pitches, all of which are considered major league average or "plus" offerings.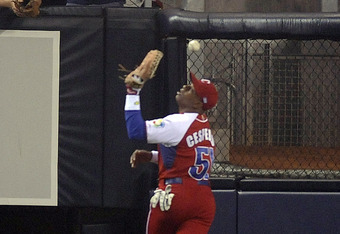 Kevork Djansezian/Getty Images
I have yet to hear if the mysterious "gyro" ball is one of them.
What we do know is that one of the main problems of most of the starting pitchers that have been shipped to the US with tons of promise and even more hype is that when forced to pitch against lineups that are unarguably more talented, they tend to "nibble" rather than going after the hitter.
Daisuke Matsuzaka is a prime example of this. They also tend to struggle with the adaptation of not just the culture, but of the work ethic. That is not to say that they are lazy, not by any stretch, but just the way they go about preparation is usually not the same as how their American brethren deem as appropriate.  
Honestly, the sample size of Japanese starting pitchers to come over here really hasn't been large enough for us to assume that the aforementioned "problems" aren't more a sign of personality differences and not a sign of a different league's values. Who really cares if a pitcher doesn't fit quite in with what's expected in terms of routine, if he has success? There's no way that Bobby Jenks ever hit the weights with any more flourish than the food spread.  
So, as always, if you take away a freak accident or injury, the projections shoot past the intangibles and fly right back to talent. No one will argue that Darvish has great stuff and ability.
I think he'll put up numbers this year very similar to what Alexi Ogando did with the Rangers last season. However, Ogando was ridden hard in the first half of last year.  He excelled, but his numbers did hit a dip in the second half. I feel this will be avoided with Darvish, since he is not going in as the No. 1 and will be closely monitored both in the first half, as well as the second. There is also no shortage of pitchers that can slip into the rotation to give Darvish a rest if that need is necessitated.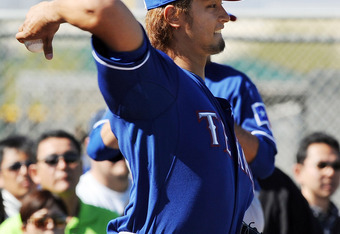 Norm Hall/Getty Images
Here's my 2012 projection for Darvish:
W/L ERA GS CG SHO IP SO BB 
14-9 3.49 31 2 1 192 175 57
Major league ball players don't swing at bad pitches like their Japanese counterparts are apt to. This is why his walk rate (although still excellent) will be higher than his Japanese stats have indicated in years past.

Yoennis Cespedes, OF, Oakland Athletics
I can't say enough about the scouting video of Cespedes that popped up around the Internet a few months ago. If you haven't seen it yet, I implore you to do so. Even if you're currently at work.  Do it, your bosses won't get mad, they need to see this too.
By the end of that thing, I wouldn't have been surprised if Cespedes had bent down, breathed life back into the dead boar, and then flown off into the sunset to a ringing chorus of robust (and proud) manly laughter.
The term "raw" comes to mind when considering Cespedes' skill set. Hitting is the only tool that might be lacking. In a brief stint in the Dominican Winter League (which many scouts compare to the Class-A Short-Season New York-Penn League), Cespedes batted just .143, with 10 strikeouts and one home run over nine games. It's a very small sample, but what was most alarming was his apparent befuddlement to off-speed pitches. He didn't walk once.
However, there are still last year's statistics while he was playing in Cuba. He hit .333 with a league-record 33 long balls, walked 49 times and struck out just 40 times. Once again, a stint in the minor leagues might be all it takes to get Cespedes optimally ready for big league breaking stuff. I still think that the A's, despite their outfield depth, are going to start him off in the show.  
Here's my 2012 projection for Cespedes:
BA/OBP/SLG HR RBI SB
 .258/.328/.440 17 67   21
These projections are based on Cespedes making the team out of ST and playing the entire season in the American League, as I think he will.
Let the debates begin. I'm quite excited about the emergence of both of these budding stars this year, and of particular interest is how they will fare when they face each other head-to-head during the 16 games the Athletics and Rangers play during the rapidly approaching 2012 season.