NBA: The Best and Worst Starters at Each Position
Ronald Martinez/Getty Images

The NBA is filled with tons of star players who deserve to be recognized for their talents. However, the league also has its fair share of equally bad players. I have heard plenty of debates over which players are the best as well as which players are the worst, so I decided to join in on the debate.
Here is my list of the best and worst starting players in the NBA right now. Please feel free to comment and share your thoughts on this list.
Begin Slideshow

»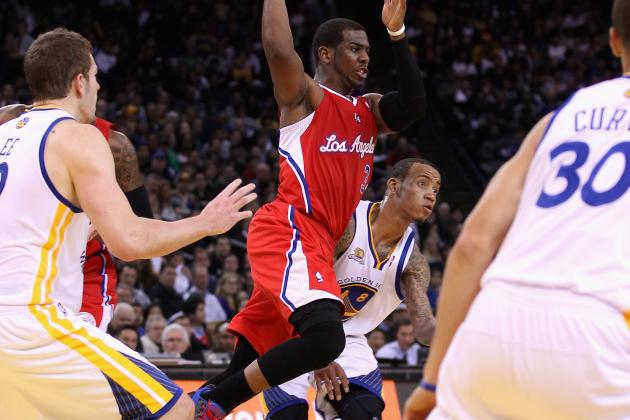 Ezra Shaw/Getty Images

The addition of Chris Paul to the Clippers helped take them from a lottery team to a Western Conference contender.
Chris Paul is having a stellar season this year, leading all point guards in PER with a mark of 26.02. Paul has been his old self on defense, getting about 2.3 steal per game. To add to that, Chris Paul is scoring 19.2 points per game on 49 percent shooting and about 87 percent from the free-throw line.
His assist number are down from his career average of 9.9 a game to 8.6, but nonetheless those are still impressive numbers.
While Derrick Rose may be the leagues reigning MVP, it's Chris Paul who is playing better this season.
Runner-up: Derrick Rose (CHI)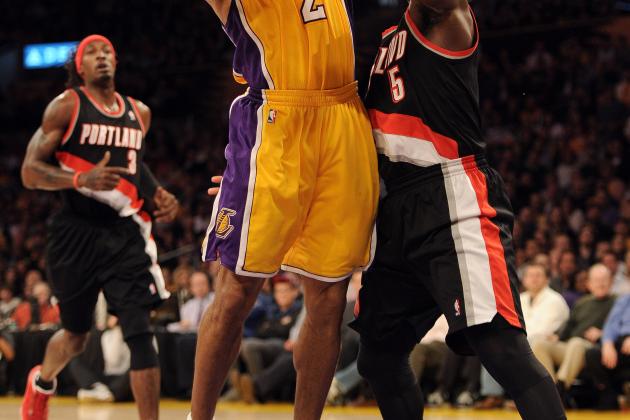 Harry How/Getty Images

Derek Fisher has had a career filled with clutch moments that include a whopping five championships. However, he is way past whatever prime he once had and simply needs to retire.
As the starting point guard for the Lakers he isn't asked to do much, but he still gets outplayed night in and night out. 5.5 PPG and 3.4 APG simply don't cut it, especially when you are as bad defensively as Fisher is.
Runner-up: Raymond Felton (POR)
Mike Ehrmann/Getty Images

Before anyone freaks out let me explain this pick.
Yes, Dwyane Wade's main stat line of 22.4 PPG, 4.8 APG and 4.4 RPG are all below his career average, but he isn't really playing any worse. There are two main factors at play here: One, he has accepted the role of allowing LeBron James to have control over the flow of the game, and second, Wade suffered through injuries early on in the season. But Wade has still been able to be incredibly efficient this season.
Dwyane Wade is shooting 50 percent from the floor and is second only to LeBron James in PER at 28.14. By comparison, Kobe Bryant is shooting an incredibly low 43 percent and has a PER of 23.52. Simply put, Kobe Bryant is doing a great job keeping the Lakers afloat, but he is also one of the reasons they are sinking to begin with.
Runner-up: Kobe Bryant (LAL)
Jonathan Daniel/Getty Images

This Milwaukee Bucks team has shown some promise at times even with the injury to Andrew Bogut.
However, they are being dragged down significantly by veteran Stephen Jackson. Jackson is shooting an abysmal 35 percent on the season. If the Bucks want to have any chance at making a run at the eight seed in the East, they need to dump Stephen Jackson, or they will be a lottery team once again.
Runner-up: Randy Foye (LAC)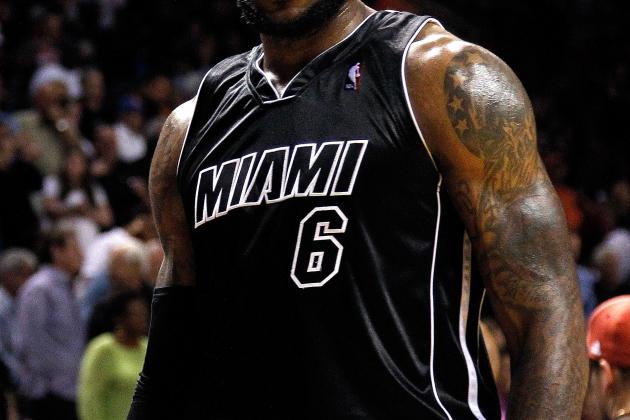 Mike Ehrmann/Getty Images

No matter what your opinion on LeBron James is, there is no doubt he is the best player in the game right now and is certainly the best at his position.
If LeBron's PER of 32.42 holds up it will be the best in NBA history. LeBron James' stat line of 27.4 PPG, 6.8 APG, 8.1 RPG on an absurd 55 percent shooting is incredible on its own, but also, consider that he's doing all of this while playing a career low 36.7 minutes per game.
To put his efficiency into context, he is scoring only 1.0 PPG less than Kobe Bryant while attempting 5.6 fewer shots.
The only player who even comes close to LeBron at the small forward position is Kevin Durant.
From a scoring and rebounding standpoint, the two are almost identical, but there are still two huge differences between the two players. The first is that LeBron James creates far more scoring opportunities for his teammates. James' mark of 6.8 APG this season and 7.0 for his career blow Durant's 3.4 this season and 2.8 for his career out of the water.
The second advantage to James is his defense. Simply put, LeBron James is one of the best in the league defensively and can guard pretty much any position. Kevin Durant is by no means a bad defender, but compared to LeBron James he might as well be.
Runner-up: Kevin Durant (OKC)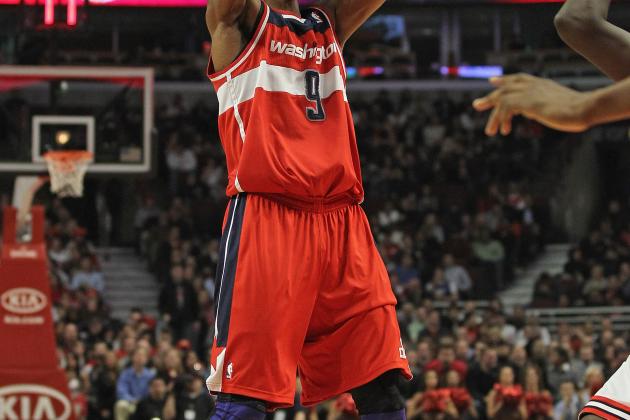 Jonathan Daniel/Getty Images

Despite a $21 million contract, Rashard Lewis has been an absolute shell of himself. Lewis is scoring only 7.8 PPG this season on only 39 percent shooting.
His career mark of 16.1 PPG is a great achievement, but at this point it is safe to say Rashard Lewis is past his prime. The same can be said for Grant Hill, despite his great career.
Runner-up: Grant Hill (PHX)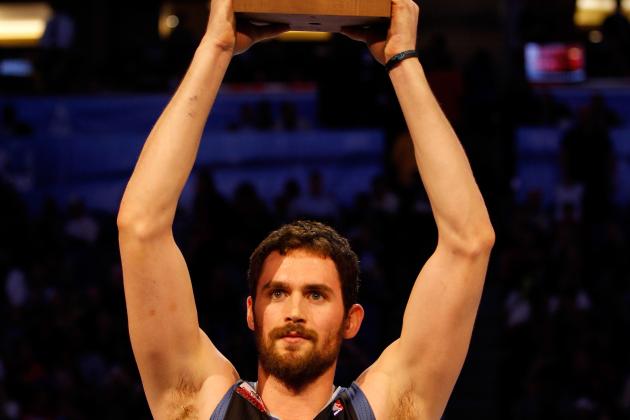 Mike Ehrmann/Getty Images

Kevin Love's numbers are off the charts. He scores 25.0 PPG and grabs 14.0 RPG to go along with it.
Love may not be an elite defender, but neither are the guys right behind him like LaMarcus Aldridge and Blake Griffin. One thing Love does have besides his stats that separate him from the rest of the pack is his three-point shooting. The three-point contest champion has that added dimension to his game that makes him nearly impossible to slow down offensively.
Runner-up: LaMarcus Aldridge (POR), Blake Griffin (LAC)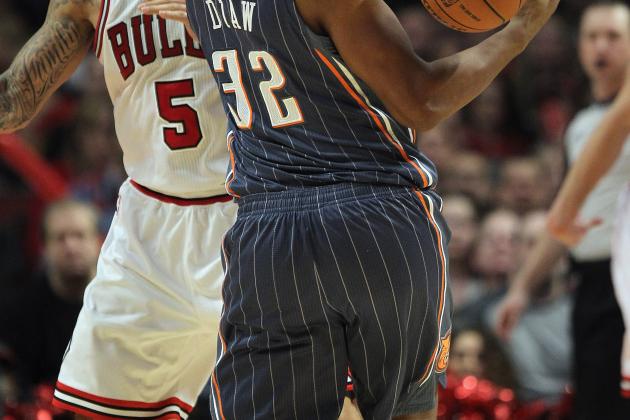 Jonathan Daniel/Getty Images

Boris Diaw is simply giving the Bobcats nothing to work with. His production is almost nonexistent. His 7.8 PPG and 5.5 RPG do not cut it as a starter in this league.
Unfortunately, he's all that Charlotte has, which should show you how bad of a team they really are this season.
Runner-up: Andray Blatche (WAS)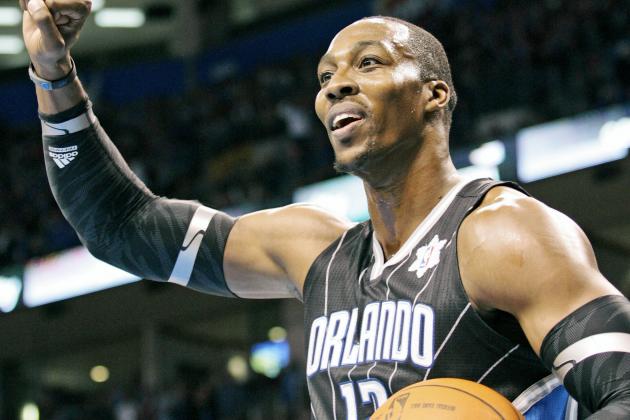 Brett Deering/Getty Images

Dwight Howard is by far the most dominant center in the game today. He scores 20.1 PPG, grabs 15.3 RPG and also blocks 2.2 shots a game. He is also arguably the most dominant defender in the game.
I don't really think there is another center close to the level of Dwight Howard. That is partially due to the weakness of the position in today's game but also due to Howard's dominance on the court.
Runner-up: Andrew Bynum (LAL)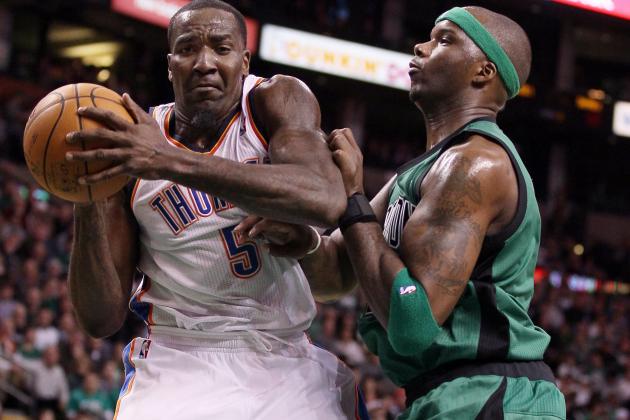 Elsa/Getty Images

Let's get real here, Kendrick Perkins is pretty bad. He is dead last in PER among players averaging over 25 minutes per game. He is also dead last in the league in Estimated Wins Added. In other words, he has the largest negative impact on his team's chances of winning of any player in the league.
Runner-up: Joel Anthony (MIA)