Presenting the 2012 NBA Midseason No-Star Team
February 29, 2012

Streeter Lecka/Getty Images
NBA All-Star Weekend was an opportunity for the league to showcase its most talented and popular players on the same court at the same time. It was a terrific treat for fans who were an interactive part of the process by being able to vote for their favorite players along with deciding the winner of the Slam Dunk Contest. 
But leave it to me to present you the opposite end of the spectrum—the 2012 NBA Midseason No-Stars. Trust me, this is a team that you want to be snubbed from.
Here's a list of players who have underperformed, to put it nicely, over the first half of the season. OK, they've just been plain old bad. Really bad.
Following the No-Star team is a complete list of not-so-flattering midseason NBA awards, including LVP (Least Valuable Player). Because hey, sometimes the truth hurts.
 
Note: All players in this story are averaging at least 20 minutes per game for their teams. No bench-warmers here.
2012 Eastern Conference No-Stars
C Jermaine O'Neal (BOS): 22.8 MPG (24 starts), 5.0 PPG, 5.4 RPG, 3.2 FPG
SF Omri Casspi (CLE): 22.8 MPG (31 starts), 7.9 PPG, 3.4 RPB, .411 FG%
SG Stephen Jackson (MIL): 27.4 MPG (24 starts), 10.1 PPG, .357 FG%, 2.5 TOPG
SF Rashard Lewis (WAS): 26.0 MPG (15 starts), 7.8 PPG, .385 FG%, 239 3PT%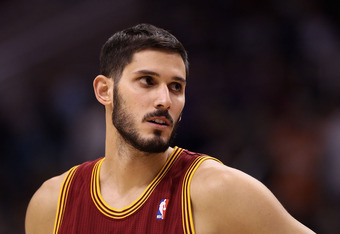 Christian Petersen/Getty Images
PG Toney Douglas (NYK): 20.8 MPG (9 starts), 7.8 PPG, 2.2 APG, .318 FG%
2012 Western Conference No-Stars
PF Lamar Odom (DAL): 21.4 MPG (4 starts), 7.7 PPG, 3.5 RPG, .357 3PT%
SF Josh Howard (UTA): 21.7 MPG (5 starts), 8.0 PPG, 3.4 RPG, .378 FG%
C Channing Frye (PHO) 24.3 MPG (29 starts), 9.7 PPG, 5.8 RPG, .407 FG%, 2.7 FPG
SF Wesley Johnson (MIN): 22.0 MPG (32 starts), 5.7 PPG, .380 FG%, .217 FG%, .632 FT%
PG Randy Foye (LAC): 23.2 MPG (15 starts) , 8.4 PPG, 2.4 APG, .373 FG%
Least Valuable Player: Stephen Jackson (MIL)
Milwaukee traded for Stephen Jackson in the offseason in hopes that the veteran would provide some much-needed offense to a team that ranked dead last in scoring last year.
Consider that idea a big-swing-and-a-miss.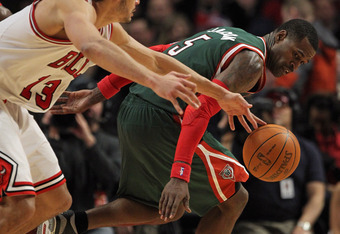 Jonathan Daniel/Getty Images
So far in 2012, Jackson has been little more than a shooting guard that can't shoot. His terrible percentages (.357 FG%, .278 3PT%) are the worst of his NBA career, and his 10.1 PPG is Jackson's lowest since his rookie season 11 years ago.
The 33-year-old doesn't have much of anything helpful to offer elsewhere, either. In fact, he's averaging nearly as many fouls (2.3) and turnovers (2.5) this season as he is rebounds (3.1) and assists (3.0).
 
Sorry, Stephen, but you are the NBA's Midseason Least Valuable Player.
Most Disappointing Rookie of the Year: Jimmer Fredette (SAC)
Most of us, including myself, thought that Jimmer would be able to make an immediate impact with the Kings, especially since he seemed like a great fit in Sacramento's up-tempo style of offense.
That hasn't happened yet. He's averaging just 7.9 points per game this season while shooting under 38 percent from the field and is now beginning to lose playing time to fellow rookie Isaiah Thomas Jr.
Not to mention, Fredette is being cut by disappointed fantasy basketball coaches everywhere.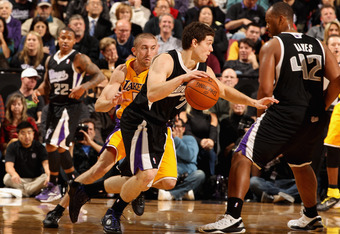 Ezra Shaw/Getty Images
Most Underwhelming Coach of the Year: Lawrence Frank (DET)
Take a glance up and down the roster and it looks like Detroit should be able to at least compete for a playoff spot in the East. The Pistons have a few talented up-and-comers with Greg Monroe, Brandon Knight and Rodney Stuckey, along with a few solid vets like Ben Gordon and Tayshaun Prince.
Instead, Lawrence Frank has his team sitting in last place in the Central, two games behind the Cleveland Cavaliers, the worst team in the conference from a year ago.
Lack Of Sportsmanship Award: DeMarcus Cousins (SAC)
Let's see, where do we begin with DeMarcus Cousins?
For starters, Cousins has been whistled for 21 technical fouls since he broke into the NBA last year, tied for third most in the league during that span.
He's on pace to top everyone in personal fouls for the second year in a row in 2012; his 4.1 figure this year is by far the worst in the league.
And then there's that constant angry look on his face both on the court and on the bench. Cousins' teammates and coaches have grown tired of his childish behavior and the front office has considered trading the young and talented power forward, but no one else wants this guy on their roster.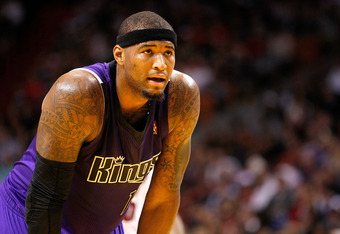 Mike Ehrmann/Getty Images
Worst Executives Of The Year
It's a tie between Michael Jordan, who for some reason thinks it's a good idea to build the Charlotte Bobcats around Boris Diaw, and the general managers for the Golden State Warriors and Houston Rockets, both of whom cut Jeremy Lin.
Worst 6th Man of The Year and Most Declined Player: Metta World Peace (LAL)
Ron Artest...I mean Metta World Peace...scoops up both of these dubious honors halfway through this NBA season.
World Peace has struggled (and that's an understatement) in new coach Mike Brown's system, averaging under five points a game and shooting an abysmal 33.5 percent from the floor, both career lows by a long shot. Even his free-throw shooting has been horrific; his 51.1 percent mark is over 20 points below his career average.
World Peace is still a menace on defense, but his offensive liabilities have become too large. I say it's time to change the name back, Metta. I mean seriously, most people still call you Ron anyway.