NBA All-Star Game 2012: 1-on-1 Needs to Be Added in 2013
February 28, 2012

Mike Ehrmann/Getty Images
Kevin Durant won the All-Star game MVP after leading the Western Conference, with help from Kobe Bryant, to a thrilling 152-149 victory over an Eastern Conference team led by LeBron James and Dwyane Wade.
Kevin Love did indeed bring "sexy" back to the Three-Point Shootout and Kyrie Irving dazzled in the Rising Stars challenge. However, aside from those events, the All-Star weekend contests were mildly entertaining at best and downright boring at worst.
I suggest one additional contest be added, a contest which would thrill NBA fans and common viewers alike, a one-on-one contest!
While it would be great to see the likes of Bryant and James in such a contest, that probably is wishful thinking, especially in "King James'" case, However, even a contest filled with youngsters looking to prove themselves would be welcome.
I suggest the NBA nominate four players at each position and have a simple "one-and-done" tournament. There would be a total of four games for each position, with two first-round games, followed by a losers game to decide who gets third place and a winners game to name the "positional one-on-one champ."
In total, there would be 20 players involved and 20 games played. The games could go up to 21 by twos and threes and would take no more than 10 minutes or so to play. Twenty games could easily be completed in less than four hours and would make for a great three-day event, with the championship games being played just before the actual All-Star game on Sunday evening.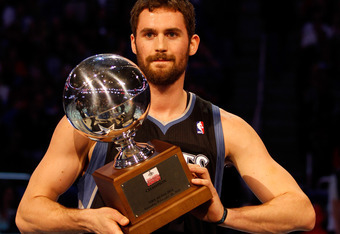 Mike Ehrmann/Getty Images
This year the contestants could have been as follows:
Point Guards: Brandon Jennings, Jimmer Fredette, Kemba Walker and Jeremy Lin 
Shooting Guards: James Harden, Marshon Brooks, Klay Thompson, Avery Bradley 
Small Forwards: Michael Beasley, Terrence Williams, Nic Batum, Jarvis Jerebko 
Power Forwards: Derrick Favors, Hakim Warrick, Tristan Thompson, Tyler Hansborough
Centers: Deandre Jordan, Spencer Hawes, Andrea Bargnani, Javale McGee
In 2013 the NBA needs to have a one-on-one contest and save All-Star weekend!