NBA Trade Rumors: Cavaliers Wise to Flip Ramon Sessions for Small Forward Help
February 28, 2012

Kevin C. Cox/Getty Images
The Cleveland Cavaliers should call off the search for a better offer, because Marvin Williams for Ramon Sessions makes perfect sense. 
The News-Herald's Bob Finnan reports that the Cavaliers would send guard Ramon Sessions to Atlanta for small forward Marvin Williams.
Finnan notes Omri Casspi was supposed to be the answer for Cleveland at the small forward position. That simply hasn't happened, and there is no reason to think things will change. 
Meanwhile, Ramon Sessions has emerged as a player who a few teams would want on their roster. He has done enough this season to pique the interests of general managers all over the league.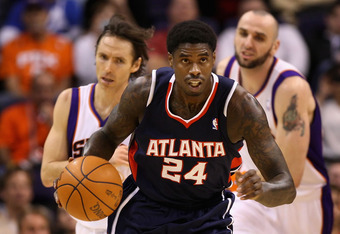 Christian Petersen/Getty Images
His 10.4 points and 5.5 assists per game would give much-needed depth to the Hawks. What's more, they get rid of Williams—a player who has reportedly demanded to be traded. The deal would also allow the Hawks to get under the salary cap. 
Finnan does point out the discrepancy in their salaries, but ESPN's Nick Borges writes the following in his Insider report:
Williams is on the books this season for $7.5 million, while Sessions is at $4.25 million. The Cavaliers are roughly $7 million below the salary cap, which makes this one-for-one trade possible.
Williams is a solid small forward who just needs a change of scenery and a drop in the lofty expectations that come with him wearing a Hawks jersey. 
Atlanta has been waiting for Williams to live up to expectations as the second overall pick in the 2005 draft. 
In Cleveland, he could just be a solid forward with a sweet mid-range shot. He doesn't have to be any more, and that may mean the world for a player who just wants to get away. 
The Cavaliers don't need a player like Sessions moving forward, but would be all the better with Williams in the lineup.