Alabama Football: 7 Players Good Enough to Start Who Will Have to Wait
Mike Zarrilli/Getty Images

Alabama is stacked top to bottom with talent, but only 11 players can take the field at a time. There are many players who will be ready to start in 2012 but will have to bide their time as backups until 2013 and beyond.
This is not about the players not being "good enough" but more of a testament to just how deep Alabama is on the bench.
This depth is what allows 'Bama to win games. The Tide's backups are as good as most teams' starters, if not better. The backups are rotated in often to keep the starters fresh while the other team gets dogged.
It's somewhat of a shame to see these supreme athletes ride the bench, but hey, that's Alabama for you. A star rating doesn't simply earn you a starting position at the Capstone.
Hard work and dedication get you on the field at 'Bama, and though these guys have put in a lot already, the competition is so fierce that sometimes you simply have to wait your turn.
Here is a look at seven talented and promising players (with their future classes listed) who will be raring to go in 2012 but won't get the starting honors just yet.
Begin Slideshow

»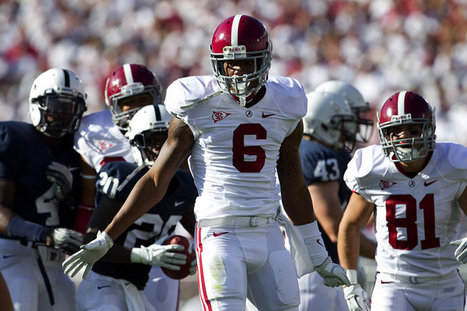 Sophomore, Safety, 6'1", 203 lbs.
"HaHa" Clinton-Dix arrived as a coveted 5-star safety and performed well in his true freshman 2011 campaign.
While playing almost exclusively on special teams, he played well and tallied 11 total tackles. The problem for Clinton-Dix is that he was completely out-shined by dark-horse fellow freshman linebacker-turned-safety, Vinnie Sunseri.
Sunseri should handily capture the starting job in 2012, and Clinton-Dix would have been a good candidate to replace Robert Lester but Lester did not declare early for the NFL as some thought he would.
Clinton-Dix may also be needed to supplement the cornerback squad that has been picked clean by graduation and the NFL, as he could excel at the position. The coaches may be cautious to keep him as a dedicated, starting safety for this reason, at least in 2012.
Trey DePriest (33) getting coached up by Dont'a Hightower.
Sophomore, Middle Linebacker, 6'2", 242 lbs.
When DePriest, a former 5-star recruit, first signed with the Tide, he immediately became Dont'a Hightower's heir apparent as Alabama's next great inside linebacker.
Though he is sure to follow in the footsteps of Rolando McClain and Hightower, he will have to wait until 2013 to realize it.
The reason for his wait is that Alabama is returning two highly-experienced middle linebackers, Nico Johnson and C.J. Mosley.
Johnson is a wicked run-stopper and blitzer whereas Mosley is a fearsome coverage linebacker. They complement each other perfectly in the two middle linebacker positions.
Nico Johnson should technically be Hightower's replacement in 2012, but he will graduate at the end of the year and DePriest will easily claim his role as a starter in 2013.
After Sunseri, DePriest was the most prolific first-year tackler with 25 on mostly special teams duties. Some 100-tackle years are in his future but likely won't happen in 2012.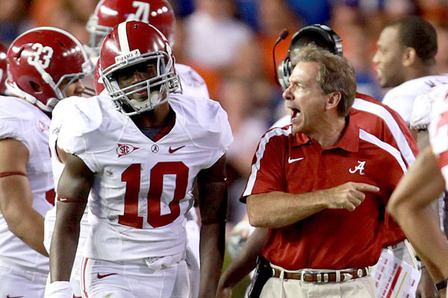 John Fulton getting the frequent Nick Saban earful.
Junior, Cornerback, 6'0", 187 lbs.
Johnavon "John" Fulton is an elite cornerback prospect. The former 4-star athlete was clocked running a 4.39 40-yard dash in high school.
He'll be a junior, and though he's primed to be a star, DeMarcus Milliner is the easily the Tide's best cornerback heading into the 2012 season.
Fulton has a great opportunity to push for playing time, but incoming junior college transfer Travell Dixon has the best chance to become the second starting cornerback.
If he doesn't quite pan out then Fulton should be the next man in line, but Dixon is also an elite athlete. Dixon stands at 6'2", 200 lbs. and runs a 4.46 40-yard time. He's a true physical specimen at the cornerback position.
If Fulton does not win the starting position, he will still get excessive playing time.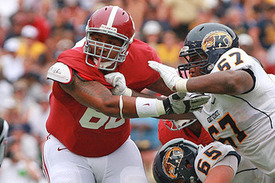 Sophomore, Nose Tackle, 6'4", 308 lbs.
Like so many others, Brandon Ivory looks ready to start, but he just isn't the best candidate.
Alabama needs a brutal nose guard in 2012 to replace Josh Chapman, a guy who is stronger than anybody on the field and has the weight to back it up.
That guy is current left defensive end Jesse Williams, who only played end due to necessity. Alabama will have a slew of up-and-coming defensive ends to take the reins but few options for nose guard and Williams will move to that position.
Ivory was a sleeper project, but he came into his own as a solid backup in 2011. After another year of backup duties to Jesse Williams at nose guard, Ivory will be ready to take over in 2013.
He wears Terrence Cody's No. 62 jersey, so he has a lot of expectations.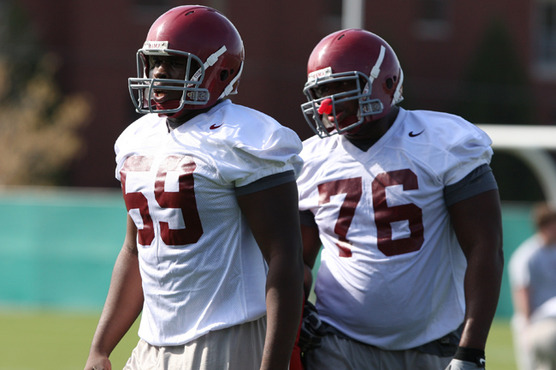 Arie Kouandjio (left) with his mentor, D.J. Fluker.
Sophomore, Right Tackle, 6'5", 335 lbs.
Arie Kouandjio could also excel as a left tackle, but his "little" brother Cyrus will be taking over those duties.
In a strange situation, Arie may actually have more eligibility left that Cyrus despite being at Alabama a full year longer. Arie redshirted his freshman year, and Cyrus did not.
In addition, Arie played in only two games in 2011 before undergoing season-ending knee surgery. It has yet to be confirmed if Arie Kouandjio applied for a medical redshirt, but he was certainly eligible for it.
If he did take a medical redshirt then he will be a freshman in 2012, eligibility wise, whereas Cyrus will be a sophomore.
Arie should be well-recovered from his knee surgery in 2012. The injury involved the patella tendon and thankfully not a torn ACL. He practiced on the injury for a while before succumbing to surgery.
Arie Kouandjio should be ready to start in 2012, but future NFL Draft pick D.J. Fluker will be a third-year starter at right tackle and has more than proven himself.
The elder Kouandjio will play second fiddle to Fluker until the torch is passed to him in 2013.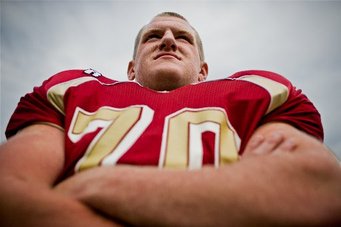 Kellen Williams
Center
Lindsay: Sophomore, 6'2", 287 lbs.
Williams: Junior, 6'3", 305 lbs.
The battle for the center position between these two is one of the fiercest on the team. They both have their upsides, and though I previously favored Lindsay, I now believe that Williams will be named the better of the two.
Williams is rumored to have a mean streak and viciousness about him that makes most offensive linemen look like flower gardeners.
Whoever wins the battle will still be the backup to none other than Alabama's Outland Trophy-winning left tackle, Barrett Jones.
Some believe that Jones will move back to his original position at right guard, but placing Jones at center will likely give the team the best chance to succeed. The Florida Gators did the same with Mike Pouncey in 2010, but the difference is that Jones can actually snap the ball.
If Barrett Jones does not move to center, one of these two players will be the starter and the other the backup, though both are ready to start.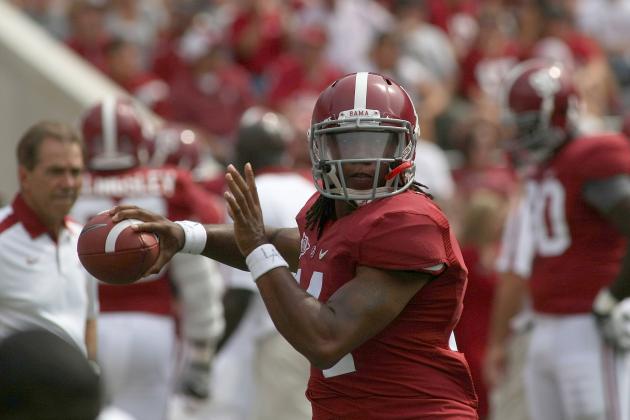 Greg McWilliams/Getty Images

Sophomore, Quarterback, 6'2", 212 lbs.
The story of Phillip Sims is somewhat of a sad one. The former 5-star quarterback and all-time passing record holder in Virginia looks to be riding the bench until his senior year, unless A.J. McCarron declares early for the 2013 NFL Draft or Sims transfers before the 2012 season.
It's not a guarantee that McCarron will win the quarterback battle again, but he has been battle-hardened in the SEC and led the Tide to another national championship over one of the meanest defenses in years (other than Alabama's, of course), the LSU Tigers.
His resume is far too impressive to not make him the starter, unless Phillip Sims can magically prove he is worlds beyond McCarron, because simply being on par with McCarron won't win him the job.
He could be a starting quarterback just about anywhere else and he's more than ready to fill the role at Alabama, but that honor will likely fall again to A.J. McCarron.
Unless McCarron gets hurt, which could certainly happen on any given play, Sims will be holding a clip board for some time.
It's quite unfortunate, but that is the story of Alabama football. Even the best of the best have to sit sometimes.