Chicago Blackhawks: Why It's Time for Brandon Pirri to Get His Shot
March 16, 2012

Jonathan Daniel/Getty Images
General manager Stan Bowman failed to acquire a second-line center at the trading deadline.
Jonathan Toews has been out for several weeks and it is unclear when or if he will return this season.
The Chicago Blackhawks have been getting beaten game in and game out in the faceoff circle and they could use an upgrade. So why not look to their AHL affiliate the Icehogs for a little help?
Brandon Pirri has been lighting up the AHL for the Icehogs and was even named to the All-Star team this season. In 57 games this season he has 22 goals and 28 assists to lead the team with 50 points.
He also has two points in five games with the Blackhawks this season.
Besides helping in the faceoff circle, Pirri might also be able to help on the power play. Seven of his 22 goals have come on the power play this season. Marian Hossa has eight power-play goals to lead the Blackhawks.
Also it is pretty safe to say that the Icehogs will be missing the playoffs since they are as close to being in last place as they are to being in the playoffs.
Pirri is a lock to be one of the black aces once the postseason starts for the Hawks so why not get him help now and see if he can help the team.
Calling up Pirri would allow Patrick Kane to move back to the wing which would give coach Joel Quenneville a chance to balance out his lines a bit. Recently he has been going with a loaded first line of Kane, Hossa and Patrick Sharp.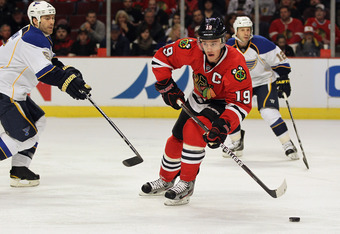 Jonathan Daniel/Getty Images
Having a top line of Marcus Kruger with Kane and Hossa and then a second line of Pirri, Sharp and Viktor Stalberg or Andrew Brunette could be very effective.
Even if Jonathan Toews returns for the playoffs, you can never have enough centers and it would be good to get Pirri ready in case he is called upon during the playoffs.
Remember Pirri actually beat out Kruger as the team's fourth center but that only lasted one game before the two switched.
So with 11 games left the time is now. Bring up Pirri and get ready for a postseason without Capt. Serious.
Make sure to follow me on Twitter @dachicagofan and check out my weekly Hawks podcast every Friday on my site The MG Experience.