WWE Wrestlemania 28: Full Predicted Card and Winners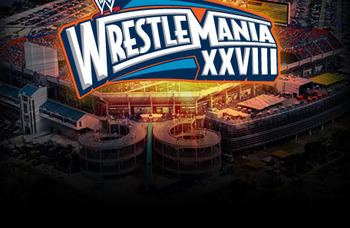 Wrestlemania XXVIII is just under five weeks away, and already the card is shaping up to be one of the greatest spectacles in the history of sports entertainment.
On April 1st at the Sun Life Stadium in Miami, the WWE Universe will see the culmination of over a year of building towards the Grand Daddy of Them All—and what is being described as a "Once in a Lifetime" main event between John Cena and The Rock.
With four matches already confirmed for the event, the WWE now has just 33 days to pad out the rest of the PPV, which looks almost certain to see upward of one million buys worldwide.
This slideshow will predict how the final line-up of this year's Wrestlemania 28 will take shape and also analyze the projected outcome of each individual match.
1. Money in the Bank Ladder Match
Daniel Bryan wins the Smackdown MITB match at last year's Money in the Bank pay-per-view
This year's Wrestlemania will apparently see the return of the ground-breaking Money in the Bank Ladder match, with the gimmick PPV being scrapped on this year's events roster.
I for one am massively relieved to see the match back at its original home of Wrestlemania, and I am far happier to see ONE money in the bank briefcase that can surprise either champion, rather than segregated brand winners.
This year, there have already been rumblings about the potential superstars who may feature in the MITB match, and knowing that both brands will (probably) be represented in the match, I wouldn't be surprised to see as many as 10 high-profile names competing for the coveted contract.
For the purposes of being conservative, though, I'll opt for eight participants in this prediction of superstars who will feature in the opening bout:
Kofi Kingston - WWE's resident spot-monkey since the release of John Morrison, he'll be sure to do at least two or three ridiculous spots in this match.
Dolph Ziggler - Another incredible athlete, look for Ziggler to further his show-off gimmick with a performance similar to that of the Elimination Chamber (the crunches whilst hanging from the Chamber, straight into a leg-drop was amazing).
The Miz - His feud with R-Truth seems to be all said and done, and with no direction for the former-WWE Champion, I would expect a strong but comical performance from the Awesome One in the MITB match.
R-Truth - Another superstar with nothing to do, expect to see a spot-cameo performance from Truth in the match, with his most entertaining involvement being pre-Wrestlemania Little Jimmy promos about being scared of heights.
Wade Barrett - The severity of Barrett's injury is questionable, so realistically he may not make it back in time for 'Mania. If it were me, though, I'd make sure Barrett is part of this match, even if in a very limited capacity, just to keep his "Barrage" relevant.
Rey Mysterio - A controversial pick I know, but I think Rey Rey will hit his return schedule and be a surprise entrant in this match. His involvement will obviously be limited, but I fully expect WWE to have a crack at that stupid mask record—and without Sin Cara, this is their only shot. Plus, an inclusion of one of the WWE's biggest stars could push the event over the top.
Cody Rhodes - I think Cody could pull double-duty at Wrestlemania and he could feature very heavily in this match. Later in the year I see the Intercontinental champion upgrading for a World Title, so expect this match to be the start of a huge push for the young star.
Randy Orton - I know many people expect Orton to be involved in a higher-profile match at Wrestlemania, but I don't see it. Though he will return from his most recent concussion well before April, the Viper will be used delicately between now and then because of the injury. There have been rumblings of Bryan vs. Sheamus vs. Orton at Over the Limit, so I see MITB as his route into the World Heavyweight title picture.
Winner - Randy Orton
Orton vs. Barrett is now on its last legs and the Viper is well overdue a Championship feud. Throw in Bryan being the kayfabe cause of his most recent injury (a botched R.K.O. isn't the greatest storyline tool in the world), and you have a recipe for a great triple threat at Extreme Rules or Over The Limit between Orton, Sheamus and D-Bry.
2. United States Championship: Jack Swagger vs. Brodus Clay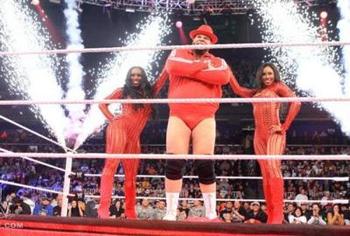 Brodus Clay will reportedly return to Raw tonight! And I for one have missed Planet Funk's funkiest resident more than most.
Jack Swagger has been an awful transitional champion since taking the title from Zack Ryder in January, and it is now time to drop the mid-card strap to a face even more over than Long Island Iced-Z.
Swagger is currently occupied with a cheese/Hornswoggle-based feud with Justin Gabriel, but for my money this isn't a title match worthy of the WWE's flagship PPV.
Therefore, I fully expect the All-American American to cross paths with the Funkasaurus any day now, and start a programme eventually culminating in a title defence on April 1st.
Winner and new United States Champion: Brodus Clay
I'm a big Clay fan and would love to see him pick up the U.S. title from the lacklustre Jack Swagger.
Despite being early since his re-debut, giving the title to a well-over face would give a great feel-good moment to the event and could be the start of a push for the mid-card title.
3. Divas Title: Beth Phoenix vs. Kharma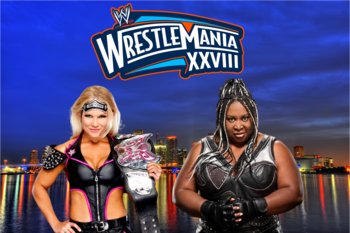 So far, despite what anyone says, this match is pure speculation.
With just weeks until Wrestlemania, there has been no interaction to suggest this match could or will happen.
Having said that, it definitely should!
Ever since the WWE debut of the former-Awesome Kong last year, it was exciting to speculate on how she alone could save the dying Diva's division.
Her unexpected pregnancy was therefore tough to swallow.
After having her baby late in 2011, however, and subsequently making an in-ring cameo at the Royal Rumble, the world awaits what is undoubtedly the most-anticipated women's match-up in wrestling—Phoenix vs. Kharma.
Phoenix has decimated every Barbie in the division over recent months, and her only other realistic competition is way too busy doing skits with Hornswoggle that involve pre-school fart gags.
It would be great to see Kharma pop up on Raw to really get this feud going, as Phoenix cuts a promo saying she has nobody left to beat, and then lay her out.
It would also be great to see the scrapping of the tag of "Divas" and instead replace it with the traditional "Women's" championship.
Winner and still Diva's Champion: Beth Phoenix
I hope this feud carries on through the summer if I'm totally honest, and for that to happen Beth has to retain at Wrestlemania.
The ideal scenario would be interference from Natalya (which would get her out of her current rut) and building in the element of handicap, which would get more heat on the pair and make it that much more of a victory when Kharma eventually triumphs at Over The Limit or even Summerslam.
4. Big Show vs. Shaq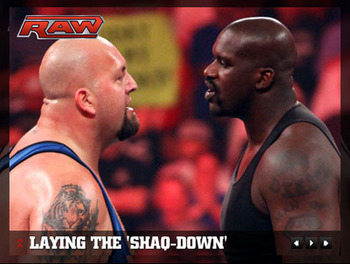 This match was rumoured a long time ago and even referred to by the former NBA star as recently as December.
The seed was planted for this feud a couple of years ago, following an altercation when Shaq featured as the Guest Host of Monday Night Raw. Now with Big Show set for another turn to the dark side, this feud looks near-certain to be part of the card on April 1st.
The former Miami Heat player is scheduled for at least two TV appearances before the event and has already confirmed his attendance in the town in which he was so successful during a legendary NBA career.
Undoubtedly, the Big Aristotle will enter the match as a huge fan-favourite, and with Big Show's proficiency for jobbing to celebrities in these gimmick matches, there is only one way this match can conceivably go.
Winner: Shaquille O'Neal
There is no way Big Show beats any celebrity ever at Wrestlemania, and there is even less chance he beats Shaq in Miami.
Expect a brutish five-to-eight minutes of grappling before interference, and a Shaq shoulder block/spear for the win.
5. Intercontinental Championship: Cody Rhodes vs. Santino Marella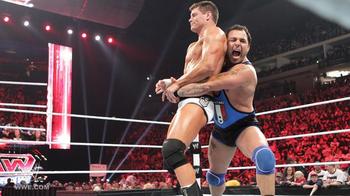 I, like many, had originally pencilled in a Cody Rhodes vs. Golddust for a Career vs. Title match at Wrestlemania 28.
Dustin was campaigning pretty wildly on Twitter, and when combined with his involvement with the Booker T-Cody feud in January, an eventual showdown between the brothers seemed only natural.
However, Golddust has been largely absent from WWE television for a while now, and to be perfectly honest, jobbing to his younger bro would actually do very little to enhance the push of the former-Dashing one.
After seeing Santino's performance at the Elimination Chamber, and his interaction with Rhodes, I now see this to be an extremely entertaining and promising potential feud.
The two men's styles mash well in the ring, and Santino is ridiculously over—as proven by the Milwaukee crowd at the Chamber event a couple of weeks ago.
Cody is ultimately destined for brighter things, and dropping the title to someone like Santino at a later date could be the start of a serious main event push later in the year.
Winner and still Intercontinental Champion: Cody Rhodes
While this would certainly be an extremely fun match to watch, I don't see Cody dropping the title just yet to Santino.
Coming out of Wrestlemania, Cody has no real reason to feud with any of the potential World Title contenders, and I would expect him to only enter the WHC picture when Orton eventually gains the belt later in the year.
Expect Rhodes to retain by underhanded means, then Santino to eventually win at Over The Limit or Summerslam—with help from Cody's big brother, Dustin.
6. Six-Man Tag Match for Control of Both Shows: Team Laurinitis vs. Team Long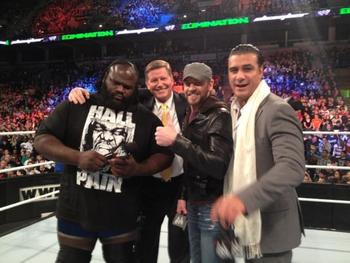 This match was hinted to at the Elimination Chamber PPV where Christian, Alberto Del Rio and Mark Henry all returned to rally around Johnny Ace and show support for his campaign for full control of the WWE.
Originally I would have put all three of these men in the MITB match, but I see only one winner for that particular bout and would find it far more interesting to see the three represent Team Laurinitis at Wrestlemania—in order to smite Teddy Long.
If this match were to happen, it would obviously be against three generic face characters: my picks would be Kofi Kingston (again), Justin Gabriel and Ezekial Jackson—a much poorer team on paper, admittedly.
I also wouldn't discount the possibility of David Otunga in this match, having picked up two impressive victories over Big Zeke in recent weeks on behalf of Laurinitis (and he is in astonishingly good shape for a lawyer).
Winner: Team Laurinitis
I have a strong feeling this year's event in general will be wildly overbooked with some crazy finishes, and I see this match being no different.
Expect double-crossing, interferences, new referees, the whole she-bang in this one—but ultimately for Laurinitis' team to emerge victorious, via some kind of nefarious means.
7. World Heavyweight Championship: Daniel Bryan vs. Sheamus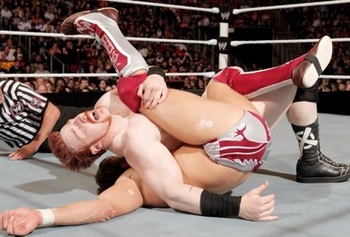 The first of the already-confirmed Big Four matches on the Wrestlemania 28 card.
Ironically this bout was resigned to a dark match at last year's event, in culmination with the pair's feud over the United States title (where Bryan was face and Sheamus the heel).
Now though, Daniel Bryan is probably the most hated heel in the company, and as World Heavyweight Champion has become a major player in the company since cashing in his Money In The Bank briefcase in December.
Surprise Royal Rumble winner Sheamus will enter Wrestlemania as possible favourite to win the World Heavyweight Title from the Cowardly Bryan though, after a strong build which has seen the Celtic Warrior go undefeated in recent months.
Winner and still World Heavyweight Champion: Daniel Bryan
While Triple H may be really high on Sheamus, the heat D-Bry has gotten since his heel turn has been unbelievable.
As the opportunistic champion, Bryan has gotten so over and to take the title off him at this point would kill the momentum his character has gained.
In order to build Randy Orton into this feud after Wrestlemania, I would have Bryan retain through disqualification in Miami, and then bicker with Sheamus about him not getting another shot in the weeks leading up to Extreme Rules.
8. Hell in a Cell: The Undertaker vs. Triple H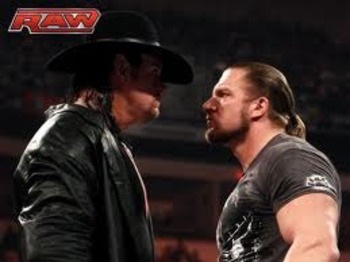 Triple H vs. Undertaker III has overbooked written all over it.
While originally many thought Shawn Michaels would play a part as Special Guest Referee, it would now appear that a bog-standard HIAC match will be the final nail in the Game vs. the Phenom Wrestlemania coffin.
I don't think anyone in their right mind sees 'Taker not making it to 20-0, and I know many were disappointed that Trips would get yet another shot at the Streak, ahead of arguably more deserving superstars.
However, I expect this match to steal the show—particularly after being so blown-away by last year's brutal encounter between the two.
Winner: The Undertaker
He may not be scheduled in an official capacity for this match, but HBK will get involved in some way or another.
My thoughts are that he'll manage to get into the cell in a referee's jersey as the normal ref is out of it, then count as HHH pins 'Taker late in the match, only to stop at two.
I then think Michaels superkicks his best friend and the Streak remains in tact, and Michaels will explain he couldn't bear to see him end it.
*On a side note: I originally had an even more overbooked ending to this match, with 'Taker effectively being ended by ALL of his previous Wrestlemania opponents in some sort of symbolic casket gesture. I realise this has no realistic chance of happening, but I could see at least Kane and Paul Bearer also appearing in some sort of capacity.
9. WWE Championship: CM Punk vs. Chris Jericho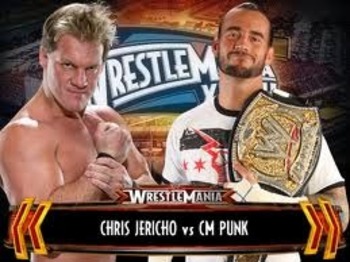 Ever since the "It Begins" promos aired late last year, the IWC were clamouring for this rivalry to kick-off.
"The Best in the World" vs. "The Best in the World at What I Do," was fantasy booked by many even before it was confirmed that Chris Jericho was the man behind the mystery "End of the world as you know it" vignettes.
Y2J's return was somewhat surprising to say the least—even more so, his failure to win the Royal Rumble match in January set up the dream match with Punk.
But after weeks of unfulfilled promises and promos, Jericho has now earned his shot at Punk. One-on-one, at Wrestlemania for the WWE title.
Winner and still WWE Champion: CM Punk
I thought Jericho would win the Rumble, I was wrong.
I then thought Y2J would win at the Elimination Chamber—I went 0-2.
Despite my lack of success so far, I will go out on a limb to say that I do not think that Punk drops the title at Wrestlemania.
Why give Jericho the top prize in the company when we know full well he won't be sticking around? This match will be a great back-and-forth, but ultimately the Second City Saint will retain and get massively over by beating a legend to become the official Best in the World.
10. The Rock vs. John Cena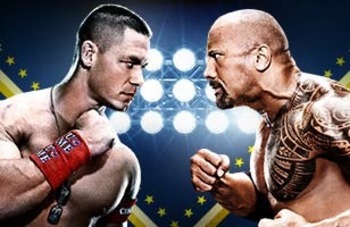 The historic main event between two of the biggest icons in the history of the company.
This match was set over a year ago, and I personally have been buzzing at the thought of the Great One vs. SuperCena.
I realise the criticism which has befallen this match: "Why should the Rock dictate a year in advance that he will be the main event at the biggest event of the year?"
Well, to me The Rock defined a generation of wrestling fans, during the most successful period the company has ever seen. This match to me signifies the meeting of two eras colliding with both still at the very top of their game.
I was never a fan of Cena, but recently (particularly last Monday) a new edgier side has made him far more appealing to me as an Attitude Era traditionalist, and I sincerely hope to see more of the "Doctor of Thuganomics" in five weeks than the "Fruity Pebbles" SuperCena we had become accustomed to.
Common sense dictates that Rocky wins this hands-down in his hometown, especially being the massively over fan-favourite going in, but...
Winner: John Cena
My heart desperately wants the Rock to win this, but my head says it's not right.
Cena is the face of the company, love him or hate him, and having him job to a part-time performer (even the Rock), totally discredits all the work the man puts in week-in week-out.
The recent promos for the match have really put Cena in a new light for me—in seeing how much he loves the WWE—and therefore I do hope for a passing of the torch moment (a la Hogan-Rock) on April 1st, 2012.
Thanks for Reading!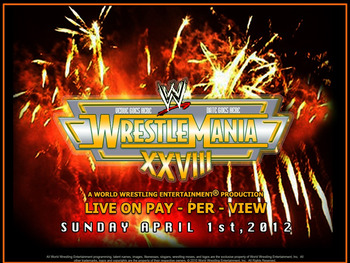 I hope you liked this Wrestlemania 28 Preview and Prediction article.
Please feel free to leave any thoughts, comments or alterations in the comments section below.
Or Follow me on Twitter @richardchriston for more WWE analysis and discussion.
Once again, thanks for reading!
Keep Reading