NBA Rumors: Why the Denver Nuggets Are a Perfect Fit for Wilson Chandler
February 27, 2012

Dilip Vishwanat/Getty Images
With former teammates J.R. Smith and Kenyon Martin already back in NBA, teams are eagerly awaiting the return of Wilson Chandler from the Chinese professional basketball league.  Unfortunately for Chandler, his plans to re-enter the NBA are currently on hold as he waits for clearance from the Chinese Basketball Association.
This matter could be resolved within the week as Chandler is expected to appeal to FIBA for clearance to sign with an NBA team. After averaging 27 points and 11.8 rebounds per game for the Zhejiang Lions in China, Chandler figures to be a hot commodity once teams are allowed to begin negotiations.
Despite strong interest from a host of teams including the Toronto Raptors, it is expected that Chandler will re-sign with the team he ended last season with—the Denver Nuggets.  Due to his familiarity with Denver, contract situation and the Nuggets current roster situation, Denver seems to be the perfect fit for Wilson Chandler upon his return to the NBA.
Contract Situation
The current free agency situation that Chandler is in makes it incredibly likely that Chandler will re-sign with the Nuggets once he is eligible.  As a restricted free agent the Nuggets have the ability to match any offers that other teams make to Chandler. 
The Nuggets, from general manager Masai Urjiri to coach George Karl down to the players, have consistently stated that they want Chandler to remain a Nugget, making it unlikely that the Nuggets fail to match another teams offer to Chandler. 
Making it increasingly unlikely that another team is able to sign Chandler is the fact that other teams only have until March 1 to make an offer to Chandler.  After March 1, the Nuggets become the only team capable of signing Chandler until after this season.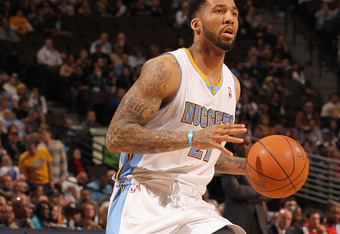 Doug Pensinger/Getty Images
Familiarity
After coming over in the trade that sent Carmelo Anthony to the New York Knicks, Chandler showed well in 21 games as a Denver Nugget.  Although it was a relatively brief stint in Denver, Chandler and his agent have made it apparent that they would like to return to Denver. 
Chandler's desire to become a Nugget once again could stem from a variety of reasons.  At the root of Chandler's desire to return as a Nugget is likely his familiarity with the team and its system. 
As previously mentioned his former Nuggets teammates have already expressed their desire to have Chandler back as evidenced by this quote from Ty Lawson, "It would mean a lot to have him back… It will be great to have him come back because we need him."  Other teammates including Al Harrington have also chimed in with their endorsements of the team re-signing Chandler, "We're looking forward to having him back." 
Even though his time as a Nugget was brief last season Chandler made a positive impression and appears to be well liked in the locker room. Obviously playing with teammates that you enjoy being around factors into decisions about the teams you would like to sign with. 
Nuggets Right Now
Coach George Karl instantly plugged Chandler into the rotation upon his arrival from New York last season, and the Nuggets high tempo offense suits Chandler well.  The Nuggets ability to get out on the break and spread the ball around created plenty of opportunities for Chandler to display his well known scoring abilities
As Danilo Gallinari is sidelined with an ankle injury for at least another two weeks, possibly longer, the Nuggets have an obvious need for a starting caliber small forward.  Even when Gallinari returns from injury, the Nuggets will have plenty of minutes for Chandler off of the bench.  Karl often rotates as many as 10 players per game and routinely rides the hot hand during the course of the game.
With the condensed nature of this NBA season, depth is critical to each team, and Chandler would be a huge boost to a Nugget lineup that has suffered from injuries to key players in recent weeks.
Considering the Nuggets control Chandler's free agent rights, it appears unlikely that Chandler will end up in anything but a Nuggets jersey once he is able to sign with a NBA team.  Due to Chandler's familiarity with Denver, the offensive system and his teammates, Chandler appears ready to re-sign with Denver.  For Chandler and the Nuggets its not a question of if—rather when.