NFL Scouting Combine: Janoris Jenkins and Others Worthy of the 49ers First Pick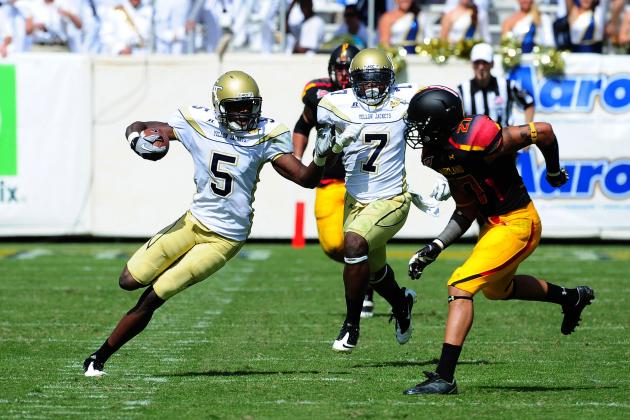 Scott Cunningham/Getty Images

The San Francisco 49ers will have their hands and minds full when making their first selection in the 2012 NFL Draft. As of now, they own the 30th overall slot and face a major decision .
Do they bolster an already dominant defense, or add another weapon to their improving offense? Is cornerback depth the most pressing need, or is it an offensive lineman to protect their endangered quarterback?
Maybe the top priority is upgrading the receiver position, a group that lacks a dynamic playmaker.
These questions are sure to be inside the minds of the 49ers front office as they transition from the playoffs to the offseason. A 13-3 season and trip to the NFC Championship game revealed a talented team that is just a step or two away from appearing in the franchise's sixth Super Bowl.
The task at hand is clear, yet easier said than done: locate and acquire the missing pieces to a championship puzzle. Once the locating is done, the 49ers will use free agency and the draft to accomplish the acquiring.
And this year's draft, like every year, is brimming with prospects capable of making an immediate impact. It's also stocked with fool's gold disguised as future stars.
With the NFL Scouting Combine underway, prospects already have started to vault up or drop down draft boards, depending on their workouts and interviews.
Here are standouts the 49ers must strongly consider with their first-round selection.
Begin Slideshow

»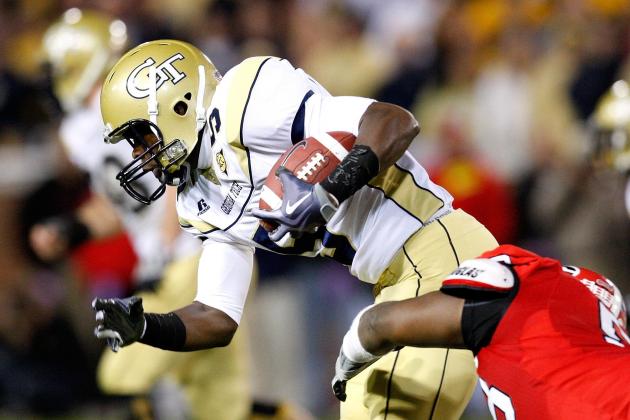 Kevin C. Cox/Getty Images

Pre-Combine Stock
A question mark coming out of Georgia Tech's triple-option offense, Hill was generally viewed as a mid-round developmental pick. Many wondered if his lack of production on the field (only 28 catches on the season) was a result of a run-heavy system or Hill's own inadequacies. The potential, however, has always been apparent.
Combine Performance
All other receivers, first-round locks included, were completely upstaged by the lesser known Hill. In one of the more impressive combine performances to date, the 6'4'', 215-pounder tied for the fastest 40-yard dash time of the weekend with a 4.36 and also had a 39.5" vertical leap. He even displayed above-average hands, hauling in a diving catch during position drills.
Post-Combine Stock
Higher than his jumping abilities, Hill's stock absolutely soared after Sunday's showing. His game and route-running are still unrefined, but late first-round teams in need of a receiver will be tempted to take the risk.
Why it makes sense for the 49ers?
Hill actually fills two current needs: a big red-zone target and speed to stretch the field. The 49ers can draft Hill and further develop Kyle Williams as a receiver. Their depth chart would then include Hill, Michael Crabtree, Joshua Morgan (assuming he returns), Kyle Williams and Ted Ginn.
Not bad at all.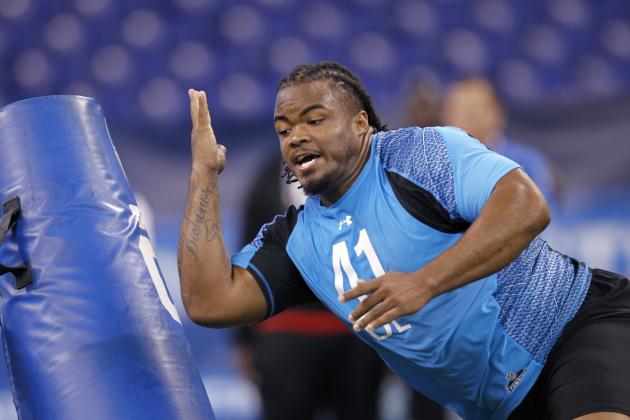 Joe Robbins/Getty Images

Pre-Combine Stock
Poe has been on the radar of several teams since declaring for the draft. Much of that had to with his size (6'5", 348 pounds) rather than on-the-field success. He never dominated like expected, but has been considered an intriguing option at defensive tackle for most teams, regardless of defensive scheme. Before the combine, Poe was seen as landing somewhere within the first three rounds.
Combine Performance
Nobody, Hill included, did more to raise their stock than Poe. After putting up a combine-best 44 reps of 225 pounds, the mammoth defensive tackle ran an official 4.98 40-yard dash. An astounding feat, especially considering that Ndamukong Suh ran a 5.03. Even more impressive, Poe clocked a 1.70 10-yard split, which speaks volumes of his initial burst off the line. He wowed scouts with his rare blend of size, strength and athleticism.
Post-Combine Stock
Earlier perceived as a fringe first-round talent, his performance likely vaulted him into the overall top-15. His pro day and future workouts will ultimately determine how high he climbs up draft boards, but it will be hard for teams to pass on Poe, a player scarily similar to Haloti Ngata.
Why it makes sense for the 49ers?
Isaac Sopoaga, the team's current starter at the position, is an under-valued member of the stout defense. He swallows up multiple blockers, freeing up his teammates to swarm in and make plays. He is also versatile enough to play offense, occasionally lining up as a fullback.
Poe, however, has the higher ceiling of the two. He could be brought in for depth as a rookie, learn the system and then slide into the starting position.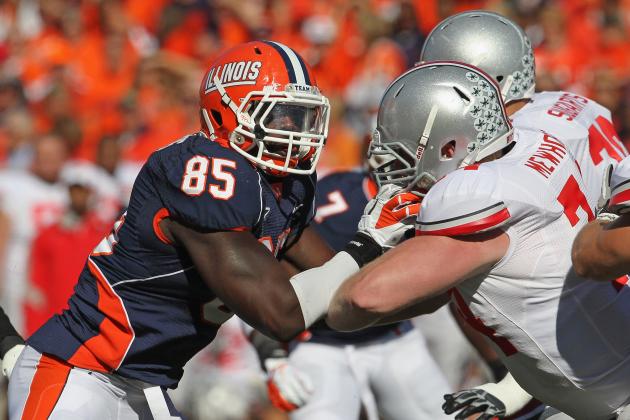 Jonathan Daniel/Getty Images

Pre-Combine Stock
Relatively unknown entering his junior year, Mercilus went on to lead the nation with 16 sacks, nine forced fumbles and 22.5 tackles for a loss. He was a top-ranked defensive end before the combine and considered a borderline first-round prospect. Scouts worry that he's a "one-year wonder" or that his stats are inflated by a hyper-aggressive defensive scheme.
Combine Performance
Mercilus surprised many with a 4.68 in the 40-yard dash and a 1.56 10-yard split. He also displayed better than anticipated agility, and was smooth and fluid throughout the drills. His workout showed athleticism and quickness not often found in players his size (6'4", 261 pounds).
Post-Combine Stock
The defensive end/outside linebacker solidified his status as a Day 1 selection, and may have even climbed up some draft boards. Pass-rushers are at a premium and Mercilus may just be the best in this year's crop. An impressive showing in Indianapolis combined with on-the-field production will help him ascend even higher.
Why it makes sense for the 49ers?
Ahmad Brooks had a strong season for the 49ers, but is set to become a free agent. His play may have earned him a more lucrative paycheck elsewhere. Even if he stays, the team will look to address depth concerns at the outside linebacker position.
Mercilus satisfies all of the above needs. He can provide depth, but also is a potential upgrade over Brooks.
In the mold of rookie sensation Aldon Smith, Mercilus has an uncanny ability to penetrate opposing backfields and a tireless motor in pursuit. He, like Smith, uses a dizzying array of moves and has the strength to bull-rush blockers, too.
Plus, Mercilus is already strong in the run game and suits the 49ers defensive scheme perfectly.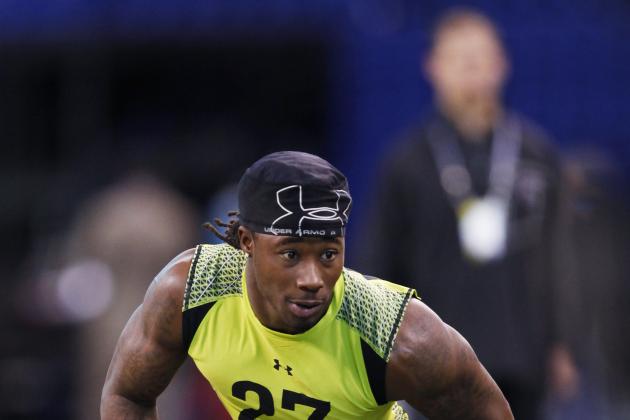 Joe Robbins/Getty Images

Pre-Combine Stock
On talent level alone, Jenkins is a top cover corner in the draft. He's athletic, fluid in the hips and has great hands. Character concerns, however, have dropped his stock as low as the second-round. He was dismissed from the University of Florida for misconduct (two drug-related arrests) and has four kids with three different women. Excessive baggage has several teams shying away from the shutdown corner.
Combine Performance
The revelations of his family life have been greeted by mixed reviews. Some see serious red flags, others see someone who has matured through the process. On the field is where Jenkins excels. He ran a 4.46 forty-yard dash and registered a 33.5" vertical leap. Throughout the drills, he proved to have the explosiveness and tools of an elite corner.
Post-Combine Stock
Scouts are generally impressed with his forthright approach to the interview process. That being said, the character concerns are still an issue to some teams. Jenkins appears to be a player ready to start and make an immediate impact. His stock rises on account of his ability to contribute as a return man, as well. A consensus top-15 talent, Jenkins will land somewhere in the late first round.
Why it makes sense for the 49ers?
He is a first-year starter, hands down. With the 49ers looking to add depth, Jenkins fits in nicely alongside Carlos Rogers, Chris Culliver and Tarell Brown. He is slight in stature (5'10", 190 lbs.), but his lateral quickness and sheer athleticism more than make up for it. Jenkins also brings enough physicality to play both man and zone coverage.
Don't forget that he also is solid in special teams, returning three punts for a touchdown this season. The NFC Championship game is evidence of a need there, especially if Ted Ginn, a free agent, leaves the team.