2012 NFL Draft: Top Prospects Guaranteed to Fail Under Pressure
February 27, 2012

Christian Petersen/Getty Images
An NFL prospect can have all the athletic ability in the world, but if his head's not in the game, he's destined to be a backup or worse in the pros.
On the other side of the coin, you can't succeed purely on heart. A prospect does need to have some form of athletic ability suitable for his position.
Here's a look at top prospects who I see failing at the next level.
3. Luke Kuechly, LB, Boston College
It pains me to say Luke Kuechly won't succeed in the NFL. He has undying heart on the football field.
But, despite his instincts, range and tackling ability, Kuechly doesn't have one thing that's almost required at the inside linebacker position: strength.
You only have to look at Kuechly's game tape to know that he has trouble fighting through blocks and piles in the interior. You absolutely have to be be able to do that if you're an inside linebacker in the NFL.
There's also the fact that Kuechly is just 235 pounds.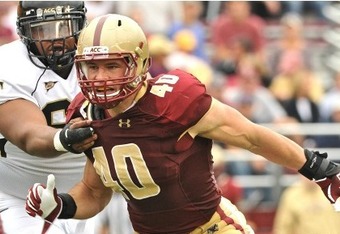 2. Quinton Coples, DE/DT, North Carolina
Quinton Coples may have the strength to be a defensive tackle and the speed to be a 3-4 defensive end in the NFL, but he does not have the heart to make any of this matter.
Anybody who saw Coples play at North Carolina this season knows what I'm talking about. He naturally racked up statistics based on the overwhelming advantage in athleticism, but he constantly took downs off and looked downright lazy at times.
You simply can't go less than 100 percent in the NFL and expect to succeed as a rookie. Coples will find that out the hard way.
Joe Robbins/Getty Images
1. Vontaze Burfict, LB, Arizona State
I used to group Vontaze Burfict in with Janoris Jenkins as far as his potential to be a boom-or-bust prospect.
But Burfict is looking much more like a bust prospect to me right now.
As Jenkins has admitted his mistakes during team meetings at the combine, Burfict has blamed his coaches for his past season and apparently thinks having a first instinct to swing at players is nothing to be worried about.
On top of that, the only reason Burfict was considered a potential first-rounder was his monstrous athletic ability.
Well, you can throw that out the window: Burfict ran the 40-yard dash in 5.09 seconds during the combine, worst among linebackers through Sunday.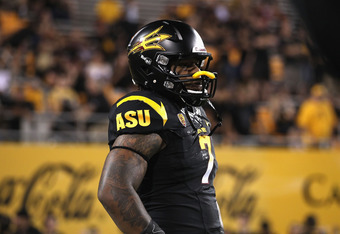 Christian Petersen/Getty Images