Tiger Woods: The Masters Will Be First PGA Win Since 2009
February 27, 2012

Andrew Redington/Getty Images
Tiger Woods has won a majority of his major tournaments at Augusta National Golf Course tournament, playing in the Masters. It's why he will break out of his current losing streak at this year's tournament.  
Tiger is in the midst of one of his biggest slumps in his professional career. He hasn't won a tournament since he posted a 14 under par at the 2009 JBWere Masters. In the time in between that victory, Tiger has entered 37 events, has missed the cut or withdrawn four times and hasn't finished in the top 10 in 22 of those events.  
However, Woods seems to feel comfortable playing in The Masters. His ability to drive the ball to great lengths off of the tee are a big advantage in a golf course that was lengthened about 10 years ago in a term dubbed "Tiger-Proofing." 
This year, Woods has a driving distance average of 290.4 yards with 72.73 percent of those drives finding the fare way. 
That ability to play Augusta National Golf Course so well, has led to some of his best finishes during his current three year drought, finishing fourth in 2010 and 2011.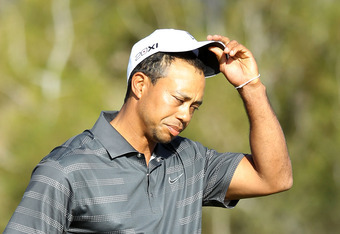 Christian Petersen/Getty Images
Coming into this year's Masters tournament, Woods has been playing better. He's finished in the top-three, placing third in the Abu Dhabi HSBC Golf Championship.  
If it wasn't for a missed five-foot put during the WGC-Accenture Match Play Championship, Tiger could have advanced in the tournament, instead of losing in the round of 32.  
In the past, Tiger has tried to limit the amount of tournaments before heading to The Masters in mid-April. However, this year, it seems as if Woods is trying to get his golf game up to a high level as he is confirmed for two more tournaments and a possible third.  
Woods is already confirmed for the Honda Classic and the Doral, and could still commit for the Arnold Palmer Invitational.  
These next two or three tournaments could help Tiger find his groove to play a complete four rounds of golf.  
From Nick Faldo of the Golf Channel and CBS analyst: 
"We have seen about four times now when he's been right there: good enough to get into contention but not good enough to finish it off," said Golf Channel and CBS analyst Nick Faldo. "We watch Tiger scratch his head, let alone scratch our own."
If Tiger can find that way to close on the competition like he once was able to do, we will see the Woods that has won 14 Majors. He will find that winning stroke again, and it will come at the 2012 Masters.