2012 NFL Draft: How the Philadelphia Eagles Can Make Their Dream Come True
February 28, 2012

Rob Carr/Getty Images
After making a cannonball-sized splash in free agency last year, newly acquired quarterback Vince Young made a preseason declaration that the Philadelphia Eagles were the NFL's "Dream Team." From then on out, the Eagles had lofty expectations.
Having acquired players such as Jason Babin, Nnamdi Asomugha, Dominique Rodgers-Cromartie, Ronnie Brown, Steve Smith and Cullen Jenkins during the offseason, the Eagles felt confident they would be able to improve upon a high-flying 2010 campaign.
However, the Eagles defied common sense by finishing 2011 with an 8-8 record. How the esteemed Andy Reid could infuse a talented team with pricey free agents and not make the playoffs was beyond most people's comprehension.
To understand their regression, you must look beyond the importance of any individual player. The Eagles suffered from a lack of togetherness which should have been expected given the amount of new players and shortened off-season.
This was compounded by the fact that they switched to the wide-9 defensive scheme before having all the right players in place.
Heading into the 2012 season, the Eagles are going to need to return to playoff form quickly if they want to compete with the Super Bowl winning New York Giants in the NFC East.
The following are the best players Philadelphia can select in each round that will propel them to excellence in 2012.
Round 1: Cordy Glenn, G, Georgia
Philadelphia will probably not re-sign their injury prone left guard Evan Mathis. This will leave a huge hole on an already thin offensive line. Considering that they must protect the invaluable Michael Vick, the need for an offensive lineman will take precedent over linebacker in the first round.
Cordy Glenn proved his status as the second best guard behind Stanford's David DeCastro after an impressive performance at the NFL Combine. The massive 345 pounder will suffocate defensive lineman and create wide lanes for LeSean McCoy.
He also has experience playing tackle in college. This is extremely valuable for the Eagles who need depth on their o-line.
Round 2: Vontaze Burfict, ILB, Arizona State
Entering the NFL Combine, I had Burfict ranked as the best inside linebacker in the draft (based on talent). On the other hand, CBSSports.com had him ranked as a third rounder due to his temper.
Burfict proved CBSSports.com right at the Combine. When asked about his troubled collegiate career at Arizona State, Burfict should have played the PR game and blamed himself while assuring that he has matured. Instead, he threw his coaches under the bus:
"I played average," he said. "I could've played better. That's what hurt me at times. The coaches kind of messed me up. I didn't know if I would start a game or be benched. It hurt me, but I tried to fight through it."
This troubling statement combined with his 5.09 second 40-yard dash time will make him available for the Eagles in the second round.
Despite his questionable social skills, Burfict will begin to mature once he is surrounded by no-nonsense NFL veterans. If he can keep his cool, Burfict will be one of the top inside linebackers for the next decade.
Round 3: George Iloka, FS, Boise State
The Eagles secondary will be significantly better next season. Asante Samuel will likely be playing for a different squad in 2012, leaving Asomugha and Rodgers-Cromartie as the starters. Both corners will live up to expectations this year after struggling to adjust to the new scheme in 2011.
At 6'4" and 225 pounds, George Iloka has incredible size for a safety. He is physical against the run and good at reading plays while sitting in deep zone coverage. 
For him to contribute right away, he will need to take more precise angles at ball carriers and improve his man coverage. Otherwise, he is a great value pick in the third round and a future playmaker.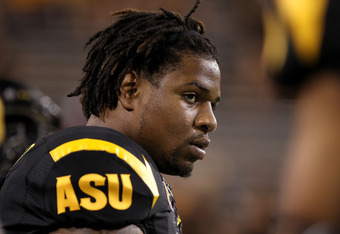 Christian Petersen/Getty Images
Round 4: Marvin Jones, WR, Cal
DeSean Jackson's future in Philadelphia seems limited. If they are able to re-sign him this off-season they will most likely use a franchise tag. In this case, Jackson will likely be disgruntled as he is looking for a long term deal.
Regardless, the Eagles will look to add a wide receiver in the middle rounds of the draft. Marvin Jones is an excellent candidate who has been flying under the radar.
Despite a solid performance at the Senior Bowl and a good effort at the Combine, Jones is still not getting any attention. He showed off good speed, running the 40-yard dash in 4.46 seconds, and a good initial burst in the 3-cone drill.
At 6'2" and 199 pounds, Jones has the potential to be a more athletic version of Jason Avant. Both have dependable hands and are physical against smaller corners. Jones does not have No. 1 receiver potential, but he can be Vick's go to receiver in bail out situations.