NHL Trade Deadline: Studs and Duds of Deadline Day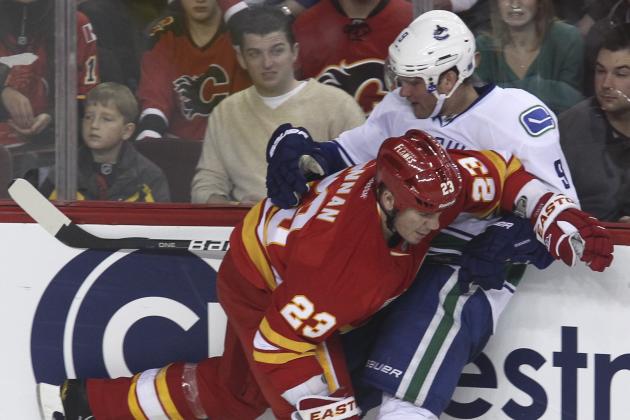 Mike Ridewood/Getty Images

The NHL trade deadline has expired a few hours ago and until the last two hours, it seemed like it would've been excruciatingly lackluster as it was a year ago. Then, all of a sudden, trades started popping up and now, the race for the Stanley Cup seems to be more exciting than it was a year ago.
With 15 trades that took place today, both conferences have been shaken up, and it remains to be seen whether or not these transactions will have the desired effect on the teams.
This is an initial assessment of the happenings of day.
Begin Slideshow

»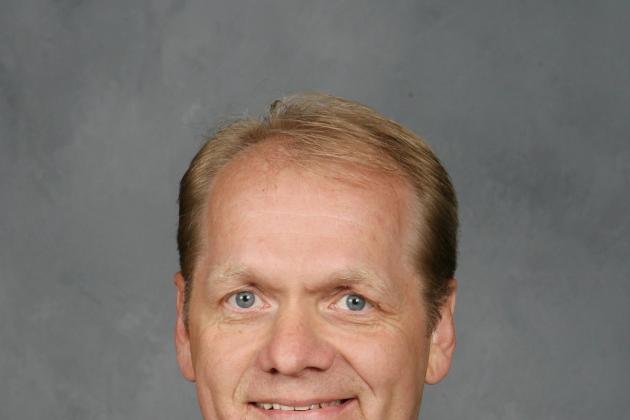 Getty Images/Getty Images

The uncomfortable smile in the image perfectly exemplifies my thoughts on Darcy Regier's actions on deadline day. The Sabres have been playing better as of late trying to mimic last year's magical run toward the playoffs.
In an Eastern Conference where size and physicality are the foremost attributes in display, the Sabres' general manager seems to have accepted the reality that the team he build is sub-par and the team's fate of staying out of the playoffs once again.
So, instead of kidding himself and the organization, Regier traded a couple of NHL-ready prospects in Zack Kassian and Marc-Andre Gragnani to the Canucks for Cody Hodgson and a borderline roster filler in Alexander Sulzer.
Evaluating this trade alone, one might think that it was a total failure because he did not acquire any picks from Vancouver and acquired another small forward in a roster that is already full of them.
In my opinion, Hodgson is a very able forward and plays as physical as his body allows him.
But, Regier's win of the day was in the Paul Gaustad trade.
Gaustad, a soon-to-be UFA, was sent to the Nashville Predators for a first-round pick in this years draft.
If the season were to end today, the Sabres would have a pick the bottom half of the top 10 and a pick on the upper half of the 20's.
Looking at the players being projected for these positions in the draft, the Sabres have the chance to address their size issue at center if Alex Galchenyuk keeps falling through the charts with their first pick. With the pick from the Predators, they could add a sizeable center in Tomas Hertl of Ryan Miller's successor in Malcolm Subban or Andrey Vasilevski.
Let's wait and see...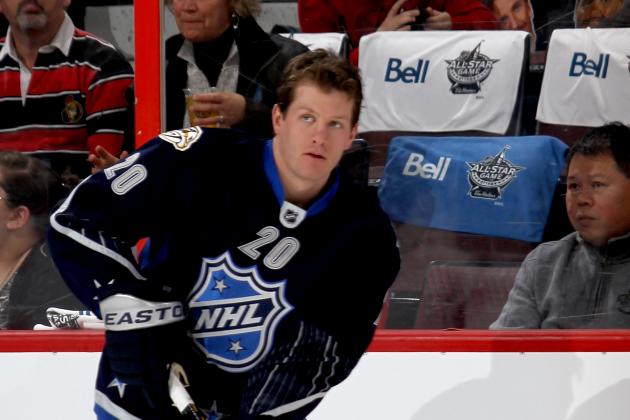 Bruce Bennett/Getty Images

Ryan Suter is David Poile's main headache throughout this season. By declaring that he wasn't going to sign a new contract during the season, he cranked Poile's pressure-meter up to 17 and made his GM rush and make hasteful acquisitions that might prove to be duds and make Nashville a basement dweller in spite of Shea Weber and Pekka Rinne.
The acquisiton of Hal Gill for Blake Geoffrion, a minor league player, and a second-round pick exemplifies my point. The return Pierre Gauthier was able to snatch aligned his team toward a rebuild and gave the Predators a little bonus in their chase for the Stanley Cup.
Gauthier further gutted the Predators by giving Andrei Kostitsyn for a second-rounder and a fifth-rounder in the 2013 draft.
Why did Poile comply with this? To increase his chance for the Stanley Cup? No. He went out and acquired players to show his stud blueliner that the Preds are for real and that they want to make a legitimate run for the Stanley Cup this season still. Jeff Gross/Getty Images

Because of the Suter conundrum, David Poile was forced to make moves and these moves, for the reasons cited on the slide before, he might have ruined his franchise because of one player.
Or not.
These trades could pan out and make the Predators contenders for the next five years. As for now, the acquisitions made by Poile haven't been where they used to be during last few seasons.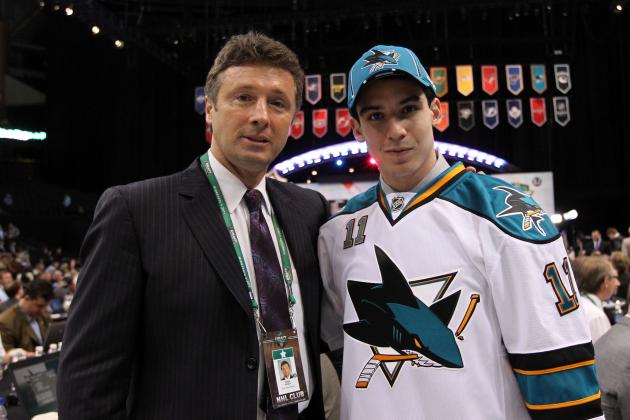 Bruce Bennett/Getty Images

In what I think is the most lopsided trade of the day, Sharks' GM Doug Wilson managed to pry out of the Colorado Avalanche young forwards Daniel Winnik and TJ Galiardi for Jamie McGinn and two other minor league players.
The core of the Sharks isn't getting any younger and this might be a pressing problem three years from now so Doug Wilson got cracking to remedy this problem.
He managed to pry out Winnik, a very able defensive forward who can fill other roles in the roster, along with Galiardi.
For me, Galiardi is an enigmatic acquisition. While he has the potential to be a top-six forward as evidenced by the year he broke out in the league, the last two seasons haven't been kind to him.
If he can regain his scoring touch, he, not only might provide some very useful secondary scoring for the Sharks in the playoffs but, if he produces consistently, he might be part of the Sharks' core some four to five years down the road.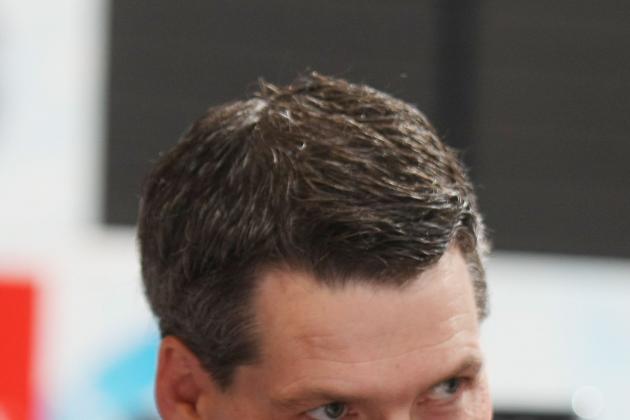 Bruce Bennett/Getty Images

For a part of this season, the Minnesota Wild seemed to be the NHL's current Cinderella story, but, they took Mikko Koivu's injury to the knee (yes, I play Skyrim). With nothing going their way as soon as 2012 came around, GM Chuck Fletcher decided to blow up the team's defense instead of aiming at a rebuild.
I understand that the Wild have never finished their rebuilding process that started a few years ago, but some of the transactions made by Fletcher weren't beneficial at all to the franchise.
He traded Greg Zanon to the Bruins for Steve Kampfer. Also, he sent Marek Zidlicky to the New Jersey Devils for Kurtis Foster, Nick Palmieri, Stephane Veilleux and a second-round pick this year. Also, he shipped out Nick Schultz to the Edmonton Oilers for Tom Gilbert.
Analyzing these trades, one might think that he got a good price for his players, but I beg to differ.
He sent Zanon, one of the premier shot-blockers in the league, for a prospect who had a big injury last year. For Zidlicky, he got an oft-injured returning player in Kurtis Foster, a good possible role player in Nick Palmieri and a player who was the worst player in the league a few seasons ago.
Not very smart for a team that is eager to reach the playoffs as soon as it can.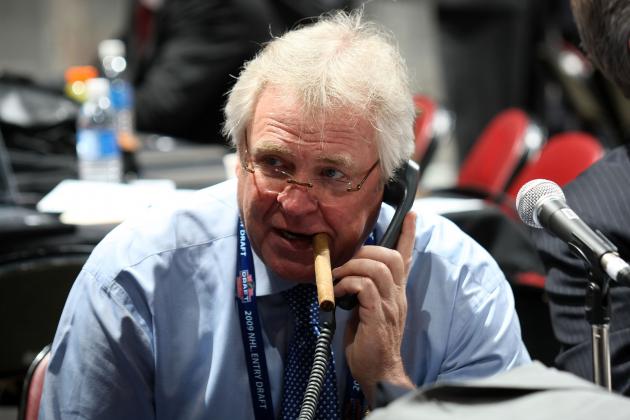 Bruce Bennett/Getty Images

For me, Sather was one of the two GMs who made underrated moves that will bolster their team a lot in the playoff race.
Sather used the last few days to get rid of duds he brought to the team and managed to get a fairly nice return in comparison to what he was giving.
He got bubble-roster player Casey Wellman from the Wild for Erik Christensen and got a minor league defenseman and a pick for Wojtek Wolski. Both players were supposed to have brought skill and points for the Rangers, but they never really panned out despite flashes here and there.
Also, Sather orchestrated one of the best moves of the deadline by acquiring John Scott from the Chicago Blackhawks for a fifth-round pick.
John Scott will be a bubble player for the Rangers fourth line as he provides a lot of grit an energy despite his lack of skill. He is a younger player who may fill in the void that used to be occupied by the late Derek Boogaard.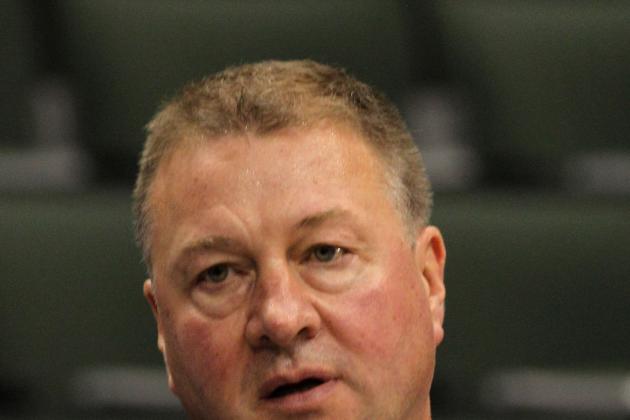 Bruce Bennett/Getty Images

The Canucks' GM made some interesting acquisitions today. First, he got Sami Pahlsson from the Columbus Blue Jackets for a fourth rounder in this year's draft and in next year's draft.
Then, he completed a blockbuster trade where he shipped out Cody Hodgson and Alexander Sulzer for Zack Kassian and Marc-Andre Gragnani.
If this deal was completed last year, maybe the outcome of the Stanley Cup Finals might have been different.
In Gragnani, he gets a young puck-moving defenseman who can fill in the void when the a player like Sami Salo gets injured. In Kassian, Vancouver gets a player who can fill the same void the Hodgson did but with a lot more physicality.
In Pahlsson, he acquires that missing toughness piece he was looking for. Pahlsson is a gritty fourth line pivot that might fill the void the desperately needed last year when Manny Malhotra went down with that nasty eye injury last season.
The best team in the NHL, according to the standings, is poised for another run at the Stanley Cup and their GM might have put them well on their way with these trades.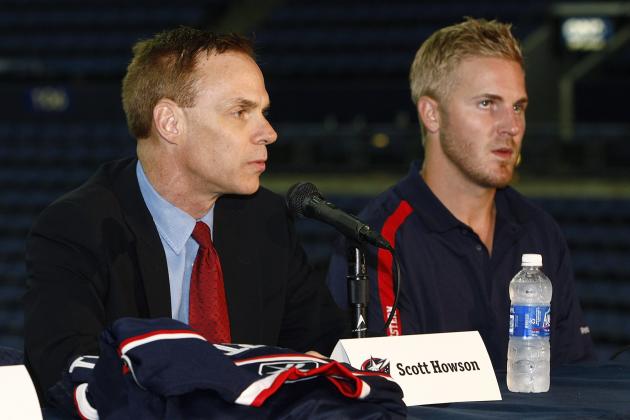 John Grieshop/Getty Images

Scott Howson made a bunch of moves where he shipped off all of his centers for picks and still snatched Jack Johnson from the Los Angeles Kings. While this shows that he is position the Blue Jackets for another rebuild, he managed only to acquire one extra first-round pick as I'm sure he would get another one if he dealt Rick Nash.
Nash holds the keys to the rebuilding or further sinking of the Blue Jackets. He wasn't dealt today because the right offer didn't come along.
The team that wants Nash will most likely have to surrender a top prospect, an important roster player, their first-round pick and/or extra picks/prospects/rights to future UFA's.
This too much of a stump to evaluate the moves Scott Howson made. They are unimportant in light of this.
We can only see if his trades were effective once the full package for Nash is revealed.