NBA Draft 2012: Grading the Top 5 Rookie Prospects' Seasons Thus Far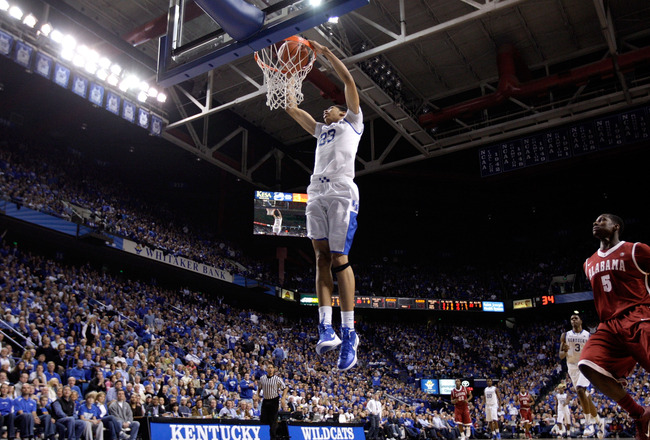 Andy Lyons/Getty Images
The upcoming NBA draft is going to be loaded with talented players, especially big men. Not often are there two franchise centers available, along with a handful of skilled forwards.
This is the year to be a bad NBA team. Everyone can make fun of Michael Jordan all they want because of his terrible Charlotte Bobcats. But because of their ineptitude, they have a chance to get the No. 1 pick and draft one of the best big men prospects in years.
Will those same critics make fun of Jordan next season if Anthony Davis and Bismack Biyombo are blocking shots left and right?
Here's a look at the top 5 rookie prospects. All will make huge contributions to the NBA a year from now.
Jared Sullinger
Jonathan Daniel/Getty Images
Grade: B
Jared Sullinger made the uncommon decision to return to college instead of leaving early for the NBA.
Once again, Sullinger is putting up solid numbers for Ohio State, averaging 16.8 points and 8.9 rebounds. But overall, he hasn't been as good this year and neither has his team.
The Buckeyes have lost six games, already three more than a season ago.
Sullinger looks noticeably slimmer, which is a good sign. It shows that he works hard in the offseason. One of his issues his freshman year was that he was not a particularly solid 262 pounds.
He may not develop into a dominant big man in the NBA, but he can definitely start for a good team. He gets by on his skill level, not freakish athletic ability.
This season Sullinger has reassured NBA scouts that he can be a good back-to-the-basket player who also rebounds at a high rate.
Thomas Robinson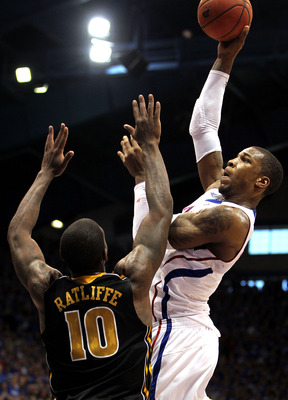 Jamie Squire/Getty Images
Grade: A-
Thomas Robinson has excelled this year for the Kansas Jayhawks.
The junior forward is averaging 17.8 points, up 10 from a year ago. What's most impressive is his rebounding ability. He has a huge NBA-ready frame and is averaging 11.9 rebounds a game.
Robinson was recently named Big 12 Player Of The Week. He's having a great season and has turned himself into a likely top-5 pick.
Harrison Barnes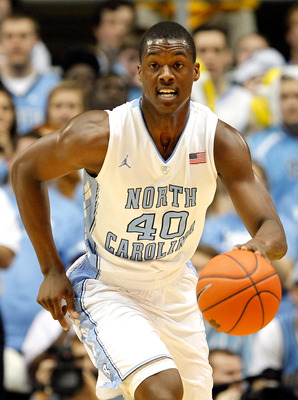 Streeter Lecka/Getty Images
Grade: B+
Harrison Barnes took some heat after a slow start as a freshman a season ago.
But this season Barnes has been playing great. He has increased both his field-goal percentage (46) and his three-point percentage (40) from his freshman year. Barnes is also averaging two more points.
There's not doubt that Barnes is talented. There are just games where he can be inconsistent. Recently against the Virginia Cavaliers, he finished with just seven points and nine rebounds.
Barnes has to produce at a high level every night if he wants to be validated as a top-5 pick.
One thing that will impress NBA scouts is his attitude. Barnes has shown great work ethic and a willingness to improve. After his rough start last season, he didn't let it keep him down. He used it as motivation to get better.
That's a good quality for a future NBA player.
Andre Drummond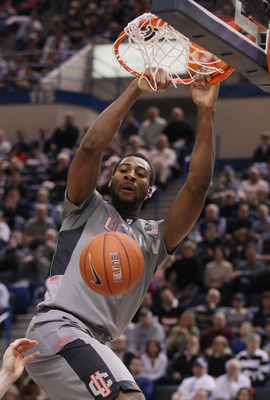 Elsa/Getty Images
Grade: A-
Prospect-wise, there's not much to dislike about Andre Drummond.
He's a physical specimen, standing 6' 11" and weighing 270 pounds. As NBADraft.net describes him, Drummond is a man-child.
His stats aren't as eye-popping as Thomas Robinson's, but he's also two years younger. He's a dominant force in the paint, where he averages two blocks and 7.8 rebounds a game.
Like Barnes, Drummond can be inconsistent at times. That probably has more to do with Connecticut's inconsistent season than anything else.
Drummond's freakish abilities aren't found in the draft every year. Once he develops a solid low-post game, he should become a force in the NBA.
Anthony Davis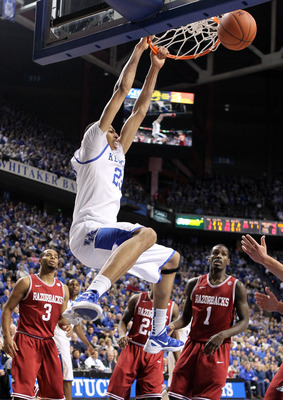 Andy Lyons/Getty Images
Grade: A+
Anthony Davis is a rare talent. His dominance has made Kentucky the No. 1 team in the nation.
The most fascinating aspect of Davis' game is that he doesn't have to score points to dominate. He averages a ridiculous 4.8 blocks and 9.8 rebounds a game.
Davis may never be a go-to option as a scorer in the NBA, but he will affect the game in so many other ways that it doesn't matter. When he does shoot, he's successful 67 percent of the time.
Davis needs to bulk up, but that shouldn't be a concern. He's only 18 years old and will get bigger in due time. What separates him from all other big-man prospects is his blend of athletic tools.
He will keep dominating in college and will eventually become the overall No. 1 pick in the draft.
Keep Reading