UFC 144 Results: Frankie Edgar Deserves To Decide What Weight He Wants to Fight
February 27, 2012

Frankie Edgar lost a close decision to Benson Henderson on Saturday, and while there are ways to talk about how the loss was devastating, a picture is more convincing than mere words.
As Henderson's arm was being lifted, the photographer captured Edgar as he slumped his shoulders and his head hung low. Edgar had nothing to be ashamed of, but it was obvious that the undersized former champion wanted to continue to prove people wrong.
He didn't do it.
Fans and Dana White have both vocalized for some time that they would like to see Edgar fight at the featherweight limit of 145 pounds, and it is easy to see why. He stands at only 5'6" and doesn't struggle to make weight.
It wouldn't be inconceivable for him to drop another 10 pounds and fight at a smaller weight.
At one time, the notion would have been better to understand because of the UFC only having weight classes that reached the lightweight limit, but since the beginning of 2011, both the featherweight and the bantamweight classes have been brought in to the organization.
He could still fight in the UFC at a lower weight, but in the end, the choice should still be his.
This isn't someone who got lucky and caught a champion off guard to win the title. It isn't someone who found himself in a weak division and was able to make the most of it.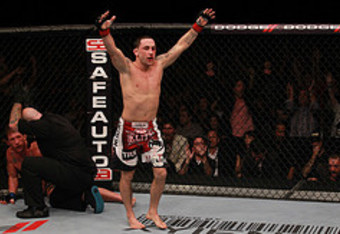 Edgar has beaten B.J. Penn twice by decision, come back from being almost knocked out by Gray Maynard twice to come back and get a draw and then a knockout victory in that order.
He has proven that he can do what he needs to be done and won fights at the top level in the lightweight division for some time now. This is only the second loss in his career with him having avenged the first one against Maynard.
Even this fight was close and in a rematch it isn't impossible that he gets the win. The only problem is that White has tentatively thrown out the possibility of Henderson having a rematch with Anthony Pettis first, though nothing is set in stone.
It may not matter, as Edgar has been contemplating the move anyway as mentioned on an article at MMAFighting.com.
Some of it is because his emotions are running high after a loss. Another part may come from the fact that he has taken some serious beatings in his last few fights. He has been facing larger men, and with that, he has been handicapping himself.
Edgar has earned the right to choose which way he wants his career to go without the interference of others. He has been too successful not to.
No matter what decision he does make, fans will cheer for him the next time he steps into the cage because he proves himself every time.