NHL Trade Deadline: Rick Nash, Shea Weber and Players Who Won't Be Moved
February 27, 2012

John Grieshop/Getty Images
With the 2012 NHL trade deadline just a few hours away, the excitement level is through the roof. We all have our trading helmets on.
As fun as this all is, there are certain big names that we hoped would be moved that are going to be staying home—at least until the season is over.
Mark my words, all of the following players will be remaining with their teams when the dust settles and the deadline passes.
There has been no hotter name this season on the trade market than Columbus Blue Jacket power forward and team captain Rick Nash.
After years of floundering in the standings, Nash told the Blue Jackets to exercise their ability to make a trade. With nothing of serious interest coming up, the smart move for the team is to hold onto Nash and try again this offseason.
With money freed up via free agency and plenty of teams hungry for a new start, Nash would become the hottest commodity in a volatile offseason scenario. This should get worse before it gets better.
Shea Weber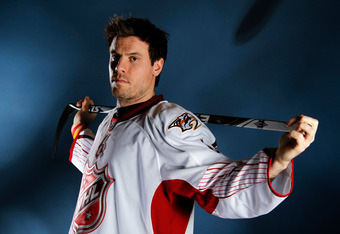 Gregory Shamus/Getty Images
The Nashville Predators have made it plain to see that they are not trading away either of their star defensemen, especially not Shea Weber—at least not at the deadline.
Weber is going to hit free agency after this season because of the way his contract was handled. He knows he can get top money and teams will be after him, but Nashville wants to prove they can win and hope he changes his mind.
With success could come change, but from everything that has been said, the Nashville Predators will not be making deals at the deadline, and at least one of their best defenders will walk via free agency this offseason.
Evgeni Nabokov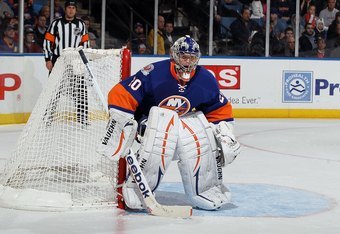 Jim McIsaac/Getty Images
With the New York Islanders doing everything in their power to make sure Nabokov stays with the team for a few more seasons, there is no way they would trade him at the deadline.
As much as teams like Philadelphia are kicking the tires, the Islanders need a strong goalkeeper to protect the team when their streaky offense goes cold. Despite his age, Nabokov could be affective for a few more years.
The trade value wouldn't have been much, so New York should be looking forward to hitting the offseason hard in hopes of keeping the veteran goalie in town for the young talent to turn it on.
Check back for more on the National Hockey League as it comes, and check out Bleacher Report's NHL Page to get your fill of all things hockey.