NHL Trade Rumors: Bruins Must Make Strong Push for Sami Pahlsson
February 27, 2012

Ezra Shaw/Getty Images
The Boston Bruins lack depth, which means they should busy on trade deadline day looking to fill that void with one or two reliable veterans. Sami Pahlsson, who played the first season of his career with the Bruins, would be a perfect fit.
Kevin Paul Dupont of the Boston Globe reports Pahlsson is one name the Bruins are tracking:
As mentioned in today's Globe, one solid candidate could be Sami Pahlsson, the versatile ex-Bruin forward now with Columbus, and veteran defenseman Jaro Spacek, currently wasting away with the Canes.
Pahlsson, like so many members of the Columbus Blue Jackets, has struggled this season with just 11 points in 61 games. That said, he's still solid defensively and would be the perfect addition for Boston's third or fourth line down the stretch.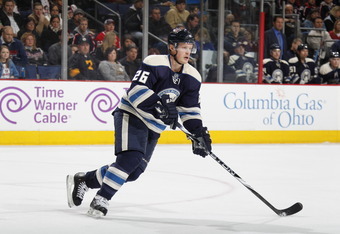 Gregory Shamus/Getty Images
The Bruins are in better shape than most teams, so they haven't been chasing bigger names like Rick Nash, but there are still a couple holes to fill before they can feel confident about their roster before the playoffs.
A few of those voids will be filled by the return of injured players, but a player like Pahlsson could be a perfect fit to protect the Bruins in case more injuries should arise.
Another area he will provide a boost is on the penalty kill. The Bruins rank a respectable seventh in that area, but Pahlsson would make it an elite unit capable of shutting down any power play. That's especially important in the postseason.
While Pahlsson is one of those players who won't generate many headlines on deadline day since bigger names will be moved, he will make the Bruins a better team by doing the little things like taking faceoffs effectively.
It takes guys like that on the third and fourth lines who aren't afraid to sacrifice their body to gain possession or block a shot to build a successful Cup contender.
He should also receive a boost in the motivation department by moving from the league's worst team to one in the title hunt. Pahlsson has plenty of big-game experience from his days with the Anaheim Ducks, giving the Bruins even more reason to being him aboard.
All told, there are definitely players on the market who will be more effective, but few will be a more cost-effective upgrade than Pahlsson. The Bruins wouldn't have to sacrifice the farm to get him, which seems to be the going rate for other available impact performers.
There's really no reason for the Bruins not to make a run at him. He could be the piece that puts them over the top when it's all said and done.