Liverpool FC: 10 Predictions for Rest of Reds' Season
Clive Mason/Getty Images
With a penalty shootout win over Cardiff City in the Carling Cup Final, Liverpool won its first trophy since 2006.
The Reds have yet another opportunity to win a league trophy as they are still alive in the FA Cup.
Another of Liverpool's goals this season is to finish fourth and qualify for the Champions League.
With 13 league matches remaining, there's plenty of ways the rest of the season to shake out.
Here's 10 predictions about the rest of the 2011/12 season.
Liverpool Will Finish Outside Champions League Qualification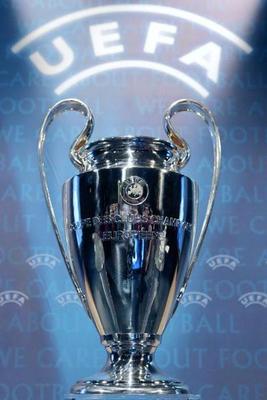 The Reds sit seven points adrift of fourth place with a game in hand.
While Champions League qualification isn't impossible, it is still very difficult.
As Sean Ingle pointed out on Twitter yesterday, there really isn't solid proof that a Carling Cup title is the kind of season-booster that many feel it to be.
Liverpool's form has been up and down this season and winning a cup probably isn't going to change that.
In addition, if Liverpool makes an even deeper run in the FA Cup, it's going to be tough to manage keeping a strong squad for both league and cup fixtures.
Cup success could come at the cost of league form.
Liverpool Will Win the FA Cup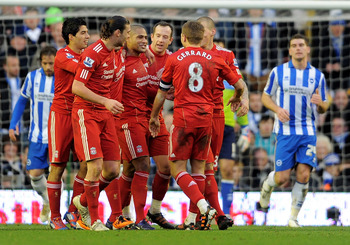 Michael Regan/Getty Images
Despite its struggles to advance up the Premier League table, Liverpool has performed very well in knockout tournaments this season.
The FA Cup remains a very winnable competition.
Liverpool faces Stoke City at Anfield March 18. Although the Reds only drew with Stoke in the last home game, they should be able to knock off the Potters.
The best thing is that Liverpool might have faced their toughest test already in the FA Cup when they defeated Manchester United, 2-1.
Tottenham, Chelsea and Everton provide tough matchups, but the Reds have already defeated both Chelsea and Everton away already this season, while Tottenham might be more concerned with the Premier League than with winning the FA Cup.
Andy Carroll Will Find His Form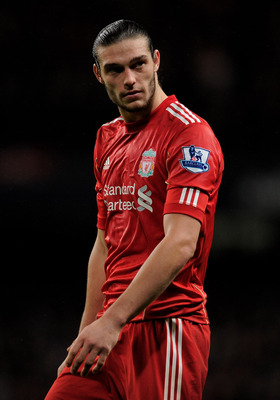 Michael Regan/Getty Images
There's no doubt that Andy Carroll has been a flop since moving to Anfield.
However, his form is getting better and better. Although he'll probably never live up to his £35 million fee, now is the time that Liverpool supporters will begin seeing the best of Carroll.
Confidence has been seriously lacking for the big Englishman, but Kenny Dalglish has had a lot of faith in him and it appears that faith will pay off.
Even if he's not scoring goals, his ability in the air can be a huge boost to the attack. It was Andy Carroll who headed the ball on to Dirk Kuyt who scored the game-winner.
The Reds' Goalscoring Trouble Will Continue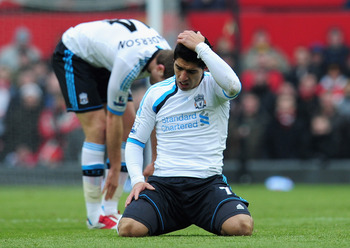 Shaun Botterill/Getty Images
Liverpool's biggest problem has been finding the back of the net.
It's not as if the Carling Cup final did a lot to alleviate supporters' fears that the club can't finish in front of goal.
The Reds had an astounding 37 shots yesterday, 17 of which were on goal, and yet they scored only twice.
Liverpool's poor finishing will continue to dog them for the rest of the season.
The Arsenal Match Will Decide the Season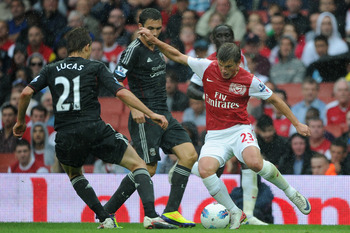 Michael Regan/Getty Images
Liverpool and Arsenal last met back on Aug. 20, with the Reds coming away 2-0 winners.
It's obviously not going to be easy as Arsenal are coming off their best performance of the season, a 5-2 win against Tottenham.
This could be the Reds' biggest league match of the season.
The fixture list for the remainder of the season is pretty generous to Liverpool.
Should Liverpool take three points away from this matchup again, they could put themselves in their best position yet for Champions League qualification. Also, the momentum gained from this match would be pivotal in the home stretch of the year.
A loss, however, would simply see the gap increase between Liverpool and the Champions League.
Stewart Downing Will Turn His Season Around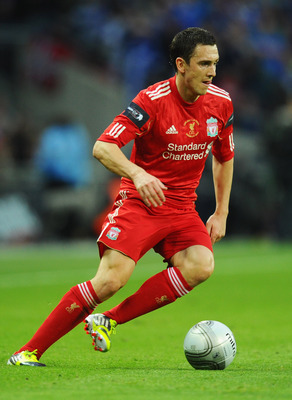 Mike Hewitt/Getty Images
Stewart Downing was bought to provide a supply of crosses in to Andy Carroll and generally distribute the ball in the attack.
Despite his £20 million transfer fee, Downing has yet to record a goal or even an assist in the Premier League for Liverpool.
He's looked absolutely woeful at times this year.
However, he won Man of the Match at the Carling Cup final yesterday. It was the best performance he has put together at Liverpool.
Although it was against a championship side, Downing looked like the kind of player the Reds believed they were buying.
It's also the kind of performance to give the Englishman the confidence he needs to be a great creator.
The Stewart Downing Liverpool supporters will see the rest of the season will be vastly different from the Downing of earlier in the year.
Kenny Dalglish's Tactics Will Continue to Be Questioned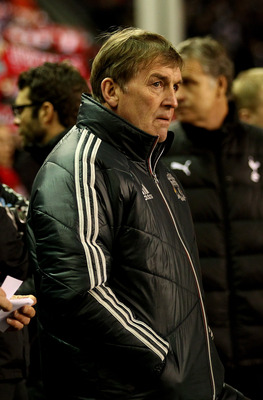 Clive Brunskill/Getty Images
Anytime a manager takes a decade-long break from the touchline, he can expect to face questions of whether the game has passed him by.
A lot can change in the span of 10 years, and it has appeared at times that that has been the case for Kenny Dalglish.
It's not as if his job should come into question, but there have been times during this year when Liverpool have looked like a team that belonged in the 1990s rather than 2012.
The most frustrating aspect is that rarely has the club looked anything like what it did when Dalglish took over for Roy Hodgson last year.
A League Cup title is a nice achievement for Liverpool, but it should not make Dalglish immune from criticism should the club continue to look incredibly pedestrian at times.
Craig Bellamy Could Ruin Liverpool's Season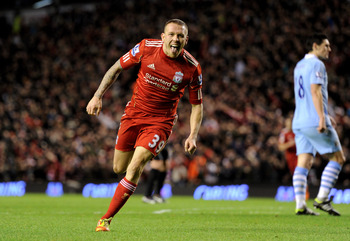 Michael Regan/Getty Images
Since arriving on a free transfer, Craig Bellamy has become Liverpool's most important player. They are a completely different side when he is on the field.
His six league goals tie him with Luis Suarez atop the team's leaderboard.
Bellamy, though, has quite a history of knee problems. If those problems were to arise at some point in the season, Liverpool would be in serious trouble.
Without his pace, the Liverpool attack has looked weak.
The Welshman is key if Liverpool are to make an even deeper FA Cup run and/or qualify for the Champions League.
Luis Suarez Will Continue His Polarizing Antics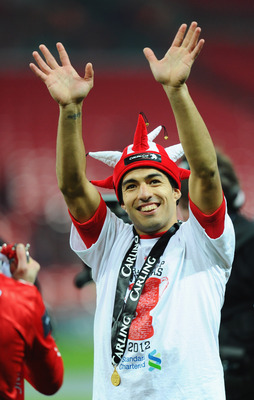 Mike Hewitt/Getty Images
The reputation of Liverpool Football Club has taken quite a hit since Luis Suarez was judged to have racially abused Patrice Evra.
Both Suarez and Liverpool really mishandled the aftermath, and that's where the club took the brunt of its criticism.
Suarez continues to be adored on the Kop and pretty much despised anywhere else.
Although his talent is undeniable, even Liverpool supporters must get frustrated in watching him dive and harass the refs when no foul is given.
It's likely that Suarez will tone down his on-field antics quite a bit, but controversy always seems to court the Uruguayan, and it's doubtful that will ever change.
Dirk Kuyt Will Build on His Liverpool Legend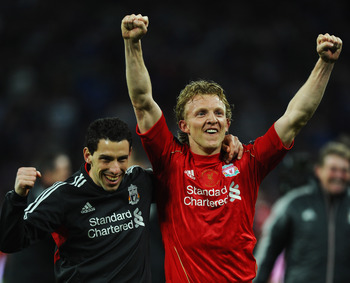 Mike Hewitt/Getty Images
Dirk Kuyt has seen his role diminished as of late under Kenny Dalglish.
During the January transfer window, there were rumors the Dutchman would be leaving Anfield, but the club held on to him.
With his incredible work rate and devotion to the club, Kuyt has rightfully earned the admiration of Liverpool supporters everywhere.
This season has been a bit charmed for the Dutchman. He scored what could have been the game-winner in the Carling Cup final and also scored the game-winner in the FA Cup tie against Manchester United back in January.
Kuyt has at least one or two big performances left in this season that will see him grow even more beloved on the Kop.
Keep Reading

Liverpool: Like this team?