The NFL Scouting Combine has become a huge event, and since the NFL has taken over for National Scouting, it has been continually refined from both scouting and production standpoints.
It could be even better.
The more the NFL realizes that it has a large set of eyes on the combine, the more it needs to understand that this isn't some niche event tucked away in Indianapolis. The combine has the ability to become must-see TV, just as the draft has been.
Not only are fans watching, but football people are too. Media that attend the combine media sessions often TiVo the event on NFL Network because access to the actual workouts is limited to some and unavailable to most. With so many well-trained eyes on the combine, it's become clearer that it could get better from a scouting standpoint as well.
Get Rid of "Official" 40 Times
There is no actual reason to have unofficial and official 40 times, and it's a mockery of the process to continue to pretend.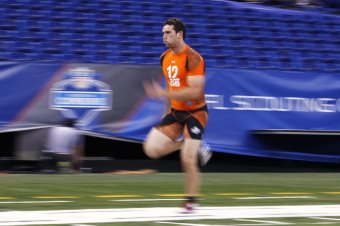 Joe Robbins/Getty Images
The official 40 times are a vestige, long unneeded, of a time when National Scouting ran the event. It would publish an official 40 times list that would go to the media and serve as a guide to reporters who weren't able to attend.
Now, with 700 reporters in Indianapolis and fans watching on TV, there is little need to publish times in such a manner that only serves to maintain an aura around a number that holds such little significance.
Want to know what NFL teams consider an official 40 time? The one their guy with their stopwatch brings back to them. Many teams use the exact same scout for 40 times year in and year out and trust his index finger more than anyone in the business. They go through pains to keep the same stopwatch in working condition and make sure he's standing in the same spot every year.
Teams could care less what an "official" time from the combine is.
As for the biggest differences between official times and the NFL Network's time? The biggest hangup is the definition of when someone starts running. Is it first movement—maybe nothing more than an arm twitch or a rock backward—or is it the first movement forward? Regardless of what you think the definition should be, it's absurd to think that a guy is a few tenths of a second slower than we all just watched him run.
Get Rid of Analysts and Focus on the Prospects!
I love Mike Mayock, we all love Mike Mayock, but honestly I love him a little less during the combine.
Maybe it's because I do this for a living, and maybe it's because I talk to tons of scouts—both media and professional—on a weekly basis, but Mayock's combine analysis has always grated on me.
Too often, Mayock (and the other NFL Network analysts) spout both information and opinions that sound dated and pack-driven. These are guys who (by any reasonable standard) should be among the best in the business.
This isn't Mayock's fault; he is the best draft analyst on television.
The problem, as is often the case with media, is over-saturation—the idea that more is better and we can't possibly pack too many people into an event. NFL Network has a serious problem on NFL Sundays with this, and the combine is no different. With so many cooks in the kitchen, you have to utilize every one, and that is often sacrificing in-depth content for fodder.
While watching the 40-yard dashes, viewers heard time and again that such-and-such was a good time or a bad time, but there was never actually a discussion of what scouts look for in a 40-yard dash. Because, honestly, the final time is a small part of the entire package. There was little discussion of 10-yard splits, starting stances, drive phase versus stride phase or the work that goes into preparing and executing a 40-yard dash.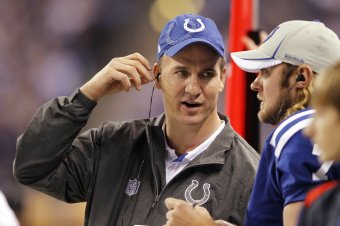 Joe Robbins/Getty Images
In fact, while many players were watching running backs and wide receivers run sprints, the conversation was about Andrew Luck, Robert Griffin III and Peyton Manning.
Once, just once, tell the viewers what is going to happen and sit back and let them watch it unfold. Then, once it is over, comment on what happened and why it is significant.
People are not watching the combine to hear about the top five prospects or the top five NFL storylines. They can watch SportsCenter for that. Now that viewers are tuning in to the combine, give them what they came for.
Speaking of Focusing on the Prospects...
Very little coverage around the combine actually accurately portrays what the combine is all about. This isn't a workout. This is a job interview that includes a workout—a big difference that leads to some pretty insane and inaccurate opinions.
Media scouts, like Mayock, want to see the workout. A common theme of the weekend: "If Andrew Luck and RGIII aren't going to throw, why did they show up?" Mayock even spent part of his time in the booth trying to publicly shame the top guys into throwing.
Whether you want to see the best people perform isn't the question (because, honestly, we all do). The question is why overemphasize a 30-minute portion of a 48-hour trip for these gentlemen when NFL teams don't.
All this talk about competing on a level playing field is nonsense in the grand scheme of things. Honestly, even if Luck and Griffin threw at the combine, it would be such a small drop in the bucket of the tape that these guys have put out that NFL teams would care very little.
Instead, focus on the rest of the trip that teams actually focus on themselves. Get in-depth with the medical aspects of the combine. Talk about preexisting injuries or injury history that teams are looking for.
Focus on the interview portion of the combine by talking to former personnel men, coaches and players who sat in those rooms and have interesting stories about what goes on. Debrief the players after their interview sessions and find out who they talked to and (if possible) what they talked about. Some of that info will trickle out through the media sessions anyway, so why not be proactive and actually get the info people are interested in?
Speaking of the media sessions, it is a little ridiculous that the NFL can host an event with interviews of almost every single prospect and not have a treasure trove of video coming out of the event.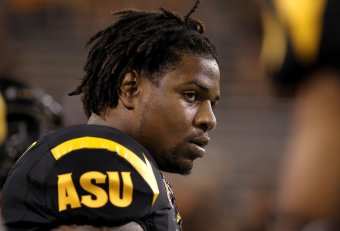 Christian Petersen/Getty Images
A perfect example is the interview of Vontaze Burfict (LB Arizona State) from Sunday. In that interview, Burfict said some controversial things about the ASU coaching staff. Instead of actually having the interview, interested fans had to depend on reporters' accounts of the interview. Some said Burfict blamed his coaching staff, while others said that Burfict took the blame but provided some background to his actions.
Either way, NFL Network could easily have had footage of that interview (and every other interview) from the combine if it wanted it.
Overall, the NFL Network coverage of the combine is great, but it is a narrowly focused view of what actually happens in Indianapolis. A broader and more informative view would greatly improve an event that is quickly becoming must-see TV.
Michael Schottey is an NFL Associate Editor for Bleacher Report and an award-winning member of the Pro Football Writers of America. He has professionally covered both the Minnesota Vikings and the Detroit Lions, as well as NFL events like the scouting combine and the Senior Bowl. Follow him on Twitter.