Fantasy Baseball 2012: Adam Dunn, 3 Other Chicago White Sox Hitters to Draft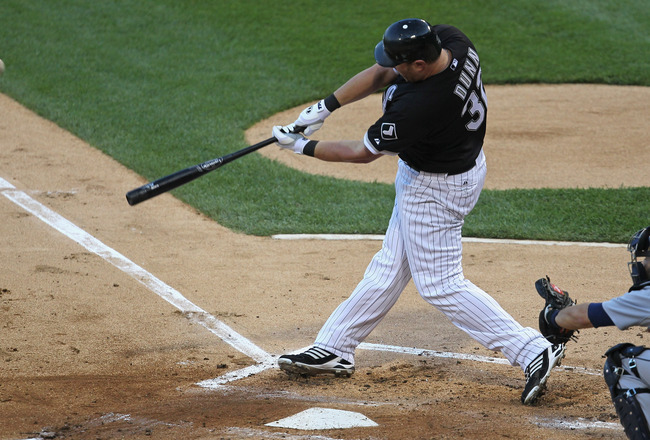 Jonathan Daniel/Getty Images
Adam Dunn and the Chicago White Sox likely won't be fantasy baseball favorites in the coming season. Dunn hit well below the Mendoza line almost all season, flirting with Bill Bergen's record for worst batting average. He set records lows for designated hitters in home runs, slugging percentage, runs batted in and on-base-plus-slugging.
White Sox hitters didn't impress in the 2011 season. Paul Konerko and Carlos Quentin were the only players with more than 20 home runs, and Konerko was the only one with 80 or more runs batted in. Konerko was the only regular with a .350 on-base percentage.
Generally, one would expect the team playing at U.S. Cellular Field, one of the most hitter-friendly parks, to hit more home runs. However, the home runs didn't rain, and the White Sox placed ninth in the American League in home runs (154).
Despite the hitting doldrums on the south side of Chicago last year, White Sox hitters should see a rebound—to some extent—this season.
Dunn is one of those players who should be on the upswing. He and a few other White Sox hitters are worth drafting in fantasy baseball leagues as the season approaches.
Adam Dunn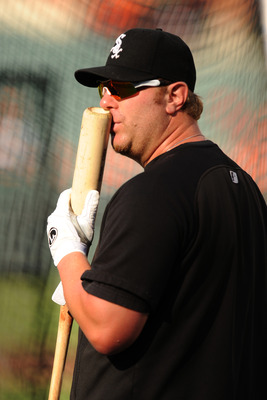 Mitchell Layton/Getty Images
Before anyone throws his or her computer at the suggestion of drafting someone coming off the worst season ever for a designated hitter, something should be noted. Adam Dunn had the worst possible season he could have in 2011. To think that drop so hard from age 30 to 31 is unbelievable.
Dunn's vital rates (.295 OBP, .277 SLG, .569 OPS) last year showed a huge drop-off from 2010 (.356 OBP, .536 SLG, .892 OPS).
One could easily think that, at age 32, Dunn can't return to previous form.
However, that's going to happen, to a large degree. Dunn will recover his patience at the plate, which typically negates his ever-dim batting average. He had walked 100 times six straight years and should at least come close to doing it again.
Also, expect Dunn to recover his slugging percentage. Dunn will discover how to hit home runs at U.S. Cellular Field, ensuring that he won't have a slugging rate lower than his on-base percentage like last season.
Dunn can be expected to hit 25 or 30 home runs easily. Besides, he hit more than 25 in all seasons except his rookie year before 2011.
While it might seem like a jump, fantasy baseball owners should consider going for Dunn in the draft.
Paul Konerko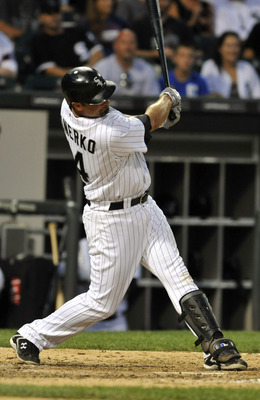 David Banks/Getty Images
Paul Konerko had a huge year last season at age 35. He was in the top 15 in the majors in on-base-plus-slugging (.907). He had a nice 31 home runs to go with 105 runs batted in—an especially nice figure for a lineup that didn't put runners on base often. He was also sixth in the AL in on-base percentage (.388).
While most don't think of the White Sox slugger to be in the elite ranks of first basemen, he showed himself to be one of the premier first basemen last year.
Even though Konerko's 36 now, he still can't be overlooked. His numbers will likely fall with age, but not too much. He can still be expected to hit 30 home runs and drive in 90 runs. Also, his on-base-plus-slugging rate won't fall below .850 this season.
Joel Sheehan placed Konerko 10th in his ranking of first basemen.
That's another indicator that Konerko is worth a pick if others like Prince Fielder and Joey Votto aren't still around in the draft.
Alejandro De Aza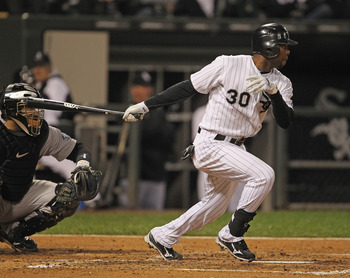 Jonathan Daniel/Getty Images
Nationally, many likely aren't familiar with Alejandro De Aza. However, keen fantasy baseball owners should recognize the potential value in De Aza.
De Aza gave a glimpse into his potential last season, as he gave the White Sox a good infusion of hitting last season. Garnering 152 at bats and 171 plate appearances, De Aza hit .329 while posting great vital rates (.400 OBP, .520 SLG, .920 OPS). He managed 23 runs batted in while playing 54 games.
This season, De Aza will be a full-time starter. He should break out for nice full-season numbers. Fantasy owners should keep their eyes on him. As top-ranking outfielders like Curtis Granderson and Jose Bautista pass from the board, folks should grab the 27-year-old White Sox player.
Brent Lillibridge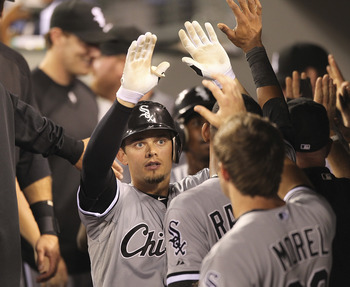 Otto Greule Jr/Getty Images
Brent Lillibridge had an impressive 2011 campaign. He hit 13 home runs, two more than Adam Dunn, and had a .505 slugging rate 186 at bats. That was a nice contribution for the 28-year-old, who received more than 100 at-bats for the first time that season.
Also, Lillibridge had a respectable .340 on-base percentage.
This year, Lillibridge will be looking for pinch-hit at-bats, and Sunday starts with a new manager. While Lillibridge may not start as many games as he did last year, he'll still be a key replacement for the White Sox. He can hit home runs at a moment's notice and get on base at a nice rate.
For fantasy owners in a league that calls for bench picks, Lillibridge is a solid pick.
Keep Reading