NBA Slam Dunk Contest: 4 Superstars That Must Save the Slumping Contest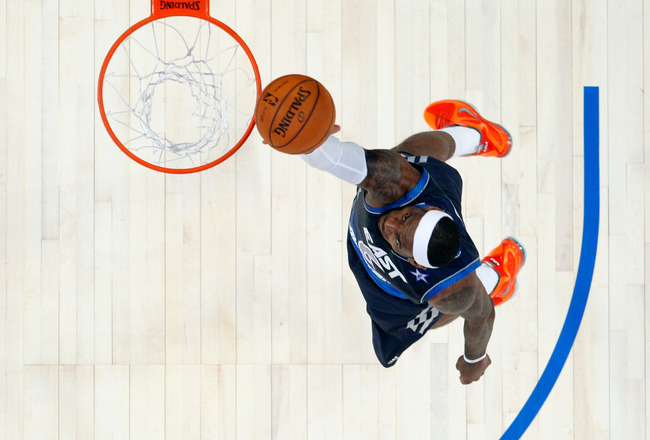 Pool/Getty Images
If you saw the Sprite Slam Dunk Contest this weekend, you're probably wishing you hadn't. It was a disappointing contest.
In reality, the dunks weren't that bad. Watching players try the same dunk over and over again and fail wasn't as bad, or as unique as some people make it out to be.
The problem was, we just didn't care about the dunkers. The contest has never been about the dunks. It's always been about the dunkers. The utter and complete lack of star power in this year's dunk contest made it about as exciting as D-League basketball, and the winner was pretty much not much more than a D-League player.
If you want to revive the dunk contest, get the dunkers back into it. When Michael Jordan and Dominique Wilkins were competing for this, it was a real contest. The contestants were competing to prove something and we cared about who won.
Over the last 10 years, the contest has annually regressed to the point of this year, where we actually voted for a player (Jeremy Evans) we wouldn't know if it weren't for the dunk contest. Evans won for jumping over a three-foot man.
Imagine if these four players competed—none of whom has ever participated—in the contest instead of the four who did.
4. Kevin Durant
Kevin Durant is long and athletic, a perfect combination for a lethal dunker. However Durant has an underrated reputation as a dunker. He can unfurl some magnificent dunks, as evidenced by the video.
What better way to prove his dunk abilities than by taking on the league's best in a dunk contest. Durant would be a huge addition to the contest. He might be the underdog against the field, though.
3. Derrick Rose
Derrick Rose is an amazing dunker. He ends up looking like a "little guy" when he dunks because he has so much air under his feet when gets up.
He has a 40-inch vertical.
He is the strongest player I've ever seen under 200 pounds. I've seen him rip the ball away from guys like Zach Randolph, who weigh 50 pounds more than him. I've seen him bully his way through fouls by real bigs that are trying to keep him from completing a shot.
Then there's the whole speed thing.
That collection of talents makes him one of the best dunkers in the league.
I guess what I'm saying is he's too big, too strong, too fast, too good.
2. Dwyane Wade
Has anyone other than me noticed that LeBron James gets criticized for things that Dwyane Wade doesn't? For instance, he gets criticized for being a great player that has never competed in the dunk contest.
Wade hasn't competed either, but that seems to be ignored.
Imagine if both of the stars competed in the contest? Maybe they could even deliver alley-oops to one another.
Wade has a tremendous combination of speed, hops and power that leads to some tremendous dunks.
1. LeBron James
If you look at this in-game dunk, if someone were to duplicate it exactly for a contest, it would win the contest. James did not "straddle" John Lucas III; his feet cleared the man's head!
If LeBron James entered the dunk contest, it would be hard to not envision him winning. He has such a combination of athleticism, speed, strength and jumping ability that many have referred to him as the best athlete ever.
It's hard to disagree with that assessment. From a purely physical level, from the neck down, he's extraordinary. He's Derrick Rose in a power forward's body. He's as close to a real life superhero as there has ever been.
The dunk contest introduced a meter which measured the power of the dunk. I would love to see this on James' dunks. He might even break it.
Keep Reading