NBA
NBA Power Rankings: New York Knicks and Teams That Will Rise in Second Half

Al Bello/Getty Images
February 27, 2012
Now that All-Star Weekend is over, it's time for NBA teams to start thinking about the season's second half. After a first half that saw several squads thought to be contenders struggle, it will be interesting to see who steps up and who fades into the background before playoff time.
Here are three teams that will make a move up the standings over the next few months, followed by a full power rankings list.
New York Knicks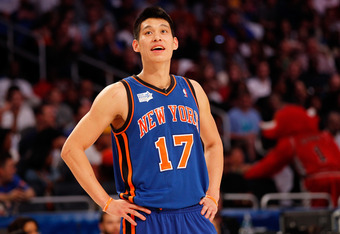 Mike Ehrmann/Getty Images
Jeremy Lin's transition from unknown bench filler to overnight superstar has thrust the Knicks back into the spotlight. The team also added J.R. Smith recently, who adds some much-needed depth to the equation for the second half.
It's going to take some time before all of the team's pieces gel together, but an extended hot streak is on the horizon. There's simply too much talent on the roster to remain under .500, especially now that everybody should be close to full strength.
The key moving forward will be Lin striking a good balance between remaining aggressive while still deferring to Carmelo Anthony when the situation warrants. Anthony's track record of success is a lot more extensive than Lin's, and he needs to remain the Knicks' top offensive option.
Boston Celtics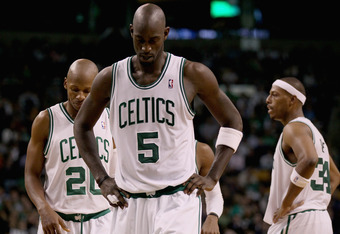 Elsa/Getty Images
There's been a lot of talk about Boston's roster getting old, perhaps even too old to compete with the younger Miami Heat and Chicago Bulls. When you look at the numbers, however, you see it's actually the supporting cast members who have struggled in the first half.
Outside of Brandon Bass, the Celtics haven't received enough support for their four stars. It's an issue that will have to be addressed before the trade deadline, but they are really only one or two pieces away from being viewed as contenders again.
Everybody will have plenty of time to talk about the future of the franchise in the offseason. Now is not to the time to talk about breaking up the core because of a sluggish start. The second half will be significantly better in Boston.
Portland Trail Blazers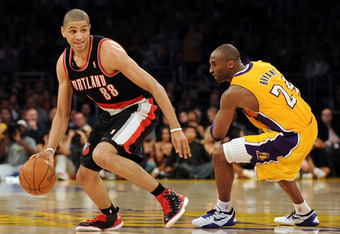 Harry How/Getty Images
The Trail Blazers haven't been getting much respect on the national level quite yet, but that should change soon. LaMarcus Aldridge is the legitimate star every team needs, and the rest of the roster is young and athletic.
Those types of teams are the ones everybody wants to avoid in the playoffs. That's going to ring true again this season due to the condensed regular season schedule. Youth will play to Portland's advantage as the campaign wears on.
One player to watch in particular is Nicolas Batum. He's always possessed the talent to become a star, but over the past few weeks has really shown signs of putting it all together. If he can maintain that high level of play in the second half, the Blazers will be a force.
Tim Daniels' Week 9 NBA Power Rankings
 
1. Miami Heat

2. Chicago Bulls

3. Oklahoma City Thunder

4. San Antonio Spurs

5. Indiana Pacers

6. Los Angeles Clippers

7. Dallas Mavericks

8. Orlando Magic

9. Houston Rockets

10. Portland Trail Blazers

11. Philadelphia 76ers

12. Los Angeles Lakers

13. Atlanta Hawks

14. Memphis Grizzlies

15. Denver Nuggets

16. Minnesota Timberwolves

17. New York Knicks

18. Golden State Warriors

19. Boston Celtics

20. Utah Jazz

21. Phoenix Suns

22. Milwaukee Bucks

23. Cleveland Cavaliers

24. Toronto Raptors

25. Sacramento Kings

26. Detroit Pistons

27. New Orleans Hornets

28. New Jersey Nets

29. Washington Wizards

30. Charlotte Bobcats

Like the new article format? Send us feedback!