8 NFL Draft Prospects That Will Make an Impact on Fantasy Football in 2012
February 27, 2012

Ronald Martinez/Getty Images
Some rookies barely see the field during their first seasons in the NFL, but some become fantasy forces from Week 1. 
In 2011 there was no shortage of rookies who had outstanding fantasy years. The many fantasy owners who downgraded rookies on their cheat sheets looked like idiots thanks to the sparkling seasons Carolina's Cam Newton, Cincinnati's Andy Dalton and A.J. Green, Atlanta's Julio Jones, Dallas' DeMarco Murray, Washington's Roy Helu and San Francisco's Aldon Smith had. 
So which collegians who will be drafted in April have the best chances of making impacts on fantasy football in 2012?  Here are my eight top contenders.
Andrew Luck, Stanford Cardinal (QB)
Luck is only the highest-ranked prospect to come out of college in a decade. If he does not make an immediate impact it would be a bigger surprise than Peyton Manning becoming a pro wrestler. Look for Luck to start from Day 1 with the Indianapolis Colts and have a Dalton-like campaign in 2012. 
Robert Griffin III, Baylor Bears (QB)
Griffin calmed concerns about his height at the NFL scouting combine and solidified himself as the second-best player in the draft. Some team—Washington Redskins, Seattle Seahawks, Cleveland Browns—will trade up to the No. 2 spot and make the multidimensional RG3 its franchise quarterback.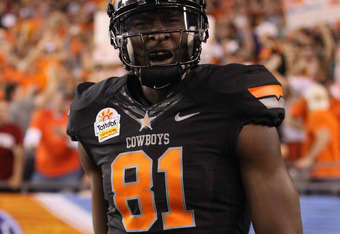 Christian Petersen/Getty Images
Griffin might not put up the same numbers Newton did this past season, but 3,200 passing yards, 600 rushing yards and 25 total touchdowns would not shock anybody.
Trent Richardson, Alabama Crimson Tide (RB)
Richardson is the top running draft in the draft and possibly the only one who will be taken in the first round. He is the total package. He can run outside and between the tackles, has a nose for the end zone inside the red zone and can turn screen passes and safety valves into 50-yard gains. Richardson will be a starting tailback from the get-go and should rumble for 1,000 yards in his opening season. 
Lamar Miller, Miami Hurricanes (RB)
Miller is a thoroughbred threat who can take the ball all the way every time he touches it. His below-average receiving skills might make him a split-starter in his rookie year until he improves his pass catching, but he is a guy who should get 10-15 carries per game and could be a valuable asset in distance fantasy leagues because he is sure to break some long touchdown runs with his 4.4-in-the-40 speed.     
Justin Blackmon, Oklahoma State Cowboys (WR)
Blackmon hauled in 232 passes over his last two college seasons, including 38 for touchdowns. He has size, hands, and the dual ability to run routes over the middle and deep patterns downfield. There is no reason other than him having a terrible quarterback throwing to him or suffering an injury that Blackmon cannot post the same stats Green and Jones did in their rookie seasons. 
Ryan Tannehill, Texas A&M Aggies (QB)
Tannehill is a surefire first-rounder, but he does not have the certain chance of starting right away that Luck and Griffin have. Even so, he could be like Minnesota's Christian Ponder and Jacksonville's Blaine Gabbert, neither of whom started at the beginning of 2011 but took over during the season and finished as the No. 1 guys.  Tannehill might begin behind a veteran, but keep an eye on him throughout the season.   
Michael Floyd, Notre Dame Fighting Irish (WR)
Am I only placing Floyd among my great eight because St. Patrick's Day is around the corner?  Nah, he is listed here because he is 6'3" and 230 pounds and is a beast to cover. He can box cornerbacks and safeties out like Kevin Love and can make catches in traffic better than most NFL receivers. Floyd catching 50-60 passes for 800-900 yards and six scores sounds about right.  
Coby Fleener, Stanford Cardinal (TE)
 
Was Fleener just a product of Luck's pinpoint passes at Stanford, or is he really something special?  Fantasy owners should find out soon enough.
Fleener is arguably the top tight end available in the draft, yet tight ends historically do not tear things up in their rookie seasons, although that has changed in recent years thanks to New England's Rob Gronkowski and Aaron Hernandez. Fleener is probably a better long-term fantasy option than a short-term one, but I figure he can still put up a Heath Miller type of season and find the end zone a few times.