Wins Should Trump Traits in B/R 1,000 QB Rankings
February 27, 2012

Jim Rogash/Getty Images
Bleacher Report featured columnist Matt Miller has undertaken the momentous task of ranking the NFL's top 1,000 players.
To kick off the surefire-hit series, he began with the most important and most debated position in football, if not all of sports: quarterback.
Miller, a respected journalist whose work has appeared across the web, assesses who he believes are the league's 50 best signal-callers by assigning each a score in nine different categories: accuracy short, accuracy outside the pocket, accuracy deep, arm strength, clutch, decision-making, mechanics, mobility and pocket presence.
A more thorough explanation from Miller himself can be found here.
At times, his assessments are spot on—Curtis Painter resides at No. 50 and is lucky to be that high.
However, a healthy handful of signal-callers have not been judged correctly.
Miller's evaluation of measurable qualities like arm strength typically hit the mark.
Where he falls short is factoring in how successful each quarterback is in the only stat that really matters: wins.
Kyle Boller, No. 42, can throw the ball through the uprights from his knees from the parking lot, but I doubt you want him under center for your team.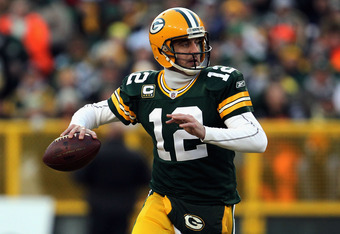 Jonathan Daniel/Getty Images
Too often, mechanics and measurable qualities are stressed over winning. This isn't fantasy football or the scouting combine—this is the NFL.
Plenty of guys can post a decent 40 time or sling the ball all over the pitch, but only a select few can help their team to 10-6 and a playoff berth (as always, there are exceptions—please save your Trent Dilfer comments).
For example, Tim Tebow appears at No. 44, while Dallas Cowboys backup Stephen McGee comes in to No. 34.
That's the same McGee who has started all of one NFL game, but still got four points for clutch-ness because of how he played in the preseason. Come on—Colt Brennan played well in the preseason.
Aside from Jason Campbell and John Skelton, all of the immediate 10 quarterbacks ahead of Tebow served primarily as backups.
One, Ryan Mallett of the New England Patriots, languished at third on the depth chart and did not take a snap all season, yet he was ranked at No. 40, four slots ahead of Tebow.
Why?
Maybe Boller, McGee and Mallett can spin it better than Tebow. But have they ever helped their team to six straight wins, a division title and an overtime victory over the Pittsburgh Steelers?
McGee and Mallett haven't appeared in six NFL games, yet their stock is foolishly valued higher than Tebow's.
Please don't take this as a love letter to Tebow—it isn't.
Personally, I'd slot him as the 20th-best quarterback in the NFL, way ahead of individuals such as Colt McCoy, Tarvaris Jackson and Jake Locker (who come in on Miller's list at 23, 26 and 28 respectively) but behind more than half of the league's starters. 
Miller has also done a disservice to Joe Flacco.
Baltimore's polarizing quarterback comes in at a No. 15, one behind Alex Smith. Flacco bettered his Bay Area colleague in touchdowns (20 to 17) and yards (3,610 to 3,144) while harboring more of the responsibility in running the offense.
Head-to-head, Flacco helped the Ravens outlast the 49ers 16-6 on Thanksgiving night, outplaying Smith in the contest, going 15-of-23 for 161 yards and a touchdown. Smith was 15-of-24 for 140 yards and an interception.
Both Flacco and Smith guided their teams to division titles and their respective conference championship games.
Flacco outshone Tom Brady and engineered what should have been a game-winning (or at least tying) drive in the twilight moments of the fourth quarter.
A Lee Evans drop in the end zone and botched Billy Cundiff field goal denied the Ravens a spot in the Super Bowl. Flacco finished 22-of-36 for 306 yards, with two touchdowns and an interception.
Smith went 12-of-26 for 196 yards with two touchdowns in falling 20-17 to the eventual Super Bowl champion Giants. He also did not complete a pass to a wide receiver.
To be fair, Smith did outplay Flacco in the divisional round of the postseason and hit Vernon Davis for the winning touchdown against New Orleans.
Miller also places Flacco behind veterans Tony Romo (11), Jay Cutler (10) and Matt Ryan (9).
Romo, he of fumbled-snap fame, is an infamous choker with one playoff victory.
Cutler has had issues staying on the field and also has just one playoff win.
Ryan has been terrible when it matters most and still does not have a playoff victory.
Flacco has five playoff wins. Sure, football is a team sport and Flacco has not always set the world on fire in the postseason, but he's far more successful in January than the aforementioned trio and should be ranked accordingly at No. 8. (In the interest of full disclosure, I am a Ravens fan and curse Flacco as much as I praise him.)
To be fair, there is no perfect way to compile a list such as this. That's why they're so much fun to debate.
But far too often mechanics and physical attributes are stressed over winning.
Follow me on Twitter @toddmcelwee