2012 NFL Draft: 5 Prospects Falcons Must Focus on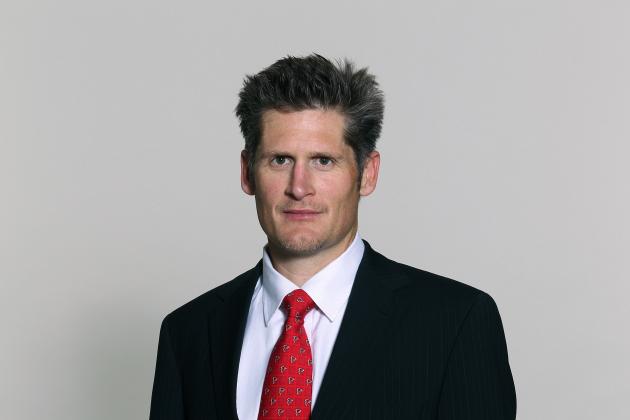 Handout/Getty Images
Falcons GM Thomas Dimitroff
After the blockbuster trade for Julio Jones last year, the Atlanta Falcons don't have that many options in the draft. The team does not select until the second round, and then has picks in the third, fifth, sixth and seventh rounds.
This makes it all the more important that the team makes the best use of their draft picks as possible, and does not make mistakes in the process.
The Falcons have a lot of needs to be filled, and here are some players and value picks who should be at the top of their draft board to do that.
Begin Slideshow

»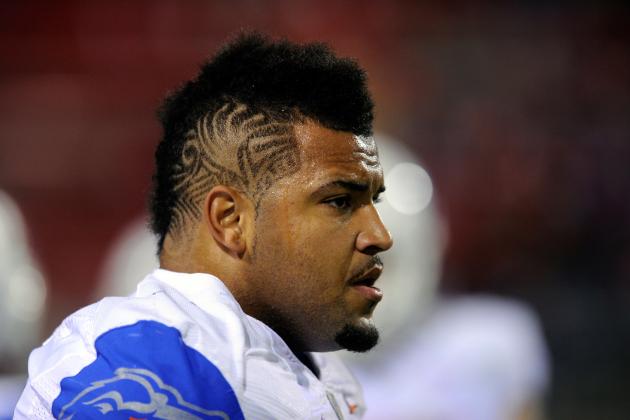 Ethan Miller/Getty Images

John Abraham is reportedly looking for a salary around $12 million, after being paid $8 million last year. Anything above $10 million will likely be out of the Falcons' price range and necessitate a change at defensive end.
Ray Edwards will get one more year to prove himself, but Atlanta needs to start moving forward with a new pass-rusher, and Billy Winn out of Boise State would be a good fit.
Winn has a good variety of moves and is a strong player who anchors well against the run. He is also technically sound, and a high-effort player with scheme versatility. In addition, Winn would be a good value pick, as he is projected to go in the second or third round.
Jared Crick and Vinny Curry would also be possibilities here.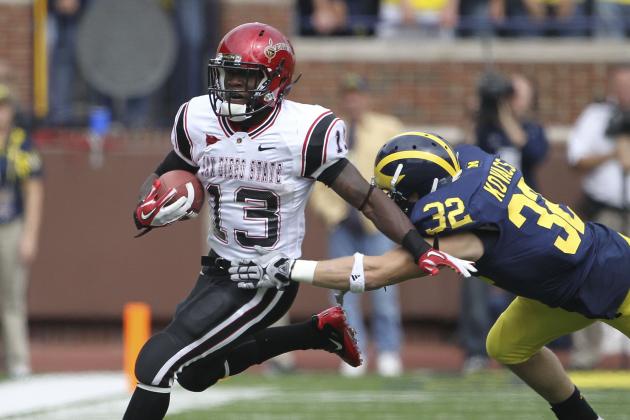 Leon Halip/Getty Images

Michael Turner will still be the lead running back next season, but in a reduced role. Jason Snelling hasn't proven he can handle a starting role, and may not even be re-signed. Finally, Jacquizz Rodgers isn't anything more than a change of pace/third down back.
Ronnie Hillman could turn out to be the perfect complement to Turner, and his eventual successor. The San Diego State running back is a legitimate home run threat every time he touches the ball. He has breakaway speed and is a slippery and elusive runner.
Hillman is also an excellent receiver out of the backfield. He has great vision and versatility as both an inside and outside ball carrier. He is projected to be a third or fourth rounder.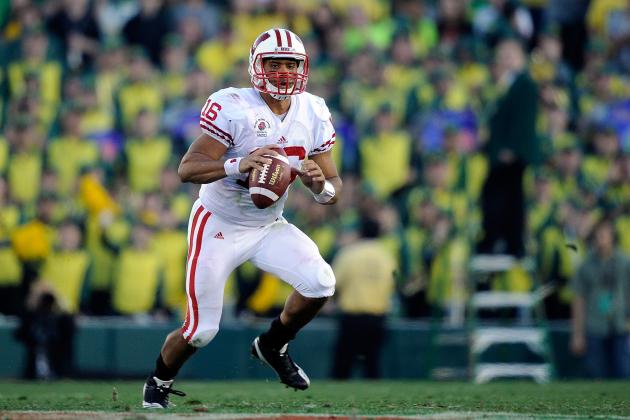 Kevork Djansezian/Getty Images

As Chris Redman has been let go, there isn't much behind Matt Ryan in terms of insurance. John Parker Wilson doesn't seem to be inspiring much confidence in fans, and the general consensus is that Atlanta needs a good backup QB.
Despite a great senior season where he was a national star and led the Badgers to the Rose Bowl, Wilson is currently projected to be anywhere from a fifth or sixth rounder to not being drafted at all.
This is rather shocking when one considers that Wilson was the most efficient quarterback in the country last season, with a QB rating 22 points higher than Andrew Luck. He has great arm strength, vision, mobility and football IQ. Perhaps the biggest knock against him is just his size, at 5'11" and barely over 200 pounds.
The Falcons would do well to take a good, hard look at Wilson in the upcoming draft.
Jamie Squire/Getty Images

Tony Gonzalez doesn't have much time left in the NFL. At 36 years of age and after 15 seasons, it's time the Falcons started looking at replacements for their All-Pro tight end.
Michael Egnew is a raw prospect when compared against guys like Ladarius Green and Coby Fleener, but the Mizzou tight end would be a high upside play. His combine workout was one of the best at his position and points to significant athleticism.
Also, any issues with technique, such as blocking, that Egnew has, would be easily fixed and then improved by learning with Gonzalez. Egnew is projected to be a third- or fourth-round pick.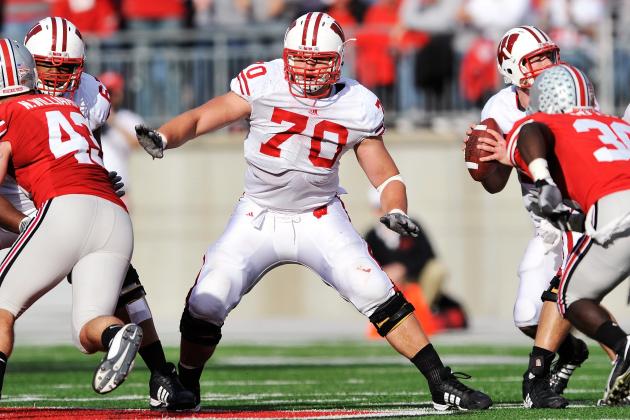 Jamie Sabau/Getty Images

Depending on how the offensive line is shuffled, guard is an important position of need that the Falcons need to fix.
Sam Baker, Garrett Reynolds and Joe Hawley were all part of the rotation at right guard last season. None of them were near starting quality for the position. Provided that Justin Blalock stays at LG, the right side will most likely be addressed in the draft.
Kevin Zeitler could step in and start right away. He anchors well in pass protection, is a good run blocker and is also quick enough to be effective when pulling out on runs. A dependable, high-motor player, Zeitler would instantly upgrade the Atlanta O-line.
In the late rounds, Stephen Good out of Oklahoma is also a possibility. He brings valuable versatility and experience for both right and left guard, and is another quick, intelligent lineman.