Philadelphia Eagles: Looking at the Top Team Needs for the Eagles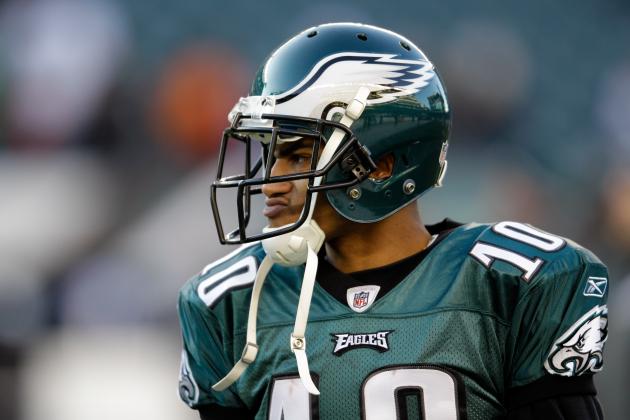 Rob Carr/Getty Images

Even though the Philadelphia Eagles finished 8-8 in 2011, the team heads into the offseason just a few players away from being serious contenders in the NFC.
The Eagles lost five games in the fourth quarter last season and could have easily finished with 12 or 13 wins. Considering the New York Giants won the division title at just nine games, the Eagles should be able to address several key positions and put themselves back in position to win the NFC East.
Linebacker and safety were obvious needs, but the team also has several other key priorities to address. If GM Howie Roseman and head coach Andy Reid make some moves in free agency, the Eagles will be primed for a big season in 2012.
Begin Slideshow

»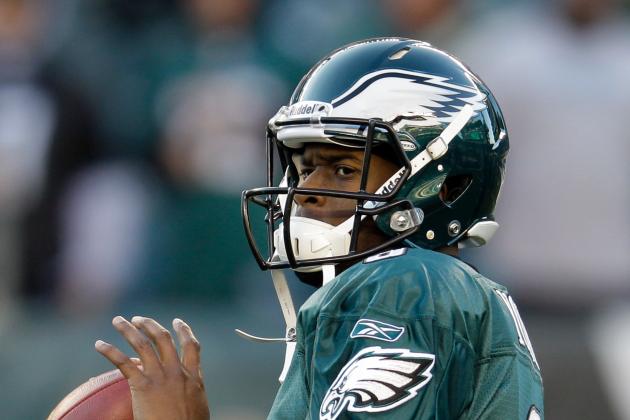 Rob Carr/Getty Images

Michael Vick is entering the second season of a six-year, $100 million contract, but he's proven that he can't stay healthy. Vick has played all 16 games in an NFL season just one time. He's missed an average of 3.5 per games since becoming the Eagles' starter in 2010, and suffered multiple debilitating injuries in 2011.
The Eagles acquired Vince Young last offseason to be the right-handed version of Vick, a player that could step in at quarterback without the Eagles having to change their system much. Young had a disastrous season, losing two of three games as a starter. He posted the worst interception rate and passer rating of his career, all but costing himself any chance at entering next season as a starter somewhere.
Oh, and Young etched his name into Philadelphia infamy with his Dream Team comments in preseason. The team has already acquired Trent Edwards to compete with Mike Kafka as the backup quarterback in 2012. Edwards was a bust in Buffalo after going in the third round of the 2007 NFL draft, and I don't have much confidence in him as a backup quarterback. He has good size and a strong arm but holds onto the ball for too long. Meanwhile, Kafka is an extremely intelligent player that lacks the physical tools to be a successful NFL quarterback. Either way, one of the two will need to step up if/when Vick goes down because the Eagles can't afford another awful run by their backup signal-caller.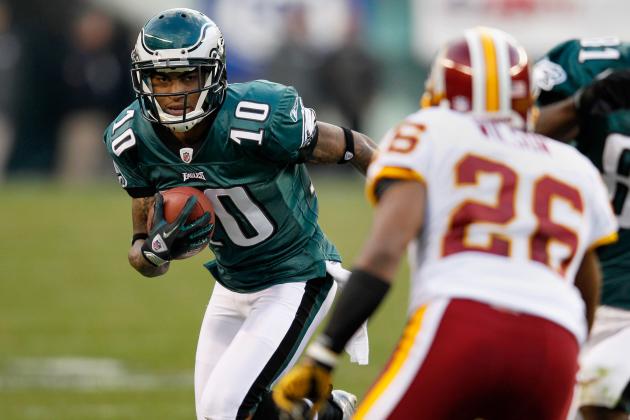 Rob Carr/Getty Images

DeSean Jackson may be back and he may not. The Philadelphia Eagles reportedly are trying to franchise Jackson, according to The Philadelphia Inquirer. There's no conceivable way Jackson will like playing on a one-year deal, even if he gets paid a hefty sum of money.
Signing Jackson to a long-term deal is the only way he will be happy, but this will likely cost the Eagles about $50 million for five years. That's a lot of money to pay for a receiver with essentially one trick: speed. Jeremy Maclin is a borderline No. 1 wide receiver at this point in his career, and it's time for him to step up and play like a top 15 player at his position. Jason Avant is terrific in the slot, although neither Riley Cooper nor Chad Hall provides much as fourth or fifth options.
The Eagles have to take a close look at the free-agency market or the NFL draft, because there are plenty of wide receivers available should the team let Jackson go. Mike Wallace is a free agent, and the Pittsburgh Steelers will want to retain him, but he could fill the same role as Jackson, and that's as a long-ball option that forces the safeties to play deep. Vincent Jackson, Reggie Wayne and Dwayne Bowe are other intriguing candidates, and the team may be able to pick Michael Floyd or Kendall Wright if they fall to the 15th pick in the NFL draft.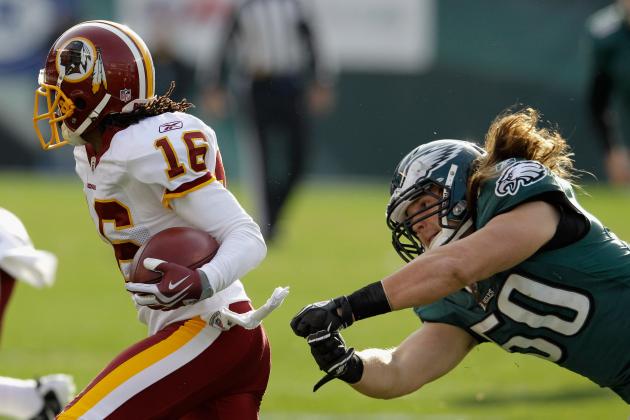 Rob Carr/Getty Images

This is the No. 1 most important position the Philadelphia Eagles need to upgrade. I can't remember a team having a linebacker corps as poor as the 2011 Eagles.
The team utilized a slew of young players—Casey Matthews, Jamar Chaney, Akeem Jordan, Brian Rolle—receiving substantially less-than-acceptable results. Matthews was the worst of the bunch, although Chaney had such a miserable year after showing so much promise late in 2010. Rolle played well enough to warrant a starting spot in 2012, but two of the three linebacker positions need to be upgraded.
As I addressed in a recent article, there are many linebackers the Eagles could pursue. Stephen Tulloch of the Detroit Lions is the best option, although I'm particularly fond of a veteran tackling machine like London Fletcher. The NFL draft has some promising young players like Luke Kuechly or Vontaze Burfict. Simply, the Eagles need to do something. Relying on last year's youngsters is another recipe for disaster, one that will assuredly keep the Eagles from the Super Bowl.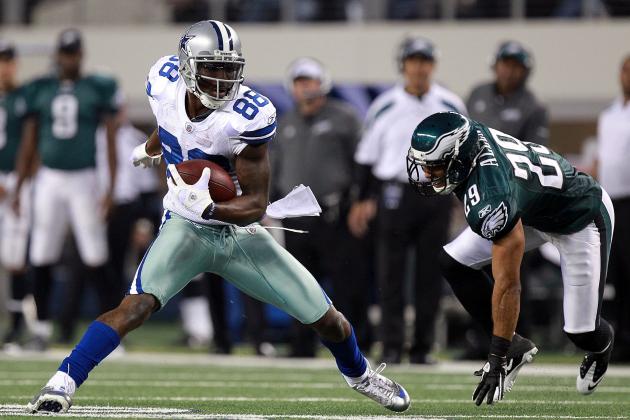 Ronald Martinez/Getty Images

Nate Allen and Kurt Coleman played very inconsistently in 2011, and the team still hasn't recovered from letting Brian Dawkins walk after 2008 or Quintin Mikell after 2010.
Allen had a very promising rookie season in '10 before struggling to regain his form last year after a torn patellar tendon. At 100 percent in 2012, he could be a key part of the defense, as he's a promising young ballhawk. Coleman is a good tackler, but he's erratic and probably best suited as a backup in nickel packages.
Mark Barron from the University of Alabama would be a great addition if the Eagles can get him in the second round (the first round would be a stretch). LaRon Landry is a free agent the team should look into, and it might even be worth seeing if Dawkins would return to the team.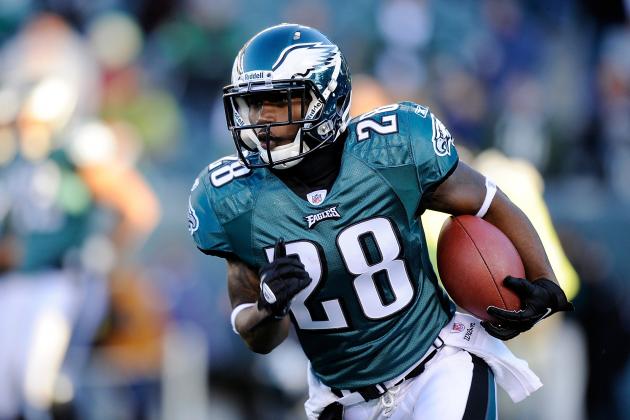 Patrick McDermott/Getty Images

The team has lacked a quality kick returner since Quintin Demps, and while DeSean Jackson still has explosive potential as a punt returner, the team is reluctant to use him. He also may not be around for much longer considering he's a free agent.
It's not too difficult to find a quality return man in the middle to late rounds of the NFL draft. There aren't a bunch of great return men hitting the free-agent market but Eric Weems of the Atlanta Falcons and Ted Ginn, Jr. of the San Francisco 49ers are clearly the best of the bunch. A good return man can easily add an extra win to a team in a full season, and last year that would have gotten the Philadelphia Eagles into the playoffs.