Looking at Lou Lamoriello's Performance over the Last 6 Years for the Devils
February 29, 2012

Andy Marlin/Getty Images
It's been nearly nine years since the Devils last won a Stanley Cup and almost seven years since the NHL instituted a salary cap. President/CEO Lou Lamoriello, who built the Devils into what they are and earned admittance into the Hockey Hall of Fame for his efforts, has had far more personnel hits than misses in his NHL career after joining New Jersey in 1987 from Providence College.
Nobody's perfect, though. Lamoriello has had several misses in the last several years, and the Devils have also struggled since the salary cap came along. There have even been several deals with former Devils that didn't work out after they returned to the Garden State. Those included Brian Rolston, Jason Arnott and even Brendan Shanahan, who started his pro career at the Meadowlands but later raised three Cups with Detroit.
Shanahan retired as an active player after the Devils let him go prior to the 2009-10 campaign. Arnott came back last year, only to be traded to Washington by the deadline. Rolston went to the Islanders in the offseason after no one took him on waivers last year, although the defending champions Bruins just acquired both him and former Devils rearguard Mike Mottau.
Cam Janssen has provided a lot of punch in his return from his native St. Louis, but not of the scoring variety. Richard Matvichuk didn't work out on defense the year before the Devils moved to Newark. The year before that, it was Alexander Mogilny and Vladimir Malakhov who helped the Devils to their second Stanley Cup crown in 2000, but they couldn't help recapture that magic.
Lamoriello did bring Ilya Kovalchuk to New Jersey in 2009, which in itself was sort of a departure from the Devils' philosophy of not necessarily going after bonafide superstars but looking to acquire more role-type players who fit their system. The league nixed the original Kovalchuk deal and also took away a Devils draft choice in the process, and the jury is still somewhat out on whether No. 17 was truly worth all that money—15 years is a long time. Unlike Rick DiPietro with the Islanders, though, Kovalchuk is healthy, playing, and contributing to New Jersey's on-ice efforts.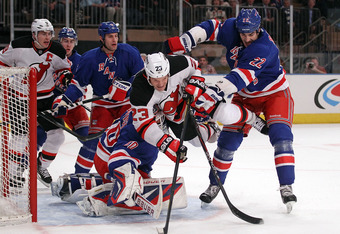 Bruce Bennett/Getty Images
David Clarkson and Adam Henrique have been real finds up front, but the Devils have also had a seemingly endless litany of backup goaltenders the last several years behind Martin Brodeur, who's nearing the conclusion of his storied career. Johan Hedberg has worked out reasonably well as a second backstop these last two seasons, but he's almost at the end of the line, too. Sooner or later, someone will have to be promoted from Albany (AHL) to see what they've got, or the Devils have to look elsewhere for a new starting netminder for the first time in almost 20 years.
Losing three players on defense—Scott Stevens, Scott Niedermayer and Ken Danyeko—whose jersey numbers have all since been retired to the rafters hasn't helped the Devils since they raised their last Cup. Still, Lamoriello has stayed the course in trying to rebuild the Devils as a grind-it out collective unit with some scoring ability rather than a collection consisting solely of offensively-gifted stars.
Andy Greene has assumed a regular role on defense after being picked up as a college free agent in 2006, and Petr Sykora has looked rejuvenated this season in providing 15 goals so far in his return to New Jersey. Dainius Zubrus has only averaged 12 goals a season since coming over from Buffalo in 2007, but he's provided a big body up front along with over 100 assists in that same span.
Former Blues defenseman Bryce Salvador has been steady if not spectacular on the blue line the last few years, even after missing all of last season with ear troubles. Travis Zajac has been solid when healthy, but recurring Achilles woes have sidelined him for all but eight games this winter. Injuries have also hampered Henrik Tallinder and Anton Volchenkov.
Bruce Bennett/Getty Images
Players like Matt Taormina, Adam Larsson, Jacob Josefson and Mark Fayne are all still works in progress. Alex Ponikarovsky and Steve Bernier have substantial NHL experience and seem to be settling in to life at the Prudential Center after being acquired in recent weeks.
Lamoriello's latest major transaction was the acquisition of puck-moving veteran blueliner Marek Zidlicky from Minnesota for short-term defenseman Kurtis Foster and up-and-down winger Nick Palmieri. Zidlicky debuted for the Devils on Sunday in a loss to Tampa Bay.
The playoffs will prove whether otherwise standing pat at the trade deadline was the right thing to do for a Devils club that's in a mini slump right now and hasn't tasted Stanley Cup success in almost a decade. They are still strongly in the postseason picture, though, after missing out last spring.
Lamoriello's greatest act of prestidigitation, though, could still come in the off-season, depending upon whether or not he can sign captain Zach Parise to a long-term contract. The success of the Devils' 2012 playoff run will likely go a long way towards determining that outcome.