New York Mets: 7 Reasons They Will Outperform 2012 Expectations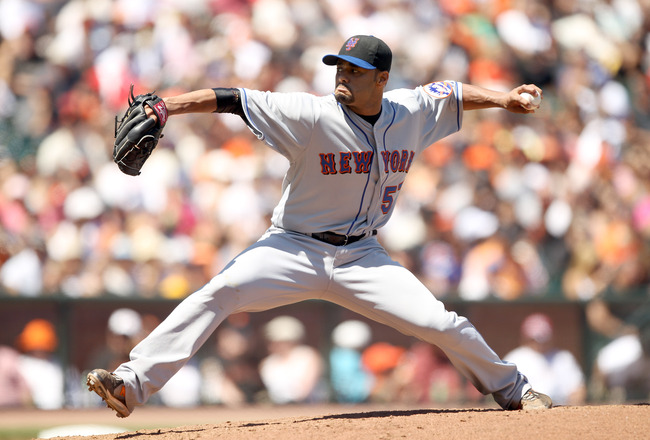 Ezra Shaw/Getty Images
2011 was an up-and-down year for the Mets. It started very poorly, opening April with a 5-13 mark, but then, they got hot and leveled off.
The Mets suffered some injuries early but were still able to sit around .500. Later on in the season, the injuries just became too much, and the Mets finished 77-83, with another disappointing season.
A lot of people have very low expectations of the Mets in 2012, and I still don't understand it. Yes, I know that losing Jose Reyes is obviously a big blow, but the Mets still have a quality team.
The lineup is much better than people are giving them credit for, and the rotation also can be pretty good. The bullpen is re-tooled and should provide much more support than last season. I'm not saying the Mets are going to win the division, but do they have a shot at the wild card? I honestly don't see why not.
Even if they don't win the wild card, I've seen predictions for the Mets as low as 70 wins, and that just seems absolutely ridiculous to me.
As far as the rotation, if Johan Santana is healthy, he is a great pitcher, Dickey has been great the past couple years, Niese and Gee looked great at the beginning of last season before fading due to the long schedule, which they should now be more ready for, and Pelfrey is average at best, but that still adds up to a good rotation.
The lineup has both speed and power, and some hitters who will hit for good average. There's a lot of potential for the Mets this season, and I truly believe they are going to surprise a lot of people.
No. 7: No Pressure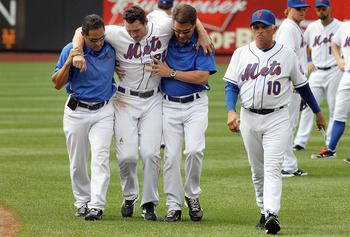 Jim McIsaac/Getty Images
Because of all the injuries and poor play and everything else, the Mets are getting written off by just about everyone this season.
With Beltran having been traded last season and Reyes leaving in the offseason, people are saying that there isn't much hope for the Mets this year.
This could actually end up being something that helps the Mets out. It might be helpful to them that for once, they are out of the spotlight, and people don't have high expectations of them. Playing in the biggest sports city in the United States isn't the easiest thing to do, just ask A.J. Burnett.
Being out of the spotlight might help the Mets players relax and just play the game like they're used to. This won't last long, however, seeing as how if they start the season playing well and look like they actually might have a good team, they'll end up right back in the spotlight. But, at the least, it could help the Mets get off to a fast start.
No. 6: Development of Niese and Gee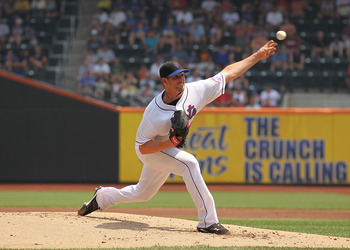 Al Bello/Getty Images
Jonathan Niese looked very good at the beginning of last season, posting a 3.88 ERA before the all-star break. After the All-Star break, however, Niese had a 5.67 ERA in 46 innings, before getting hurt and missing the rest of the season.
The late-season semi-collapse seems as though it can be added up to inexperience. Last year was only Niese's second full season in the major leagues, and the long schedule is something that usually takes a very years for young players, especially pitchers, to get a adjusted to.
Niese has very good stuff, and if he learns to harness all his pitches, he should be that much better.
Gee was arguably the Mets best pitcher in the first half of last season, winning his first eight decisions on the year and going 8-3, with a 3.76 ERA before the All-Star break. However, just like Niese, Gee faded in the second half of the year, finishing with a 4.43 ERA. Just like Niese, I chalk this up to inexperience.
Last year was Gee's first full season in the major leagues, after spending only September with the team in 2010. Gee is only 25 years of age, and while he doesn't have amazing stuff, he does have good pitches that he commands well.
There were times last year when Gee's command simply got away from him, and that caused problems, but that's another part of developing as a young pitcher.
Both Niese and Gee will greatly benefit from another full year in the majors and should both make big steps this season towards becoming very good pitchers in the Mets rotation.
No. 5: Terry Collins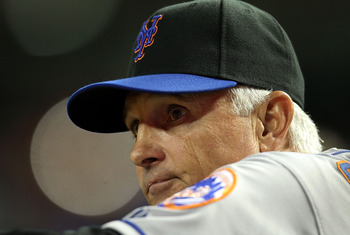 Christian Petersen/Getty Images
Even with all of the injuries last season, the Mets were still a .500 team as late as August 10th. This was with Jose Reyes in and out of the lineup, Wright only playing 100 games, Davis being out from May on, etc. The one constant during the year for the Mets? Terry Collins.
I believe that Terry Collins was a great choice to come in and manage the Mets last season. He seemed like he did very well to change the mentality of the locker room and the team in general.
Collins did very well all-around last season, and the only problem he really had was managing the bullpen, although he didn't have much to work with. Now that the bullpen is re-tooled, he should be able to better manage his arms and lead this team to more victories.
No. 4: The Lineup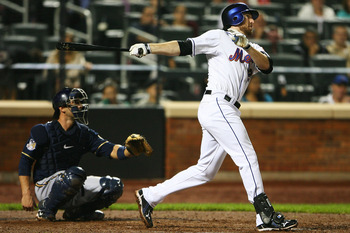 Andrew Burton/Getty Images
As I said in the opening slide, I think that the Mets lineup is very underrated by the public. People might think this is being a little bias, but I simply believe it's because I have been able to watch the lineup play every day, while most people only see it when the Mets are playing their favorite team.
Daniel Murphy is a great contact hitter and has a swing that should allow him to maintain a good average. Murphy's .320 average last season was aided by a high BABIP, but his line drive swing is the type of swing that routinely turns in high averages.
David Wright, when healthy, is one of the top hitting third basemen in baseball. His numbers from last year don't look good, as far as his career is concerned, but he was never really fully healthy for a long stretch of time. Wright had a significant back injury last season, and back injuries tend to really linger for hitters. Even when he came back "healthy," in all likelihood, it still bothered him at the plate.
Ike Davis was well on his way to a breakout season before going down with a freak injury in May. Davis was hitting .302 with seven home runs and 25 RBI in the beginning of May, before colliding with David Wright and missing the rest of the season.
Jason Bay has had a rough time of it since coming to the Mets, there is no denying that. All that Mets fans can do is hope that the closer walls will help Bay relax and get more comfortable at the plate so he gets back to his old form.
Like Daniel Murphy, Lucas Duda also has a very sweet line-drive swing that should produce a high average. Unlike Murphy, Duda also has some real power to go along with that swing. Duda is a guy who .300 and 25 homers could be in the near future for.
Looking at the middle of this lineup, there is some real potential for a good lineup there. It's certainly nothing to scoff at. The lineup should help the Mets win more than a few games this season.
No. 3: Bullpen Additions
Abelimages/Getty Images
Frank Francisco may not be one of the best closers in the league, but what he is, is a consistent one. That's what the Mets truly lacked last year, was a guy that came in, in the ninth inning and finished the game eight or nine times out of 10.
In addition to Francisco, the Mets also added Jon Rauch and Ramon Ramirez. Rauch has been up and down lately, but is still a quality major league pitcher, and Ramirez was a terrific reliever last season for the Giants.
Another thing these additions do is allow Parnell to move back to being a regular reliever, because we all saw last season that closing was just not something that was going to work for him. However, as a regular reliever, Parnell did well last year and should be able to develop a little more.
The Mets were tied for fifth in the league last season with 24 blown saves. If you take even three of those blown saves away, the Mets are a .500 ball club. This new bullpen is definitely going to give the Mets a few wins that last year's bullpen cost them.
No. 2: Johan Santana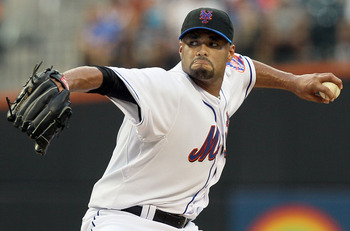 Jim McIsaac/Getty Images
I know he missed all of 2011 with a pretty significant injury, but it's like people are forgetting that before that happened, he was still one of the best pitchers in baseball.
In 2010, Santana posted a 2.98 ERA in 199 innings. In those 199 innings, he only struck out 144 batters, proving that he didn't need to be a dominate strikeout pitcher in order to be extremely effective. The reason I bring that up is because a lot of people believe that after missing an entire season with the injury he had, Santana isn't going to have the same strikeout type "stuff."
Getting Santana back after an entire year missed is basically like gaining a big free-agent signing. Santana instantly boosts any team he joins, and the Mets are no exception.
Things are looking promising already, as Santana's bullpen sessions have gone even better than expected, and now, it looks like he's going to be on track to start Opening Day. Maybe the Mets luck has finally turned.
No. 1: Expectations Are so Low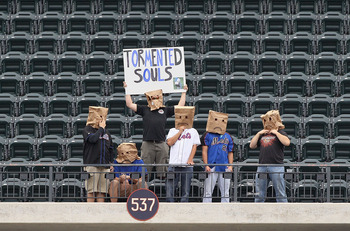 Jim McIsaac/Getty Images
Even if the Mets suffer some more injuries and some of the young players don't develop and some of the veteran players don't have good seasons, the expectations are so low for the Mets, it would be hard not to exceed them.
Like I said, I've seen predictions for the Mets as low as 65-70 wins. Now, these were far from expert predictions, but this is talking about expectations for the Mets, as in what people expect. If people are expecting 65-70 wins from this Mets team, then I would find it extremely hard to believe that the Mets wouldn't surpass that.
Even with all of the injuries that happened last season, to really their four best players (Davis, Wright, Reyes, Murphy), not to mention Santana missed the whole year, the Mets won 77 games and would have won even more if not for a terrible bullpen, which has been addressed. That's what I understand least about these predictions for the Mets, is that people forget that a team that was missing some key components for a lot of games, still won 77 games.
The Mets may end up not having a great year, although I believe they will have a very good one, but I find it very hard to believe that they would win less than 75 games, no matter the circumstances that arise.
Keep Reading

New York Mets: Like this team?