2012 NFL Combine: What We Learned About Robert Griffin III
February 27, 2012

Joe Robbins/Getty Images
Robert Griffin III's performance at the 2012 NFL Scouting Combine was one of the most eagerly anticipated of the year. Last year's Heisman Trophy winner, Griffin's stock is on the rise, and he is in fierce competition to be selected with the No. 2 pick.
And Griffin lived up to the hype. The Baylor star turned in one of the most memorable quarterback performances ever and dominated the competition.
But what did we actually learn about RG3?
Well, for one, Griffin is bigger than he was given credit for. At Baylor, Griffin was listed at 6'2", 220 pounds, but few expected him to actually weigh in at that size.
Well, they were right.
Griffin weighed in bigger, at 6'2.67", 223 pounds. 
That's bigger than Aaron Rodgers and Matthew Stafford were at the combine in their respective years. They haven't been hindered too much by size.
Griffin still has some issues with dodging hits, but this goes a long way in answering his injury concerns. With this frame, Griffin should be able to stay healthy and on the field.
Equally important, though, is Griffin's height. Short quarterbacks rarely make it in the NFL (Drew Brees is the exception, not the rule), as height is crucial in multiple ways. First is the obvious: deflections. The higher the ball is when the quarterback throws it, the less likely it is to be deflected. Then there is field vision. It's difficult for a short quarterback to see over his offensive linemen and find passing lanes to throw through.
Going away from his weigh in, Griffin dominated in all the on-field drills. Though he didn't throw at the combine, RG3 lived up to the hype athletically.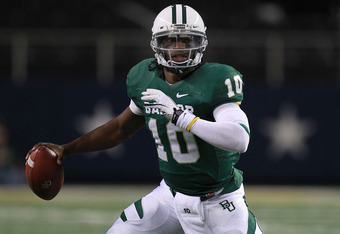 Ronald Martinez/Getty Images
Griffin shattered the competition in the 40-yard dash, running a 4.41 officially, beating Russell Wilson, who came in second among quarterbacks with a 4.55.
In the vertical leap, Griffin again placed first, jumping 39", defeating a second-best 37". Griffin actually didn't win the broad jump, but he did turn in an extremely impressive 10'0" mark.
These measurables didn't really show us anything new, though. We already knew Griffin was a terrific athlete, evidenced by both his play and career as a track star.
Lastly, there were the press conferences. Griffin wowed everyone with his charm, intelligence and humor. He faced some tough questions, but he remained poised and left a terrific impression.
No, this combine performance probably won't be enough to put Griffin on the same level as Andrew Luck. However, if Griffin weren't already guaranteed to be the No. 2 pick, he certainly is now.