Carolina Panthers: 5 Starters Whose Jobs Are in Danger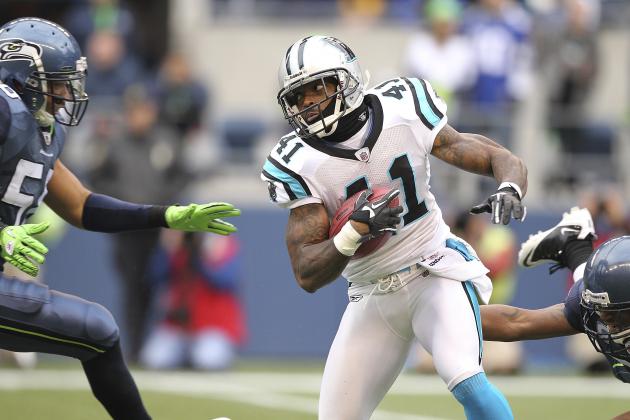 Otto Greule Jr/Getty Images

Even when you have as encouraging of a season as the Panthers did in 2011, a sub-.500 record means there's still some serious work to be done.
With that being said, sometimes the best way to improve your team is addition by subtraction, and the following players could be on their way out within a season or two if they don't take that next step and progress into solid NFL starters.
Here's the top five Panthers starters that should be a bit worried about getting overtaken this offseason.
Begin Slideshow

»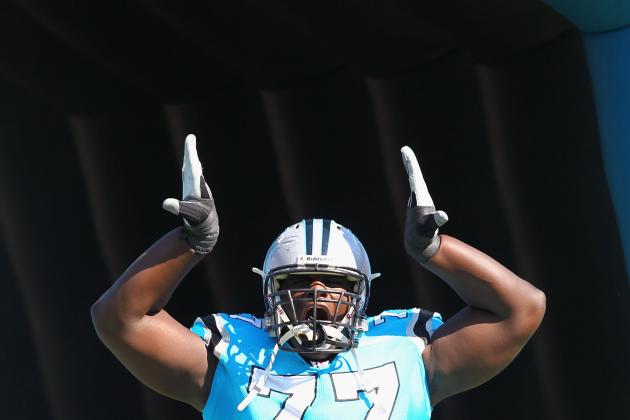 Dilip Vishwanat/Getty Images

Bell started off well when the Panthers caught the injury bug on the offensive line, taking on elite pass-rusher Clay Matthews and succeeding for the most part. However, his performance from that point on seemed uninspired.
He was dominated by Atlanta's Ray Edwards and at that point seemed to consistently lose steam throughout the season. He isn't very athletic and his footwork seemed to get him in trouble at times.
Cam Newton needs an athletic right tackle who can handle the 6'5" quarterback's deep drop. If Bell doesn't step into his own or if Jeff Otah can somehow make it onto the field for an extended period of time, his short stint as a starter will end.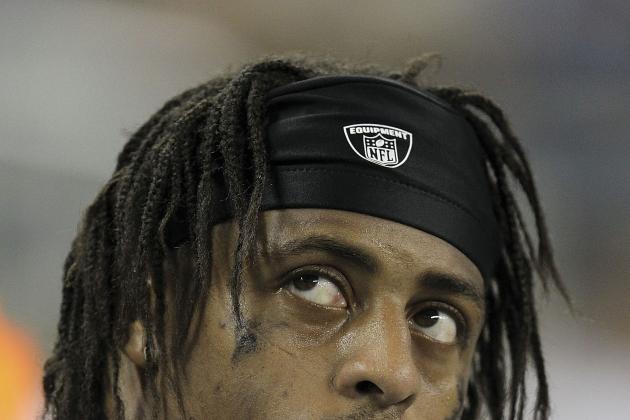 Leon Halip/Getty Images

Greg Hardy is undoubtedly physically talented, and I'm sure I'll take some flack for including him on this list, but 4.0 sacks isn't going to get it done as a starting defensive end.
Now, he's no one-trick pony and may be just as talented as a run stopper, but the team has placed some high expectations on the youngster and he failed to take that second step in his sophomore season.
Hardy will likely hang onto his job through training camp, but if a new acquisition can consistently pressure the quarterback as Hardy has been unable to, his clock may run out.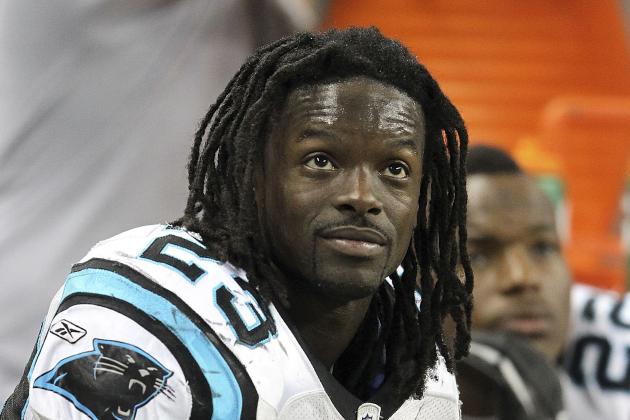 Leon Halip/Getty Images

Sherrod Martin was converted from cornerback to free safety coming out of college, and like Bell, his early production was encouraging. Two interceptions in his first start convinced coaches that he was the playmaker that the defense needed, but he soon showed himself to be a liability against the run.
He regained his job the following season, but he's never separated himself from the team's backups, and I'm beginning to doubt if he has the athleticism and instincts to ever accomplish that.
Martin isn't a great open field tackler and often makes mental mistakes in coverage. His future seems to be in doubt, making it possible for a talented youngster to come in and prove to have a much higher ceiling. That could very well spell the end of Martin's two-year hold on the starting role in the Panthers' defensive backfield.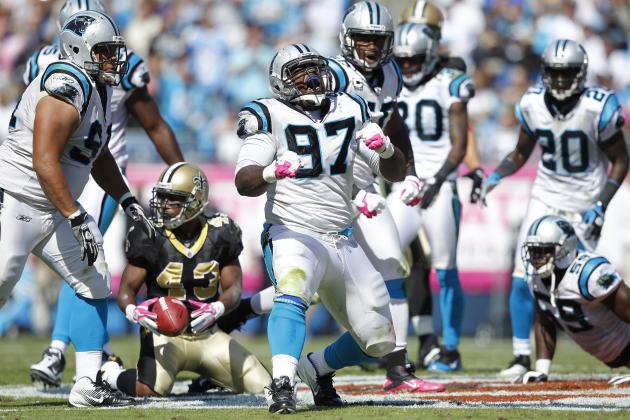 Joe Robbins/Getty Images

Both McClain and Fua started at multiple times throughout the season, but they were so up-and-down that I couldn't set my mind on what type of player they could be in the future.
However, when reserves like Jason Shirley, Andre Neblett and Frank Kearse played significantly better than the two touted rookies, it became obvious that the coaches and front office regretted spending two high picks on the two defensive tackles.
Ron Edwards will return healthy this offseason, meaning at least one will be cut out of the starting lineup, and it's highly likely that the franchise will draft at the position in either of the first two rounds. If Fua or McClain wants to hang onto their job, they better commit to the weight room and come into OTA's looking like brand new players.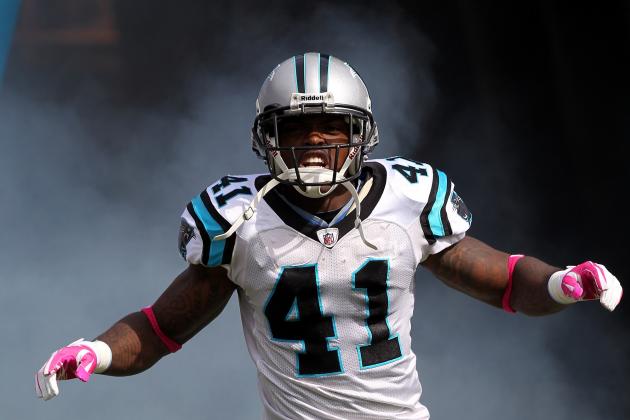 Streeter Lecka/Getty Images

Captain Munnerlyn has been an inspiration for the past few seasons, but the feisty young corner has hit the wall. He hasn't been able to make the jump from nickelback to viable starter, leaving the team scratching its head over who to line up on the opposite side of Chris Gamble.
Brandon Hogan played well in Munnerlyn's absence due to injury late in the season, but I expect the coaches to give Munnerlyn a chance to defend his starting job heading into training camp. Whether I expect him to hold onto that job is another story.
He's limited by his size and long speed, making it a possibility for a hard-hitting, physically imposing draft prospect like Dre Kirkpatrick or an impressive man corner like Janoris Jenkins to come in and quickly steal the starting spot.
Either way, Munnerlyn is on a slippery slope after a disappointing season so expect a full-fledged competition no matter who is on the roster once training camp is underway.