The Biggest NFL Draft Busts, Picks 1-32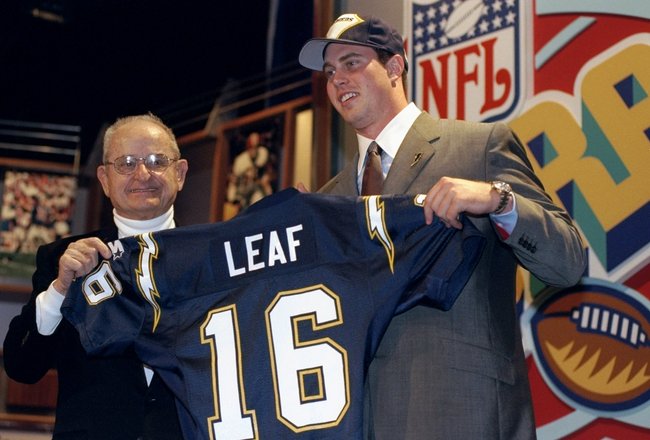 Ezra Shaw/Getty Images
With the 2012 NFL Draft only two months away, teams are more concerned than ever about selecting the next big NFL bust. In the history of the draft , there has been a major bust at every first-round pick from No. 1 to No. 32, and no team wants to add a name to that list.
With previous busts like Curtis Enis, Ryan Leaf and JaMarcus Russell in the forefront of GM's minds, teams have been more inclined to take a safer pick rather than risking a pick on a boom-or-bust player.
Today we'll take an in-depth look at the biggest NFL draft busts from picks 1 to 32.
32. Patrick Ramsey, QB, Washington Redskins, 2002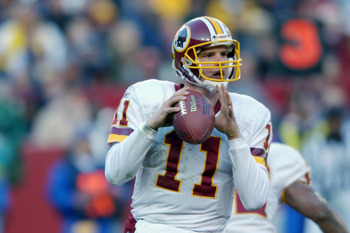 Doug Pensinger/Getty Images
Career Stats: 74.9 Quarterback Rating, 5,930 Yards, 35 Touchdowns, 30 Interceptions
The key statistic for Patrick Ramsey may be the amount of teams he has played for in his NFL career. Nine different teams in his nine years in the league isn't very promising.
Ramsey was a product of Tulane University. He had difficulty holding onto a starting position with Washington and continues to bounce around the league.
31. Rashaun Woods, WR, San Francisco 49ers, 2004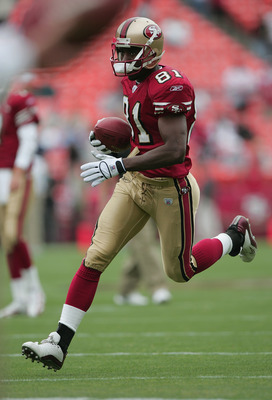 Jed Jacobsohn/Getty Images
Career Stats: 7 Receptions, 160 Yards, 1 Touchdown
Coming out of Oklahoma State, Rashaun Woods was expected to be a big time wide receiver for the San Francisco 49ers. He was a two time All-American in 2002 and 2003, and surpassed 1,000 receiving yards in three consecutive seasons.
Unfortunately, Woods had an unspectacular rookie season. He followed that up with a string of injuries and never saw an NFL field again.
He then went to NFL Europe and the CFL, but failed to stay in either league.
30. Andre T. Johnson, OT, Washington Redskins, 1996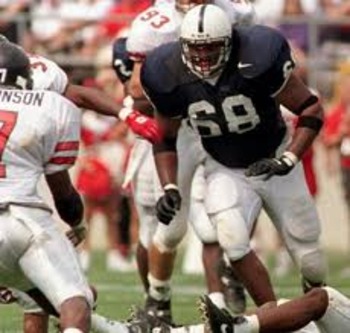 Career Stats: 3 Games Played
It's never good when a first round player only participates in three games in his career.
When the Washington Redskins drafted Andre T. Johnson, they expected him to become the cornerstone of their offensive line. However, Johnson was released by Washington the following year and was picked up by the Miami Dolphins and Detroit Lions.
He only spent three years in the NFL.
29. Dimitrius Underwood, DE, Minnesota Vikings, 1999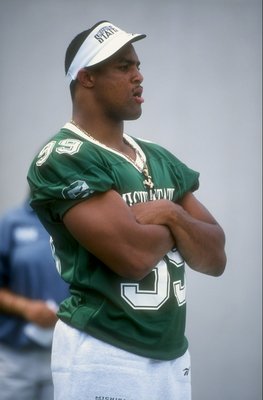 Jonathan Daniel/Getty Images
Career Stats: 21 Tackles, 4 Sacks
Dimitrius Underwood has one of the most interesting stories in NFL history.
As the 29th pick for the Minnesota Vikings, Underwood signed his initial rookie contract only to walk out of training camp the next day. He cited his Christian faith as the reason why and never returned to the Vikings, who eventually released him.
However, Underwood eventually changed his mind and was picked up by the Miami Dolphins who also decided to get rid of him. He finally landed with the Dallas Cowboys where he recorded all of his career statistics.
28. Andy Katzenmoyer, LB, New England Patriots, 1999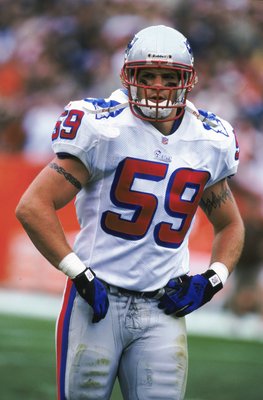 Tom Hauck/Getty Images
Career Stats: 101 Tackles, 3.5 Sacks, 1 Interception
When Andy Katzenmoyer finally left Ohio State, he left as one of the most decorated defensive players in the school's history. In 1997, his junior season, Katzenmoyer was an All-American and brought home the Dick Butkus Award and Jack Lambert Trophy.
While the New England Patriots were hoping that Katzenmoyer dominated the NFL much like he did college, they were sorely mistaken. Injuries had a huge part in his decline, but Katzenmoyer never was able to fully grasp the professional game.
27. Jarrod Bunch, RB, New York Giants, 1991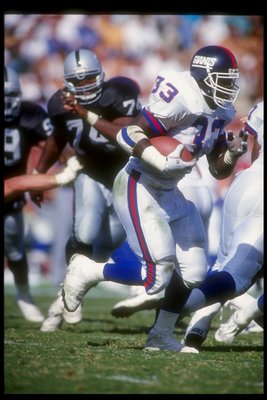 Stephen Dunn/Getty Images
Career Stats: 629 Rushing Yards, 7 Touchdowns
In his firs two seasons, Jarrod Bunch actually looked like he could turn into quite the running back. He averaged nearly five yards per carry his sophomore season and was a real bright spot for the New York Giants.
Unfortunately, Bunch suffered a gruesome knee injury that he could never fully recover from. He was out of the NFL only three years after entering the league.
26. Jim Druckenmiller, QB, San Francisco 49ers, 1997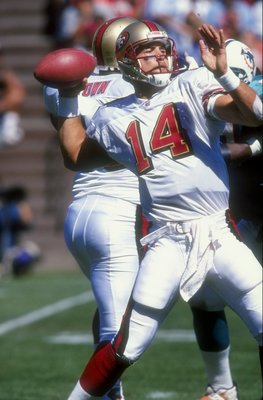 Tom Hauck/Getty Images
Career Stats: 29.2 Quarterback Rating, 239 Yards, 1 Touchdown, 4 Interceptions
Jim Druckenmiller left Virginia Tech as one of the best quarterbacks the school had ever seen. The San Francisco 49ers drafted him with the 26th pick to become the eventual successor to Steve Young.
However, Druckenmiller only participated in six games over the course of his career and only started one of those games. In those games, he put up a quarterback rating only a few points higher than my age.
Druckenmiller tried the AFL and XFL, but failed in both those endeavors also.
25. Jason Campbell, QB, Washington Redskins, 2005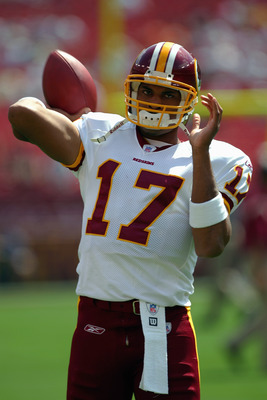 Jamie Squire/Getty Images
Career Stats: 82.8 Quarterback Rating, 14,417 Passing Yards, 74 Touchdowns, 50 Interceptions
This may be a little premature to consider Jason Campbell a bust, but the biggest problem with Campbell has been winning.
Granted, he hasn't been given the best opportunity with the Washington Redskins or Oakland Raiders, but a 32-39 record as a starter is not good.
The final verdict is still out on Campbell. If he can get on a quality roster, he could still turn around his career. However, as it sits right now, Campbell needs to be considered a bust.
24. Archie Griffin, RB, Cincinnati Bengals, 1976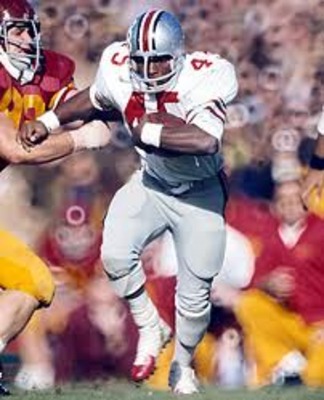 Career Stats: 2,808 Rushing Yards, 7 Touchdowns
You'd think that the only two-time Heisman Trophy winner would have a spectacular NFL career, but that wasn't the case for Archie Griffin.
His game never translated to the NFL as he barely averaged 400 rushing yards a season over his seven-year career. Griffin attempted to make one last attempt at playing football in 1985 for the Jacksonville Bulls (USFL team), but only lasted one year with them.
23. Rashard Anderson, CB, Carolina Panthers, 2000
Career Stats: 68 Tackles, 1 Interception
As a small school prospect out of Jackson State, Rashard Anderson had all the necessary tools to be an effective NFL cornerback.
He also had a drug problem, which caused him to be suspended for the better part of two years from the NFL. On the day that he was reinstated, he was also released by the Carolina Panthers.
22. Rex Grossman, QB, Chicago Bears, 2003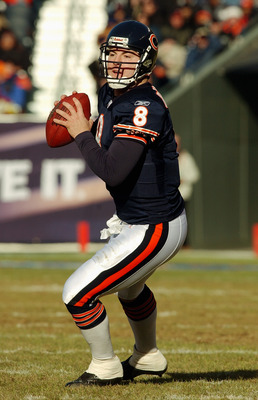 Jonathan Daniel/Getty Images
Career Stats: 71.4 Quarterback Rating, 10,232 Yards, 56 Touchdowns, 60 Interceptions
There may not be a worse starting quarterback in the NFL right now than Rex Grossman. How he continues to find his way onto the football field continues to amaze me.
Grossman has been a turnover machine since he entered the league in 2003. He's also struggled with a consistent string of injuries.
Hopefully, we won't see Grossman back on the field. However, knowing what we know about how the Washington Redskins feel about drafting for need, it's totally possible Grossman will be the starter come Week 1.
21. Rashaan Salaam, RB, Chicago Bears, 1995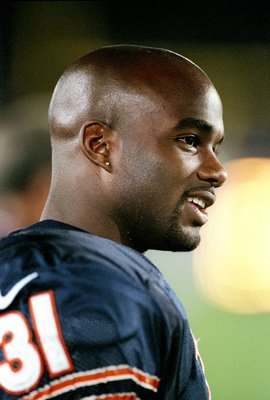 Jonathan Daniel/Getty Images
Career Stats: 1,684 Rushing Yards, 13 Touchdowns
Rashaan Salaam was actually a pretty productive rookie running back. During the 1995 season, Salaam rushed for 1,074 yards and 10 touchdowns.
Then came the injuries, fumbles and team changes. Salaam went from the Chicago Bears to the Cleveland Browns to the Green Bay Packers before finally ending up with an XFL and CFL team.
It was a shame to see such a promising start to a career go straight down the toilet.
20. Irv Smith, TE, New Orleans Saints, 1993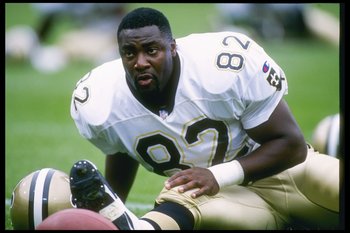 Al Bello/Getty Images
Career Stats: 183 Receptions, 1,788 Yards, 15 Touchdowns
Of all the draft picks, the 20th pick seems like the best pick of them all. I really had to dig for a bust at this pick, and I finally ended with Irv Smith from Notre Dame.
At Notre Dame, Smith was an absolute stud, but he was never able to turn that college production into consistent NFL production. Smith ended up playing five seasons for the New Orleans Saints and one season with both the Cleveland Browns and San Francisco 49ers.
19. Kyle Boller, QB, Baltimore Ravens, 2003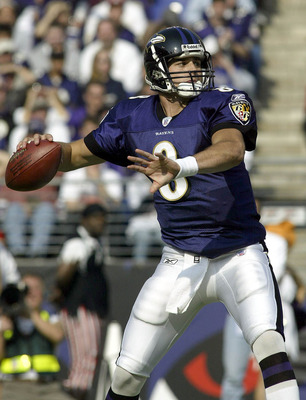 Grant Halverson/Getty Images
Career Stats: 69.5 Quarterback Rating, 8,931 Yards, 48 Touchdowns, 54 Interceptions
When the Baltimore Ravens drafted Kyle Boller with such a high pick, they surely had visions of him making their offense as potent as their defense.
Those visions only lasted for three seasons before Boller was replaced by Steve McNair in 2006. Boller never became the type of quarterback that could effectively move the ball down the field. Heck, Boller had difficulties keeping the ball in his team's hands.
After Baltimore, Boller was picked up by the St. Louis Rams and he now plays for the Oakland Raiders.
18. Butch Woolfolk, RB, New York Giants, 1982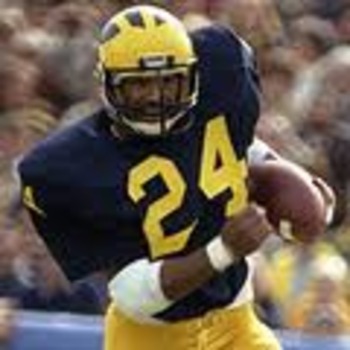 Career Stats: 1,923 Rushing Yards, 1,939 Receiving Yards, 16 Total Touchdowns
Coming out of the University of Michigan, Butch Woolfolk was one of the most decorated players in Wolverine's history. When his career at Michigan was over, Woolfolk was the career leading rusher in history.
In the NFL, Woolfolk was expected to be the ultimate burner. He was a former track star and was able to beat anyone in a foot race.
His rookie season went well as he was named the NFC Offensive Rookie of the Year thanks to his ability to play numerous roles for the New York Giants. However, after his rookie season, things starting going down hill.
Woolfolk eventually was put to the bench in New York for poor play and finished his short career playing through injuries for the Houston Oilers and Detroit Lions.
17. Sebastian Janikowski, K, Oakland Raiders, 2000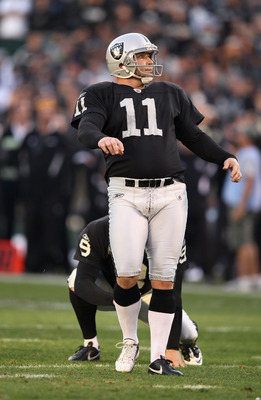 Ezra Shaw/Getty Images
Career Stats: 79.6 Percent Completion Percentage
The first rule for the NFL draft should be to never select a kicker in the first round. I don't care how talented he is, he can wait another two or three rounds to be selected.
With that said, Sebastian Janikowski certainly hasn't had a poor career for the Oakland Raiders. However, when you are drafted with the 17th pick, you should be expected to have a 100 percent completion percentage and be able to kick 75-yard field goals.
The crazy thing is that Janikowski isn't even the highest drafted kicker ever (more to come later).
16. Dan McGwire, QB, Seattle Seahawks, 1991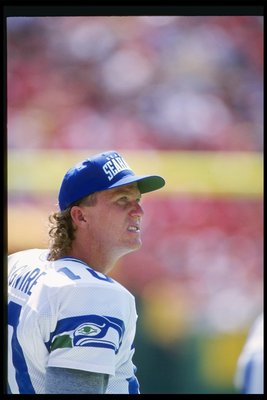 Earl Richardson/Getty Images
Career Stats: 52.3 Quarterback Rating, 745 Yards, 2 Touchdowns, 6 Interceptions
The Seattle Seahawks drafted Dan McGwire with hopes of sitting him on the bench for a year and grooming him so he could truly succeed once he got on the field.
Unfortunately, McGwire took major steps back in his second season and was pushed to third-string duties. The following year, the Seahawks drafted Rick Mirer in the first round, which was the shot of death for McGwire's career.
He only lasted two more years in the league. McGwire may be best known for being the first quarterback taken in the same year that Brett Favre was drafted.
15. Yatil Green, WR, Miami Dolphins, 1997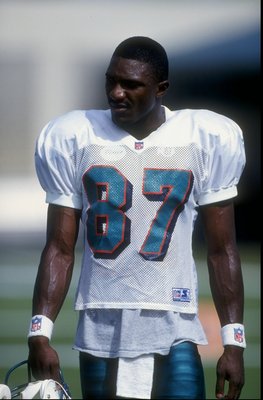 Eliot J. Schechter/Getty Images
Career Stats: 18 Receptions, 234 Yards
Yatil Green is one of those players who just had bad luck in the NFL.
On the first day of training camp, Green completely destroyed his right knee and was forced to miss the entire season. He came back the following season, but once again tore his ACL in the same knee.
In just three seasons, Green compiled a total of 10 surgeries.
14. D.J. Dozier, RB, Minnesota Vikings, 1987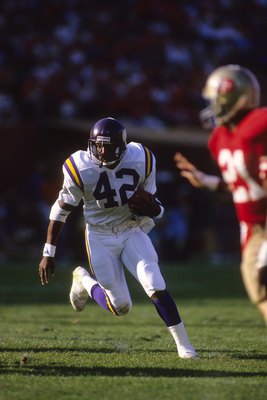 George Rose/Getty Images
Career Stats: 691 Rushing Yards, 9 Touchdowns
D.J. Dozier was the one to set the rule that drafting running backs from Penn State University in the first round was a horrible idea.
Dozier was a two-sport athlete who decided to give the NFL a try out of college. He only lasted four seasons before finding himself out of the league.
After his football career ended horribly, Dozier decided to give baseball a try. He finally made it up to the Major Leagues for the New York Mets in 1992. That was the only season he played professional baseball.
13. Percy Snow, LB, Kansas City Chiefs, 1990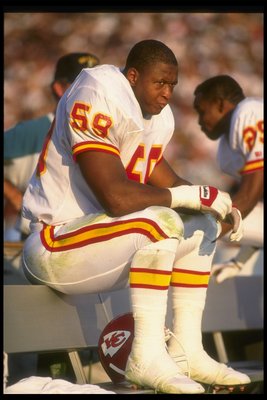 Stephen Dunn/Getty Images
Career Stats: 2 Sacks, 1 Interception
There are two rules I live by. The first is to never eat yellow snow. The second is to never ride on a moped because those things are just waiting to get hit by a moving car.
It's unfortunate that Percy Snow didn't at least live by my second rule because before his second season in the league, Snow was involved in a moped accident. He never fully recovered from the injury and his career was over only three years after it began.
If you own a moped, throw it in the trash right now. You'll thank me later.
12. Chuck Long, QB, Detroit Lions, 1986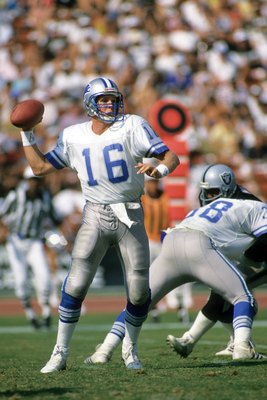 George Rose/Getty Images
Career Stats: 3,747 Yards, 19 Touchdowns, 28 Interceptions
Chuck Long's career in the NFL started out beautifully. On his first play from scrimmage, after filling in for an injured Joe Ferguson, Long threw a 64-yard touchdown pass.
The rest of his career went downhill from there. His "best" season came the following year when he threw for 11 touchdowns and 20 interceptions. When that is considered your best season, you obviously aren't very good.
While Long's NFL career was a complete bust, he has actually had a pretty successful coaching career. He is currently the Offensive Coordinator for the University of Kansas.
11. Russell Erxleben, K/P, New Orleans Saints, 1979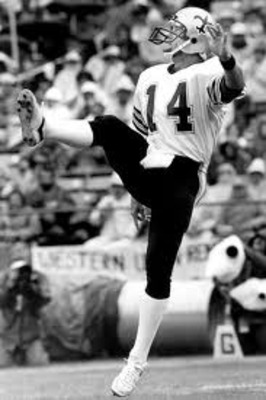 Career Stats: 50 Percent Completion Percentage, 11,381 Punting Yards
While drafting a kicker with the 17th pick like the Oakland Raiders did with Sebastian Janikowski is simply crazy, drafting one with the 11th pick is getting into the realm of complete insanity.
The thought behind drafting Russell Erxleben so high was that he was a capable punter as well as kicker. You see, the New Orleans Saints thought they could save a roster spot if Erxleben was on their team.
However, Erxleben was never that good as a kicker and was forced to simply be a punter.
10. Jamal Reynolds, DE, Green Bay Packers, 2001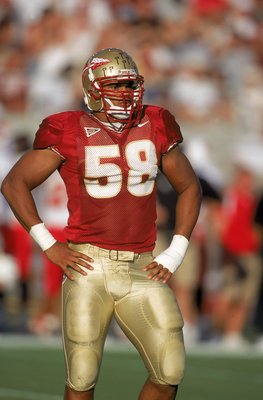 Scott Halleran/Getty Images
Career Stats: 16 Tackles, 3 Sacks, 2 Fumble Recoveries
As a stud defensive lineman for the Florida State Seminoles, Jamal Reynolds was expected to be the next great sack artist for the Green Bay Packers.
Reynolds career was hindered by injuries early on, and those injuries opened the door for the emergence of Kabeer Gbaja-Biamila. The Packers eventually tried to trade Reynolds, only to have the trade nullified because Reynolds failed the physical.
They eventually released Reynolds who was then picked up by the Cleveland Browns for one year before retiring.
9. Tommy Vardell, FB, Cleveland Browns, 1992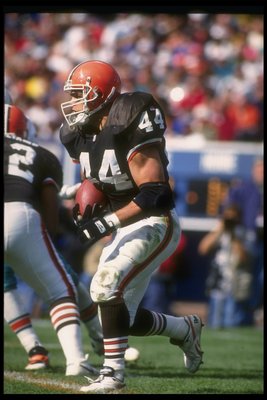 Jonathan Daniel/Getty Images
Career Stats: 1,427 Rushing Yards, 1,010 Receiving Yards, 22 Total Touchdowns
While Vardell didn't technically have a bad career for a fullback, when you are drafted with the ninth pick, you are expected to gain more than 2,437 career yards.
Vardell never produced like such a high draft pick should and he was out of the league after only eight seasons. His greatest moment as a player must have come when he was the starting fullback for Barry Sanders 2,000-yard rushing season.
8. David Terrell, WR, Chicago Bears, 2001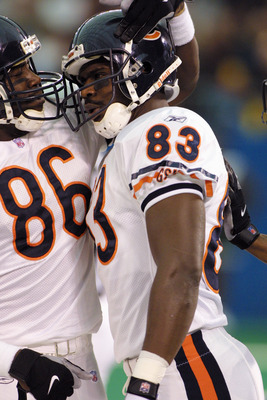 Tom Pidgeon/Getty Images
Career Stats: 128 Receptions, 1,602 Yards, 9 Touchdowns
One thing that David Terrell always had going for him was confidence. Even after an unsuccessful four seasons with the Chicago Bears, Terrell still felt like he was one of the best wide receivers in the league.
Terrell's career statistics are worse than some receivers have been able to put up in a single season. His overall attitude and lack of work ethic were the big reasons why Terrell never became the player he was expected to.
He attempted a final comeback in 2009 with the Kansas City Chiefs, but was passed over in favor of Amani Toomer instead.
7. Todd Blackledge, QB, Kansas City Chiefs, 1983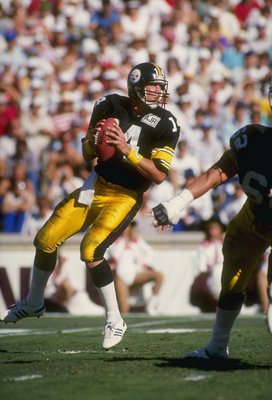 Tim DeFrisco/Getty Images
Career Stats: 60.2 Quarterback Rating, 5,286 Yards, 29 Touchdowns, 38 Interceptions
When you are drafted in the same draft as John Elway, Dan Marino and Jim Kelly, there are some expectations to perform at a high level.
So, when Todd Blackledge failed to do anything productive for the Kansas City Chiefs, it would be safe to say that he was quite the bust. Blackledge's biggest problem was his inability to read and react to defenses at the NFL level.
He is often regarded as the worst draft pick in Chiefs' history.
6. Lawrence Phillips, RB, St. Louis Rams, 1996
Todd Warshaw/Getty Images
Career Stats: 1,453 Rushing Yards, 14 Touchdowns
Even though Lawrence Phillips was an absolute beast on the football field, he had some major character issues that never got resolved.
He found himself in jail just a few years after entering the league and was never able to stay out of legal trouble. The St. Louis Rams eventually got sick of Phillips' attitude and released him.
Phillips bounced around the NFL before heading to Europe, the AFL and the CFL. He is currently serving a 31-year prison sentence.
5. Curtis Enis, RB, Chicago Bears, 1998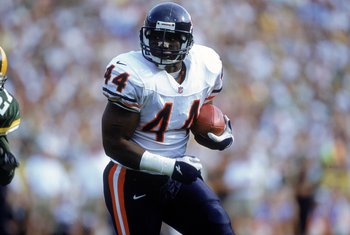 Jonathan Daniel/Getty Images
Career Stats: 1,497 Rushing Yards, 4 Touchdowns
Curtis Enis is yet another Penn State running back who turned out to be a gigantic bust in the NFL.
The Chicago Bears took a huge chance on Enis, and he only rewarded them with three years of service. Enis was never able to stay on the field because of his lack of performing at a high level.
He retired from football when he was only 24-years old.
4. Art Schlichter, QB, Baltimore Colts, 1982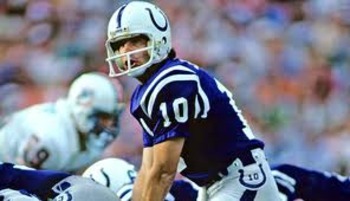 Career Stats: 42.6 Quarterback Rating, 1,006 Yards, 3 Touchdowns, 11 Interceptions
If there is one thing that can kill a career in any professional sport quickly it is gambling. Anytime a professional athlete gets involved with gambling, things end badly.
For Art Schlichter, he became very involved with gambling right out of college. While he swore he never gambled on Baltimore Colts' games, he definitely spent loads of money betting on every other team in the NFL.
Schlichter was suspended by the league for gambling and is spending some time in jail thanks to a scam job gone wrong.
3. Akili Smith, QB, Cincinnati Bengals, 1999
Andy Lyons/Getty Images
Career Stats: 52.8 Quarterback Rating, 2,212 Yards, 5 Touchdowns, 13 Interceptions
Coming out of college, Akili Smith was one of the most impressive athletic specimens the quarterback position had ever seen.
The only problem with Smith was that he only had one successful year of college underneath him. When the Cincinnati Bengals drafted him with the third pick, he wasn't anywhere near being ready to become an NFL quarterback.
Smith struggled mightily with understanding the complexities of an NFL playbook, which what ultimately caused him to spend more time on the bench than on the field.
After being released by Cincinnati, Smith found his way to the Green Bay Packers and Tampa Bay Buccaneers before ending up in the CFL.
2. Ryan Leaf, QB, San Diego Chargers, 1998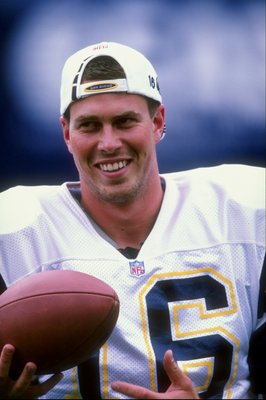 Brian Bahr/Getty Images
Career Stats: 50.0 Quarterback Rating, 3,666 Yards, 14 Touchdowns, 36 Interceptions
I don't even know where to begin with Ryan Leaf.
As the quarterback drafted right after Peyton Manning, some considered Leaf to be a better prospect than Manning. Boy were they wrong.
Leaf displayed one of the greatest attitudes almost instantly for the San Diego Chargers, and that attitude, along with distancing himself from teammates, caused Leaf to fail miserably with the Chargers.
Leaf bounced around the league for a while, he ultimately retired in 2002. He spent some time as a quarterback coach for a small university before finding himself in legal troubles.
He is widely considered as the biggest draft bust in NFL history.
1. JaMarcus Russell, QB, Oakland Raiders, 2007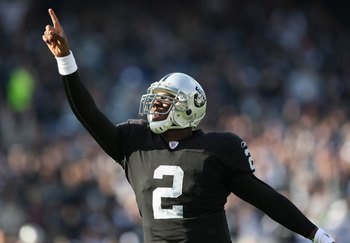 Jed Jacobsohn/Getty Images
Career Stats: 65.2 Quarterback Rating, 4,083 Passing Yards, 18 Touchdowns, 23 Interceptions
The only player who could give Ryan Leaf a run for his money as the ultimate draft bust would be JaMarcus Russell.
As a unique physical specimen out of LSU, Russell had numerous teams drooling about his size, arm strength and athleticism before the 2007 draft. The one thing that absolutely killed Russell's career was his lack of motivation.
Russell always appeared out of shape and never seemed motivated to master his craft. He was released by the Oakland Raiders after only three years in the league, and no other team would even take a chance on him.
In 2010, Russell was arrested for possession of an illegal "purple drank", but the charges were eventually dropped.
Keep Reading