Virginia Tech Football: 5 Guys Who Need a Great Spring Performance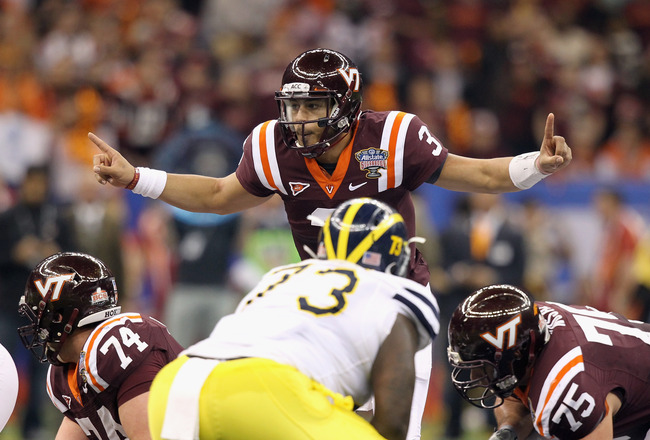 Matthew Stockman/Getty Images
The Hokies 2011-12 season came to an end in embarrassing fashion. Virginia Tech thoroughly outplayed Michigan in the Sugar Bowl, but lost the game in overtime. Losses in BCS bowl games aren't anything new to Hokie fans, but it is a trend that Frank Beamer and the Hokies want to buck.
The season ended on Jan. 3, but fans are looking forward to April 21 (the spring game) as the start of the new season. The annual Maroon and White game is the first time that the public will be able to view the 2012 version of Virginia Tech.
The Hokies have lost major contributors on both sides of the ball. Eddie Whitley, David Wilson, Danny Coale, Jarrett Boykin and Jayron Hosley are leaving big shoes to fill. The spring game is the best time for any early enrollees to showcase their talent, backups to put pressure on starters and for starters to show maturation from the last season.
The following is a list of the five Virginia Tech players who need a great spring performance.
5. Marcus Davis, WR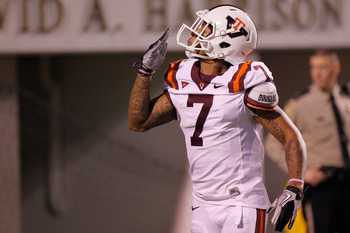 Geoff Burke/Getty Images
Davis is heading into his senior season as a Hokie. However, it will be the first time that he is a starter. Davis has been stuck behind Jarrett Boykin and Danny Coale on the depth chart. Their departures give him the job.
Davis is a big play receiver; he is 6'4" with speed. The only thing he needs to work on are his hands. He has had some issues with dropped passes during his time in Blacksburg. That can't continue as Davis is now Logan Thomas's No. 1 option.
In 2011 Marcus Davis caught 30 passes for 510 yards and five touchdowns. Davis must show that he is ready for the heavy workload this spring.
4. Antone Exum, S
Geoff Burke/Getty Images
Free safety Antone Exum is heading into his junior season at Virginia Tech. He received a lot of playing time during his first two years in college. He played the nickelback as a freshman and moved to free safety last season. However, this season may provide Exum's greatest challenge at Virginia Tech: leadership.
Whitley and Hosley were the elder statesmen of the secondary last year, but with their departures, that job falls to Exum. He may stay at free safety, but it is also a possibility that defensive coordinator Bud Foster may move him to the rover position.
Either way Exum will probably be the leader on this defense. A linebacker may be the one who calls the plays, but the safety calls the audibles. That responsibility is all Exum's.
3. Michael Holmes, RB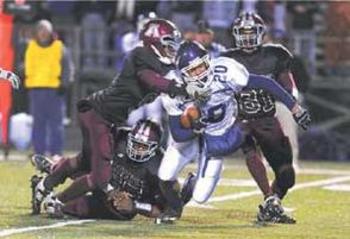 In the last two seasons, Virginia Tech has lost the running back talent of Ryan Williams, Darren Evans and David Wilson. The Hokies also lost their backup tailback Josh Oglesby to graduation. That makes the position one that Frank Beamer desperately needs to fill.
The running back position will probably be one by committee in 2012, but red-shirt freshman Michael Holmes turned some heads in practice last season, and it appears that he is one of the favorites for starter in the spring.
ESPN ranked Holmes as a 2-star recruit, but he has a low center of gravity and has good cutting ability. J.C. Coleman and Drew Harris are also tailbacks to keep your eye on. All three will be competing for major minutes.
2. Kyle Fuller, CB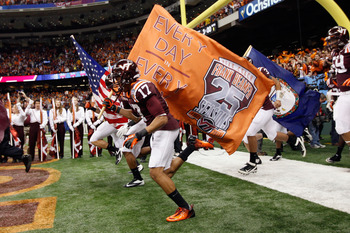 Chris Graythen/Getty Images
Kyle Fuller was the defensive MVP for the Hokies in 2011. His versatility hid some gaping holes that were created by injuries. Fuller played field corner, boundary corner, nickelback and linebacker at times last season, but his position this year isn't totally set.
Jayron Hosley's departure leaves the boundary corner position open for Fuller, which seems to be the most logical choice, but Foster isn't opposed to moving Fuller to one of the safety positions. The only real holes on Virginia Tech's defense are in the secondary, and Fuller can fill only one of them.
He will probably be placed in the most glaring hole left in the secondary.
1. Logan Thomas, QB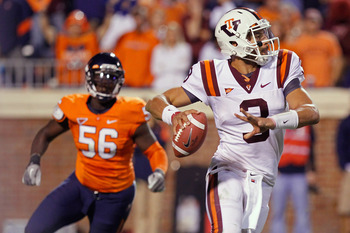 Geoff Burke/Getty Images
Logan Thomas is coming off one of the greatest seasons a Virginia Tech quarterback has ever had. He threw for 3,013 yards, 19 touchdowns and ran for another 11 scores. Those numbers won't alleviate any pressure from the quarterback, but rather will add to it.
Fans and coaches expect him to progress as a player and continue where he left off in 2011. The pressure will grow exponentially from last year because of star running back David Wilson's early departure for the NFL. Wilson was the number one offensive weapon for Virginia Tech, that distinction now falls on Thomas.
It is a lot easier to put up the kind of numbers Thomas did last season when opposing defense are focusing on the running game. That won't be the case this year. Defenses are going to focus on Logan Thomas in 2012.
Thomas is also losing four of five starting offensive linemen from last year. So it is imperative that Thomas shows a lot of maturation and growth this spring.
Keep Reading

Virginia Tech Football: Like this team?