Gauging the Flight Risk for New York Giants' Free Agents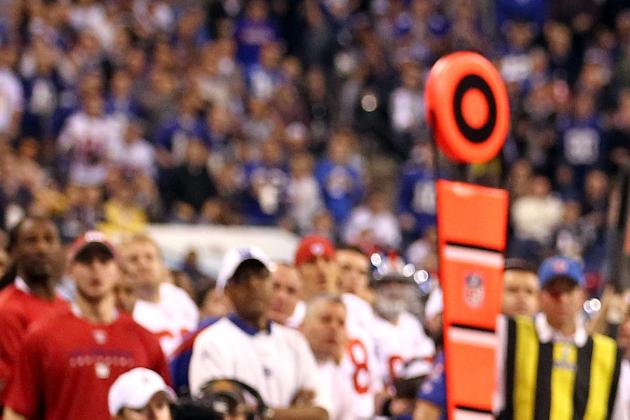 Al Bello/Getty Images

With free agency in the NFL set to begin on March 13, the New York Giants have until then to sign, release or do nothing with their 24 free agents.
The next month or so will go a long way in determining where the Giants will be heading in to the 2012 regular season.
This slideshow will gauge the odds each New York Giants free agent leaves for a new team, based completely on my own opinion.
Feel free to tell me I'm wrong in the comment section below and I'll explain my reasoning further.
Begin Slideshow

»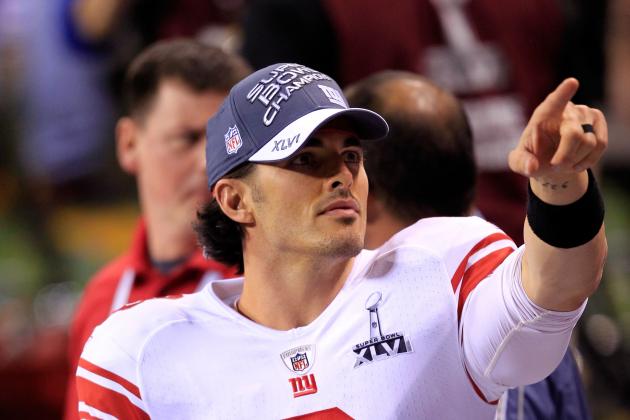 Chris Trotman/Getty Images

QB David Carr
WR Michael Clayton
CB Michael Coe
DT Jimmy Kennedy
OL Tony Ugoh
CB Bruce Johnson
CB Justin Tryon
OL Stacy Andrews
CB Will Blackmon
This group of players no one has much of an idea whether they will be back next season. You could see a situation where they would be released, but you could also justify them not being brought back at all.
They are a group I am calling the 50 percent-ers, for obvious reasons.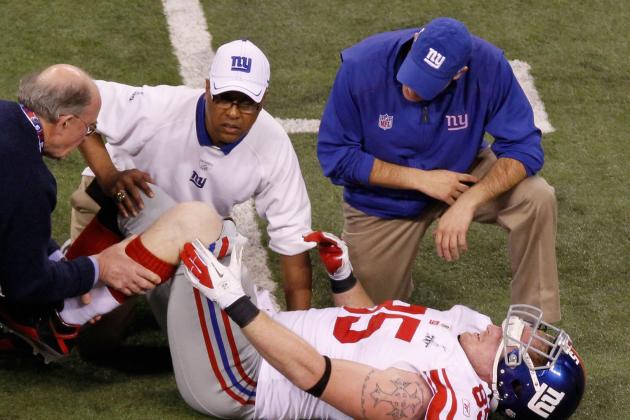 Gregory Shamus/Getty Images

Jake Ballard tore his ACL in the Super Bowl and is expected to be on the PUP list to begin the season, but the Giants should still bring him back as he was just as good if not better than Kevin Boss was in all four of his seasons in New York.
The Giants will likely look to replace Ballard for one season, but he is an exclusive rights free agent that I don't see going anywhere.
Odds he leaves: five percent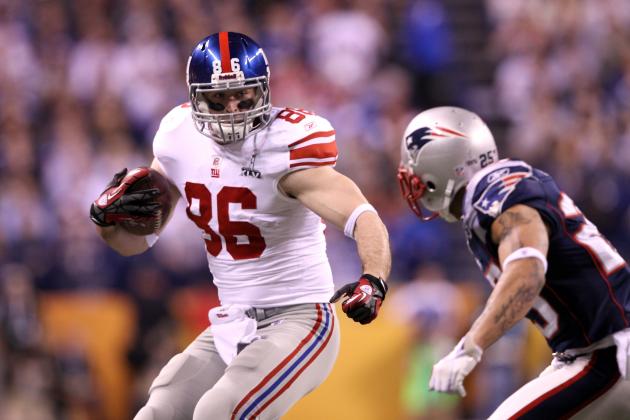 Elsa/Getty Images

Bear Pascoe is a restricted free agent, and the fact that the Giants have no viable tight ends on the roster right now other than Christian Hopkins means Pascoe will be a high priority.
He is a good blocker and versatile player; he isn't going anywhere.
Odds he leaves: one percent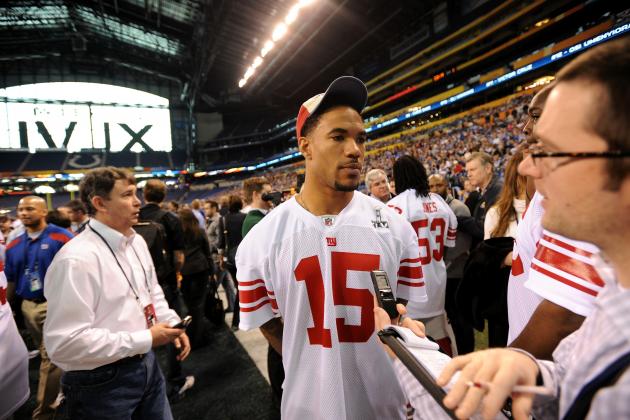 Michael Heiman/Getty Images

The Giants like Thomas and what he brings to the special teams unit. As the team's primary kick returner, they will do their best to see that he returns to the team in 2012.
That said, he was a high draft pick and could still believe he can contribute on an offense, so he may feel the need to move on.
Odds he leaves: 20 percent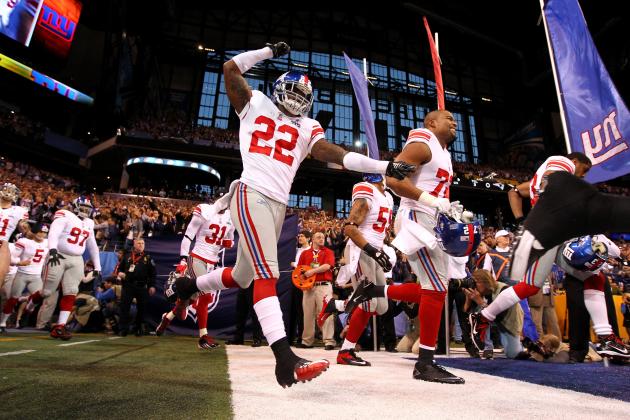 Al Bello/Getty Images

With the likelihood of Deon Grant moving on or retiring, which I'll get to later, Derrick Martin could take advantage of an opportunity to get some playing time on defense.
He was a fantastic special teams player in 2011, so that makes his return much more likely.
Odds he leaves: 15 percent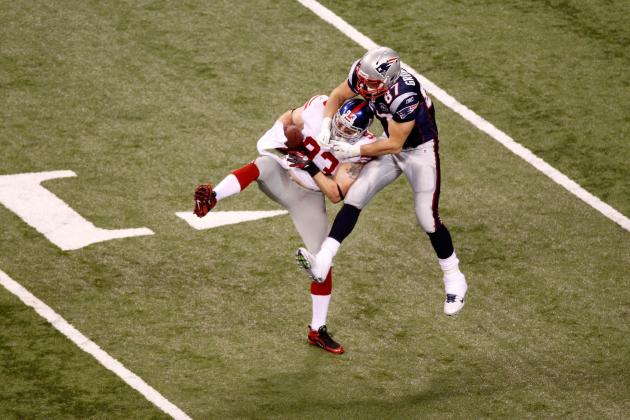 Gregory Shamus/Getty Images

Chase Blackburn came to the New York Giants after their utter destruction at the hands of the New Orleans Saints, and while he mostly flew under the radar, he was a big part of the resurgence of the Giants defense.
He was a huge part of the six-game winning streak to end the season (including four playoff wins). Although I do not think he'll be the starter in 2012, the Giants will definitely try to bring him back.
Odds he leaves: 15 percent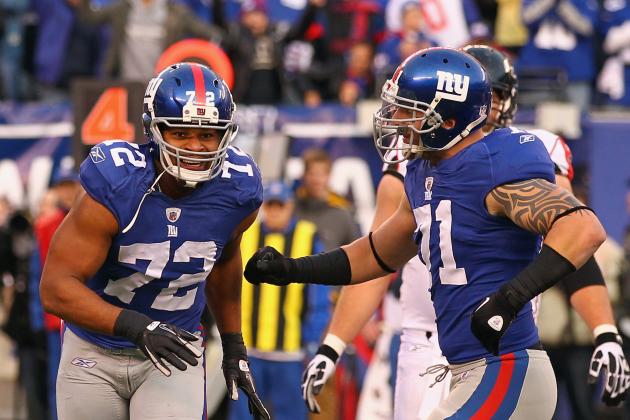 Al Bello/Getty Images

Dave Tollefson has been a big part of the Giants pass rush for the past few seasons, and he could be even more of a contributor if the Giants choose to get rid of Osi Umenyiora.
He has had the chance to move on in the past, and he ended up just coming back to Big Blue.
Odds he leaves: 10 percent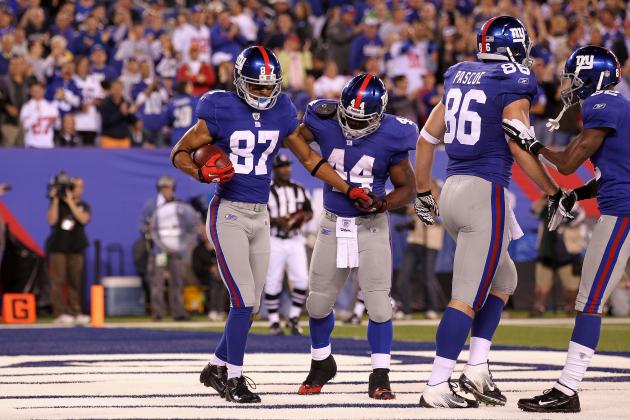 Al Bello/Getty Images

Domenik Hixon has had his season ended with a torn ACL the past two years, so the Giants could be growing tired of his injury issues.
That said, they were excited about what he could have brought to the team last year in replacing Steve Smith, so if he can show he is healthy then he has a very good chance of returning.
Odds he leaves: 30 percent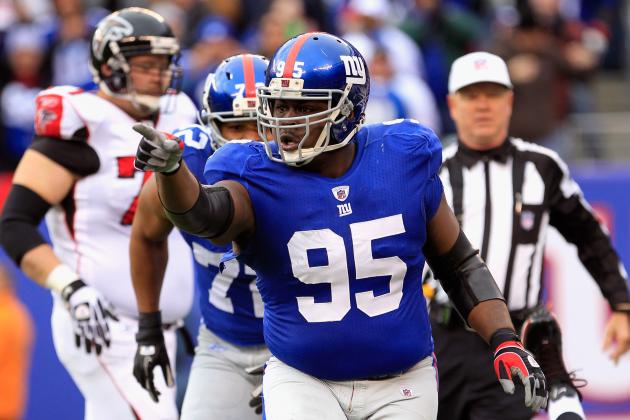 Chris Trotman/Getty Images

Rocky Bernard was a valuable backup last season, but I get the distinct feeling he values himself higher than a backup. This was proven when he would not take a pay cut prior to the 2011 season, and only returned after being cut and not signed by another team.
He played well this season, and could be a starter on another team.
Odds he leaves: 75 percent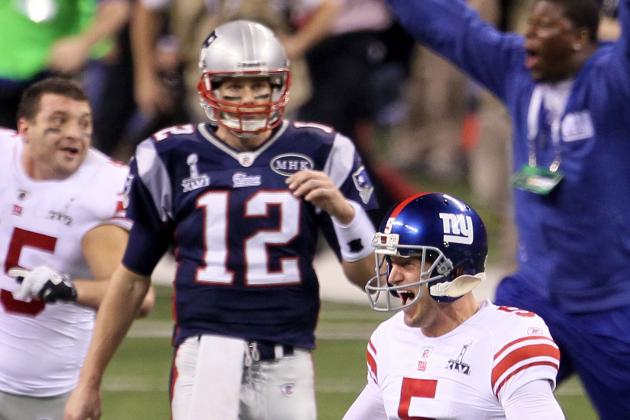 Jeff Gross/Getty Images

I've been one of Steve Weatherford's biggest fans this season, and I probably am not as close to being his fan as Tom Coughlin is.
Weatherford was the biggest reason for the improvement in the Giants special teams unit this year, which was dreadful in 2010.
Odds he leaves: .01 percent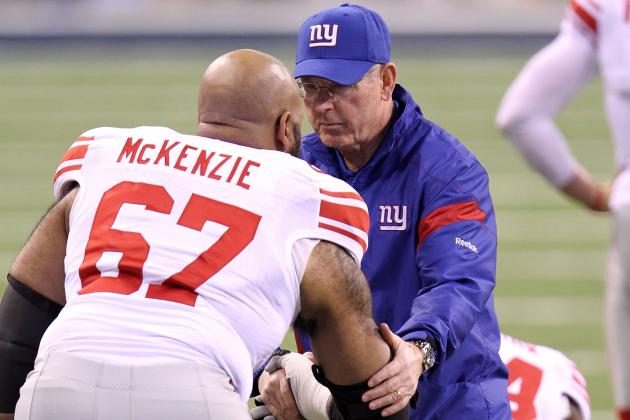 Andy Lyons/Getty Images

Kareem McKenzie has been one of the more underappreciated players on the Giants for the past several seasons, but now his skills are diminishing and it is time to move on.
The Giants need to start getting younger along the offensive line, and it starts with the right tackle position.
Odds he leaves: 95 percent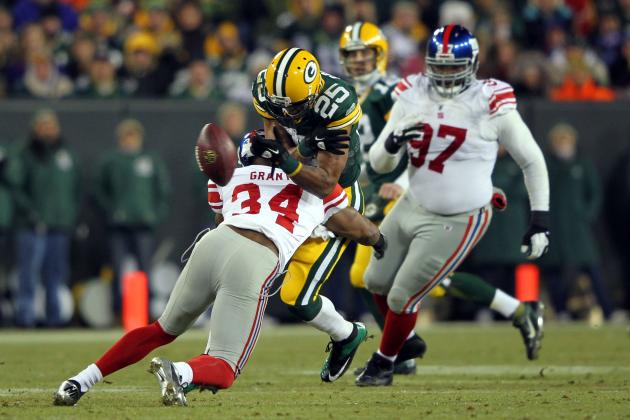 Jamie Squire/Getty Images

Many time champions are decided by the depth they have on their roster, and that could not have been more true with the Giants this season.
Deon Grant may not have been a starter, but he was a key contributor for the Giants defense all season long. That said, he has been in the league since 2000 and finally got a ring. He could be ready to retire, or maybe even move on to a starting role.
Odds he leaves: 65 percent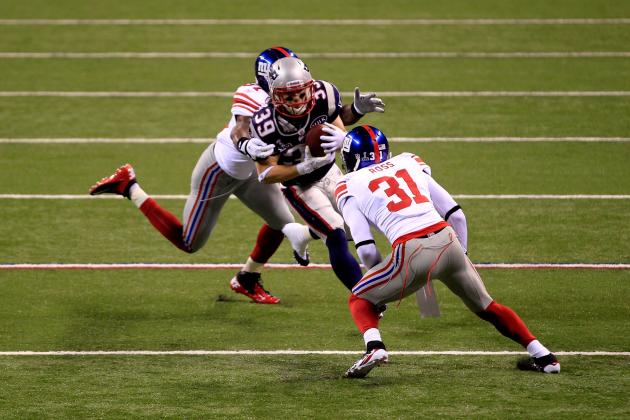 Chris Trotman/Getty Images

Aaron Ross was one of the worst corners in the 2011 regular season, so bringing him back in a backup role could be fairly cheap.
However, he played well in the postseason and could be looking to turn that in to a nice contract where he will be the starter for sure.
Odds he leaves: 80 percent
Jim McIsaac/Getty Images

Jonathan Goff missed the entire 2011 season due to tearing his ACL in the preseason, but assuming he is on schedule he should be able to return to his starting role in 2012.
He will have competition with Chase Blackburn, who played well at the end of the 2011 season, but Goff is a better athlete and offers more upside than Blackburn.
According to Pro Football Focus, Goff was one of the top run defending linebackers in 2010.
Odds he leaves: 25 percent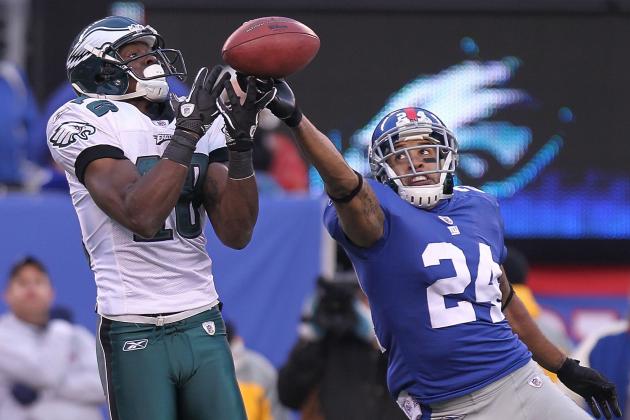 Nick Laham/Getty Images

Terrell Thomas was another victim to the torn ACL in the 2011 preseason, but the Giants expect him to be back healthy for the 2012 season.
Thomas claims his rehab is ahead of schedule, and he does not expect to be anything less than 100 percent in 2012.
In fact, the Giants and Thomas have entered into contract talks to bring him back.
Odds he leaves: 15 percent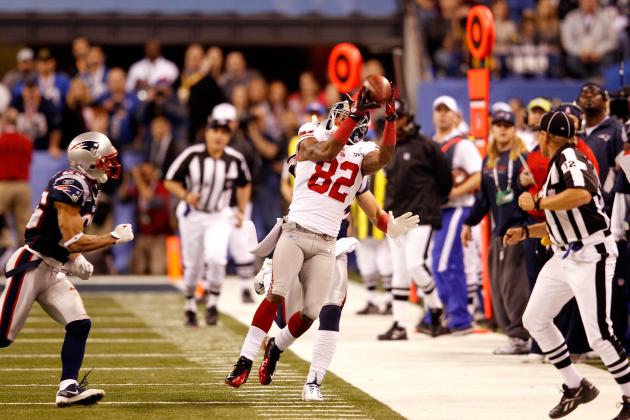 Rob Carr/Getty Images

Mario Manningham is going to benefit from the fact that he had a terrific game in the Super Bowl, even though he did not have that great of a regular season.
Reports are surfacing that he will sign with the Tampa Bay Buccaneers, and he himself believe there is a 75 percent chance he is going to play for another team in 2012.
Pretty easy when he gives you the odds himself.
Odds he leaves: 75 percent