NFL Combine 2012: 8 Things We Learned About Andrew Luck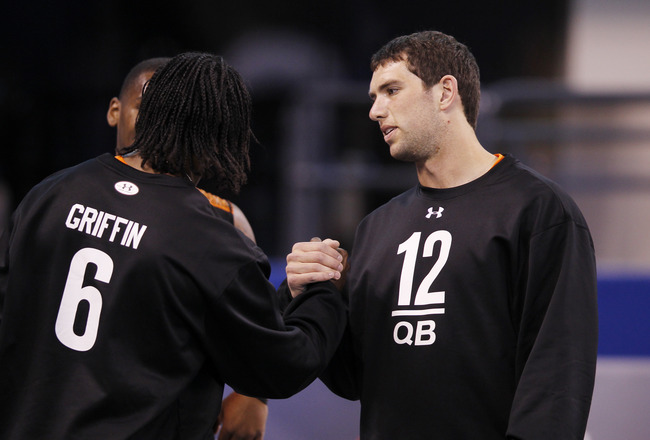 Joe Robbins/Getty Images
Andrew Luck really didn't have much to prove heading into his Sunday workouts at the NFL Scouting Combine in Indianapolis. He was already considered the consensus No. 1 overall prospect in the 2012 NFL Draft.
He did, however, have something to lose. There has been an aura of greatness that has surrounded this quarterback over the course of the last two seasons. With thousands of media pundits and hundreds of scouts in attendance, there were many waiting for Luck to stumble or do something out of character.
That didn't happen.
Instead, Luck proved to everyone why he is considered that once-in-a-generation type of player. He met expectations in every drill and even exceeded them in certain categories.
This article is going to focus on what we learned about the top overall prospect in Indianapolis over the course of this weekend.
8. He Is Much More Athletic Than Peyton Manning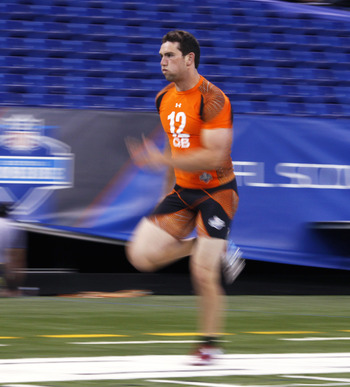 Joe Robbins/Getty Images
Electronic monitoring of combine results were not implemented until the 1999 season, so it is extremely difficult to find a hard time on what Peyton Manning ran at the annual event.
One thing is for sure, I highly doubt that his speed compared to that of Cam Newton. The same cannot be said for Andrew Luck, who surprised an unsuspecting audience with a sub-4.70 in that category.
In short, Luck is going to be a much more mobile quarterback than Manning. This is going to be huge for the Indianapolis Colts, who boast an extremely talented but inexperienced group of offensive linemen.
You will see Luck gain yardage outside after the pocket collapses, something we rarely saw from Manning in Indianapolis.
7. He Is as High Character of an Individual That You Will Come Across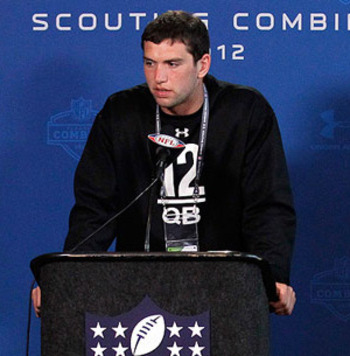 Courtesy of patriots.com
Andrew Luck's media interview at the combine might have sounded a little mechanical, but that is because he knows exactly what to say and when to say it. After all, he is Stanford-educated.
We have never heard a whisper about any issues that Luck has had on or off the field. He truly represents what it means to be a student-athlete.
During an era in which too many young men make bad decisions off the field, doing things that are detrimental to their program and team, Luck has stood up and proved that you can be a superstar with class.
It is this character that will shine through the closer we get to April. It is also this character that will make the community of Indianapolis incredibly happy a couple months from now.
6. Luck's Frame Is Pretty Much What We Thought It Would Be
Christian Petersen/Getty Images
Andrew Luck is your prototypical quarterback. He stands at 6'4" and weighs 235 pounds, exactly the measurements that you look for in a franchise signal-caller.
He has the height to look over the top of the front seven and find creases between the hashes, he has the weight to fend off pass rushers to get to the outside and he has the build to withstand the rigors of life in the NFL.
This is why Luck is the consensus No. 1 pick heading to April.
5. He Says the Right Things Publicly but Wants to Play Immediately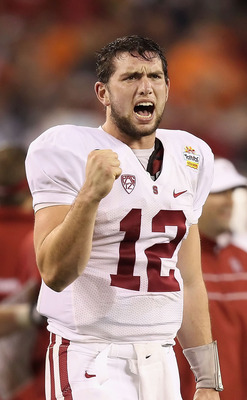 Christian Petersen/Getty Images
"I think every competitor wants to play, every down, every play," Luck said during his combine presser, when asked about starting as an NFL rookie. "So, of course, who wouldn't want to start?"
He also indicated a willingness to sit behind Peyton Manning with the Indianapolis Colts if it came to that situation. While you cannot have the best of both worlds, Luck fully understands that he needs to say the right thing in the media in order to look good publicly.
Part of this is his Stanford education and part of it is the PR aspect of being a draft prospect. After all, he has hired an agent and fully understands that perception is everything.
It goes without saying that Luck wants to come in and be "the guy" immediately. I highly doubt that he would be happy warming the bench come opening day.
4. Andrew Luck Is the Best Quarterback Prospect to Enter Draft Since 1998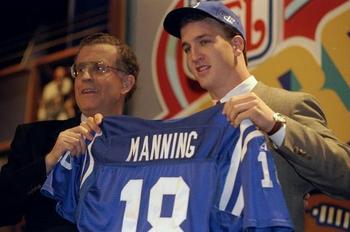 Courtesy of jimrome.com
Every single draft season, pundits come out and say some prospect is a franchise quarterback, but if this were the case every team would have one.
In reality, we are wrong more often than we are right. Attempting to explain why a certain prospect has the "it" factor is armchair scouting in its fullest.
With that said, I highly doubt that 99 percent of scouts around the NFL and in the media circle can be wrong.
In 2010, Sam Bradford was the consensus No. 1 overall pick. In 2009, it was Matthew Stafford.
Other "consensus" top quarterbacks such as JaMarcus Russell and Vince Young never panned out like many of us expected they would.
It really is a guessing game.
But Andrew Luck measures up better than any of the quarterbacks that I mentioned above. He has the intelligence, arm strength, field awareness, accuracy and mobility to be an elite signal-caller at the next level.
More than that, Luck has a great combination of moxie and "awe-shucks" to fit right into the Peyton Manning/Drew Brees school of quarterbacking. Never acting a way that makes you think he doesn't belong with the best and never showing himself to be anything less than great on the field.
In short, he is the best quarterback to enter the NFL draft since Peyton Manning in 1998.
3. Andrew Luck Will Not Pull an Eli Manning or John Elway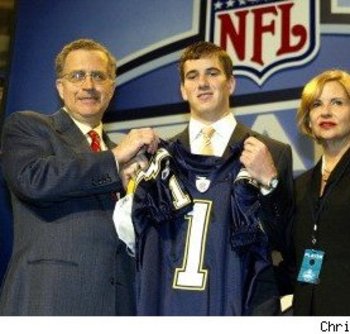 Courtesy of aolnews.com
Character is something that NFL scouts look at a great deal during combine week. Some teams even have prospects with character concerns completely off of their draft boards. In cities like San Francisco and Green Bay, it has become a paramount aspect of the scouting process.
Andrew Luck has nothing short of a great character and will represent the Indianapolis Colts franchise in the best possible manner.
He won't attempt to bolt from the small-city landscape of Indianapolis for greener pastures. He won't demand a trade to his hometown San Francisco 49ers, and he won't force a franchise to make a horrible decision because he feels entitled when entering the league.
John Elway did this some 30 years agowhen he demanded to be dealt from the Baltimore Colts to the Denver Broncos if the former had drafted him. Eli Manning actually engineered a trade from the San Diego Chargers to the New York Giants.
This is something that truly defines the character and mentality of a player. Luck doesn't believe that anything should be fed to him on a golden platter with a platinum fork. Rather, he fully understands that he hasn't earned the right to do anything yet. He grasps the concept that he has to prove himself on the field, something that some top prospects seem to forget.
For this, you will see Luck do everything in his power to lead the Indianapolis Colts to the promised land after a year of futility.
2. Andrew Luck Will Be the First Overall Pick of the 2012 NFL Draft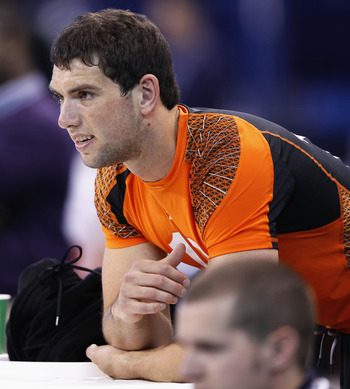 Joe Robbins/Getty Images
Let me go out on a limb and say that Andrew Luck is going to be taken by the Indianapolis Colts with the first pick of the 2012 NFL Draft.
He will be at Colts OTA's and mini-camps this offseason, ready to prove to their fan base that he will be the next franchise signal-caller in Indianapolis.
In fact, we could be hearing whispers of him coming to a contract agreement with the Colts in the next couple of weeks. Why prolong the inevitable? The new Collective Bargaining Agreement set a rookie pay scale in place, which means that holdouts are going to be something of the past. It isn't like Luck was going to hold out in the first place.
1. Andrew Luck Will Have a Super Bowl Legacy to Live Up to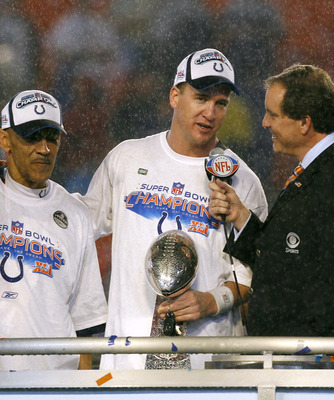 Kevin C. Cox/Getty Images
Take it from someone who has followed the San Francisco 49ers for the better part of his life. It isn't easy for a young quarterback to come to a franchise and live up to the expectation of greatness that came before.
In fact, it is probably one of the hardest situations that a young quarterback can come into.
Andrew Luck is going to have the unenviable task of replacing Colts icon Peyton Manning for a franchise that he came to represent.
The love story between the city of Indianapolis and Manning began 14 years ago when the future Hall of Fame quarterback was selected No. 1 overall in the 1998 NFL Draft. To them, Manning was a savior.
Now, after more than a decade of unmatched success for the fan base and the organization, Manning's tenure appears to be coming to an end right as Luck is coming into the league.
The comparisons are always going to be there, and Luck knows this. I fully expect him to live up to this tradition and lead the Colts back to supremacy in the AFC. After all, Luck has never failed at a single thing in his entire football career.
Don't expect that to change now.
Keep Reading