Alabama Football: Could These 3 Opponents Be Trap Games in 2012?
Jamie Squire/Getty Images

Alabama is going to be the favored team in almost every game in 2012, but as the reigning national champions everyone will be out to get them. There are three upset-minded teams in particular that could be lurking, ready to pounce.
South Carolina did it in 2010. They didn't just beat the Tide, they bloodied them to the tune of 35-21.
I'll never forget the headline on The Huntsville Times (AL) newspaper the next morning: "Cold-Cocked!"
The team started the season ranked No. 1 and racked up five straight wins, including utterly convincing wins against Penn State and Florida.
Then South Carolina came along, and it was the only loss of the season that was convincing.
Though I believe 'Bama will win against these opponents, here are three teams that will do their best to take an unsuspecting Tide by storm, come out swinging and never let up.
Begin Slideshow

»
Wesley Hitt/Getty Images

September 15, 2012
Realistic 'Bama fans realize that Arkansas desperately needs to break their five-game losing streak to Alabama, and they very well could do so in 2012.
Arkansas head coach Bobby Petrino needs his biggest signature victory since he took the job in Fayetteville in 2008, and that would be one over Nick Saban and his three championship rings.
The Razorbacks and Petrino have never defeated the Tide under Nick Saban and it is a fact known to all the young 'Bama players that are soon to be starters.
Could they get a little too comfortable like the young guys did against South Carolina in 2012?
They must travel to Razorback Stadium which could be a daunting task. The last time they visited the Hogs they and former quarterback Ryan Mallett almost handed the Tide a loss, only to lose themselves, 24-20.
This year the Hogs have the more poised quarterback, Tyler Wilson, who had half as many interceptions (six) in 2011 than Mallett did in 2010. If it's a close game, the Tide can't rely on Arkansas throwing three interceptions like Mallett did.
If Alabama stomps Michigan in the season opener, the hype around the Tide could be so big that Arkansas could quietly step up to the plate and tell 'Bama, "Stand and deliver!"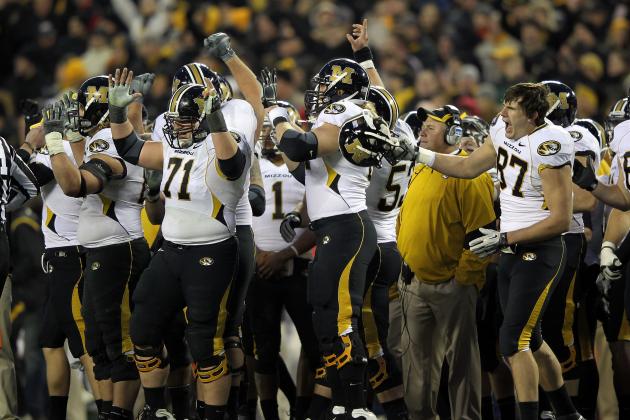 Jamie Squire/Getty Images

October 13, 2012
Alabama should handily defeat the Missouri Tigers, who struggled at 8-5 in the Big 12, right? Not so fast, my friend!
Mizzou will get a big taste of the SEC defenses before they play Alabama, as they face Georgia and South Carolina early in the season, as well as Vanderbilt, a team that is becoming surprisingly good.
If the Tigers make it to their showdown with Alabama relatively healthy they'll already have a firm grasp on what it means to face an SEC defense.
On the flip side, Alabama could already have some nagging or serious injuries by then, as the game against Arkansas historically produces plenty of injuries for the 'Bama players.
The real issue for Alabama will be their young secondary in 2012. They return safety Robert Lester and cornerback DeMarcus Milliner, but they will have two new, yet promising, players.
Safety Vinnie Sunseri and junior college transfer cornerback Travell Dixon will need to be fully prepared to face Mizzou, for they have one of the most feared weapons in all the land that has yet to play a single down of college football.
Wide receiver Dorial Green-Beckham, the nation's No. 1 recruit in 2012, is a Missouri Tiger. He is huge at 6'6", 220 lbs., and runs like a deer. To make matters worse he has a great yet underrated true dual-threat quarterback throwing to him.
Mizzou quarterback, James Franklin, will be a junior next year and a second-year starter. Last year (admittedly against porous defenses) he threw for 2,872 yards with a 63.4 completion percentage, 21 touchdowns and 11 interceptions. He also rushed for 981 yards and 15 touchdowns.
At 6'2", 225 lbs, he's a lot like a little Cam Newton and is tough to bring down when he scrambles.
The numbers could be better but he was a first-year starter and had no true go-to receiver. He'll have that next year in Dorial Green-Beckham.
The Tide could be caught by surprise when they travel to Columbus, MO. Mizzou may not flounder in the SEC as most expect, especially with a recruit like Green-Beckham.
Andy Lyons/Getty Images

October 20, 2012
Like Arkansas, the Tennessee Volunteers have never defeated Alabama under Nick Saban, and possibly never will.
But 2012 would be a good year to make it happen.
First off, the Vols lose running back Tauren Poole, a player that was more important to their offense than most realize. He was also the first running back to dish out 100 rushing yards against the Tide in over 50 games back in 2010.
He is replaced by a very promising back, 5'11", 210-lb. sophomore Rajion Neal, who lead the Vols in average yards per rush with 4.96, a good number for a struggling team. He's also a great receiver who compiled 269 yards on only 13 receptions.
What could make the Vols truly fearsome in 2012 is their quarterback and receivers.
Tyler Bray, who will be a 6'6", 210-lb. junior, returns as the starting quarterback. I felt he was a bit overrated in 2011, but he will be a SEC-hardened quarterback in 2012 and well recovered from his broken thumb.
The Vols' receiving corps is going to be a dangerous bunch. They are lead by Da'Rick Rogers, who is a load at 6'3", 210 lbs. Last year he hauled in 1,040 receiving yards and nine touchdowns, good for a 15.52 yard average. He will be a junior next year.
They also have a promising go-to receiver in Justin Hunter, who is very tough to match up with at 6'4", 200 lbs. He only played in three games last year before he suffered a torn ACL, but he made the most of it with 314 receiving yards.
Tennessee is going to come out gunslinging but they should have a run game strong enough to match up well with the Tide. When teams stay two-dimensional against the Tide, they actually have a shot.
Can Tennessee fly under the radar long enough to avenge their five straight losses to the Tide?