UFC 144 Results: Mark Hunt and 7 Fighters Who Came Back from Obscurity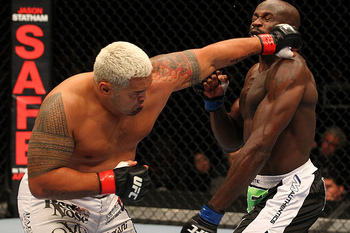 Looking at Mark Hunt's MMA career, you can understand why several questions arose when he signed with the UFC back in 2010. Despite having major wins over Wanderlei Silva and Mirko Cro Cop, the guy was currently riding a five-fight losing streak where he was stopped every time in the first round.
In his first fight back, a familiar tune played when fans saw the Super Samoan submitted by debuting heavyweight Sean McCorkle in only 67 seconds.
Since that time, Mark Hunt has gone on to decisively win his last three bouts against escalating levels of competition, and in the process, became the poster boy for career resurgence.
The latest feather in Hunt's cap came last night when he quickly defeated heavyweight Cheick Kongo, knocking out the enormous Frenchman in the first round. Not only was Hunt a heavy underdog, but Kongo had never been knocked out by any man. When you consider that Cheick had been in the cage with Mirko Cro Cop, Cain Velasquez and Pat Barry, you'll realize what an incredible feat this is.
What's next for Hunt? Who knows? With most of the top UFC heavyweights already scheduled for upcoming bouts, I see an affair with Fabricio Werdum happening sometime this summer.
Ryan Bader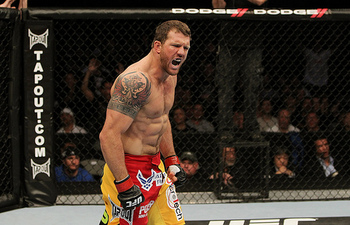 When Ultimate Fighter winner Ryan Bader found himself across the cage from future light-heavyweight champion Jon Jones, he was widely expected to receive his first career loss. For that reason, his career didn't take too much of a detour when Bones finished him in the second round.
When Bader lost his next bout to Tito Ortiz, a fighter who had not won a fight against credible competition since 2006, it looked like his train was officially derailed.
Finding himself demoted to the undercard for the first time in five fights, Bader knew that he needed to make a real impression if he wanted to find himself as a ranked light-heavyweight fighter once again. Opposite the cage from Jason Brilz at UFC 139, Bader came out swinging. 77 seconds into the first round, Brilz found himself unconscious and Bader was back on the radar.
Last night at UFC 144, Bader showed the world that his two-fight skid was nothing more than a fluke, when he outworked and outclasses former world champion Quinton "Rampage" Jackson in front of the Japanese audience.
What's next for Bader? I'd love to see him in the cage with fellow wrestling standout Phil Davis, but UFC matchmaker Joe Silva isn't fond of pairing a fighter coming off of a win with one coming off of a loss. With all other top light-heavyweights booked, don't be surprised to see Ryan Bader square off against Dan Henderson later this year. After all, Rampage was ranked as highly as No. 5 by major MMA pundits. Shogun/Machida are both coming off of losses and Evans/Jones are booked to square off in April.
Fabricio Werdum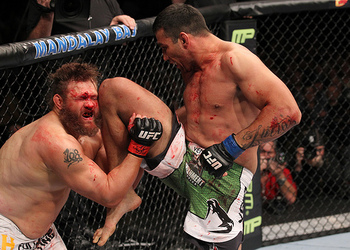 When debuting heavyweight Junior dos Santos knocked out PRIDE veteran Fabricio Werdum in only 81 seconds, the UFC didn't waste time in handing Vai Cavalo a pink slip after a disappointing 2-2 stint inside the Octagon.
Moving to the smaller Strikeforce organization, Werdum stayed active by submitting the unranked Mike Kyle and winning an uninspiring decision over Antonio "Bigfoot" Silva. Despite a notable record of 13-4-1 and grappling credentials that rival certain members of the Gracie family, it seems that the world forgot about Fabricio.
On June 26, 2010, Fabricio Werdum shocked the world when he submitted the No. 1 heavyweight in the world, Fedor Emelianenko, in only 69 seconds.
Werdum was immediately a member of the elite circle of heavyweights once again. He alternated losses and wins against Alistair Overeem and Roy Nelson in his last two bouts, but his most recent performance was both imposing and impressive enough that fans are clamoring for a bout with a top-tiered UFC heavyweight.
What's next for Fabricio? He scored major points with the UFC brass in his last bout. Not only was he dominating "Big Country" for the entire contest, but his performance was entertaining to watch from start to finish. I think that with Frank Mir and Cain Velasquez otherwise engaged, Fabricio will find himself against Mark Hunt, a heavyweight with a lot of momentum of his own.
George Roop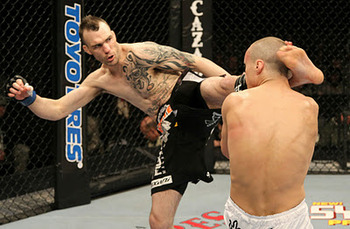 As one of the most forgettable fighters on Season eight of The Ultimate Fighter, Roop had a three-fight stint in the Octagon before being dismissed in 2009.
Looking to get back to the big show, Roop dropped down two weight classes to fill in as a late replacement at WEC 46 against Eddie Wineland. His willingness to do what it takes earned Roop additional life in the WEC, where he returned to his natural weight class of 145 pounds.
Roop exploded out of obscurity in his third WEC bout when he delivered a Knockout of the Year candidate against the iron-chinned Korean Zombie, Chan Sung Jung.
Although Roop has not enjoyed the mainstream success of some of the other stars on this list, he is a mainstay of the UFC's featherweight division, and has shared cage time with title contenders Mark Hominick, Hatsu Hioki and Josh Grispi.
What's next for Roop? Although he has lost three of his four UFC bouts, George is the kind of fighter than fans love to watch due to his nature of always putting everything on the line in hopes of scoring a win. Roop will likely square off in a Loser Leaves Town match with someone like Nam Phan or Max Holloway who are both in needs of a big win.
Frank Mir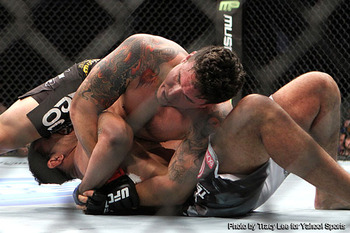 A 2004 motorcycle accident nearly ended the career of reigning UFC heavyweight champion Frank Mir. Through hard work and perseverance, Mir returned to fighting shape and came back to the UFC after a nearly two-year layoff.
The man who walked into the Octagon at UFC 57 was not the former champion that the world had seen before. In his place was a slower and less aggressive man who didn't make it through the first round before succumbing to strikes.
Later in the year, when he suffered an even quicker loss to rising star Brandon Vera, it appeared as if Frank Mir's best days were behind him.
Mir took nine months off before his trip to the cage. When he submitted Antoni Hardonk in only 77 seconds, Dana White decided that Mir could be the perfect opponent for Brock Lesnar, a former world champion with pro wrestling's World Wrestling Entertainment. Mir had the credibility of being a former champion, but the inconsistency that he hoped Lesnar could capitalize on.
With a little bit of help from referee Steve Mazzagatti, Mir was able to shock the world when he secured a kneebar submission that forced the behemoth Lesnar to tap out only 90 seconds into the first round. He has been a mainstay in the UFC title picture ever since.
What's next for Mir? After wins over Cheick Kongo, Mirko Cro Cop and Big Nog, Frank Mir is currently scheduled to square off against former champion Cain Velasquez this summer.
Matt Serra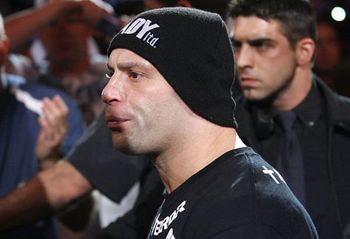 Is there a better comeback story than that of Matt Serra? As a middle-of-the-road lightweight, Serra left the UFC after going 4-4 against opponents like BJ Penn, Karo Parisyan and Yves Edwards.
When asked to be a participant on the fourth season of The Ultimate Fighter, Serra took over as an inspirational leader during a season in which there were no coaches. He took over cornering responsibilities during the season and became a true stand out after a highly entertaining altercation with trainer Mark Laimon.
Going on to win the welterweight tournament, Serra earned himself a title shot against Georges St. Pierre in which very few people gave The Terra a fighting chance. Some oddsmakers had GSP as high as an 11:1 favorite.
As you know by now, Matt Serra turned MMA on it's head when he KO'd Georges in the very first round.
What's next for Serra? Matt has been non-committal when asked about his retirement from the sport. He still maintains his training schools with the help of striking coach Ray Longo. Additionally, he is the mentor and trainer of top-10 middleweight Chris Weidman.
Chris Lytle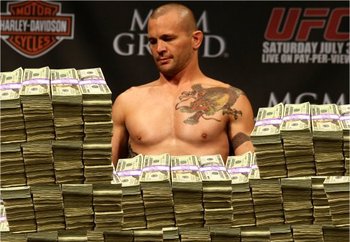 Did you know that the king of fight night awards started his UFC career with an unimpressive record of 2-6?
After losing to Matt Hughes in his first bout after Season four of The Ultimate Fighter, it looked as if Chris Lytle was going to be just another TUF runner-up. Thankfully, that wasn't the case.
At UFC 73, Lytle quickly locked up a triangle kimura submission over Jason Gilliam and won his first bonus check in the process. Apparently, he really liked the feeling, because Lytle would go on to win nine more Fight Night awards (worth more than $500,000) over his last eleven fights with the organization.
Lytle found himself at a level of obscurity reserved for Tiki Ghosn. Like a phoenix rising from the ashes, Lights Out employed a fan-friendly fighting style and went on to become one of the most beloved welterweights in UFC history.
What's next for Lytle? Not only does Chris have more Fight Night awards than anyone in history, he ended up winning nine of his last 13 bouts and retired as a major threat in the welterweight division.
Keep Reading