Cleveland Indians 2012: Projecting the Tribe's Starting Rotation
March 9, 2012

Tom Pennington/Getty Images
If the Cleveland Indians plan to have any chance at winning the American League Central Division in 2012, they are going to have to get strong performances from their starting pitchers over the entire season.
Here is a look at the projected starting rotation for the 2012 Cleveland Indians and the pitchers that will be next in line should there be an injury or poor performance.
1) RHP Justin Masterson (2011 Stats: 12-10, 3.21 ERA, 158K)
Justin Masterson proved last season that he has the pitching ability to be a true ace in the MLB.
His record from last season can be misleading, but his ERA tells the true story. He was able to keep the Tribe in just about every game he started. During the off-season, Masterson had surgery on his non-throwing shoulder and is in spring training with no restrictions.
Look for Masterson to improve on his stats from a season ago and be the Indians' ace for the entire 2012 campaign.
Indians manager Manny Acta announced that Masterson will be his Opening Day starter which Masterson certainly earned with his performance in 2011.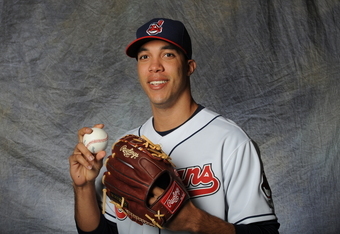 Rich Pilling/Getty Images
2) RHP Ubaldo Jimenez (2011 Stats: 10-13, 4.68 ERA, 180K)
The Indians made a huge, unexpected move before the trading deadline last season.
They sent their top-two pitching prospects in Alex White and Drew Pomeranz, along with two other prospects to Colorado for RHP Ubaldo Jimenez. The Indians were still within striking distance of the American League Central title, and trading for Jimenez was their way to try and keep pace with the Detroit Tigers.
However, the arrival of Jimenez did little to help the Tribe keep pace with the Tigers. With Cleveland last season, Jimenez went 4-4 with a 5.10 ERA in 11 starts. To make things even worse, two of his losses for the Indians came against Detroit.
Despite his lack of success last season, there is plenty of reason for Tribe fans to believe that Jimenez can return to a level of play similar to his success in 2010 when he went 19-8 with a 2.88 ERA over 33 starts.
Jimenez will be a huge factor in how much success the 2012 Cleveland Indians will have in the American League Central.
He will open the season as the number two starter in the Indians rotation, and having a completely healthy spring training will go a long way towards a solid 2012 season for Jimenez.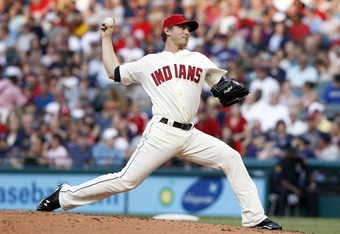 David Maxwell/Getty Images
3) RHP Josh Tomlin (2011 Stats: 12-7, 4.25 ERA, 89K)
Josh Tomlin, a former eleventh round draft pick, turned in a very surprising 2011 season for the Tribe. The reason his season was surprising was because he does not have the kind of stuff that he can blow by opposing hitters.
He is a finesse pitcher in every sense of the term and relies on his smart pitching to get outs.
One aspect of his game that he needs to improve in 2012 is the amount of home-runs that he gives up. Last season he gave up 24 home-runs to opposing hitters. That number needs to improve if he wants to win more than 12 games in 2012.
Besides giving up too many home-runs, Tomlin is a solid number three pitcher in the Indians rotation. One startling fact from his 2011 season was that not even one opposing base-runner even attempted to steal against Tomlin.
Look for Tomlin to put together another solid season for the Tribe and be a big part of their success in 2012.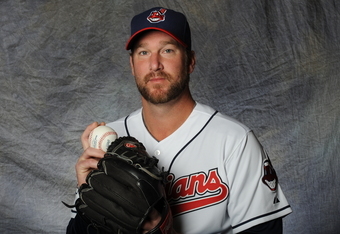 Rich Pilling/Getty Images
4) RHP Derek Lowe (2011 Stats: 9-17, 5.05 ERA, 187K)
The 2011 season is one that former Atlanta Braves pitcher Derek Lowe would rather forget.
His team lost a huge lead in September to miss the playoffs, and he experienced his worst season as a major league pitcher. Both of those reasons contributed to the Braves wanting to trade Lowe.
They ended up trading Lowe to the Indians, and are still paying the majority of the $15 million dollars Lowe is still owed.
Lowe will bring a much needed veteran presence to the Indians and should help the young pitchers in the rotation. He will also be an innings eater for the Tribe.
Both the Indians and Lowe think they have found the flaw in his mechanics that developed at the end of last season. Lowe should be able to fix his mechanical flaw in spring training and be a solid number four in the Cleveland rotation.
5) LHP David Huff (2011 Stats: 2-6, 4.09 ERA, 36K)
Huff spent most of the 2011 season pitching in AAA for the Indians.
He was called up late in the season and showed a lot of improvement. His pitch velocity was up and he displayed much better control than he has in the past. He is in camp with the Tribe this spring and is in the running to win the fifth spot in the rotation.
The fact that he is a southpaw is definitely working in his favor.
If Huff has a strong showing in spring training, then it is likely that he will break camp with the team. As recently as 2009, Huff led the Cleveland pitching staff in wins as a rookie and still has the potential to be a very solid number five option for the Indians starting rotation.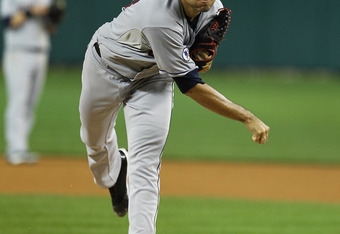 Dave Reginek/Getty Images
Next In Line:
There is an open competition for the fifth spot in the Cleveland starting rotation this spring.
The main competitors for the fifth spot are LHP David Huff, RHP Kevin Slowey and RHP Jeanmar Gomez. RHP Zach McCallister and LHP Scott Barnes are also in the competition, but are both expected to start the year at AAA Columbus.

6) RHP Kevin Slowey (2011 Stats: 0-8, 6.67 ERA, 34K)
The Indians acquired Slowey in a trade with the Colorado Rockies late in the off-season. Slowey was traded to the Rockies from the Twins earlier in the off-season.
While his stats from 2011 don't look very promising, they are actually fairly misleading.
In 2011, Slowey dealt with several injuries as well as conflict with the Twins front office. He was shuffled between the bullpen and rotation and never really found his groove.
Slowey's 2010 stats are much more telling of his potential for the Tribe in 2012. In 2010, Slowey went 13-6 with a 4.45 ERA and 116 strikeouts. Slowey has been a solid back-of-the-rotation pitcher for the past several seasons and has a great chance at breaking camp with the Indians.
7) RHP Jeanmar Gomez (2011 Stats: 5-3, 4.47 ERA, 31K)
Gomez has started eleven games in each of the past two seasons for the Indians.
He has shown flashes of real talent, but for the most part, his Major League career has had its ups and downs. However, 2012 could be a breakout year for Gomez.
He is only 24 years old and is still learning how to pitch.
It is most likely that Gomez will start the year in AAA Columbus, but he will see time in the Majors at some point in the 2012 season.
8) RHP Zach McCallister (2011 Stats: 0-1, 6.11 ERA, 14K)
McCallister made four starts for the Indians last season in his Major League debut.
He has the size and raw stuff to become a solid middle of the rotation starter, but needs to spend more time in AAA before he gets another real shot.
9) LHP Scott Barnes (2011 AAA Stats: 7-4, 3.68 ERA, 90 K)
With the departure of Alex White and Drew Pomeranz, LHP Scott Barnes is one of the best starting pitching prospects that the Indians have in the minor leagues. If he had not suffered a knee injury last season, he probably would have gotten a taste of the Majors.
Barnes will open the season in AAA, but is expected to make it to the Majors in 2012 even if it is just for a few spot starts.
He is definitely a prospect to watch in the next couple of seasons.
Pitching can definitely be a strength for the 2012 Indians if they get solid performances from the majority of the rotation.
If they hope to contend for the American League Central Division crown and control the powerful offense of the rival Detroit Tigers, they will need great performances from every position in the rotation.