NFL Combine 2012 Results: 5 Running Backs Who Sped Up Draft Boards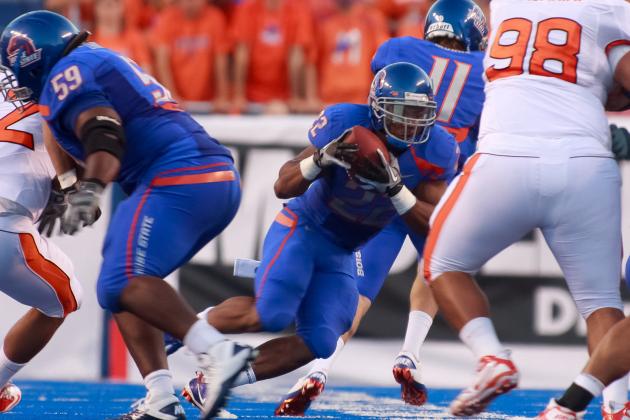 Otto Kitsinger III/Getty Images

Most scouts already concluded that the 2012 NFL draft was extremely deep at the running back position. What happened at the combine today in Indianapolis went a long way in furthering that idea.
It also narrowed the gap between Trent Richardson and the second-tier backs in the draft. Players that performed at a high level during the Senior Bowl continued their stellar postseason performances today at the combine. Other players that didn't have an opportunity to show their stuff in Mobile utilized the combine as a vehicle to prove that they belong in the conversation for first-round looks.
This article is going to focus on five running back prospects who upped their stocks in Indianapolis during Sunday's combine drills.
Begin Slideshow

»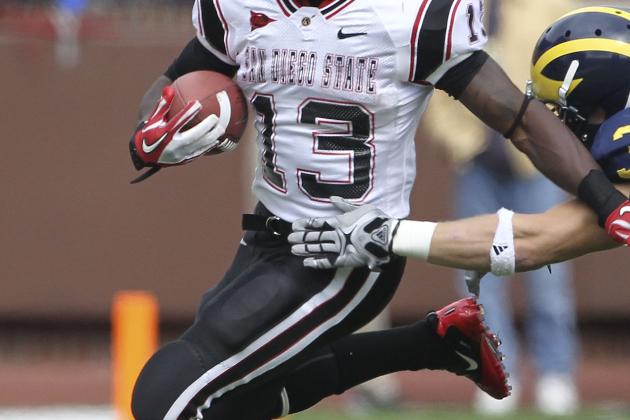 Leon Halip/Getty Images

His 5'10" and sub-200 weight will not impress NFL scouts too much, but Ronnie Hillman just surpassed LaMichael James as the best "scat" back in the draft.
He beat out Lamar Miller, Doug Martin and Chris Polk in the vertical jump. The former San Diego State star also looked extremely good in the running back-specific drills, something that I thought he might struggle with at the combine.
Hillman is much stronger than people give him credit for, which bodes well for his draft stock. His performance in Indianapolis has pushed the running back to a late second- or early third-round grade, up from a mid-round pre-combine grade.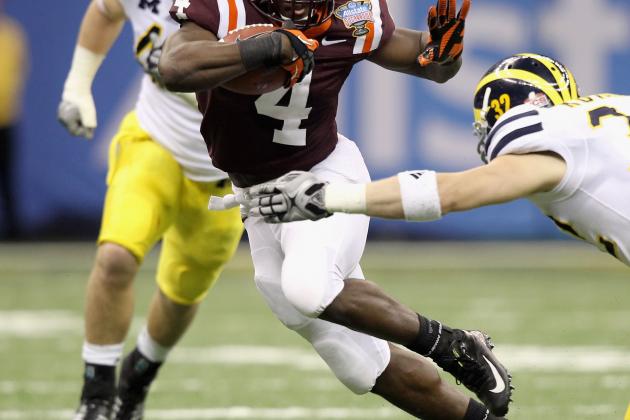 Matthew Stockman/Getty Images

One of the primary knocks on David Wilson is that he is more of a runner than a running back right now. This means that the former Virginia Tech standout doesn't fully understand the nuances of playing this position at the next level.
While I agreed with these assessments earlier, Wilson showed himself more than capable of transitioning to the next level without much of an issue. Another year of college might have done him well, but Wilson is electric in the open field.
His performance at the combine today was dazzling.
Not only did Wilson run a sub-4.50 40-yard dash, he outshone every combine back with an amazing 41" vertical and 11" broad. This just goes to show you how athletic the talented running back is.
Some scouts indicated that Wilson was a first-round talent during the 2011 season, this was one of the primary reasons that he decided to declare. While I am still not sold on that idea, I do believe that Wilson has a tremendous amount of upside.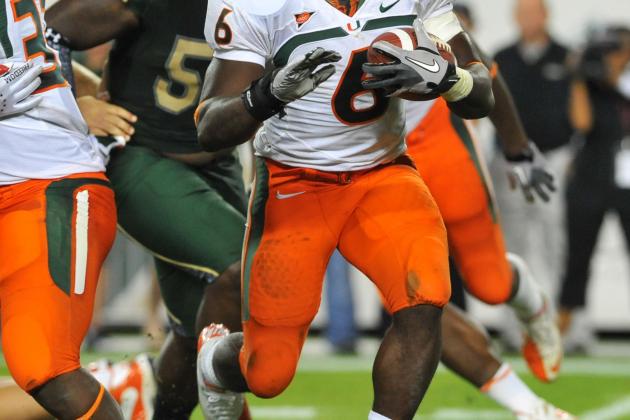 Al Messerschmidt/Getty Images

Lamar Miller is only No. 3 on this list because I had already given him a first-round grade prior to the NFL Scouting Combine. Therefore, he couldn't possibly jump too much on the draft board.
With that said, Miller did narrow the gap a great deal between himself and the unquestioned top back in the draft, Trent Richardson.
Whenever a player of his athletic ability is able to put up the best 40 times, you just have to take notice. The former Miami (Florida) star also excelled in the position specific drills at the combine today. He showed great fluidity and field awareness after hitting the line, something that I had previously thought Miller struggled with somewhat.
While game tapes are going to go a long way in determining where prospects actually go in April's draft, Miller's performance today solidified a first-round grade.
In fact, it might push him into the top half of the initial round.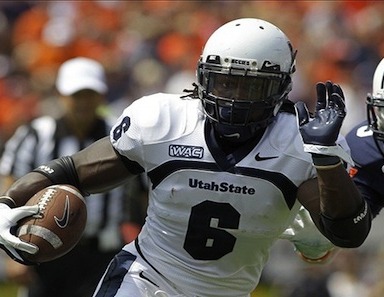 Robert Turbin was one of my favorite small-school prospects heading into the combine and he didn't disappoint. While, you aren't going to be blown away by his performances on the football field, taking a closer look helps you better understand why he is going to be a real steal come April. Turbin has the field vision and cutback ability to make something out of nothing on a regular basis. He also shows a surprising amount of strength after initial contact.
Despite standing at just 5'9", Turbin is a load to bring down at nearly 220 pounds. He uses every part of that frame to fend off would-be tacklers and gain extra yards after contact.
Turbin showed that strength and solid athletic ability today in Indianapolis. He had 28 bench press reps and put up 36" in the vertical jump.
If you are looking for a second-round sleeper, this stud might be your man.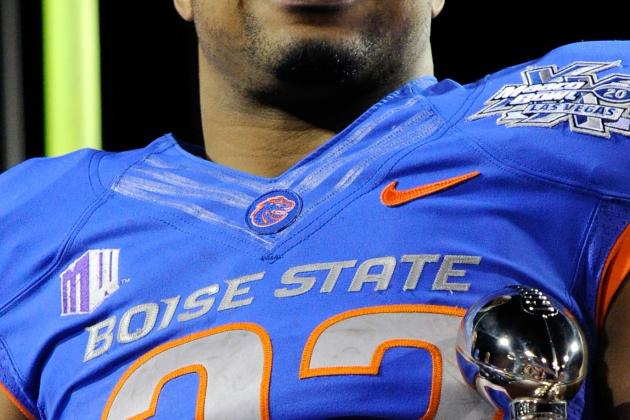 Ethan Miller/Getty Images

Probably one of the fastest risers in the entire NFL draft, Doug Martin started the postseason as a likely third-round pick. Following a great performance at the Senior Bowl, he started getting a lot of views as a possible second-round pick.
Now, after a great combine performance some are jumping aboard a bandwagon that I was the first member of.
Martin performed extremely well in the generic drills, leaping 36" in the vertical, pressing 28 in the weight room and running a solid 4.56 40. While he doesn't have top-end speed, Martin does get to that second gear extremely quickly and can break tackles between the hashes with the best of them.
He showed exceptionally soft hands as well as tremendous field vision in the position-specific drills.
At this point, I could conclude that Martin is a top-20 pick.