Philadelphia Phillies Spring Training in Clearwater: Almost Heaven?
February 26, 2012

Al Messerschmidt/Getty Images
"Dude, is this heaven?"
"No, man, it's the Grapefruit League."
I've had that exchange more than a few times since my first visit to Spring Training twenty-five years ago. It's about a distinction without a difference.
If God is a baseball fan, he winters in Florida and has a box at Bright House Field, in Clearwater, Fla.  Just listen. You can hear his voice chanting with fans, "Let's Go Phillies."   
Everything is divine about Spring Training. You can't miss it, even if watching the Yankees. I learned that early.
While in college, my fraternity brothers and I headed south. We stopped when we hit Ft. Lauderdale.  The beaches were brilliant, but it was the ballpark that beckoned.
The Yankees played there then. Billy Martin's Yankees, that is. By the time we got there, they were already in midseason form.
Ricky Henderson led off against Atlanta by sending a frozen rope into right center. Not content with a double, Henderson got nailed diving into third.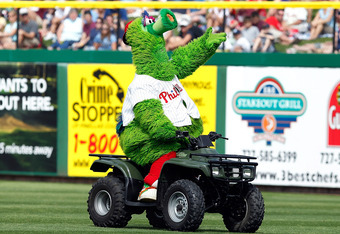 J. Meric/Getty Images
Martin ran out onto the field to argue the call. He got tossed. A chorus of angels began to sing.  Baseball was back.
It returns every year and I try to do the same. Greet the game at its arrival. The journey is miraculous.  From one airport to the next, gray skies turn blue. 
A couple of years ago, I spent the day before leaving for Spring Training by shoveling snow from my roof. My neighbors were amused. My dogs were even laughing at me.
Only hours later, settled into my seat to watch the Phillies visit the Braves in Orlando, I laughed last. 
Then, despite the heat, I felt a chill run down my back.  Roy "Doc" Halladay had just taken the mound, as a Phillie, for the very first time.
Halladay did not disappoint. He only threw two innings, but he already looked to be in postseason form. Then he went behind the stadium to run wind sprints. 
I swear, from where I was sitting you could see the halo around Doc's head.
During Spring Training, divine intervention is evident on and off the field. Phillies are everywhere. So are their fans.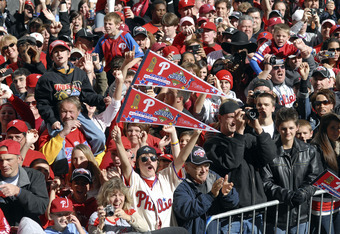 William Thomas Cain/Getty Images
Forget about identifying your gate at the airport by its number. Just look for the mass of Utley jerseys.  There would be Heaven's gate. 
Even Moses couldn't part the sea of red that pours onto planes bound for Clearwater this time of year;  Not that he'd want to.
It flows with the Phillies, from ballpark to ballpark across Florida. High tide happens at Bright House Field, when the Phillies are in the house.   
Bright House Field is paradise, Phillies style. It's like Mardi Gras everyday, except on St. Patrick's Day.  Then the red sea turns green.    
The ballpark is just the right size. The sightlines are great. Fans can indulge in the same fare that they find in south Philly during the regular season. 
That's right. Cheese steaks, soft pretzels and Philly craft brews. They even sell peanuts. All under the sun, in March, while watching the Phillies.  
Trust me, it's all enough to make Phillies fans pinch themselves, especially if they visit the Tiki bar out in left field. 
Just beware. Jim Thome is back in town. Best take a mitt out there, or a hard hat. Even Heaven quakes when the future hall of famer connects. 
Otherwise, just enjoy. Iowa cornfields have nothing on Bright House Field.      
You won't run into "Shoeless" Joe Jackson in Clearwater. The Phillies are there. It's almost Heaven. 
The real deal comes later in October. That's when high hopes are fulfilled. Just ask Phillies fans what Heaven looks like. They'll tell you.
It's a parade down Broad Street.