Spring Training 2012: Projecting the Colorado Rockies Starting Fielders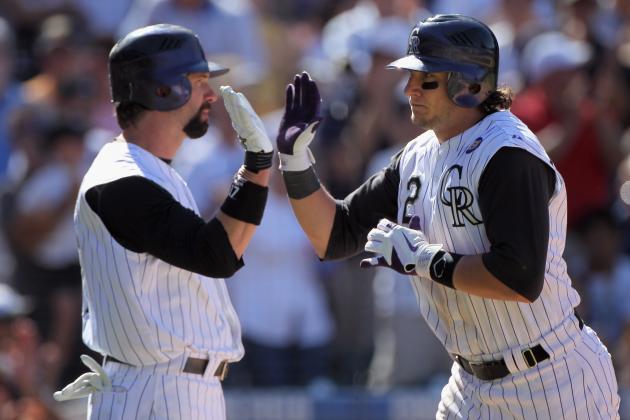 Doug Pensinger/Getty Images

It's that time again folks….baseball season!
Opening Day for Major League Baseball is right around the corner, and that means players and fans are gearing up for the long haul. Some players will make the 25-man roster and others will not.
After a dismal 2011 season, the Colorado Rockies will look to rebound. After several key acquisitions of veteran players, the Rockies look retooled coming into this season.
Here is my prediction for the starting eight field position players for the Colorado Rockies come Opening Day.
Begin Slideshow

»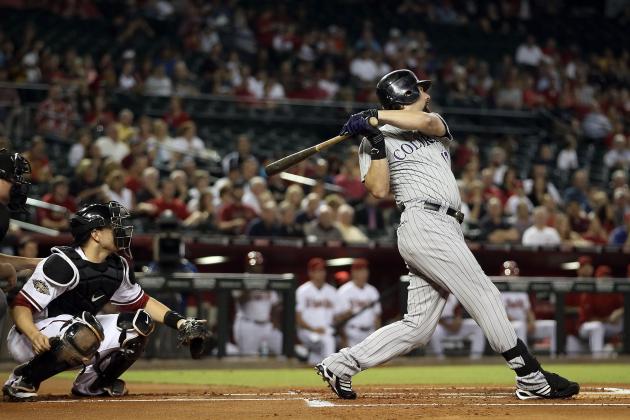 Christian Petersen/Getty Images

For any Colorado Rockies fans this position is a no-brainer.
Todd Helton is entering his 16th year in the league and is still relevant. He has always had solid defensive skills and is a career .323 hitter. Coming off a 2012 campaign where he hit .302, look for Helton to produce quality at-bats anywhere is he is placed in the lineup.
Helton will be backed-up by Jason Giambi. Helton will play the majority of the games, but Giambi should appear in at least 30-40 games at first base.
Next year's starter should be interesting, as Helton and Giambi are in the twilight of their careers.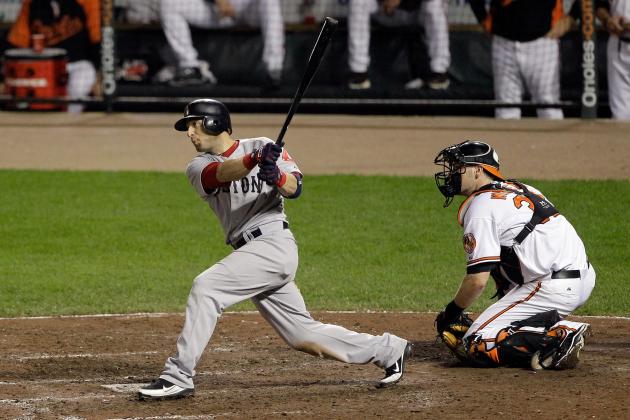 Rob Carr/Getty Images

Marco Scutaro may be a name many Rockies fan might not know.
This is because Scutaro was just acquired this offseason from the Boston Red Sox. Scutaro is coming off of a season with a .299 batting average and appearing in 113 games. Scutaro is making the move from shortstop to second base to compliment Troy Tulowitski.
Scutaro is entering his 11th season in the MLB. He only adds to the veteran infield the Rockies have.
He will be backed up by utility man Chris Nelson.
Doug Pensinger/Getty Images

This prediction shouldn't shock anyone.
Troy Tulowitski is the leader of the infield and the face of the franchise.
Entering his seventh MLB season, this could be the year Tulo refines himself. He is coming off of a 30-home run year in 2011, and for the first time, he had over 100 RBI. If this offensive performance can be repeated, the middle of the lineup will be formidable.
Tulowitski should appear in over 140 games for the Rockies this year barring injury. He will be backed-up by Jonathan Herrera.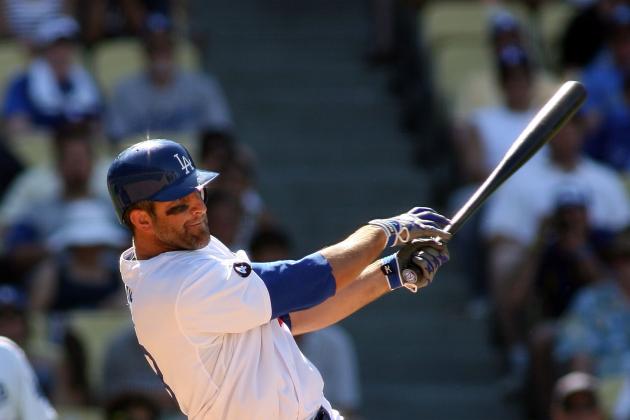 Jeff Golden/Getty Images

Another new acquisition for the Rockies is the veteran third baseman Casey Blake.
Blake came over from the L.A. Dodgers after an injury-shortened 2011 season. Like Scutaro, Blake adds a veteran flair to the Rockies infield. Blake only played in 63 games last year, with a .252 batting average.
Blake is a career .264 hitter so fans shouldn't look for huge production offensively. He should provide solid defense in the hot corner.
Blake's backup should be Chris Nelson.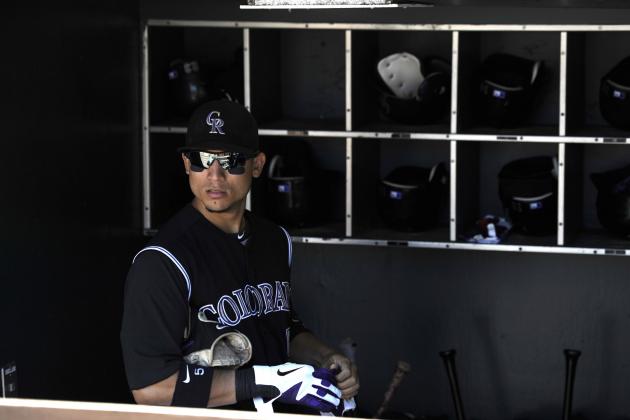 Jack Dempsey/Getty Images

If Rockies fans are looking for who's hungry for a big 2012, look no further than Carlos Gonzalez.
Gonzalez struggled early in 2011 before getting on track throughout the season. Gonzalez ended up with 26 HRs and 92 RBI. He also ended up with several highlight-reel defensive plays out in left field.
Entering only his fifth season, Gonzalez is just reaching his "prime." Rockies fans should be safe in knowing that when they look into left field they will see Gonzalez for years to come.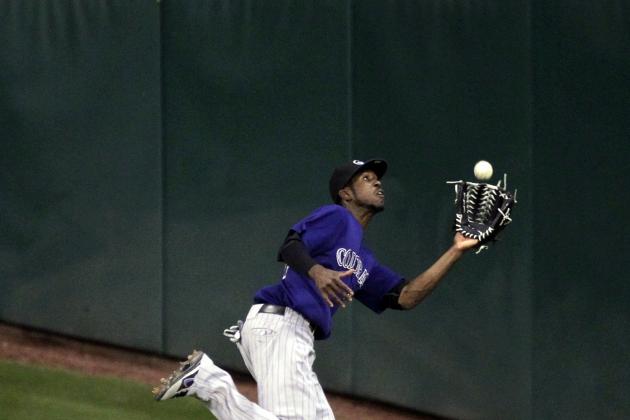 Bob Levey/Getty Images

If there is one player that is on the bubble for the Rockies it would have to be Dexter Fowler.
Fowler had a somewhat disappointing 2011 campaign, hitting only .266 with 12 stolen bases. These numbers need to improve for Fowler. He has average fielding skills and above-average speed.
Fowler only appeared in 125 games for the Rockies in 2011. Fowler should be backed up Eric Young Jr.
If Fowler again under-performs in 2012, the Rockies may bump up Eric Young Jr. or look for a veteran fielder around the league.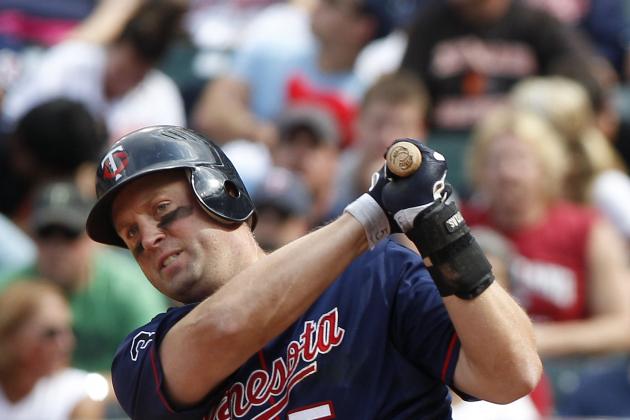 David Maxwell/Getty Images

Michael Cuddyer is probably the most exciting pick-up the Rockies made in this offseason.
The Rockies acquired Cuddyer from Minnesota, which is the only team he has played for. Cuddyer is entering his 12th MLB season and has a .272 career average. The Rockies should be able to use Cuddyer in the sixth or seventh spot in the lineup and get reasonable results.
Cuddyer's backup should be Tyler Colvin or Charlie Blackmon.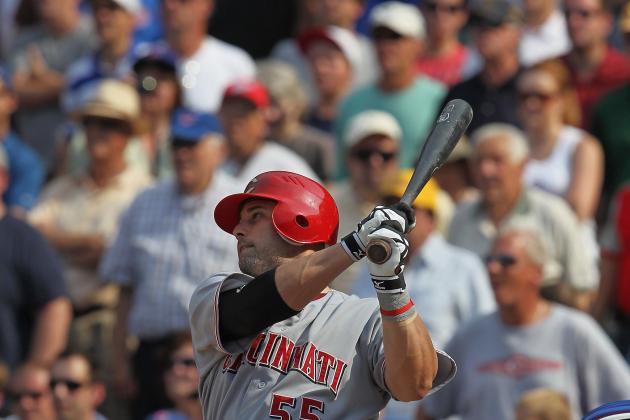 Jonathan Daniel/Getty Images

Yes Rockies fans, Chris Iannetta is gone, and Ramon Hernandez is in.
Yet another new veteran acquisition, Hernandez is coming over from the Cincinnati Reds. The catcher is coming off a season of appearing in 91 games for the Reds.
Hernandez had a tremendous .998 fielding percentage last year in 82 games behind the plate. This will definitely be an upgrade from Iannetta last year.
Hernandez should be backed up by Wilin Rosario.