One Weird Thing About the Top 50 College Football Stadiums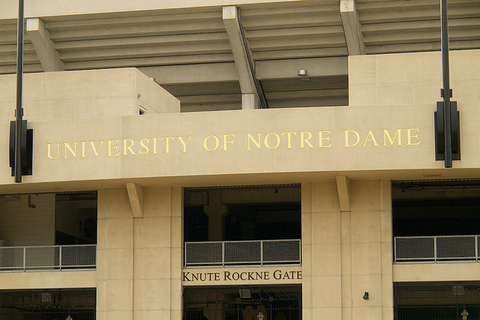 College football stadiums are those hallowed venues where America's beloved sport takes place every weekend in the fall.
Call them "Saturday Shrines," if you will.
Many times, these arenas become synonymous with the accomplishments of the teams that call them home.
Each one of them has it's own unique story, and each one has some detail that you may not know about that sets it apart from all the others.
This list takes the top-50 stadiums and lists one interesting item you may not be aware of regarding each venue.
Beverage and pretzels not included.
Begin Slideshow

»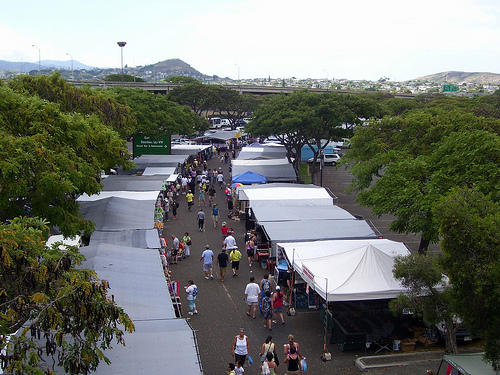 Opened: 1975
Capacity: 50,000
This one is definitely a rarity among college football venues.
Aloha Stadium hosts a huge flea market on the premises every Wednesday, Saturday and Sunday.
As you can see, it is heaven for those interested in such things.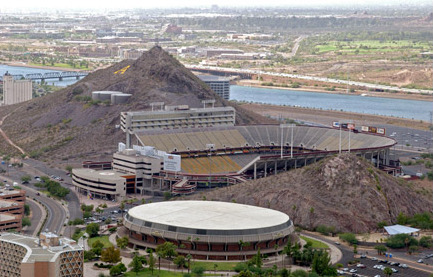 Opened: 1958
Capacity: 71,706
Arizona State hasn't had much success recently at Sun Devil Stadium.
Hopefully things get turned around with the departure of Dennis Erickson.
However, there was a time, back in 1996, when everything went right for ASU.
On September 21, the new name of the field, Sun Devil Stadium at Frank Kush Field, was adopted.
Also on that night, the team upset the then top-ranked Nebraska Cornhuskers 19-0.
What a coincidence.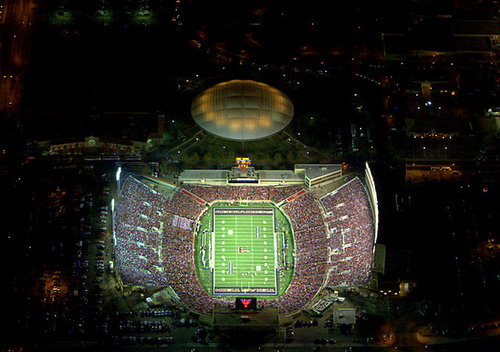 Opened: 1947

Capacity: 60,454

AT&T Stadium has a flying saucer attached to it.
No really, UFOs are real as is clearly evidenced by the photo seen here.
Actually, that's just another building on the campus, but it sure looks as if it's preparing to take the stadium away in its tractor beam.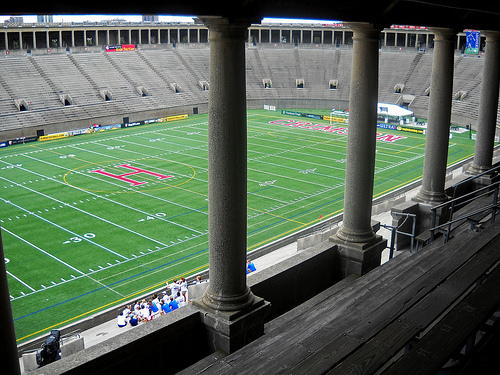 Opened: 1903

Capacity: 30,323
This stadium has been open for 109 years, and it is still a gem.
The unique style of the architecture earns it a spot on this list; the pillars that are pictured offer an interesting view of the action that cannot be found anywhere else.
Of course, it sucks to get stuck directly behind one of them during the big play.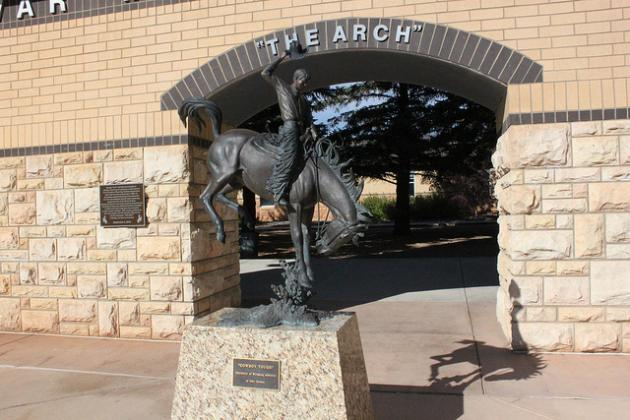 Opened: 1950

Capacity: 32,580
"Fanning a Twister" is a great statue, but it's not the reason War Memorial Stadium makes the list.
No, that would be its insane altitude.
7,215 feet above sea level.
It's extremely difficult to play football and catch your breath in that altitude.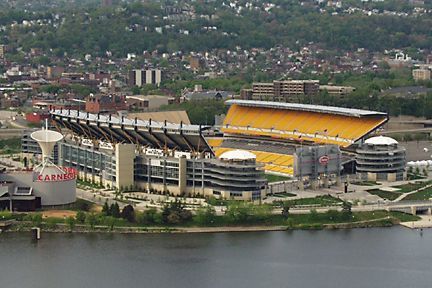 Opened: 2001
Capacity: 65,050
The stadium that took the place of Three Rivers Stadium for the Pittsburgh Steelers now goes by the incredibly poetic name: Heinz Field.
It is on the shore of the Ohio River, one of only three stadiums of that nature in the country.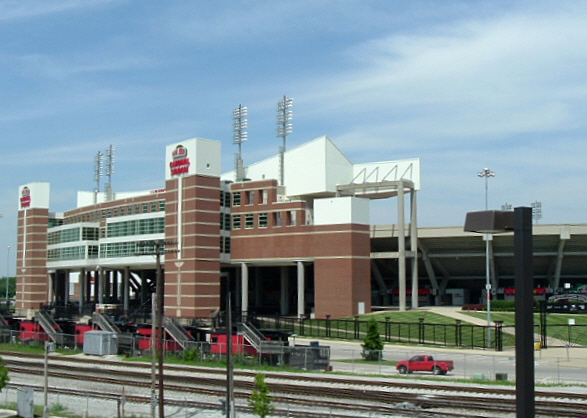 Opened: 1998

Capacity: 56,000
I'm not sure if this is weird or just smart, but it sure is convenient.
This stadium has no bleacher seats.
Those things can get uncomfortable.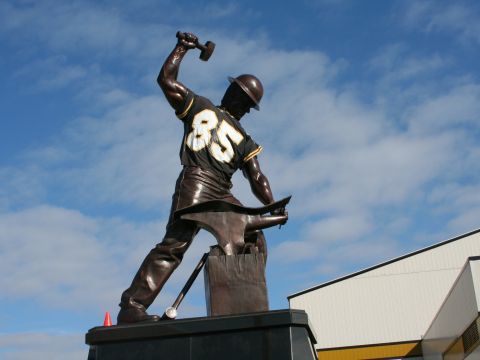 Opened: 1924

Capacity: 62,500
The statue is pretty cool, so he earned some space on this slide.
However, the unique feature of Ross-Ade is its system for maintaining the playing surface, known as Prescription Athletic Turf.
It has a network of pipes underneath the surface—the first of its kind—developed to direct excess water away in case of rain.
This slide is dedicated to all you inventors out there.
Two Purdue staff members, William H. Daniel and Melvin Robey, developed the turf.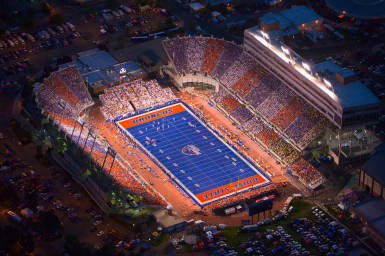 Opened: 1970

Capacity: 33,500
It's obvious, but we'll go with it.
The field is blue.
For those who care, in my opinion, it shouldn't matter what uniforms they wear, but it has been ruled that they cannot wear their blue uniforms on the field anymore due to complaints about their blending into the turf.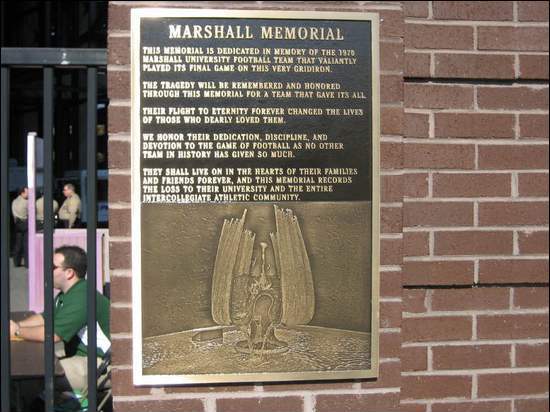 Opened: 1963

Capacity: 50,000
This is the classiest item on our list.
ECU hosted the game against Marshall in 1970 before the infamous plane crash that claimed 75 lives.
In honor of that occurrence, the ECU erected this plaque depicting the memorial fountain on the campus of Marshall.
Opened: 1998
Capacity: 45,017
The original Ute Stadium opened in 1927, but eventually, Rice-Eccles came to be in 1998.
The Rolling Stones played here twice—in 2002 and 2004.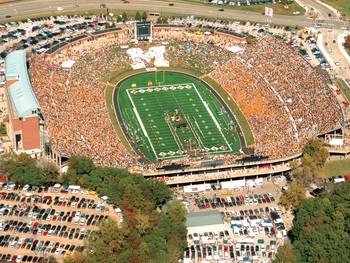 Opened: 1927

Capacity: 71,004
While not entirely weird, it's definitely unique.
The Tigers have a tradition that every senior take a rock from the big "M" of white, painted rocks on the end of the stadium.
Obviously, somebody has to keep painting more rocks and filling in the gaps.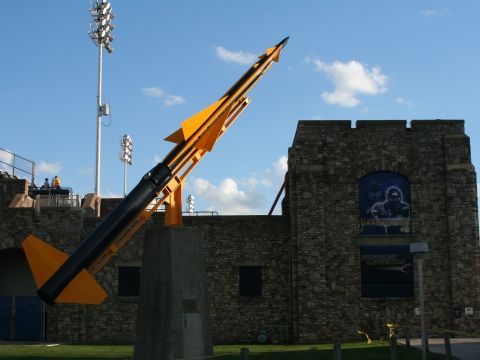 Opened: 1937
Capacity: 26,248
The Glass Bowl is a venerable stadium, still containing much of the original stonework from its first iteration in 1936.
The great detail that the stadium boasts is the rocket sitting outside of the venue.
It's a genuine rocket from the U.S. Army and is aimed directly at the 50-yard line of rival school Bowling Green.
It has been aimed there for 50-plus years.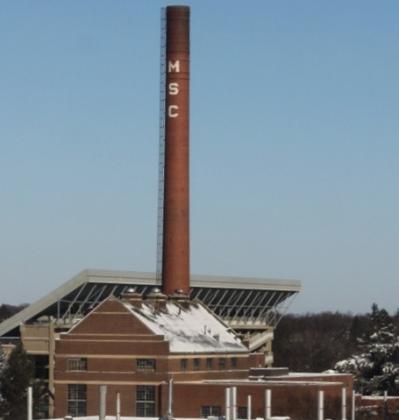 Opened: 1923
Capacity: 75,005
Ah, those Spartans.
Near the stadium, in 1948, a smokestack arose with the letters "MSC."
This stood for "Michigan State College."
It has been out of use since the 70s and was recently demolished.
The school promptly saw this as a chance to increase stadium revenue and sold the bricks for $50 apiece.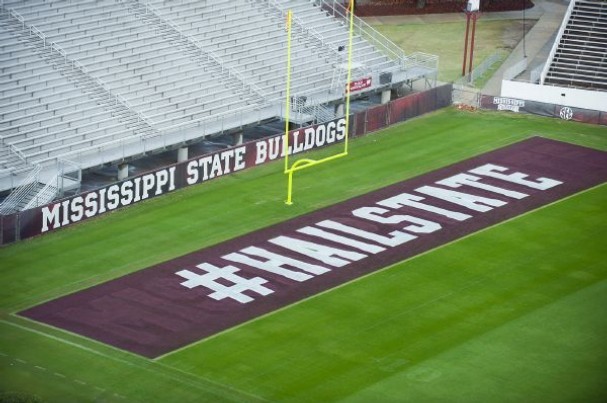 Opened: 1914
Capacity: 55,082
That's not your imagination nor is the image doctored.
Last season, the Bulldogs decided to pull off the whole "hashtag in the end zone" look.
It's a definite first, and while it may or may not catch on across the country, for now, it's unique.
#original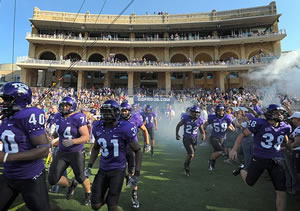 Opened: 1929
Capacity: 46,000
I'm sorry, in what universe is a lizard that is called "frog" intimidating on any level?
This mascot is interesting.
There was an abundance of lizards on the campus back in the late 1800s, so the nickname was adopted.
Strangely enough, the creature has a gland on top of its head resembling a third eye.
Disturbing.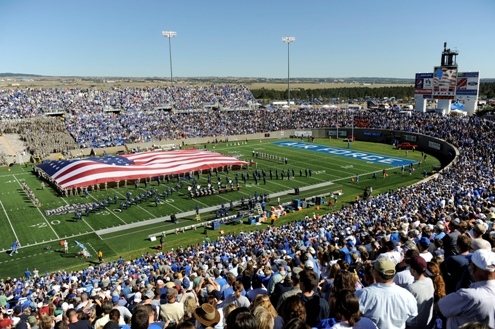 Opened: 1962
Capacity: 52,480
The wonderful athletes that are part of the Falcons' football program have an advantage that not many stadium can boast.
Altitude.
Opponents coming into this stadium had better be in good shape, as Falcon Stadium is at the second highest altitude of any stadium in the country at 6,620 feet above sea level.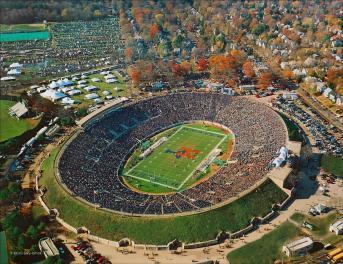 Opened: 1914
Capacity: 64,246
The Yale Bowl has a tremendous history and was the first bowl-shaped venue in the country.
That said, it's a weird experience walking in at ground level and emerging halfway up the stadium.
And by weird, I mean awesome.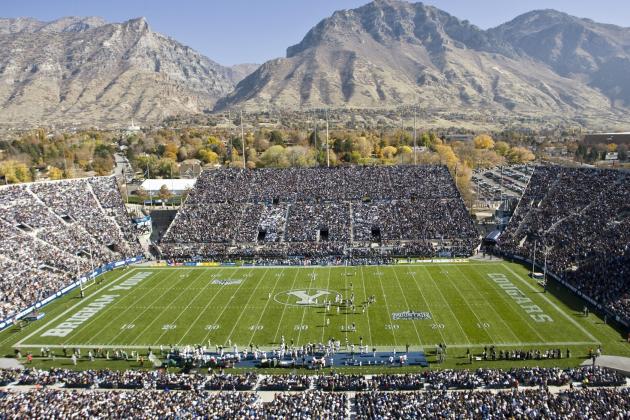 Opened: 1964
Capacity: 63,725
This stadium lives in one of the most beautiful settings for a college football stadium in the nation.
It's a great facility and is named for a legend.
However, one might find it strange that until 2005, part of the largest collection of Jurassic fossils in North America were housed underneath the stadium while awaiting their trip to a museum on campus.
A pile of bones underneath the stadium is creepy.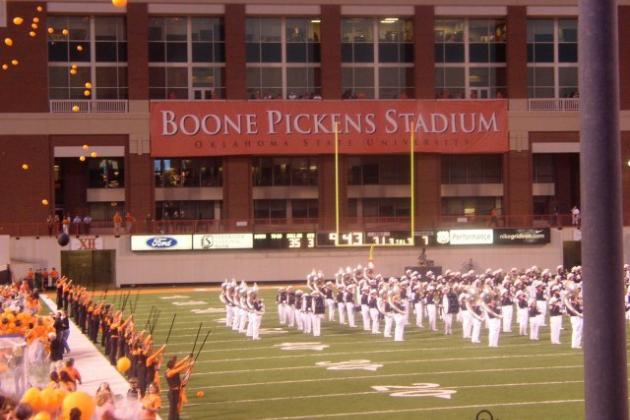 Opened: 1914
Capacity: 60,218
When one thinks of all the traditional powers in the Big-12, Oklahoma State does not necessarily stick out as a program steeped in tradition.
No offense to Cowboys' fans, but the average follower of the sport does not identify the program as a "traditional power."
That said, their stadium is the oldest in the conference.
Who would have guessed?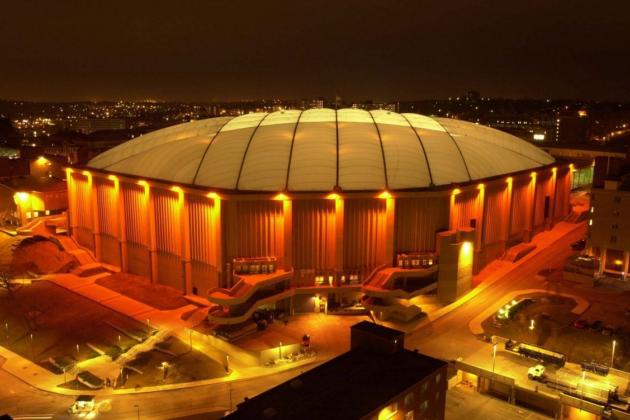 Opened: 1980
Capacity: 49,250
The Carrier Dome is named after the famous air conditioning/furnace company.
However, since there are no summer sports taking place in the dome, it does not feature an air conditioning system.
Apparently, the temperature is moderate enough that A/C is not required the rest of the season.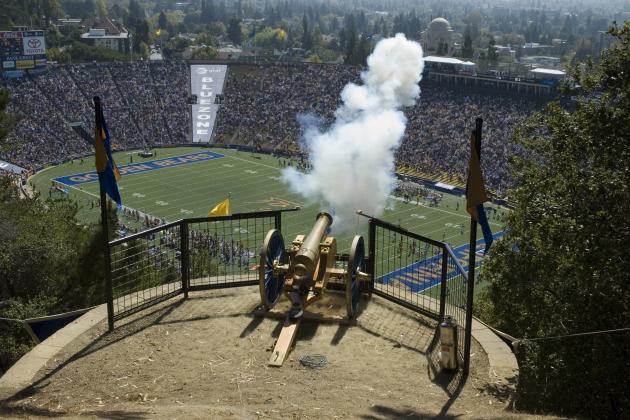 Opened: 1923
Capacity: 62,717
With its beautiful vistas, this stadium is top five in the country when it comes to surrounding landscape.
However, it may be bottom five for safety.
The Stadium stands directly over the Hayward Fault, which runs nearly parallel to the field underneath the surface.
Weird?
More like crazy if "the big one" ever comes.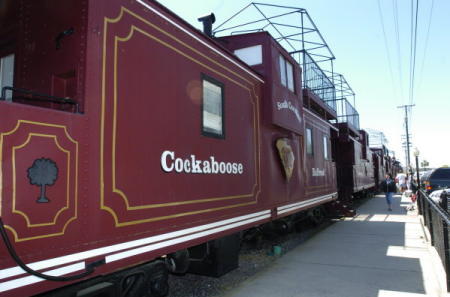 Opened: 1934
Capacity: 80,250
Those South Carolina fans sure are creative.
They came up with the "Cockaboose Railroad."
That would be 22 luxurious cars outside the stadium at which the owners can tailgate in high style.
They are a little pricey, running as much as $225,000 for fans to "railgate" in extreme luxury.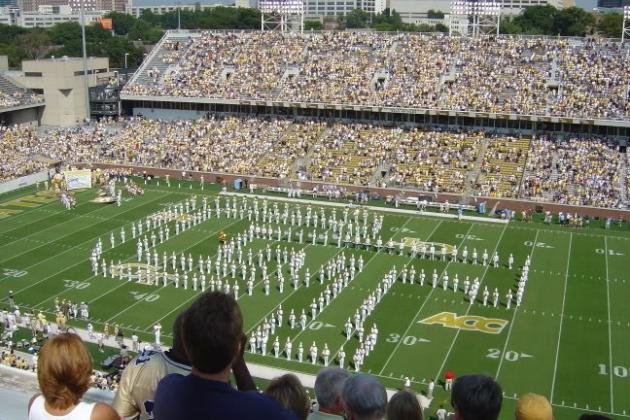 Opened: 1913
Capacity: 55,000
Though the stadium has only been around in some form or another since 1913, football has been played on the site of Bobby Dodd since 1905.
As a matter of fact, the biggest beating in the history of the sport took place in 1916 at this field.
The final: Cumberland—0 Georgia Tech—222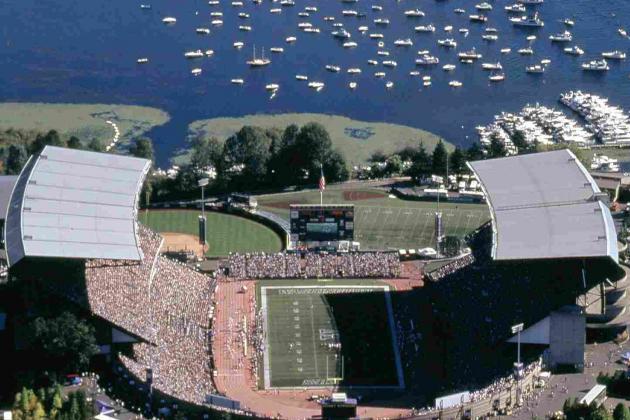 Opened: 1920
Capacity: 72,500
As you can see, several fans of UW enjoy a solid round of "sailgating" prior to entering the stadium for the game.
Is there a more unique experience than enjoying some fresh seafood or soup out on the water, then catching a ferry to the stadium in time for the game?
I submit that there are not many.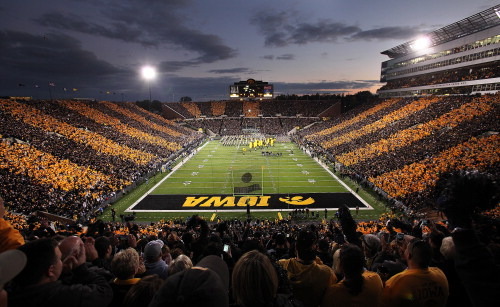 Opened: 1929
Capacity: 70,585
Call it sexist, insensitive, whatever you will, the color scheme in the Hawkeye's visitor locker room takes the cake.
It's pink.
Seriously, opponents have to get dressed in a locker room and restroom where everything, lockers, toilets and sinks are pink.
A not so subtle attempt at getting in the opponent's head.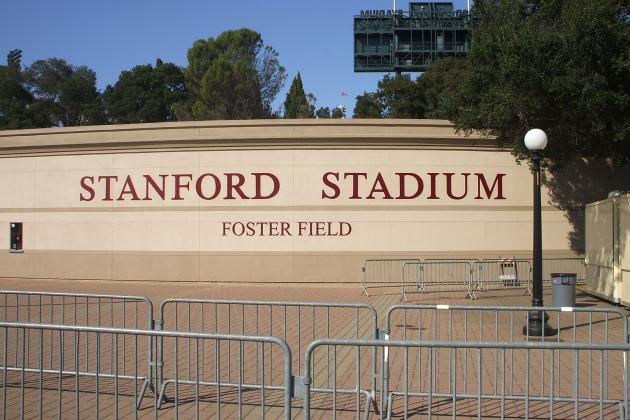 Opened: 1921
Capacity: 50,000
This is a beautiful facility that was most recently remodeled in 2006.
While the Stanford football program has had some great moments, it seems as if you don't read or hear a whole lot about the stadium.
This tidbit, while more about the team than the stadium, is worthy of notice.
Former President Herbert Hoover was the program's first football manager.
Not many programs can claim the honor of having a future Commander-In-Chief involved with the football team.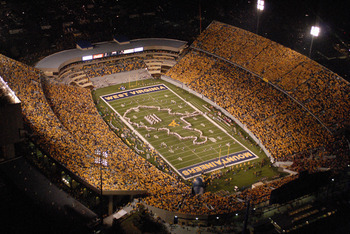 Opened: 1980
Capacity: 60,000
There aren't many people outside of the state of West Virginia that will own up to being John Denver fans in this day and time.
But the guy flew into the stadium for the dedication of the new stadium back in 1980 and led fans in singing "Take Me Home, Country Roads."
The song has been played during every game since that day.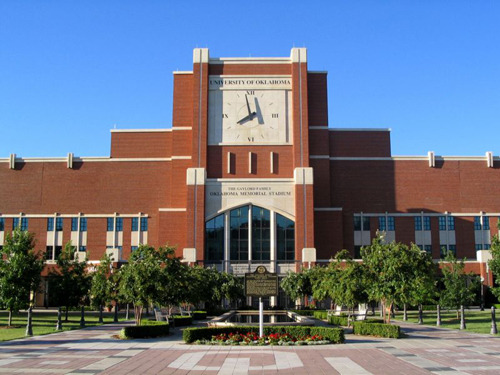 Opened: 1925
Capacity: 82,112
In the history of our country, there have been some events that have changed the course of people's lives and shaped the way they lived.
From 1927-1932, during the Great Depression and the Dust Bowl, the stadium was used by the university as a dormitory for young men.
Not weird but definitely a tribute to ingenuity and using the resources available to get the job done.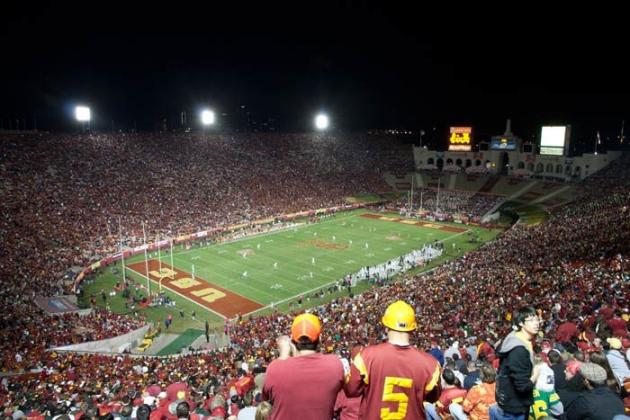 Opened: 1923
Capacity: 93,607
This is not the only venue to bear this distinction, but it's weird.
The field runs east to west.
Apparently, using the excuse "the sun was in my eyes" is actually acceptable in this stadium.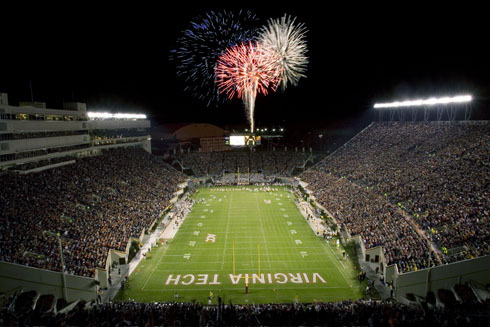 Opened: 1965
Capacity: 66,233
A Hokie, contrary to popular belief, is not a turkey.
However, the Va. Tech mascot has given its name to a unique type of stone—"Hokie Stone" native only to Virginia, Tennessee and Alabama.
The walls at the end zones of Lane Stadium are made of this unique stone, which, other than its namesake, is definitely the most unique item about the stadium.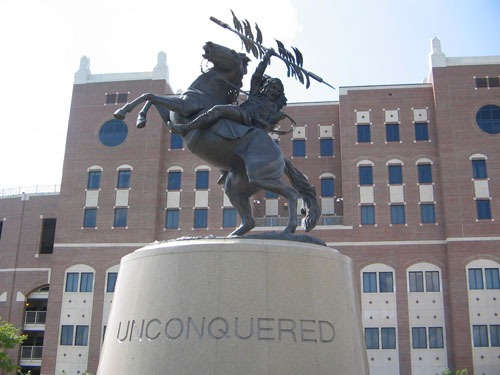 Opened: 1950
Capacity: 82,300
It's gotta be the stained-glass image of Bobby Bowden.
Seriously?
I know the guy deserves major props, but why not just the statue?
The stained glass is meant as an homage but comes off as a poorly done piece of work that looms over the stadium.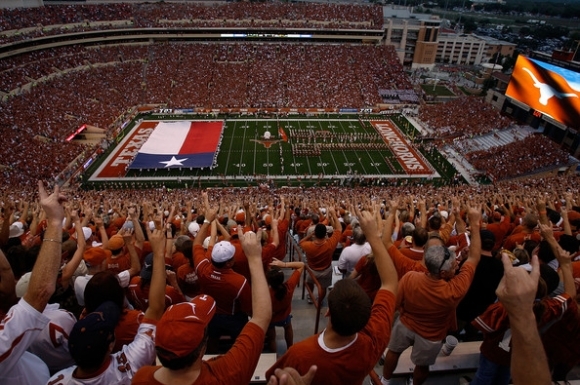 Opened: 1924
Capacity: 100,119
Forgive me, Texas fans, but this is too good to pass up.
For all the great games that have taken place and all the rivalries the 'Horns have taken part in at their home stadium, their two highest attendance numbers at DKR were for a game against Rice and a loss to UCLA.
Tickets cheaper for Rice?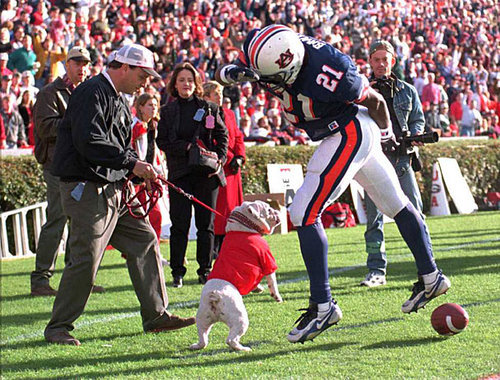 Opened: 1929
Capacity: 92,746
It's not entirely fair to call this "weird," but it is definitely singular to Sanford Stadium.
The playing field is surrounded by hedges.
It's beautiful and a botanical triumph in the midst of athletic feats.
On a side note, I have always been puzzled as to why the bulldog mascot, Uga, is spelled with two lower-case letters.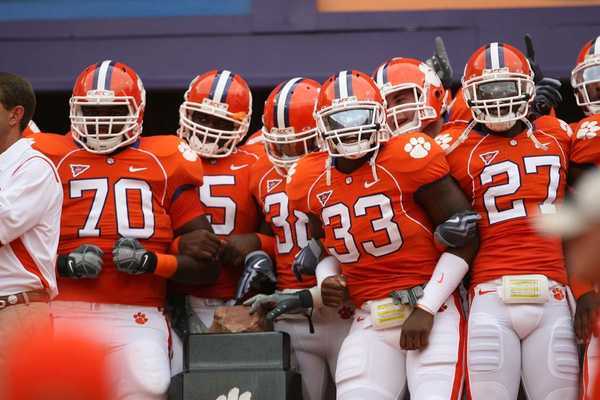 Opened: 1942
Capacity: 80,301
Many times the "weird" traditions that a program might have turn into their most loved and unforgettable.
Take the whole "Howard's Rock" thing.
It's a rock from Death Valley, California.
Former coach Frank Howard popularized the stadium's nickname of "Death Valley" during his tenure, and it stuck.
Pretty crazy that a rock that Howard found one day when cleaning his office and told somebody to "take this rock and throw it over the fence, or out in the ditch...do something with it, but get it out of my office" wound up as one of the best traditions in college football.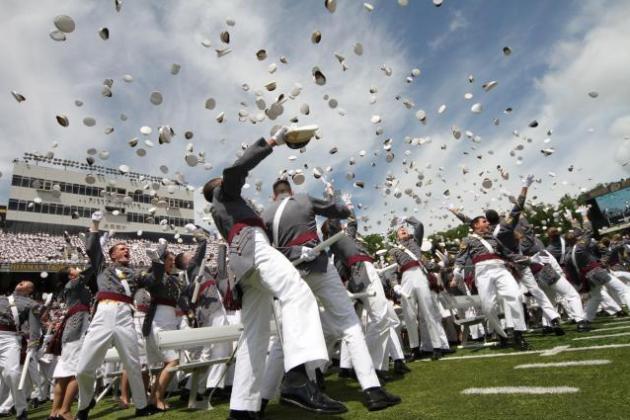 Opened: 1924
Capacity: 40,000
It's not technically "weird," but it is unique to only three FBS teams.
The young men playing ball on this field are willing to serve their country.
Sure, they might be talented football players, but they deserve even more props for their willingness to be a member of our proud military.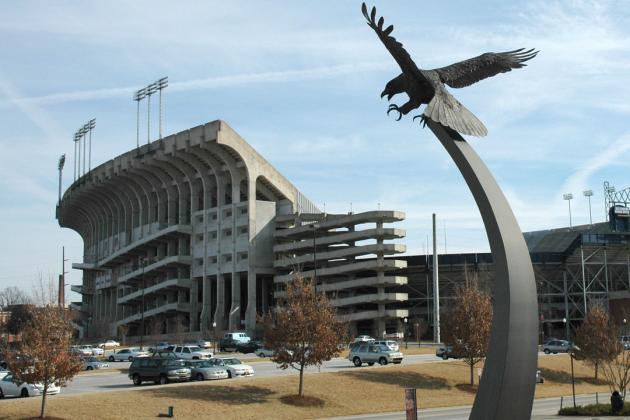 Opened: 1939
Capacity: 87,451
It's all about the celebration with this one.
Most people hate to have their homes "toilet-papered."
Auburn fans take it to a new level after significant wins.
They completely cover famed Toomer's Corners with toilet tissue after big wins.
Cool tradition?
Yeah, but still weird.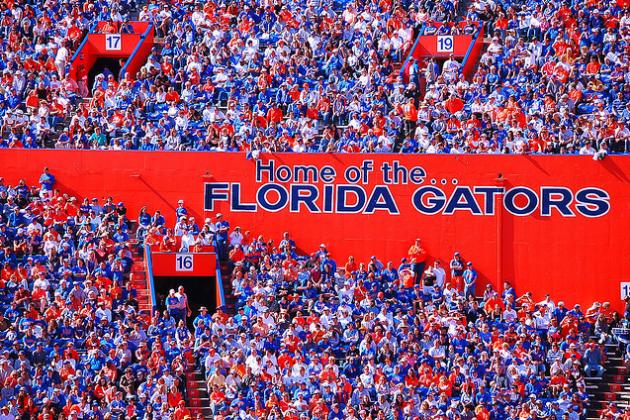 Opened: 1930
Capacity: 88,548
"The Swamp" is a dangerous place for opponents.
Just ask Steve Spurrier.
Part of the 'Gators' success on the field could possibly be attributed to their lovable mascot duo, Albert and Alberta.
Not many stadiums boast a mascot couple, and even if you think it's corny, who makes fun of a 'gator?
Opened: 1923
Capacity: 81,067
It's weird that the Huskers' first game in Memorial Stadium was a win against Oklahoma, especially since they never beat them again.
Just kidding, Husker fans.
But really, the most unique thing about Memorial Stadium might be the inscriptions in the four corners of the stadium in honor of our veterans.
Southeast: "In Commemoration of the men of Nebraska who served and fell in the Nations Wars."
Southwest: "Not the victory but the action; Not the goal but the game; In the deed the glory."
Northwest: "Courage; Generosity; Fairness; Honor; In these are the true awards of manly sport."
Northeast: "Their Lives they held their country's trust; They kept its faith; They died its heroes."
Well said.


Opened: 1917
Capacity: 80,321
It has turned into one of the Big-Ten's greatest stadium traditions, but who would have thought that "Jump Around" would ever become a song that is loved by a legion of fans, only some of which were around for the era in which it was originally performed.
Anyway, it appears that a good time is had by all, and the stadium hasn't collapsed—yet.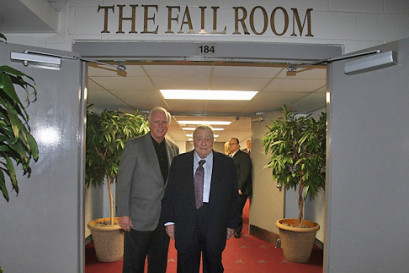 Opened: 1929
Capacity: 101,821
This is hilarious.
Alabama donor James M. Fail took an opportunity to use his name in a deprecating manner to the Tide's opponents.
As seen in the picture above, the visitor locker room at Bryant-Denny is named "The Fail Room" in honor of Fail and his donation.
How appropriate.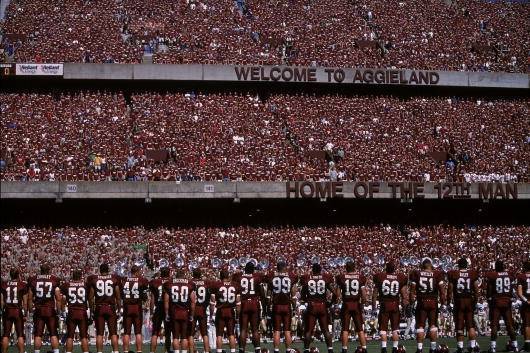 Opened: 1904
Capacity: 83,002
Look, I'm all for great traditions and the whole "12th Man" thing.
However, it's weird.
Who stand for an entire 3.5 hour football game?
It's tough, try it.
Especially when your team is as disappointing as the Aggies were in 2011.
That takes a special level of dedication, which makes me believe TAMU will fit in perfectly in the SEC—at least their fans will.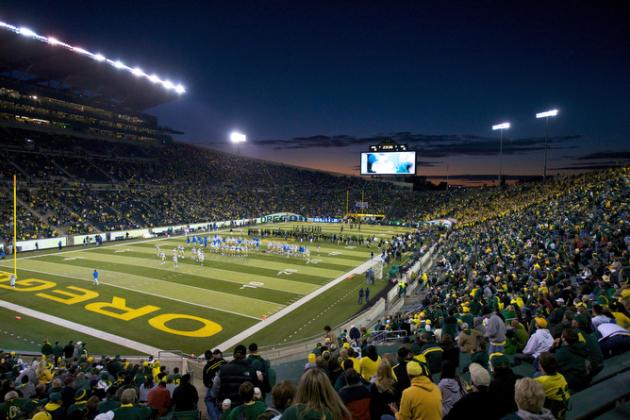 Opened: 1967
Capacity: 53,800
Look, I hate to break it to Duck fans that aren't aware, but Autzen Stadium is named after an Oregon State alumnus.
Thomas J. Autzen has the honor of having his name on the Oregon football venue.
Not many other programs have a venue named in honor of a rival school's graduate.
Opened: 1921
Capacity: 102,455
The "Volunteer Navy" is a pretty cool tradition; fans can float along next to the stadium and tailgate on board their river craft then go to the game.
However, the fact that takes precedence for Neyland is about the Volunteer's fight song.
Their official fight song is Down the Field not Rocky Top, as most people assume.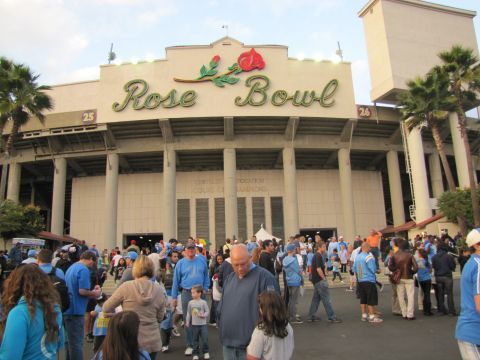 Opened: 1922
Capacity: 92,542
There are so many interesting facts about this stadium—the current home of the UCLA Bruins.
From the fact that the Bruins must travel to their own home stadium to all the ridiculously prolific sporting events the venue has hosted, it is absolutely loaded with tradition and history.
However, for this list, let us consider television.
The stadium, in 2006, hosted auditions for American Idol.
It remains one of the few in the country that has hosted the most popular television show in the country.
Opened: 1927
Capacity: 109,901
See that "1" on the end of the capacity?
That number prevents Michigan Stadium from accomplishing something that most programs of their stature achieve on a regular basis:
Have a legitimate sell out.
Supposedly, there is an "extra seat" located in the stadium that former athletic director Fritz Crisler had added during renovations in the 50s.
While it's extremely difficult to actually find that seat, it's a great piece of stadium history and definitely unique.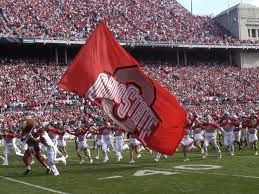 Opened: 1922
Capacity: 102,329
It's pretty cool, and it has almost certainly been done elsewhere but stands out in the history of the stadium.
In 1971, the university replaced the grass on the field with artificial turf.
Head coach Woody Hayes greeted buyers, who were able to purchase a roll of the sod taken from the field in exchange for a donation.
Something like 5,000 fans walked away from the stadium with a piece of Buckeye history.
I'm wondering if any of that sod is still hanging around somebody's house in Columbus.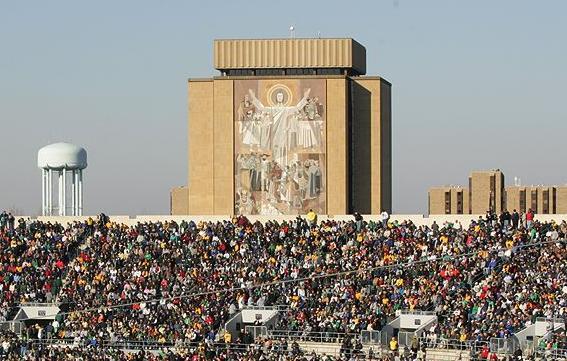 Opened: 1930
Capacity: 80,795
The tradition littered across this field is overwhelming.
From "Touchdown Jesus" to "Play like a champion today," this venue is full of tremendous football lore.
And it remains solely a football field.
While most venues are used for other purposes, including multiple concerts, Notre Dame Stadium has never been used for a concert, and the school intends for it never to be used in that manner—to retain the integrity of the stadium as a football venue.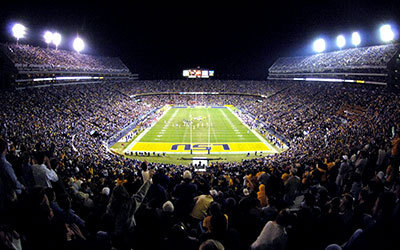 Opened: 1924
Capacity: 92,542
What is Tiger Stadium known for?
That's right, night games.
"It's Saturday Night in Death Valley and here come your Fighting Tigers of LSU" should be heard after dark at least a minimum of three times during every SEC season.
However, last season, due to television contracts, the Tigers did not have a single conference game at home in the evening.
Strange.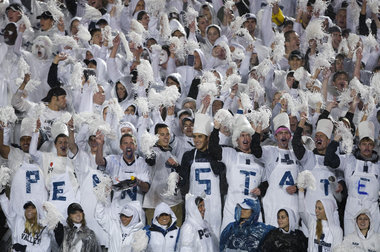 Opened: 1960
Capacity: 107,282
Beaver Stadium is one of the largest venues in the country.
As a matter of fact, during Michigan Stadium's recent renovations, Beaver Stadium actually had the highest capacity of any football stadium in the country.
Now that things are back to the way they belong, with "The Big House" atop the list of big houses, Beaver Stadium deserves recognition for their lack of hot dog consumption.
The Stadium sells only an average of 11,500 franks per home game.
A full house is over 107,000 fans, which means the remaining 95,500 of you who aren't doing your part in this department need to get busy.